'This is the fork in the road': Indiana football vs Louisville a matchup that could help define season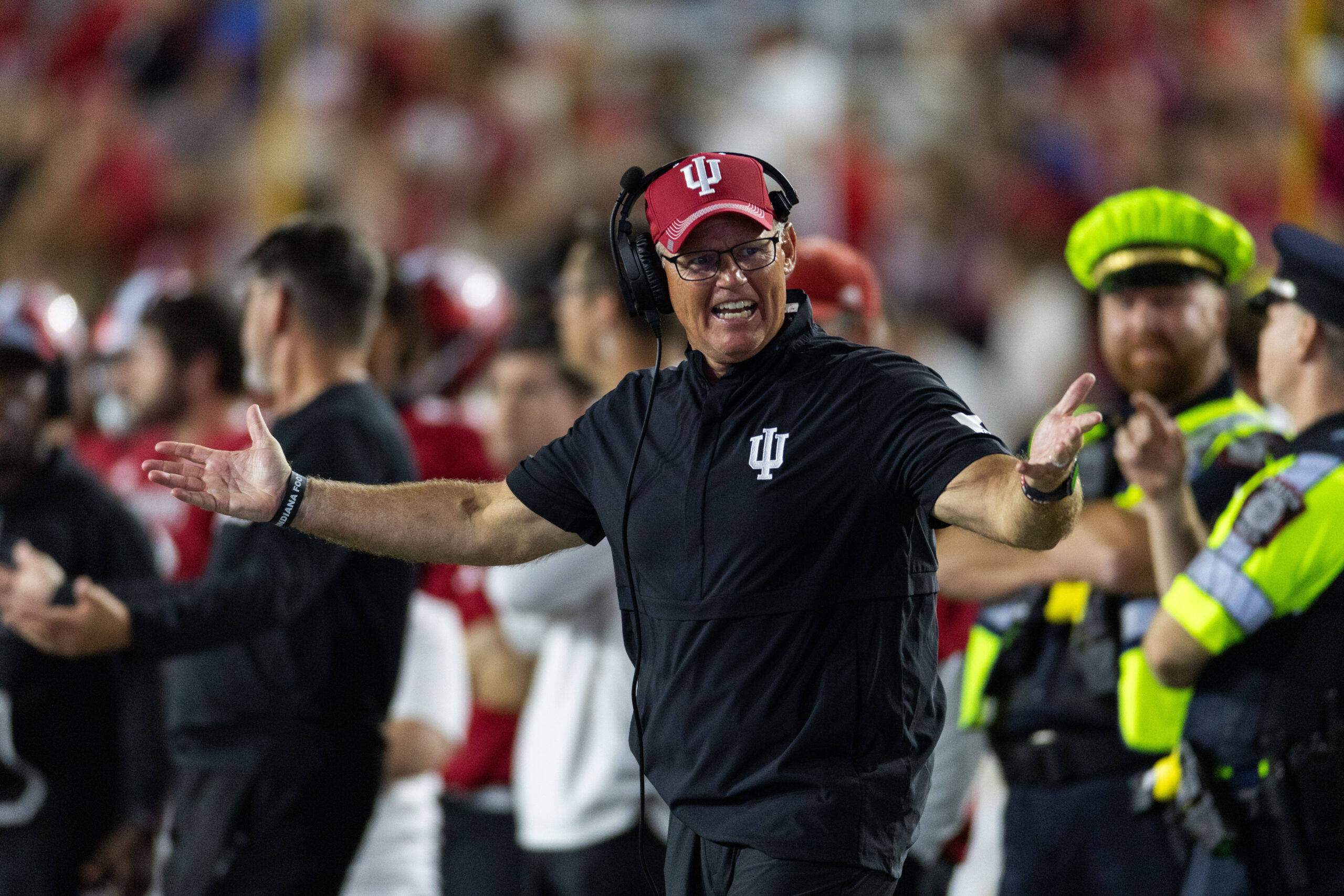 Saturday's matchup between the Indiana football program and Louisville will be just the third matchup in both program's history. But, both will head into the game with a good feel on what the other's game plan will be.
Former Purdue head coach Jeff Brohm is in his first season leading the Louisville program and enters Saturday 4-1 against Tom Allen from his time in West Lafayette.
Allen knows the explosiveness of Brohm's old Purdue teams and through two weeks this year, Louisville is bringing the same amount of juice. The Cardinals rank third in the country in rushing offense (285.5 yards / gm) and fourth in total offense (583 yards / gm). They've scored 95 points and totaled 12 offensive touchdowns.
"The good play callers usually they have a great feel. It's timing of when to call things. And he has a system, and they're not gone away from that," Allen said of Brohm. "But obviously adapts it to the personnel each year. It's always a little different based off of that."
One aspect to Louisville's offense that is a bit different than Brohm's offenses at Purdue is the effectiveness on the ground. Through two weeks, they are averaging 7.3 yards per carry. A reason for that is Jawhar Jordan. He's averaging 16.5 yards per carry with three touchdowns. 
"They're running the football a lot better in these first two games than maybe they have in the past places he's been, which puts more pressure on your defense, without question," Allen said. 
"He's (Jordan) very important to what they do. He's a very talented player … He has really good vision and more power than you would think in a guy his size. [Jordan] is a really good running back, has elite speed and is a guy that we have got to have a great answer for."
Make no mistake, however. Louisville has explosive pass catchers as well — led by Jamari Thrash and Kevin Coleman. And, former Purdue quarterback Jake Plummer. 
"A good quarterback that knows the system," Allen said of Plummer. "Obviously (Brohm) recruited him to Purdue. Plummer is a big athletic, quarterback with a big arm. And they love to stretch the field vertically, and they also stretch it horizontally."
Indiana counters with talent of its own, especially on the defensive end ranking fourth in the Big Ten in terms of defensive efficiency and second in third down defense.
Indiana has 12 tackles for loss and four sacks thus far, in addition to three more QB hurries. So, winning the line of scrimmage will be key.
"It all starts up front," IU co-defensive coordinator Matt Guerrieri said on Monday. "We challenged them early on and for the first two weeks, they've taken that challenge each week, though it has to continue to climb … I'm very pleased with the effort."
That message is echoed by Brohm.
"Finding ways to get after the quarterback and pressure the quarterback more, it's important that we find ways to get that done," Brohm added. "Creating some turnovers I think would be critical, making sure we figure that out."
Creating turnovers may be difficult as Indiana has turned it over just once in two games. Despite not throwing the ball excessively, there's a reason Tayven Jackson won over the starting job — his poise in the pocket. That was highlighted by an 85.7 completion percentage — third on the single-game charts in IU history — against Indiana State. Getting off to a good start on Saturday will be critical for Jackson, who enters this matchup as the starting quarterback moving forward.
"There is a lot of value in that … you want him to get comfortable and get into position where he feels good with his reads and progressions," Allen said of Jackson. "We have to do a great job as a staff to establish that rhythm and flow to make him feel comfortable … he has a tremendously high level of poise and it's already shown up in the two games he's played in."
Trending: 'Don't look back': Now the starting QB, Tayven Jackson ready to let loose and lead Indiana
Jackson isn't just a passer, however. He's shown the ability to make plays on the ground with his legs. Indiana's ability to find explosive plays out of its backfield will be critical this weekend.
"(Tayven) Jackson, who we recruited at Purdue, is a very talented quarterback who can throw and run," Brohm said. "With the dynamic back they have in the backfield, it's very fast and elusive. They've been able to mix in some option concepts as well as their normal running and passing offense. So it makes you defend a lot of different elements."
While it was against an FCS opponent, Jackson's ability to lead the Indiana football offense down the field last week was evident. He led them to scoring drives of 73, 81, 71, 93 and 45 yards.
His ability to bring a 'pop' to the offense is evident even from people outside of both programs.
"Tayven Jackson has looked really good and has a bright future in the Big Ten," Big Ten analyst Adam Breneman said. "He's explosive in the passing game, some of the stuff they can create with his legs, getting him on the perimeter a lot. That offensive with Tayven Jackson has the chance to have a really good season."
Indiana has started at least 2-1 in four of the last five seasons. This year, with some early struggles among other teams on Indiana's schedule, it could set them up for success heading down the stretch. And no matter what, beating a good Louisville team will continue to bring a positive vibe to the program … that just a few weeks ago had little energy surrounding it.
"This is the fork in the road here of what that locker room will feel like if you can go 2-1," Big Ten analyst Jake Butt said.  "(You) look at it, our one loss we played Ohio State really tough and beat a good Louisville team."
"They don't give you a lot of things," Allen added. "You have to earn and take everything."
Make sure to follow Hoosier Illustrated on Twitter @Indiana_FRN, Facebook and YouTube to stay up to date on all of the news, updates and coverage of Indiana University athletics. You can also listen to the Talking' Bout the Hoosiers podcast on Spotify.