'Don't look back': Now the starting QB, Tayven Jackson ready to let loose and lead Indiana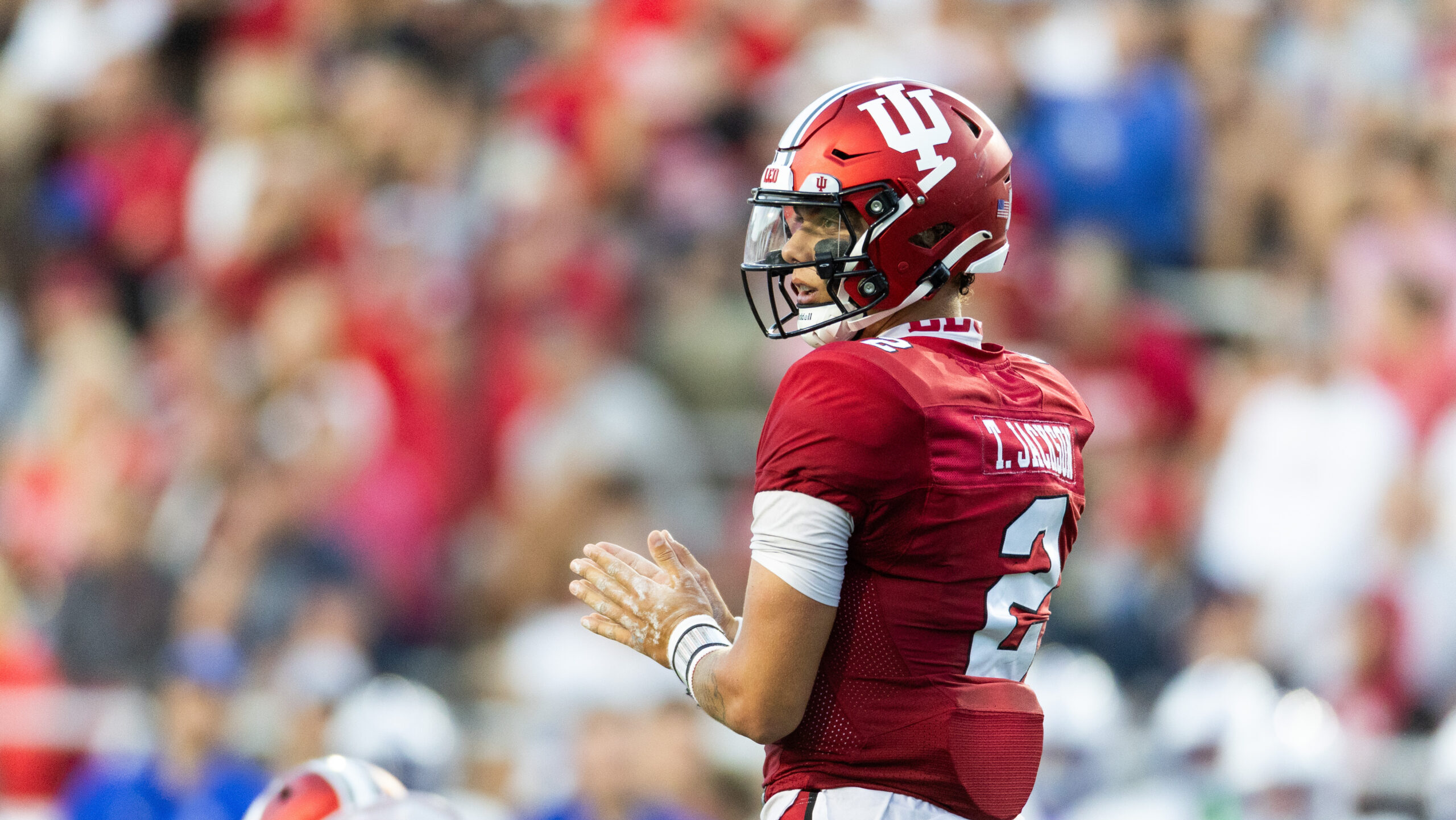 Tayven Jackson transferred into Indiana from Tennessee looking for a fresh start and most importantly, a chance to become the starting quarterback. But, it wasn't just given to him. Jackson had to wait nine months in order to be called the starting quarterback of the Indiana football program.
After arriving on campus on January, Jackson was immediately tossed into a quarterback competition with fellow redshirt freshman Brendan Sorsby. Neither had started a collegiate game, nor had they really seen much live action. That's why head coach Tom Allen waited until the Monday of week three to officially name his starting quarterback — Tayven Jackson.
"I felt like we needed to get to just full game evaluation because it was so close and to be able to see, okay, who moves the ball down the field and scores points. That's really what it comes down to at the end of the day, and there's a field presence you have during games," Allen said on Monday. "Practice is important. We know that, and we evaluate that and how you handle things. But there's nothing like the game, the ebbs and flows of the game, motions of the game."
His play in games was one of the reasons why Jackson was named the starter.
"Actually, I think he plays better than he practices in regards to even some executional things," Allen said of Jackson. "Some guys are like that, when the lights are on and the pressure's on and you've got to make those throws and you've got to make plays and people are in your face, you're getting hit."
That ability to bounce back and react to live action was on full display on Friday night when Jackson started for Indiana against Indiana State.
Early in the first quarter, Jackson took a big hit and would eventually leave the game. Only for a short time later to return and lead Indiana down the field for the first touchdown of the season.
"I thought it was pretty telling. We had a situation where he (Tayven) got hit. He had to come out. Brendan comes in, throws a strike. Throws a great pass off the bench … then we brought Tayven right back in. So he got the wind knocked out of him … But Tayven, just needed to have the game-day poise and execution was critical. And gotta do it on game day. That's where the final piece of the evaluation for me since they had not had that experience in the past.
"That's where I feel like Tayven was able to separate himself there."
Jackson would go on to lead Indiana to scoring drives of 73, 81, 71, 93 and 45 yards en route to finishing 18-of-21 for 236 yards and a rushing touchdown. It was his first touchdown in an Indiana football uniform.
Related: IU football QB Tayven Jackson records top-5 PFF grade for week two
It was also his first win as a Hoosier, something that meant more than any other stat.
"I walked off the field knowing we got a win. The first win we got since I've been here at Indiana," Jackson said on Monday. "It was a really cool feeling."
Just two days removed from his first win was when Jackson was brought into Tom Allen's office — alongside offensive coordinator Walt Bell and Brendan Sorsby — and told he would be the starting quarterback moving forward.
"It was a dream come true," Jackson said. "It's everything you ant to hear from a coach. Coming in here, it's been a struggle. It's been hard going through a quarterback battle. But that's life. It's kinda a relief."
Through two games, Jackson is 19-of-26 for 260 yards and has one rushing touchdown. His 85.7 completion percentage finished third on the Indiana single-game passing charts.
The offense has seen a different kind of 'pop' when Jackson has been under center. He helped lead the Hoosiers to 558 yards of total offense on Friday night, the most since their win over Western Kentucky in 2021. Seven receivers also ended the night with at least two receptions — showing his ability to do what Indiana needs, getting the playmakers involved.
"I just take the three step drop, and I think we have the best receivers in the Big Ten, they get open and I do my best to get them the ball," Jackson said. "Our receivers did a phenomenal job against Indiana State getting open and creating space and separation for them. I can't make those throws if they don't do their job … I'm just back there throwing them the ball, they're doing all the hard work."
Now, Jackson enters a familiar place for his second career start and first one since owning the starting role; Lucas Oil Stadium. Jackson led Center Grove High School to two straight undefeated seasons and back-to-back Indiana state championships, both at Lucas Oil.
"It's very exciting," Jackson said. "I think this is my fourth time playing in there … it's nothing new. We're going to go out there and try to win a football game."
No matter where Jackson plays, however, his mindset is the same. His emotions are as well.
Jackson just let's loose and plays.
"I go out there and just play football … I can only control my effort and attitude. So I just go out there and play free and play my game," Jackson emphasized. "I feel like when I step on the field, I just let everything go and just play free. I don't know how to explain it."
Now as the starting quarterback, Jackson is looking to build off of win one and help Indiana reach the goals of a bowl game this season. With the defense playing at the level it has been through two weeks and the confidence that he brings to the offense, there's a different vibe around the program at the moment.
Heading into a critical matchup with Louisville, there's one piece of advice that hit home with Tayven Jackson and will stick with him moving forward.
"He said, 'Good job, young king. Don't look back'," said Jackson when saying what his older brother and former IU basketball standout Trayce Jackson-Davis told him. "My brother isn't a very emotional guy, but I am towards him. Getting that from him, that speaks louder than what he actually said."
Make sure to follow Hoosier Illustrated on Twitter @Indiana_FRN, Facebook and YouTube to stay up to date on all of the news, updates and coverage of Indiana University athletics. You can also listen to the Talking' Bout the Hoosiers podcast on Spotify.