Indiana Football Game Preview: Louisville – key storylines, injury report, how to watch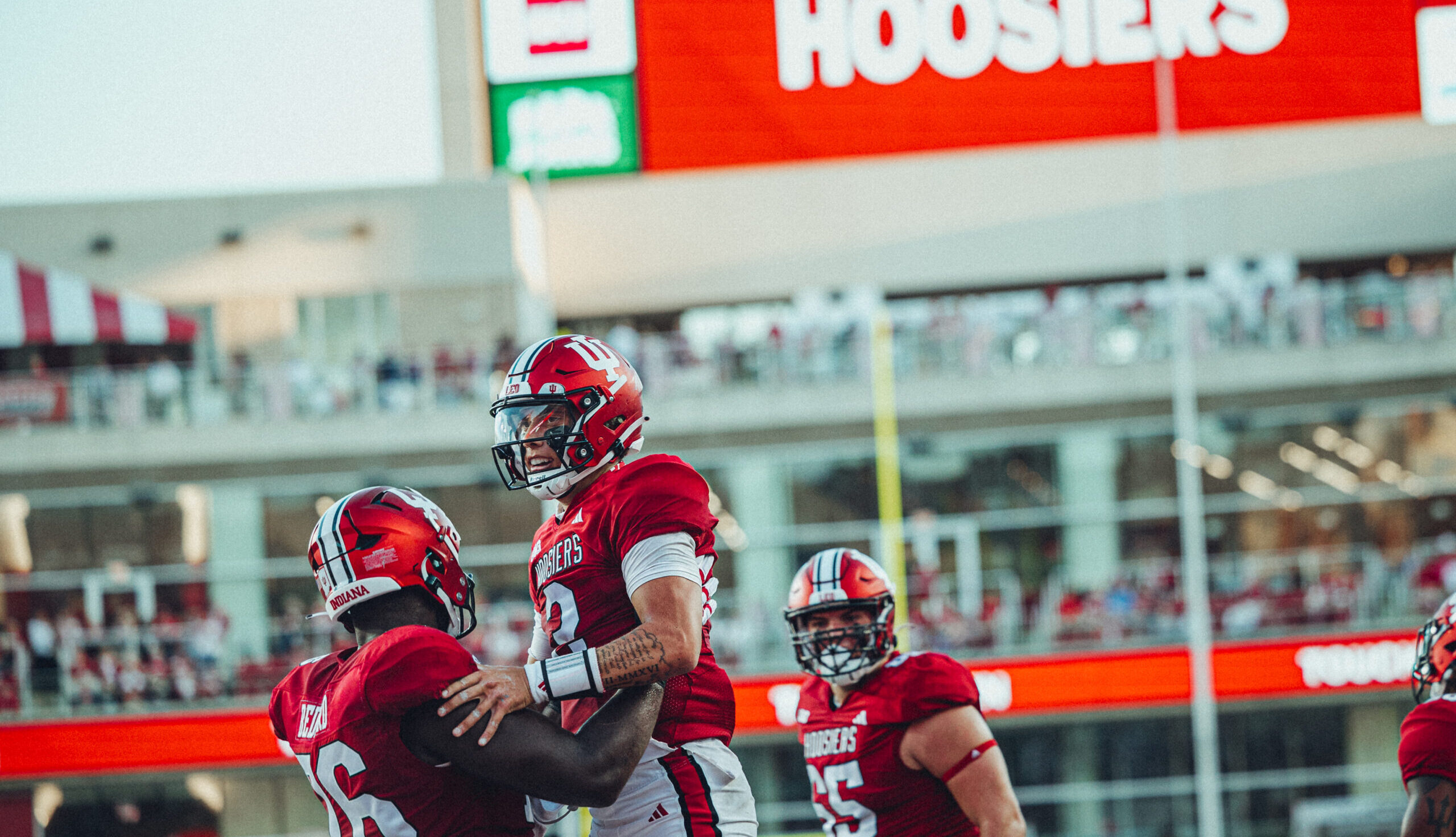 Indiana football returns to action for week three of the college football season looking to win their second straight game when they face the undefeated Louisville Cardinals at Lucas Oil Stadium in Indianapolis, IN. The Hoosiers are coming off of their first win of the season after defeating Indiana State 41-7 last week.
The Hoosiers finally named a starting quarterback, going with Tayven Jackson, bringing a different vibe around the program heading into the weekend.
Louisville comes into this game as one of the surging programs in the current college football season and scored nearly 100 points in their first two games. Louisville also ranks third in the country in rushing offense (285.5 yards / gm) and fourth in total offense (583 yards / gm).
Tom Allen and the Hoosiers are all too familiar with Cardinals head coach Jeff Brohm due to his time at Purdue the past few seasons.
Below is the full game preview of everything you need to know about Saturday's matchup.
Key Storylines
Indiana's defense vs Louisville's offense 
This really is a true 'strength vs strength' battle on Sunday. Through only two weeks of college football action, it has been proven thus far that Indiana's strength is their defense while Louisville's is their offense. Not surprising when you look at both Tom Allen's and Jeff Brohm's history as coaches.
Louisville has shown that they can put up scores in a hurry in the first two weeks of the season. The Cardinals have scored 95 points and totaled 12 offensive touchdowns. A big part of that reason is offensive line of the Cardinals. In two games, Louisville has given up just one sack and has faced very little push back from the front seven of Georgia Tech and Murray State. However, Indiana's top-tier pass rush has a chance to give them fits as the Hoosiers has a total of 12 tackles for loss and four sacks thus far, in addition to three more QB hurries.
Cardinals head coach Jeff Brohm prides his offense on his creativity and explosive play calling. It will be very important for Indiana's defense to limit the explosive plays while also getting the much-needed stops to give their offense a chance to get going.
"First of all, he's (Brohm) an excellent play caller. Followed his team for many years. He's one of the best in the whole country," said Tom Allen when speaking to the media. "And the good play callers usually they have a great feel. It's timing of when to call things. And he has a system, and they're not gone away from that. But obviously adapts it to the personnel each year. It's always a little different based off of that."
"And they've got a really, really talented receiver corps, two really good running backs and a good quarterback that knows the system…And they're running the football a lot better in these first two games than maybe they have in the past places he's been, which puts more pressure on your defense, without question."
Expect both team's strengths to be in full effect on Saturday, but it will come down to if Indiana's offense can open up or will Louisville's defense make the much-needed stops. Whatever non-strength steps of either team will determine the outcome.
Aaron Casey and Andre Carter will look to lead the Indiana defense and cause disruptions against Louisville.
Tayven Jackson is the Indiana football starting QB….is he ready? 
It is finally official, Redshirt freshman Tayven Jackson is the starting quarterback for the Indiana Hoosiers. After a battle that extended through the first two weeks of the season, Tom Allen and the Hoosiers have their guy.
Jackson solidified his starting job in last week's game where he led Indiana over Indiana State in an impressive showing. He finished 18-of-21 for 236 yards and a rushing touchdown during week that win. He also led the Indiana offense to scoring drives of 73, 81, 71, 93 and 45 yards. Through two games, Jackson is 19-of-26 for 260 yards and has one rushing touchdown.
However, things get real now with Louisville. This is not Indiana State, this is surging program that Jackson will be going up against. Jackson will be tested all game.
This is a huge chance for Jackson to show his talent at a big stage. The question is, how ready is he at the time? Will he be able to execute when Indiana needs him to against Louisville.
"I think he (Jackson) plays better than he practice in terms of pure executional things," Indiana football head coach Tom Allen said on Monday. "Some guys are like that when the lights are on, the pressure is on … I think Tayven to me, to be able to have the game day poise and execution is critical. That was really the final piece for me since they had not had that experience in the past … that's where Tavyen was able to separate himself there."
There is hardly any doubt that Jackson will not live up to high expectations at Indiana long term. He has too much talent and upside to fail in many people's eyes. However, we will see just how far along his progression at this time is on Saturday. If there major issues, Brendan Sorsby is waiting in the wings for his opportunity. However, Jackson is ready for the challenge.
"Tayven knowns he has to perform and Brendan knowns he needs to be ready," said Tom Allen.
Arguably the biggest game for Indiana football this season. 
It is just week three, but this is arguably Indiana's biggest game of the season. This is truly a 'swing game' in every sense of the phrase.
In week one, Indiana was outmatched vs Ohio State. In week two, the Hoosiers were just too much for a weak Indiana State team. In week three, the Hoosiers are going up against a Louisville team that they mostly match up to evenly.
It is probably the best test that Indiana can have at this point in the season. Even though Louisville has only ever faced Indiana twice all-time, the is a system that Tom Allen and the Hoosiers are all too familiar with given the battles between Allen and Brohm's Purdue teams in recent years. Louisville head coach Jeff Brohm was 4-1 against Indiana during his time with Purdue.
Indiana has a lot to prove in this one, but Jeff Brohm knows Indiana can be sneaky dangerous.
"They'll come at you in a lot of different ways, give you a lot of different looks and blitz from a lot of different areas," said Louisville's head coach Jeff Brohm. "I think when they're able to balance that with a productive offense, they can be dangerous."
Indiana has shown improvements already from the past two seasons. If the Hoosiers were to come out as winners here, it may be time to start taking them serious for a bowl game.
Watch/Listen: Talkin' Bout The Hoosiers Podcast Episode 3 – Indiana football week three vs Louisville preview is here … what to expect and more!
Last Matchup
The last matchup between the schools took place on 9/13/1986 where Indiana won 21-0 at home. Indiana football is 2-0 against Louisville all time.
However, Louisville head coach Jeff Brohm was 4-1 against Indiana during his time with Purdue. This will be a familiar matchup for Indiana but a challenge they have not been able to successfully get passed as of late.
Quick Hitters: Early breakdown and initial thoughts on Louisville
Injury Updates
Indiana
QB Dexter Williams II: Williams remains out and will not be available this game and for the foreseeable future. He is still in the recovery process of his significant knee injury from Indiana football's season finale last year. While he has not be a part of Indiana's quarterback battle, he has been able to contribute on the field a little as well as be a leader for both Jackson and Sorsby.
WR Cam Camper: Camper had an early exit against Indiana State last Friday with what looked to be a lower body injury. However, Tom Allen spoke with the media this week and said wide receiver Cam Camper 'has had a good week of practice.' Although he looks like he will be good to go to play, he is still questionable at this point.
Louisville 
Safety Josh Minkins: Minkins suffered a hamstring injury in Louisville's dominant victory over Murray State last week. By all accounts, the Cardinals are taking their time with him and it is looking like he will be a 'day of' decision. It would be a major loss for Louisville's secondary if he was not available.
RB Maurice Turner: Turner, although he was dressed, was held out in last week's game as a precaution for his unspecified injury. There is a better chance you see him return to the field this weekend vs Indiana.
Related: Indiana Football vs Louisville: Key players, notes and opening spread
Quick Hitters
Who?: Louisville (2-0) vs Indiana (1-1)
When?: Saturday, Sept. 16 | 12:00 p.m. ET
Where?: Lucas Oil Stadium (Indianapolis)
TV: BTN
Radio: Indiana Hoosiers Sports Network
Spread: Louisville -10.5 via DraftKings Sportsbook
Make sure to follow Hoosier Illustrated on Twitter @Indiana_FRN, Facebook and YouTube to stay up to date on all of the news, updates and coverage of Indiana University athletics. You can also listen to the Talking' Bout the Hoosiers podcast on Spotify.