Indiana Athletics announces its 2023 Hall of Fame class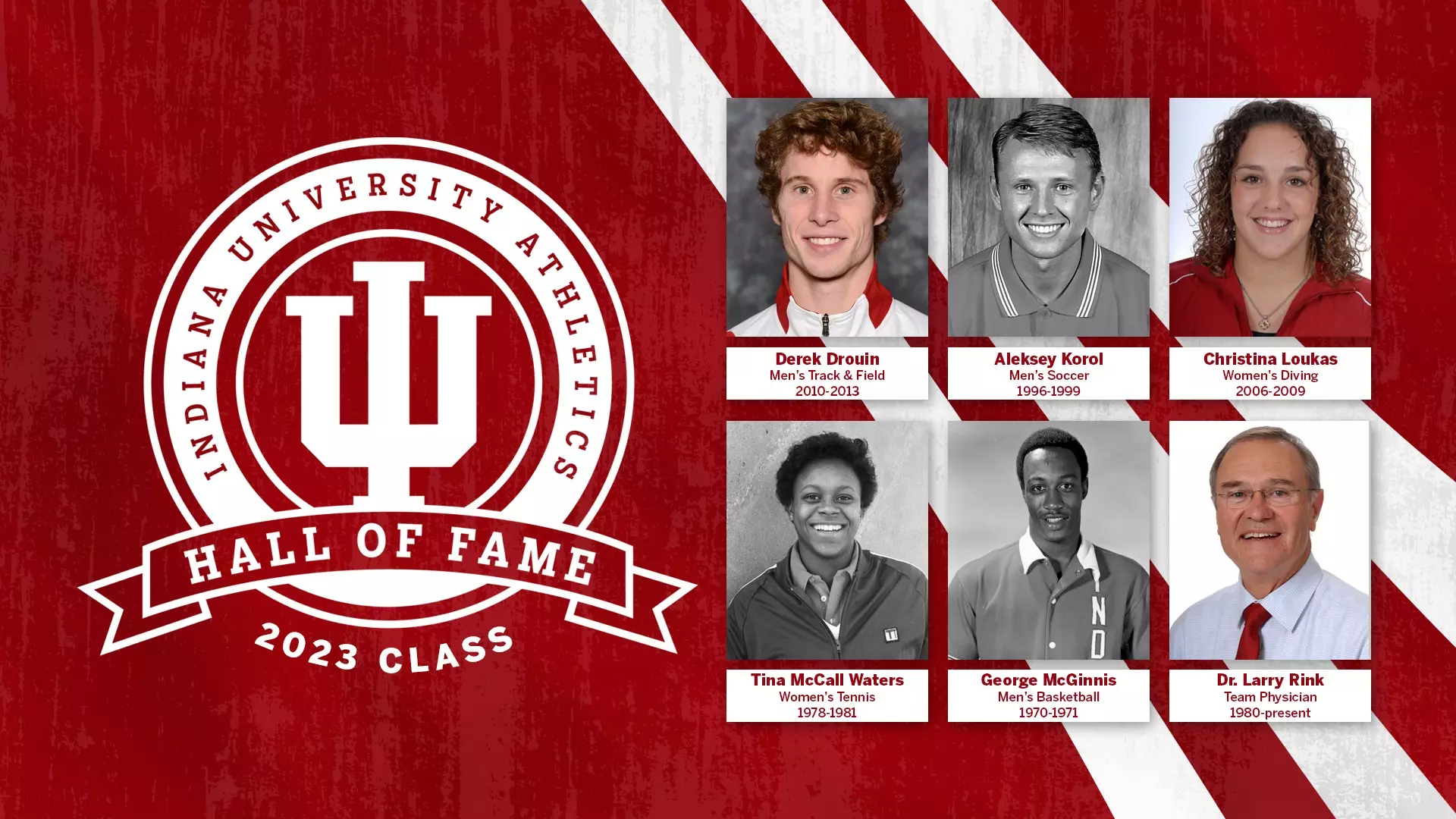 Indiana Athletics announced its 2023 Hall of Fame class on Tuesday, consisting of six former athletes and physicians. Derek Drouin (Men's Track and Field, 2010-13), Aleksey Korol (Men's Soccer, 1996-99), Christina Loukas (Women's Diving, 2006-09), Tina McCall-Waters (Women's Tennis, 1978-81), George McGinnis (Men's Basketball, 1970-71), and Larry Rink (Team Physician, 1980-present) represent the 40th Hall of Fame class.
The group of six will be honored at halftime of Indiana's football game against Akron on Sept. 23.
Below is the full release from Indiana Athletics.
BLOOMINGTON, Ind. – Indiana University Vice President and Director of Intercollegiate Athletics Scott Dolson announced today that IU Athletics will welcome six new members to its Athletics Hall of Fame. The six individuals comprise the 40th class, bringing the roster of inductees to 249.
Derek Drouin (Men's Track and Field, 2010-13), Aleksey Korol (Men's Soccer, 1996-99), Christina Loukas (Women's Diving, 2006-09), Tina McCall-Waters (Women's Tennis, 1978-81), George McGinnis (Men's Basketball, 1970-71), and Larry Rink (Team Physician, 1980-present) will be officially inducted at the annual Hall of Fame dinner on Friday, Sept. 22, and will be recognized at halftime of the Indiana-Akron football game at Memorial Stadium the following day. A limited number of tickets are available to Friday's induction ceremony and can be purchased here.
"Indiana University Athletics has a tradition of excellence that rivals any other intercollegiate athletic program in the country, and this year's class is evidence of that rich history," said Dolson. "The 2023 class includes multiple Olympians, NCAA individual and team champions, pioneering students and staff, and an iconic figure in the sport of basketball. We are proud to be associated with such a world-class group, I extend my most sincere congratulations and thanks to these individuals, their families, and their loved ones."
The IU Athletics Hall of Fame, established in 1982 by the Department of Intercollegiate Athletics in conjunction with the Varsity Club and the I-Association, recognizes individuals who have made exceptional contributions to the prestige of IU both on and off the field of competition.
Derek Drouin (Men's Track and Field, 2010-13)
One of the most decorated student-athletes in IU Track and Field history, Drouin won an Olympic gold medal in the high jump in 2016 and a bronze medalist in 2012 while representing his home country of Canada. By winning Olympic gold, he became the first IU Track and Field alum to win an individual Olympic gold since Milt Campbell (decathlon) and Greg Bell (long jump) in 1956. Drouin's Olympic successes were mirrored by his dominance at the collegiate level. He is the only student-athlete to ever win five NCAA high jump titles (three indoor, two outdoor). He also won seven Big Ten titles, was a seven-time All-American, and a three-time IU Male Athlete of the Year. In his senior season in 2013, he won the Bowerman Award as college track and field's top performer, regardless of event, as well as the Jesse Owens Big Ten Male Athlete of the Year.
Aleksey Korol (Men's Soccer, 1996-99)
Korol was a dominant offensive force during arguably the greatest four-year stretch in IU Men's Soccer history. Indiana went 82-9-3 during Korol's four years with the program, a run that included Big Ten titles each year, Final Four berths in his final three seasons, and NCAA championships in his final two. As a senior he was named Soccer America's National Player of the Year and Big Ten Player of the Year after becoming one of only seven IU players to score 20 goals in a single season. Korol was at his best when it mattered most, as his 12 career goals and five assists in 17 NCAA Tournament contests made him the all-time leading scorer in NCAA Tournament history.  He ranks fourth in IU history in scoring with 149 points on 57 goals and 35 assists. He was also named to Soccer America's Team of the Decade for the 1990s, one of only five IU Soccer players to earn a spot on an All-Decade team.
Christina Loukas (Women's Diving, 2006-09)
At both the Big Ten and NCAA levels, Loukas was a dominant force for the Hoosiers. She's the only female to ever win four Big Ten Diver of the Year awards (2005-07, 2009), and the only female to earn Big Ten Diver of the Championships honors four times as well. Her Hall of Fame career included six Big Ten individual titles, 11 All-America honors, three NCAA runner-up finishes, and an NCAA championship on the three-meter board as a senior in 2009. After capturing the NCAA title at her final national meet she was also tabbed as the 2009 NCAA Diver of the Year.  A two-time IU Female Athlete of the Year, Loukas' accomplishments extended to the international level, where she was a two-time Olympian in three-meter diving in both 2008 (where she placed ninth) and in 2012 (eighth).
Tina McCall Waters (Women's Tennis, 1978-81)
The first Black female to receive an athletic scholarship at Indiana University, McCall Waters was one of the pioneers that built Indiana Women's Tennis into a dominant force under Hall of Fame Coach Lin Loring in the 1970s and 1980s. McCall Waters was a two-time First-Team All-American and a three-time First-Team All-Big Ten selection who helped lead Loring's teams to three Big Ten Championships. The 2020 winner of the Leanne Grotike Award, McCall Waters was inducted into the American Tennis Association's Black Tennis Hall of Fame in 2020 and received the Dr. Martin Luther King Community Service award from Kappa Alpha Psi in 2011.
George McGinnis (Men's Basketball, 1970-71)
In his one year of varsity basketball at IU, McGinnis put together one of the most dominant seasons in Big Ten history. The Indianapolis product led the Big Ten in both scoring (29.9) and rebounding (14.7) as a sophomore in 1970-71, becoming the first sophomore to lead the Big Ten in both categories. He bypassed his final two years of eligibility as a hardship case, and enjoyed a Hall of Fame career as a professional in both the ABA and NBA. McGinnis first signed with the ABA's Indiana Pacers, where he spent four years playing for former Hoosier Bobby Leonard. He led the team to two ABA championships, and in 1974-75 he was named the ABA's co-MVP with Julius Irving after averaging 29.8 pounds, 9.5 rebounds, and 6.2 assists. McGinnis went to the NBA in 1976, and during his seven years was named All-NBA First Team twice and an NBA All-Star three times. Overall, he scored 17,009 points in 11 years of pro basketball. He was inducted into the Naismith Memorial Basketball Hall of Fame in 2017, becoming the seventh person with IU Basketball ties to be inducted (Bobby Leonard, Isiah Thomas, Everett Dean, Bob Knight, Branch McCracken, Walt Bellamy).
Larry Rink (Team Physician, 1980-present)
A pioneer in the medical field and in particular the area of cardiovascular health, Rink has served as the team physician for the IU Men's Basketball program for 43 years. In addition to his role with the basketball program, Rink is also a consultant to the IU Athletic Department, the Executive Director of the Lawrence D. Rink Sports Medicine and Technology Center, and a clinical professor of medicine with the IU School of Medicine. His relationship with IU Athletics began in 1980, when he launched a cardiovascular testing program with IU's men's basketball student-athletes. Rink is a graduate of the IU School of Medicine and a practicing physician in the areas of cardiology and sports medicine in Bloomington. He has worked extensively on the international level, serving as the Team USA team physician at the 1992 Summer Olympics in Barcelona, as well as at past U.S. Olympic Trials, Olympic Sports Festivals, World University Games, and Pan American Games competiti9ons.
For information about the Hall of Fame Dinner, contact the IU Varsity Club at varsity@indiana.edu or 812.855.0866. Tickets can be purchased here.
Make sure to follow Hoosier Illustrated on Twitter @Indiana_FRN, Facebook and YouTube to stay up to date on all of the news, updates and coverage of Indiana University athletics.