Video Q&A: Calbert Cheaney discusses decision to join Indiana basketball staff, his role and more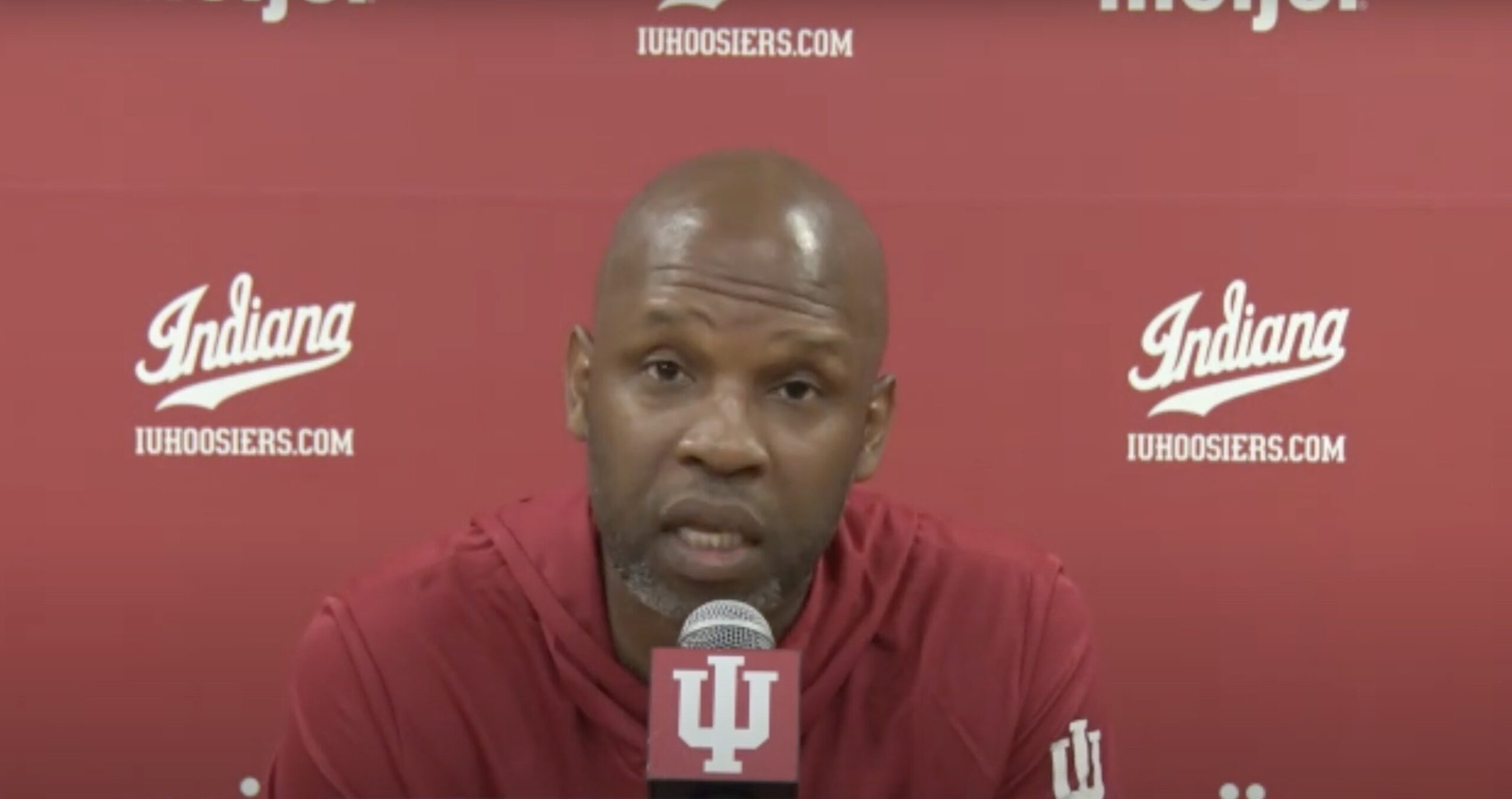 Former Indiana basketball standout player Calbert Cheaney spoke with the media on Thursday morning for the first time since being announced as the new Director of Player Development for IU.
Cheaney was previously with the Indiana Pacers.
Cheaney discussed his role, decision to return to Indiana, relationship with members of the IU basketball staff and much more.
Below is the full video Q&A and transcript.
(Note: There were technical difficulties with the video feed. The audio works fine)
OPENING STATEMENT:
Cheaney: "Hey, how's it going, everybody? Just want to say it's good to be back home and I look forward to the opportunity to work with this wonderful program they call Indiana basketball and it should be a lot of fun. I hold coach (Mike) Woodson in high regard and that's one of the reasons I'm back. He's highly-respected. Really love the guy and I think it's going to be a lot of fun. I'm looking forward to it. If anybody has any questions, I'm ready."
Q: How did the opportunity come about and what was the process in bringing you back to Indiana?
Cheaney: "Yeah, I had a good conversation with Woody last summer. We just talked a little bit over the summer last year and had some good conversations. And then kind of after a while, kind of after the season started for us and for them, there was really no talks at all. And then once the season was over with — our season was over with — about a week or so later, Woody gave me a call and we started talking a little bit more and he stressed and talked about the opportunity of coming back here and I guess what the new rule is where you can work with players on the court now during the player development role. I thought it would be an interesting deal and had a really good conversation with Woody. And like I said, I've always held him in really high regard, known the man for a long time and he's a hell of coach. And I figured I could come back and not only help him, but also learn from him. So I'm really looking forward to the opportunity."
Q: What exactly are you going to be focused on in this new role?
Cheaney: "Just player development. Develop them on and off the court, and on the court just help them become better basketball players. Off the court try to help them understand how to become really good, young men and function in society. That's what it's all about for me. I'm always the type of person to want to pay it forward. A lot people helped me along the way and this is a great game and it's been good to me. I want to do the same."
Q: What are some of your favorite memories as a player and what has this program meant to you?
Cheaney: "It's meant an awful lot to me and will always mean a lot, just like all the former players that have come through here and all the fans that have lived and died by this program and they still do. That's what it's always been about to me. This program has always had a great tradition and I've always enjoyed watching this program grow. And obviously with programs, you have your good moments and bad moments, but that's the nature of it. I love this program and have always loved it. Just happy to have this opportunity to come back and contribute once again."
Q: How can you compare the IU team in 2013 when you were on staff …  Do you see any similarities between that team and this year's team?
Cheaney: "It's all about, like I said, playing collectively. That 2013 team, they had some great guys on that team — Cody, Cody Zeller, Victor Oladipo, Will Sheehey, Christian Watford, Jordan Hulls and those guys. And then Yogi (Ferrell) came in and they just clicked and played together. That's all I try to do. I just want these guys to understand the team concept, you know, this is a team game. These guys here, I got a chance to see them practice yesterday and they have some of the same abilities that that 2013 team had. But, obviously you have to have that chemistry and that work ethic as those guys. And I always tell guys, 'Your head and your heart are going to determine how successful you're going to be, not only on the basketball court but in life.' And that's all I'm going to try to tell them. Try to go out there and play your hearts out, do everything hard, and play together. If you do those things, you're going to be successful, no matter what."
Q: What was it about this that made it the right time to return to Indiana?
Cheaney: "Woody. Woody. At that time, I hadn't really considered coming back to college, but Woody was the determining factor for me. I have so much respect for the man, what he's done, and what he's been able to do. And I've known him forever, known him for a long time, even since I was a player here. So he and his staff that he's put together is really what brought me here. The fact that I'm able to be a part of that means a lot to me. And I appreciate Woody for wanting to include me in his dream, so to speak."
Q: What your thoughts are on how important it is for former players, like yourself, to be involved with the Indiana program?
Cheaney: "I think it's very important, obviously, especially when you're coming from a winning tradition like Indiana's had. You look at all the blue-bloods like Kentucky and Duke and North Carolina, who always brought their guys back, I think that's always good for former players to come back and want to contribute to the program that helped them get to where they are right now. And that's all I try to do. It's not about money for me, never has been, never about anything for me. It's all about trying to pay it forward and do what's best for the program that's been good to me over the years and that's why I do it. I think it's very, very important."
Q: What's the coaching staff camaraderie like with all the professional experience and IU connections?
Cheaney: "Well, I think between me, Jordan (Hulls) and Woody, I think both know I'm the better player. But no, I think the camaraderie is great. You think about the different generations, you got Woody, myself, then Jordan Hulls, who all know about the pulse of Indiana basketball. We're from the same state. Jordan from Bloomington, Woody from Indianapolis, me being from Evansville. We all know about the — from the state perspective, we all grew up in this state knowing about Indiana basketball. The camaraderie and the chemistry is like automatically there for whatever reason. So, I had the privilege and opportunity to work with Jordan back in 2012 and 2013 and I relish the opportunity to work with him again. So I think it's great."
Q: First impression of coach Woodson and how the relationship has grown over the years?
Cheaney: "I met him when I was player here and I was going through a tough time as a player. I think I might've played a lot of basketball that summer, I think I might've played at the World University Games or something like that. I had played a lot of basketball and my body just wasn't feeling right. Then once the season rolled around, I was struggling a little bit in the beginning of my junior year, and he sat me down and talked to me. We had a great conversation, he and Scott May. And our relationship really bloomed from there.
"And him playing in the pros and coaching in the pros, I always went out of my way when I had an opportunity, every time I saw him, we always had a great conversation. So our relationship has always been great. And like I said, he understands the game, he understands what it takes, he understands how to help players grow into the best players they can possibly be. Like I said, it's great to be part of that."
Q: How have you seen the college game change since you last coached (in college)?
Cheaney: "You know, it's not — to me, basketball is basketball. Obviously the NIL is pretty important now, and with the transfer portal the way it is — I think when I was here in 2012-2013, the transfer portal was around 5-600. Now, it's well over a thousand every summer. But it is what it is, you got to be able to adapt to it. And with the NIL situation, you got to be able to adapt to that as well. I think Coach Woodson and his staff have done a wonderful job adapting to that over the last couple years, getting some really good players in here and obviously the NIL situation is a different thing in itself. I think the athletic department has done a wonderful job in working with that, raising the money, giving these student-athletes these opportunities to make a little bit of money while they're playing the sport they love. I think it's a little bit different, but at the end of the day it's still basketball. You get them in here and you try to win, that's the obvious thing of what you're trying to do. I think we can win. I got a chance to watch some of these guys player yesterday, and this team has a lot of potential. They can be even better than this last year's team. But it's up to them on how good they want to be and I look forward to helping them achieve that goal."
Q: Back in coach Knight's day, it was never a question to be in the NCAA Tournament every year … How important is it for Indiana to be a consistent NCAA Tournament team again?
Cheaney: "I think it's very important. Obviously Woody's first two years, he came in and automatically got to the tournament, which is a wonderful success, and obviously you want to try to do that every year. But you're only as good as your players, so you gotta recruit and you gotta go out and do your best to get the best talent that you can, and at the same time, you gotta get that talent to play together. I think, like I said, Coach Woody and his staff have done a wonderful job, especially this summer, through the transfer portal and then the recruitment, of getting guys in here so we can continue to play in the NCAA Tournament and have a chance of winning. Because now with the NCAA Basketball landscape, so many people transferring, you never know who's gonna get to the Final Four. You saw that with Dusty's (Dusty May) team, Florida Atlantic, and then you had some others that made a run to the Final Four.
"So you got all kinds of teams out there that have an opportunity to get to an NCAA Tournament and knock off big teams and get to a Final Four. But that's the nature of basketball. Back when I played, you already knew who was going far in the tournament … it's a little bit different now. Winning is a little bit tougher, but at the end of the day it's still basketball so if you go out and coach a team the best way you possible can and get them to understand that hey it's you out there trying to get wins and we are just trying to help you get there. But it's up to our guys to make that decision to want to get to that tournament and go far and try to win a national championship and in the regular season, win a Big Ten title … so that's what we are going to try to do. "
Q: Who were some key people you looked up to in basketball and your personal life?
Cheaney: "I would say my high school coach, my AAU coaches … coach Knight helping me. Ron Felling. Dan Dakich, all those guys, Norm Ellenberger. They've all helped me to achieve my goal and when I was coming up here through college, I had no idea that I was going to play in the NBA or have an opportunity to play for a long period of time, over a decade, and have some success doing it. So for me, it's all about people pushing you to get to your goal, and obviously no one can do it alone. It's a team sport. There's always gonna be people along the way to help you get there, and that's what I always try to do. I just want to try and help the achieve that, and for me looking for nothing in return, and do what God put me on Earth to do, and that's help people … that's what it's all about for me."
Q: How do you balance one-and-done vs three of four year players in working with them in player development?
Cheaney: "Yeah, it can be tough a little bit, but at the same time you gotta be able to relish the opportunity. With Jalen Hood-Schifino and what he's done in just a year's time and becoming a first-round draft pick, that's huge. And then you got another player like Trayce Jackson-Davis, who stayed four years and did some great things, and he got drafted and he's with the Golden State Warriors. So it's a little bit of a give and take, but at the same time you're still doing the same thing, you're still trying to help these guys get better, even if it's for one year or even if it's for four years. You want them to improve and better than when they came in here, and that's all we try to do. What Woody did with Jalen and Trayce, getting him to that point, and Race and those guys. I believe that they were better now than what they were when they came in. So that's what it's all about. That's what it's all about."
Make sure to follow Hoosier Illustrated on Twitter @Indiana_FRN and YouTube to stay up to date on all of the news, updates and coverage of Indiana University athletics.