Two Indiana basketball targets among the biggest 2025 ranking risers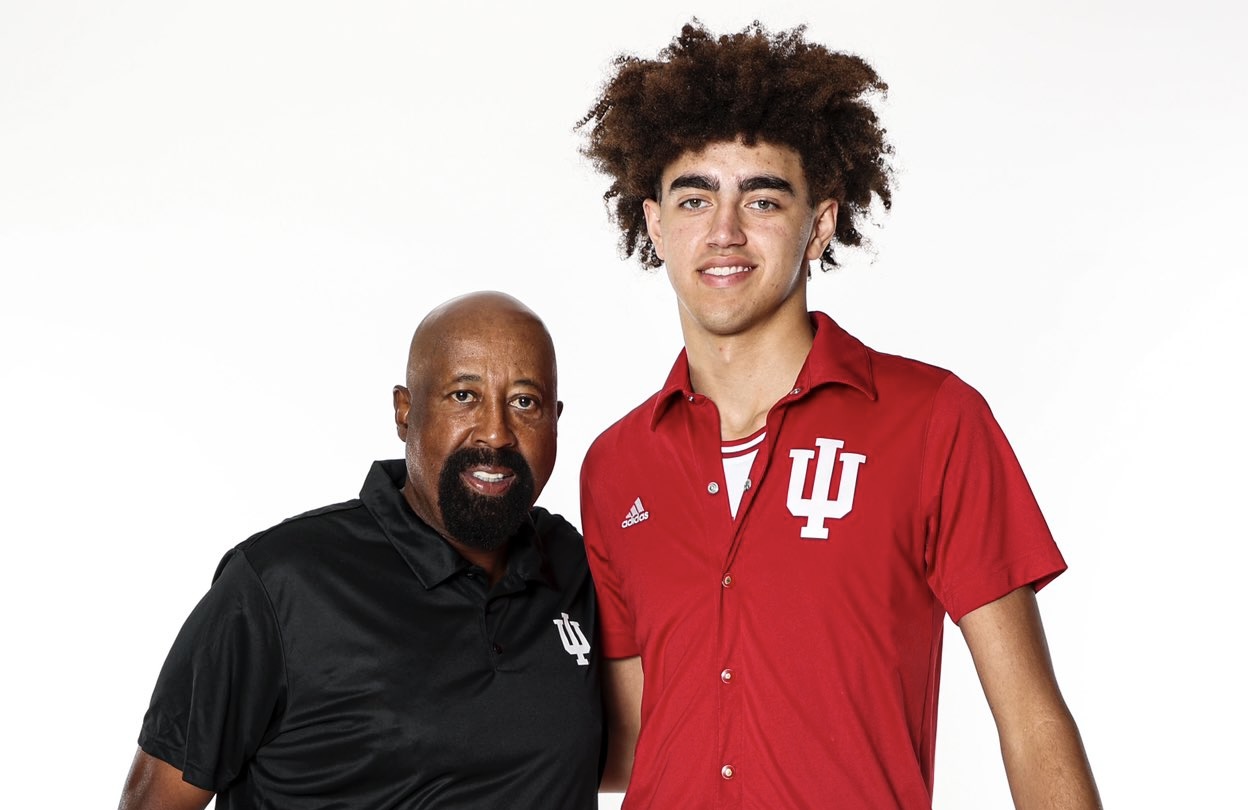 It continues to be a very busy month of recruiting in college basketball and Indiana basketball is right in the thick of it all. The Hoosier men's basketball staff has been on the road the past week making in-home visits as well as gearing up for all of their campus visits this month.
With college basketball recruiting ramping back up in the month of September, this is also a time where you see a lot of national prospect rankings get updated, as well. 247Sports recently updated their 2024 and 2025 player rankings, which obviously features quite a bit of Indiana basketball targets.
Sticking with the 2025 class, two four-star Indiana basketball targets, Malachi Moreno and Jordan Scott, saw a big rise in their overall rankings.
2025 four-star center Malachi Moreno recently took an unofficial visit to Indiana along with five-star guards Jalen Haralson and Darius Adams. The 7-foot-1 big man saw his overall rankings jump 20 spots to No. 30 overall.
Look: Pictures of Jalen Haralson, Darius Adams, Malachi Moreno from Indiana basketball unofficial visits
During his sophomore year at Great Crossing High School (KY), he averaged 14.8 points, 11.2 rebounds and 4.8 blocks per game. He also shot 64% from the field overall and 62% from the free throw line. Moreno also plays for Indiana Elite 2025 as part of the Adidas 3SSB circuit. He is teammates with fellow 2025 Indiana basketball recruiting targets Braylon Mullins (Sept. 15 visit), Dezmon Briscoe and key 2025 target, four-star power forward Trent Sisley (Sept. 23 visit).
Schools such as Arkansas, Michigan, Notre Dame, Tennessee, Purdue, Kentucky, Missouri, Cincinnati, Ohio State, Iowa, Xavier, Arkansas, NC State, and others are also involved in his recruitment.
"This time last year, he was a highly intriguing big due to his blend of size, length, fluidity and budding skill. Moreno has continued to improve his skillset while also showcasing his ability to rebound and block shots on the defensive end of the floor."…said 247Sports National Analyst Travis Branham when discussing the biggest risers in the 2025 basketball rankings… "As a result, he saw a big rise in this update."
"Moreno still has more upside to tap into as well. His frame has room for him to gets stronger. This along with putting time on the court could set the stage for him to make another jump in later updates."
Switching to four-star wing Jordan Scott, he saw his overall ranking jump up an outstanding 35 spots to No. 45 overall. Scott was recently offered by Indiana basketball earlier this week.
Scott plays for South Lakes High School (Va.) and helped them to a 25-4 record and Class 6 state semifinals appearance this past season. He also played with Virginia Elite on the UAA Circuit this summer.
At 6-foot-7, Scott has good size on the perimeter and is very effective in the paint with his length. While he's not an exceptional athlete, he does have the skills to showcase some above-the-rim ability at times. He's best as a shooter and while he's still developing a more consistent off the dribble shot, he's already a very good spot-up shooter.
According to Scott, Indiana basketball assistant coach Kenya Hunter was out to visit him this week, as well. He holds offers from Michigan State, Rutgers, Iowa, Miami (Fla.), Maryland, Florida State, Illinois, Penn State, Pittsburgh and others.
"What stood out about Scott this summer was his blend of size, length, fluidity, instincts and skill he has for the game while possessing untapped potential. He impacted the game at a high level as a slasher, cutter, rebounder and defender this summer," Travis Branham said about Scott. "Although he still has work to do as a shooter, his mechanics are clean which will help him improve over time."
"Scott averaged over 20 points and 7.9 rebounds a game with Virginia Elite on the Under Armour Circuit while shooting 69.1% from two and 73% from the free throw stripe."
Make sure to follow Hoosier Illustrated on Twitter @Indiana_FRN, Facebook and YouTube to stay up to date on all of the news, updates and coverage of Indiana University athletics. You can also listen to the Talking' Bout the Hoosiers podcast on Spotify.