Tom Allen addresses Indiana football vs Louisville series cancellation: 'The Big Ten has changed a lot'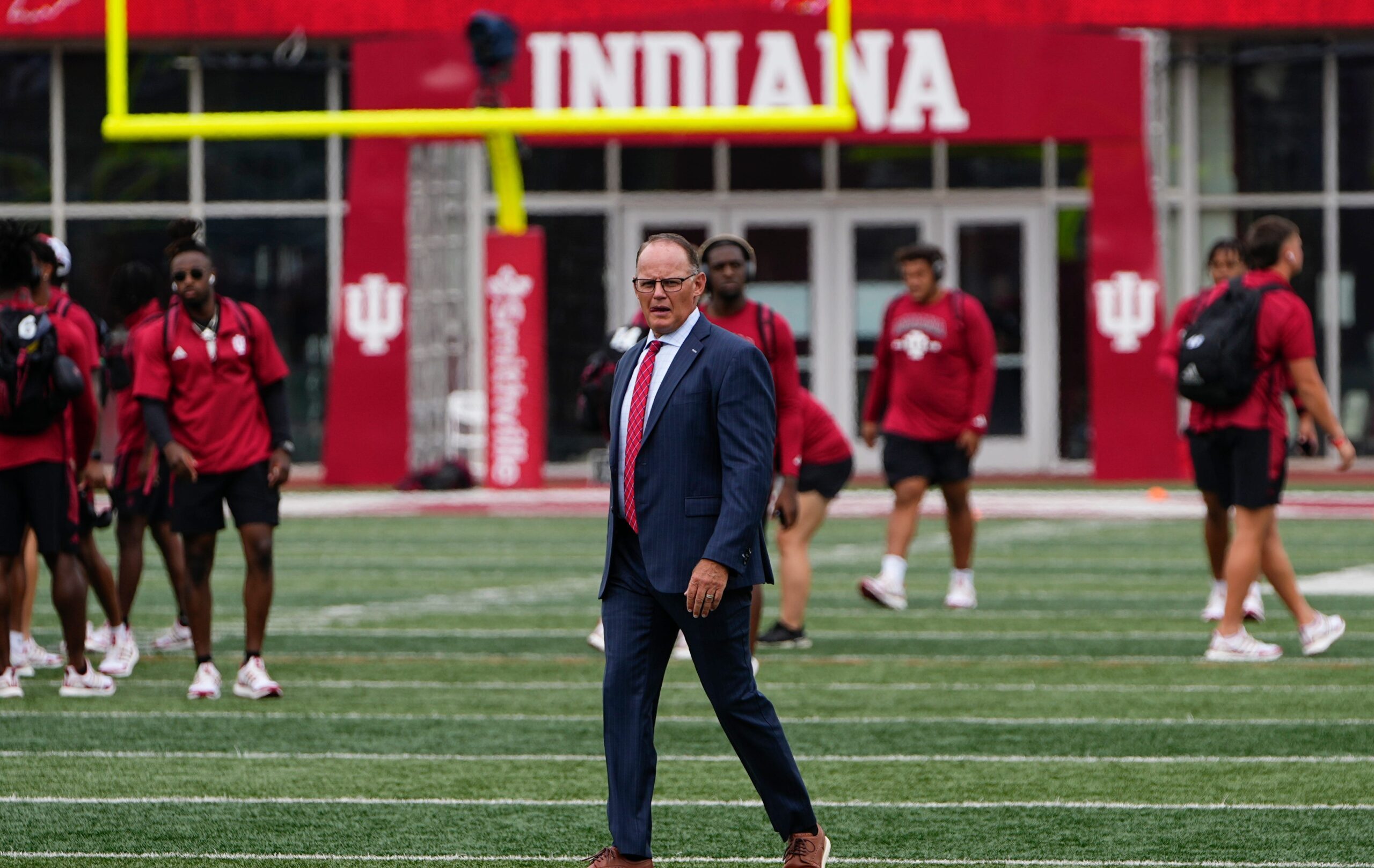 Saturday afternoon was supposed to be the first of a three-game series between the Indiana football and Louisville football programs. But, instead, it is likely the only matchup of the three games that will take place.
In 2015, the two programs agreed to the series beginning with a 2023 neutral site game at Lucas Oil Stadium that would be followed by a home-and-home matchup in 2024 and finishing up in 2025. That was, however, when the Big Ten played just eight league games and the state of the conference was quite different.
Earlier this summer, reports started to roll out that the Indiana football program was trying to get out of the final two games of the series. Just a few weeks ago, it was made all but official.
While neither program has officially announced the end of the series, it has been made clear that Saturday was a one-time event.
Indiana head coach Tom Allen addressed the topic following Indiana's 21-14 loss to the Cardinals.
"I would just say that in the last six months, the Big Ten has changed a lot," Allen stated. "We've added four teams to this conference that has changed the landscape of the Big Ten. I believe that we have to adjust accordingly."
The Big Ten will look vastly different starting next football season with the additions of Pac-12 programs USC, UCLA, Oregon and Washington. The league will now have 18 teams with consistent national-powers in USC and Oregon in addition to two programs back on the rise in UCLA and Washington.
Right now, if you were to include those four teams in the conference, the Big Ten would have six top-10 teams — including USC, Washington and Oregon. UCLA is also ranked inside the top-25.
Indiana has won just six games in two of Tom Allen's six seasons. One of those came in a covid-shortened season in 2020. The Hoosiers are just 6-18 in the past two seasons with a 2-16 record in league games.
Louisville head coach Jeff Brohm — in his first year with the program after a six-year stint at Purdue — addressed the series as well.
"I think everybody's got to do what's best for them. I know from my standpoint, it's always been we love playing in-state rivalries. We love playing regional games. It's not only great for the players, but it's more importantly great for the fans. They can get to the games. They know a lot of people on the other side. It means a lot to them. There's some bragging rights," Brohm said. "For my opinion, I would love to play as many as we could with anybody regionally, because it makes for great competition. You don't have to travel far, and all your fans can get there. We'll try to proceed forward, and get some more on the schedule that all of our fans can come watch."
While it's been labeled as an unpopular move, it is also the right move for an Indiana football program looking to sustain some bit of success and get back to a bowl game.
"To me, we have to do what's best for our football program," Allen said.
Make sure to follow Hoosier Illustrated on Twitter @Indiana_FRN, Facebook and YouTube to stay up to date on all of the news, updates and coverage of Indiana University athletics. You can also listen to the Talking' Bout the Hoosiers podcast on Spotify.