Quick Hitters: Early breakdown and initial thoughts on Akron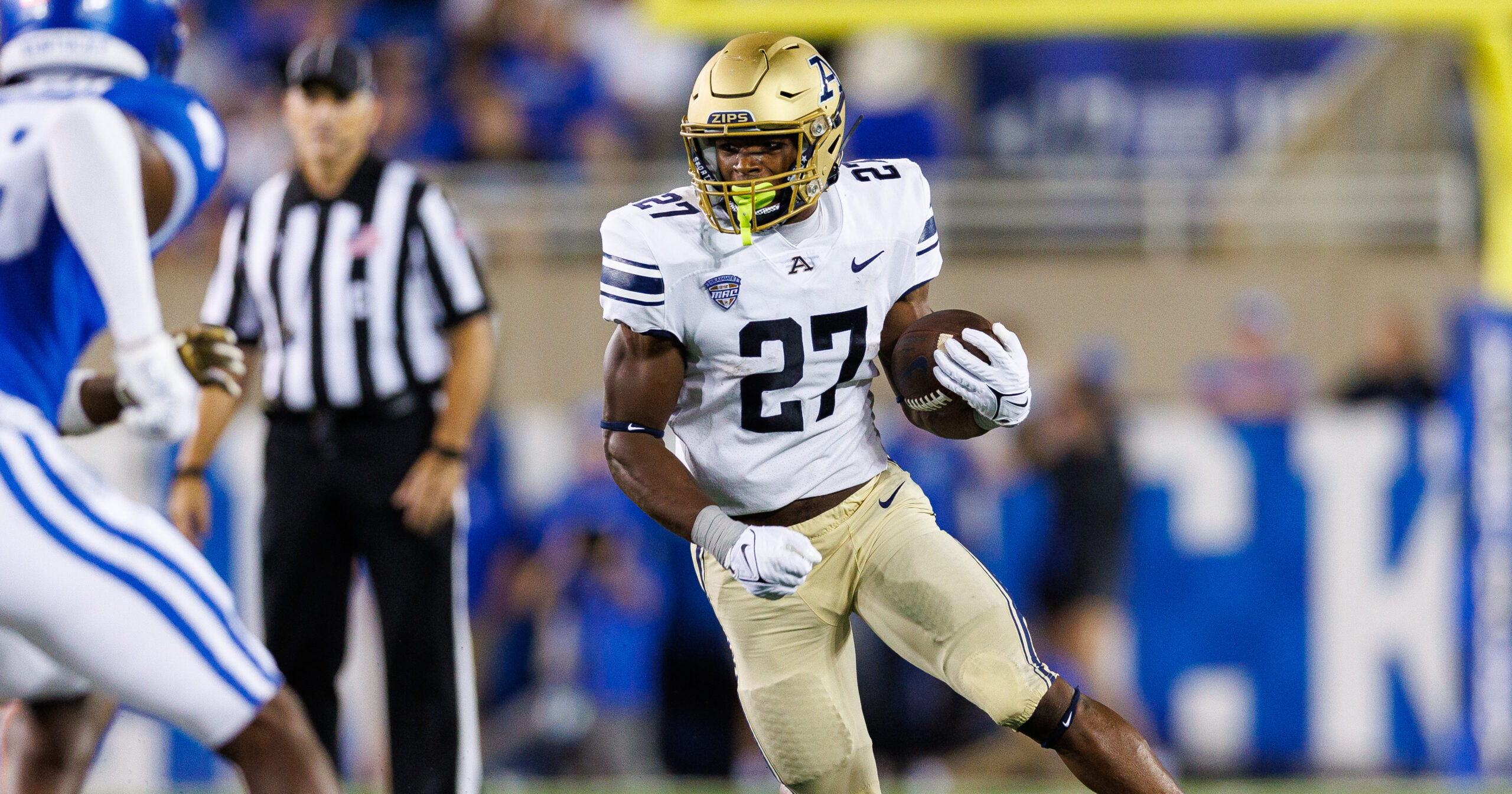 Indiana football took a hard loss in week three to Louisville, falling 21-14 at Lucas Oil Stadium. After outscoring the Cardinals 14-0 in the second half, it came down to a 4th-and-goal play from the 1/2 yard line that the Hoosiers failed to convert on.
Indiana, now 1-2, looks to get back on track when it hosts Akron this weekend.
It's the final non-conference tuneup before league play begins for the rest of the year.
Here are some early thoughts on Akron and the matchup.
Zips struggle to run the ball at any effective rate. In a vastly different manner than what Indiana saw against Louisville, Akron has a hard time finding any success in the run game. Through three games, the Zips are averaging just 1.6 yards per carry with just 127 yards total on the ground. Their leading rusher in terms of attempts is quarterback DJ Irons, with 27 carries. However, he has totaled negative three rushing yards on the season — which takes into account total yardage lost on sacks. He is coming off of a 30-yard game against Kentucky. While running backs Lorenzo Lingard and Drake Anderson average at least 3.7 yards a carry, they've only totaled 37 touches on the season.
Indiana likely to see dual-quarterback system with Akron offense. Akron has used two quarterbacks in each of the last two  games and will likely do so again against Indiana. While DJ Irons is the run-first option, Jeff Undercuffler Jr. is more of the passing option. Undercuffler Jr. has thrown for 269 yards with one touchdown and three interceptions in the last two games. Irons, on the other hand, has thrown for 392 total yards in three games with two touchdowns and one interception. Irons is the more athletic and more efficient option, yet Undercuffler is a sixth-year player with a lot of experience. Look for more of the same on Saturday, with Irons as much more of a running option when he's on the field.
Sacks should come in bunches. While Indiana's pass rush has been effective thus far, look for it to take a step up in production this weekend. Akron has given up 13 sacks so far in three games — fifth most in the FBS. Indiana has totaled six sacks this year, but has been able to get in the backfield on numerous occasions. Look for that number to increase drastically after Saturday. Andre Carter, Lanell Carr, Marcus Burris and others should have a field day attacking either of Akron's quarterbacks.
Versatile and efficient defense highlights Zips' strengths. Akron is very sound defensively and has proven it in numerous areas. Most notably, rushing defense. On the season, Akron is ranked 25th in the FBS in rushing defense, allowing just 91.7 yards per game on a 3.1 yard per carry average. Indiana's rushing offense already ranks 12th in the Big Ten, so facing a stout rushing defense could be an interesting storyline to follow. The Zips have 16 tackles for loss this season and have seven players with more than one tackle for loss. We'll see what Indiana does to be more effective in the running game, but through three weeks, the running back room is averaging justing 3.4 yards per carry.
Indiana needs to key in on Lorenzo Lingard. If there is one player Indiana needs to zone in on it's running back Lorenzo Lingard. Lingard has been the most effective offensive weapon for Akron this season. He is the leading rusher — albeit just 78 total yards — but is highly impactful in the passing game. He has a team-high 139 yards and is averaging nearly 20 yards per catch. He's a 6-foot and 205-pound back who has good speed and strength both out of the backfield and in open space. He has just seven receptions, but has taken one for a 77-yard touchdown and has two more of at least 20 yards. Indiana needs to do a good job containing him in the open field and limiting some of the explosive plays he can create.
Make sure to follow Hoosier Illustrated on Twitter @Indiana_FRN, Facebook and YouTube to stay up to date on all of the news, updates and coverage of Indiana University athletics. You can also listen to the Talking' Bout the Hoosiers podcast on Spotify.