Indiana Football Talking Points: 'Playmakers', improved play-calling is key, offensive line, 'early jitters' for QBs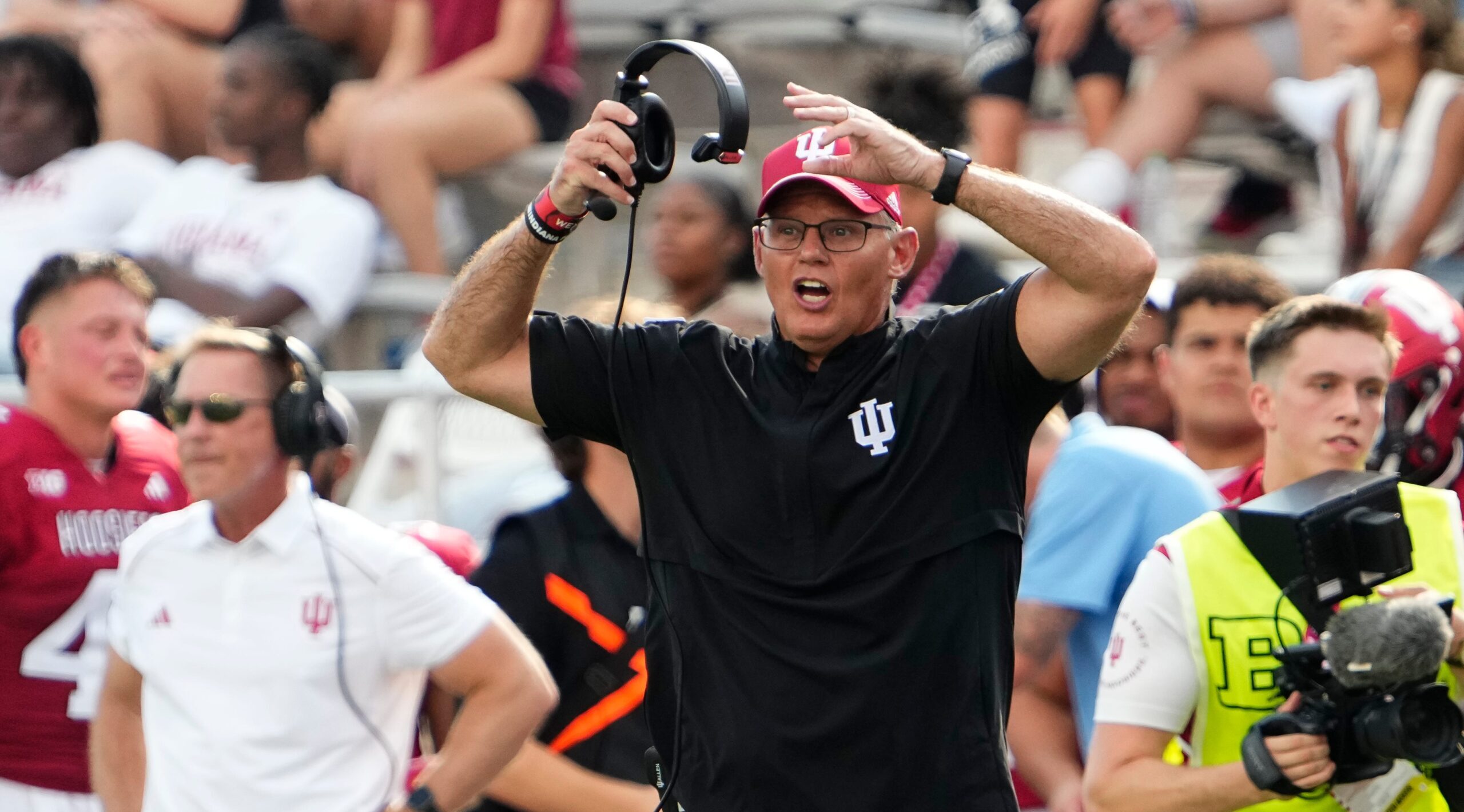 Indiana football fell to Ohio State 23-3 on Saturday to get its season started. On Wednesday, head coach Tom Allen had his weekly radio show 'Inside Indiana football', to breakdown the keys from week one and what needs to happen in week two.
Indiana takes on Indiana State on Friday night in its week two matchup at 7:00 pm ET on BTN.
Here are some of the main talking points from Tom Allen's radio show, with key notes and quotes.
'We have playmakers and have to let our playmakers be playmakers'. Very simple yet in week one, it seemed like all too difficult of a task. The Hoosiers failed to set their playmakers up for success by strictly just not getting them the ball. Both EJ Williams and DeQuece Carter had one reception each on three targets each, totaling just 35 yards. Andison Coby and Donaven McCulley both were held to less than 10 yards and Jaylin Lucas — someone who was expected to play in the slot at times — had just one target. Cam Camper led the receiving core with three receptions for 36 yards on five targets. Tom Allen and Walt Bell need to utilize short, quick hitters in the passing game and let those guys utilize their playmaking ability, speed and athleticism. Tom Allen said on the offense: 'We need to get our receivers the ball. They're very talented.' We'll see if it happens on Friday.
Mixed bag for the QBs, but no real update. Indiana's quarterback play was less than ideal but the play calling didn't help. Tom Allen said of the two QBs: 'The commanding of the offense (needs to be better)… early season jitters … missed some throws but showed some good things.' Tayven Jackson will get the start in week two and he and Brendan Sorsby will rotate like they did in week one.
Play-calling in week one 'will not be the norm' moving forward. Allen made it known that will change. He pointed out a few reasons for limiting the playbook a bit including; field position, minimizing the amount of time the defense is on the field with an explosive offense, keeping the defensive snaps around 65 this season compared to 80 last year and first down execution. He also said he didn't want to force anything early deep in their own territory that could've caused a turnover. The play-calling in the first half was 22 runs to 5 passes.
Related: Indiana football looks to address conservative play-calling heading into week two: 'I played pitter-patter too long'
Offensive line play was a 'step in the right direction' against Ohio State. Obviously mentions the need for continued improvement but was overall, very pleased with their play. Mentions previous years against Ohio State that they lacked in their ability to get movement up front, says he saw that on Saturday.
Singles out Zach Carpenter as the 'best lineman from spring to fall camp'. Carpenter is a former Michigan transfer who has played a few years with IU now and is critical as the center. Allen said, 'as far as growing and taking a step forward — I feel like Coach Bostad has brought out the best in him.'
Cam Camper was on a 'pitch count'. Camper played his first game since injuring his ACL against Rutgers in week seven last season, so Indiana wanted to bring him along slowly. He, as mentioned before, led Indiana with three receptions for 36 yards.
Matt Guerrieri's first game as Indiana football defensive play caller went well. Allen said 'I thought he did a great job' in game one. Continued to say how he and Guerrieri are very much in sync in play-calling and how the defensive plays should be called. 'Don't want any second guessing (from him)'.
Two key points of emphasis for week two. Fully execute on the defensive and and score touchdowns offensively.
Make sure to follow Hoosier Illustrated on Twitter @Indiana_FRN, Facebook and YouTube to stay up to date on all of the news, updates and coverage of Indiana University athletics. You can also listen to the Talking' Bout the Hoosiers podcast on Spotify.