Indiana football looks to address conservative play-calling heading into week two: 'I played pitter-patter too long'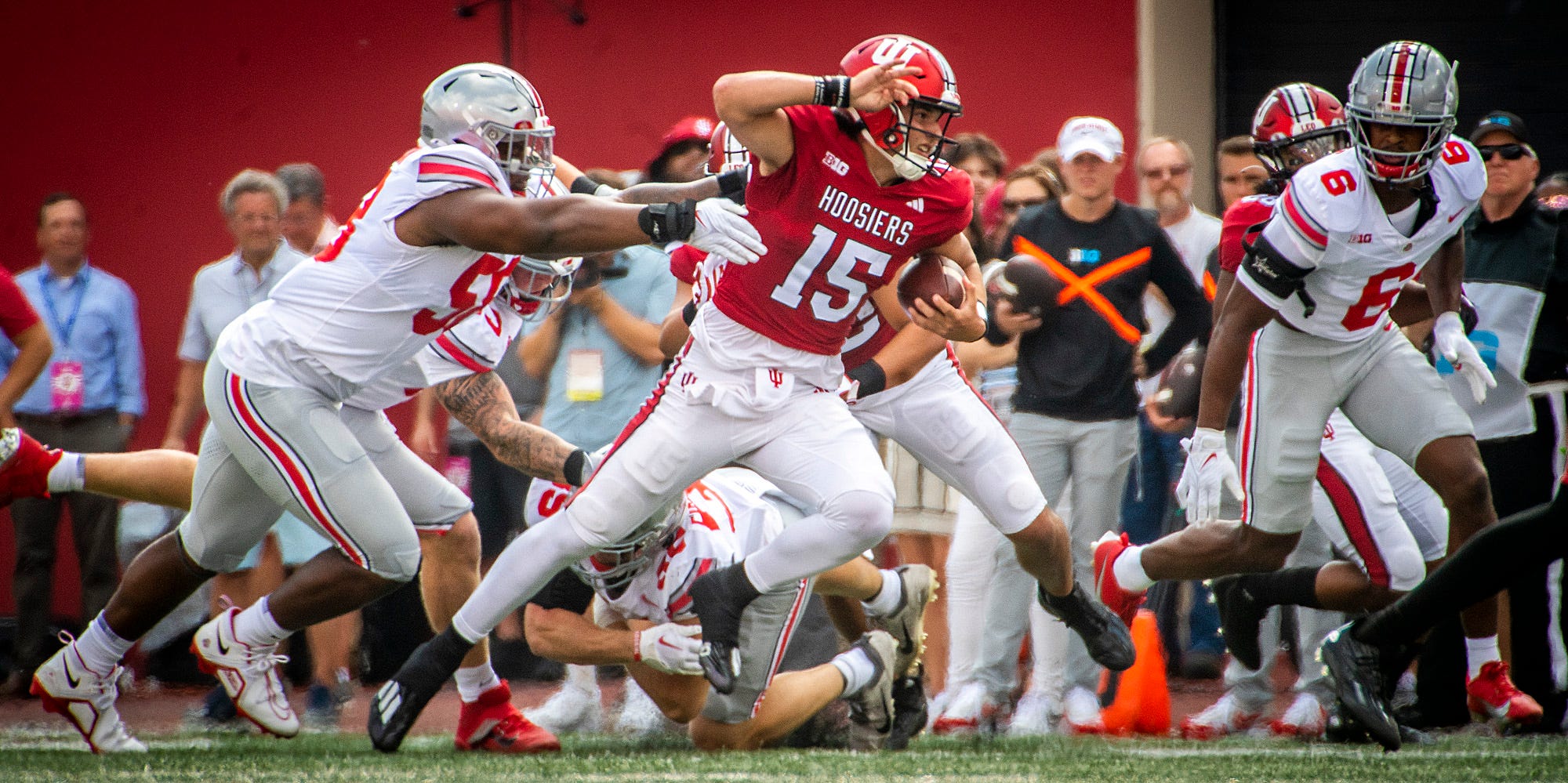 For the majority of Saturday's season-opening loss to No. 3 Ohio State, the Indiana football program underwhelmed on the offensive side of the ball.
The lack of explosive plays and use of its dynamic playmakers mirrored much of the 2021 and 2022 seasons.
But, there's one specific difference; Indiana football does have playmakers this season on offense. However, the play calling on Saturday was the main topic of conversation coming out of the weekend.
"We wanted to make it a 60-minute game and especially with kind of the history of this rivalry and how this transpired and we accomplish that," Indiana football offensive coordinator Walt Bell said on Monday. "But we played pitter-patter too long. I played pitter-patter too long."
Indiana was down just 10-3 entering halftime following a 30-minute segment that resulted in a heavy run-first offense.
Indiana's play calling in the first half was 22-5 in favor of runs vs passes.
"The one frustrating thing that kind of stuck out to me that really put our offense in a bad spot, we had four crucial penalties that caused us to — we started four drives inside the 20, three inside the 10, which is tough," Indiana head coach Tom Allen said on Monday. "It affects play calling. It affects psyche."
Indiana came into week one without a starting quarterback named publicly. The plan internally, however, was to play both Brendan Sorsby and Tayven Jackson.
While Sorsby got the start, most of his snaps came in the second half. Jackson on the other hand, saw a heavy dose of action in the first 30 minutes.
"You try not to put your young quarterbacks in a bad situation to make a big mistake, a catastrophic mistake," Allen said "You throw a pick-6 in that situation or you turn the ball over and it can snowball on you. And so I also felt like — this is just statistically it's true; we did not do well on first downs, which put us in too many third-and-longs, which, once again, that's the negative. That's the one thing you don't want."
Related: Indiana football QBs Tayven Jackson and Brendan Sorsby: 'It would not surprise me down the line if both had a chance to play in the NFL someday.'
The run-first style of Indiana led to just 71 rushing yards with a 2.2 average.
Indiana didn't attempt two passes on the same drive consecutively until the final two plays of the third quarter.
"You know, at some point, you've got to go be aggressive" Bell said.
While it was too little too late, that 'aggressive' play calling came out in the fourth quarter. It resulted in a 13-play drive that showcased six completions.
All from Sorsby, some of the highlights were a 16-yarder to DeQuece Carter, 19-yarder to EJ Williams, a few quick hitters on first down to Cam Camper and Donaven McCulley and a 16-yarder to McCulley that was called back for a penalty.
"At the end of the day, you're trying to help him (the QB) be at his very, very best, whoever that person is in there, Allen said. "So, there's no question, we have talented receivers on the perimeter to get the ball to. We've got good length, good athleticism. Gotta get those guys the football, we know that."
Heading into week two, Indiana football will face FCS opponent Indiana State — a much different caliber than Ohio State. The plan is, again, to play both QB's and look for someone to separate themselves.
Tayven Jackson will get the start on Friday night.
"We wanted them both to play, and they did," Allen added. "Like I said after the game, Tayven is going to start this week. And they'll both play this week and we'll have a chance to evaluate it and make a decision moving forward.
"But I felt like that overall, I don't think either one of them just separated from the other. Just my opinion, just looking at it. You guys all saw the same thing I saw. Looking for that to continue this week. That's what we're looking for, someone just to separate and become the guy.
"And I think there's no doubt. We didn't play good enough on offense to win. You have to score touchdowns. We all know that."
Make sure to follow Hoosier Illustrated on Twitter @Indiana_FRN, Facebook and YouTube to stay up to date on all of the news, updates and coverage of Indiana University athletics. You can also listen to the Talking' Bout the Hoosiers podcast on Spotify.