Indiana Football Week 2 Stock Report: Who's trending up? Who's trending down?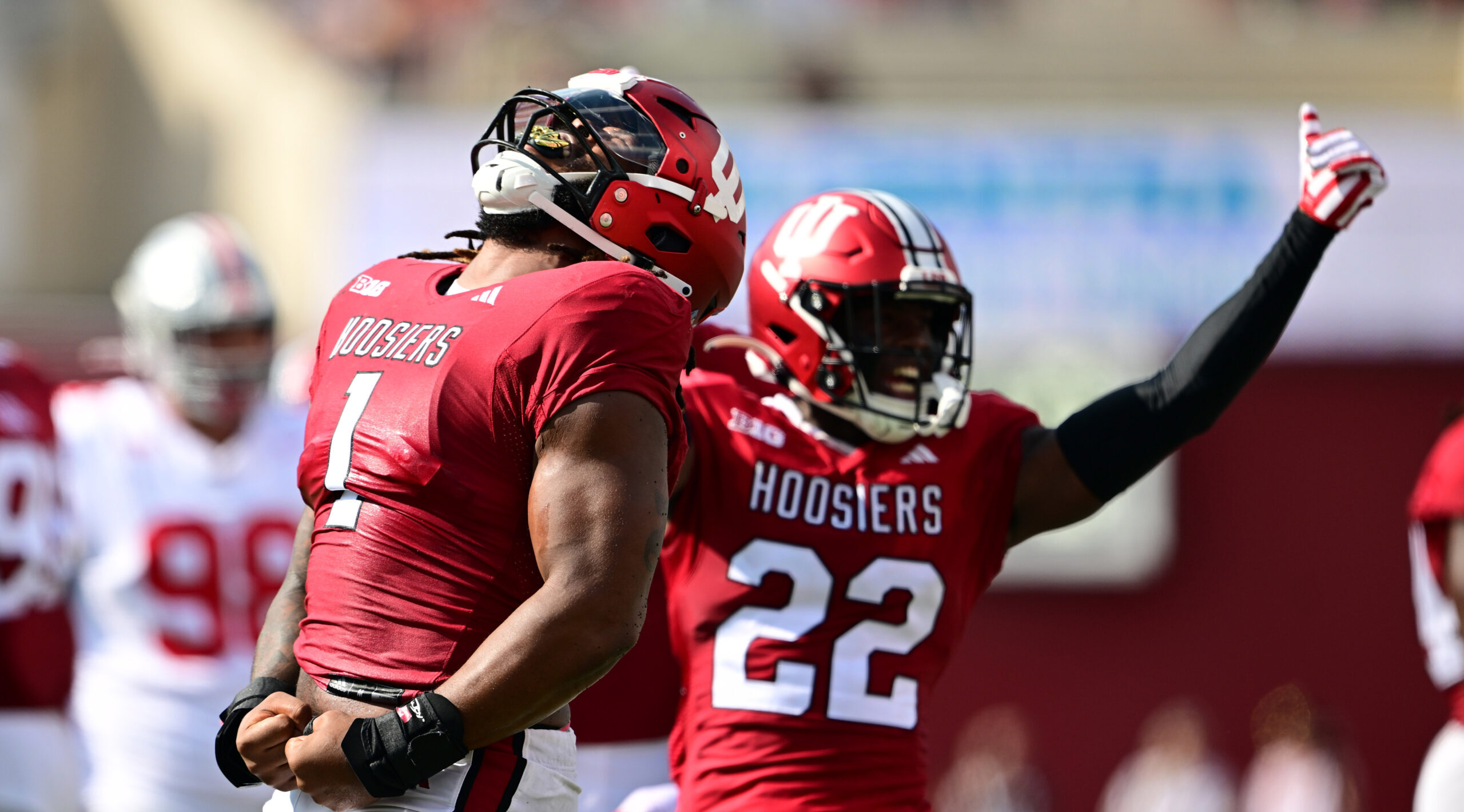 Indiana football fell to Ohio State 23-3 in week one and head into week two looking to bounce back against Indiana State.
The Hoosiers showed a lot of good things on Saturday despite the loss, but there were still some underwhelming performances from key position groups that are a concern.
After week one of the season, who is trending up? Who's trending down? We take a look at some players, and position groups here. 
TRENDING UP
Secondary: This was an outcome that nobody could've envisioned — the young and inexperienced secondary of Indiana winning the matchup with the Ohio State wide receivers. Marvin Harrison Jr was held to just two catches for 18 yards and Emeka Egbuka to three receptions for 16 yards.
"So to be able to keep those (OSU) guys in check was very critical," Indiana football head coach Tom Allen said postgame. "It was a combination of some pressure up front, as well as the guys coming around the back end and just trying to do a good job of disguising things. You saw how we're going to play. That's the system. That's who we are. That's what we want to be able to do. Mix things up. Confuse people. Got some length in the back end. Got some playmakers … I was encouraged by our secondary."
Four of the top six tacklers for the Hoosiers on Saturday were from the secondary. That included Kobee Minor, Phillip Dunnam and Louis Moore all with six tackles and then Nic Toomer with five. Combined, they had four pass breakups as well.
Phillip Dunnam: Dunnam came into this season as one of the few players on defense who appeared in every game last season. Despite playing a limited role, he came into this year expecting to take on more responsibilities. He is now doing that.  Dunnam came up with the only takeaway of the game when he picked off Buckeyes' quarterback Kyle McCord on a 4th-and-2 play on the Indiana 22 yard line early in the second quarter.
Dunnam would finish the game with six tackles and that one interception. He graded as the 12th-best defender among all players (min. 20 snaps) in the Big Ten in week one with a rating of 76.7.
Related: Phillip Dunnam emerging as potential playmaker in secondary for Indiana football
"Yeah, it's been very important growth. We've challenged him," Allen said of Dunnam on Monday. "He's one of our most talented defensive players, I believe. He's still young. He did play for us last year as a true freshman in a limited role. But he was a guy we knew we needed to have him take the next step. He's been our biggest takeaway guy during fall camp, and it showed up on game day. So just a talented player, without question, but he's still young," Allen said. "Gotta be able to stay locked in, stay focused, and he and Josh have been holding down that rover spot for us.
"That play that he made, I could show you 50 times already on the practice field … if you do it in practice, it'll show up in the games," Indiana football defensive coordinator Matt Guerrieri said. "He's become more consistent. He's matured. He's bought in, doing a really good job."
Andre Carter: Andre Carter was expected to be a big playmaker for the Indiana defense immediately after stepping on campus, but I think you could make the argument that he was even better than expected in the opener.
The big 6-foot-5 and 270-pound defensive lineman had four tackles with two tackles for loss against the Buckeyes. The speed, agility and power was on full display on numerous occasions.
"We wanted to be able to set the tone," Carter said postgame. "Coach Wilt talks about, 'We set the fight. We throw the first punch,' and we definitely came out there with an edge, and I think that helped us a lot.
"The mentality we come out on the field with is take everything and leave nothing. We've got our backs pinned up to the wall a little bit, that we love. We live for things like that."
Indiana's defensive line, with the tone set by Carter, definitely controlled most of the line of scrimmage throughout the game.
James Evans: It's not always a good thing when you talk about your team's punter being one of the standouts, but James Evans was fantastic in week one. His ability to flip the field and get Indiana out of bad spots following an offense that failed to move the ball was critical.
He had six punts with a 54.2 average, including a long of 60 yards.
"As a matter of fact, Coach Guerrieri, when he came and joined us, he's like, man, that's the best punter I've ever seen on any team I've ever been a part of. And I would agree, because he continues to get better," Allen said about Evans after Saturday's game. "Big weapon for us. And obviously, he's got to do his job consistently well. And it helps us flip the field. So we got to have everybody doing their job at a high level to win in this conference."
Evans was named to the week 1 Ray's 8 List for top punter in country.
TRENDING DOWN
Quarterbacks: Clearly there was more to be desired from the quarterback play. Brendan Sorsby got the start but both he and Tayven Jackson played. Sorsby finished 8-of-16 for 58 yards while Jackson was 1-of-5 for 24 yards. Neither played well enough to create 'separation' in the starting quarterback job.
Tayven Jackson is getting the start in week two.
"Our decision was to play 'em both in the first two games. So Sorsby started this week. Tayven starts next week. The guys know that. They knew that ahead of time," Allen said postgame. " … We just said whoever starts week one, the other is going to start week two. That's how we set it up. So it gives us a chance to be able to, after the first two games, be able to evaluate where we're at, where they're at and what we need to be able to do moving forward."
While we won't know a whole lot until week three and four, getting some confidence is key for both of these guys against an FCS opponent.
"I felt like that overall, I don't think either one of them just separated from the other. Just my opinion, just looking at it," Allen added. "You guys all saw the same thing I saw. Looking for that to continue this week. That's what we're looking for, someone just to separate and become the guy."
Running Backs: Coming into the offseason, the Indiana football staff raved about the running back room. Yet on Saturday, it was underwhelming. In total, Indiana had 71 yards on the ground with a 2.2 yard per carry average. In fact, it was Christian Turner who led all Indiana running backs with 29 yards on seven carries — with a long of 11 yards. Jaylin Lucas had 11 carries for just 24 yards and Josh Henderson finished with three carries for five yards.
This was the first time we were able to see a lot of the two running back sets and at times you could see the potential. But, in large parts the speed and athleticism of the Ohio State defense was too much to overcome. Indiana tried to get out in space but quickly that was blown up by some of the talented Buckeyes' defensive lineman.
Coming out this week, OSU defensive coordinator Jim Knowles said; "I think we practiced it… five plays or less. And that's stretching it."
So, clearly Indiana didn't do enough to disguise the play(s) and didn't bring enough creativity to getting that room involved.
MOST TO PROVE
Walt Bell: The only reason this isn't the quarterback room is because this week should be a rather easy game for the Indiana football program and you're expecting IU to show some signs of life. Going against an FCS opponent, this will be the time we can see what Walt Bell can do in order to give some confidence to this offense.
Related: Indiana football looks to address conservative play-calling heading into week two: 'I played pitter-patter too long'
Most of Indiana's passing attack was short of the first-down sticks against Ohio State, with very few deep ball attempts. Coming into this season, getting more explosive plays down the field was a point of emphasis. Unfortunately, it didn't come to fruition on Saturday.
"We wanted to make it a 60-minute game and especially with kind of the history of this rivalry and how this transpired and we accomplish that," Indiana football offensive coordinator Walt Bell said on Monday. "But we played pitter-patter too long. I played pitter-patter too long."
Indiana didn't attempt two passes on the same drive consecutively until the final two plays of the third quarter.
"You know, at some point, you've got to go be aggressive" Bell said.
Make sure to follow Hoosier Illustrated on Twitter @Indiana_FRN, Facebook and YouTube to stay up to date on all of the news, updates and coverage of Indiana University athletics. You can also listen to the Talking' Bout the Hoosiers podcast on Spotify.