Indiana football quarterback battle still undecided midway through fall camp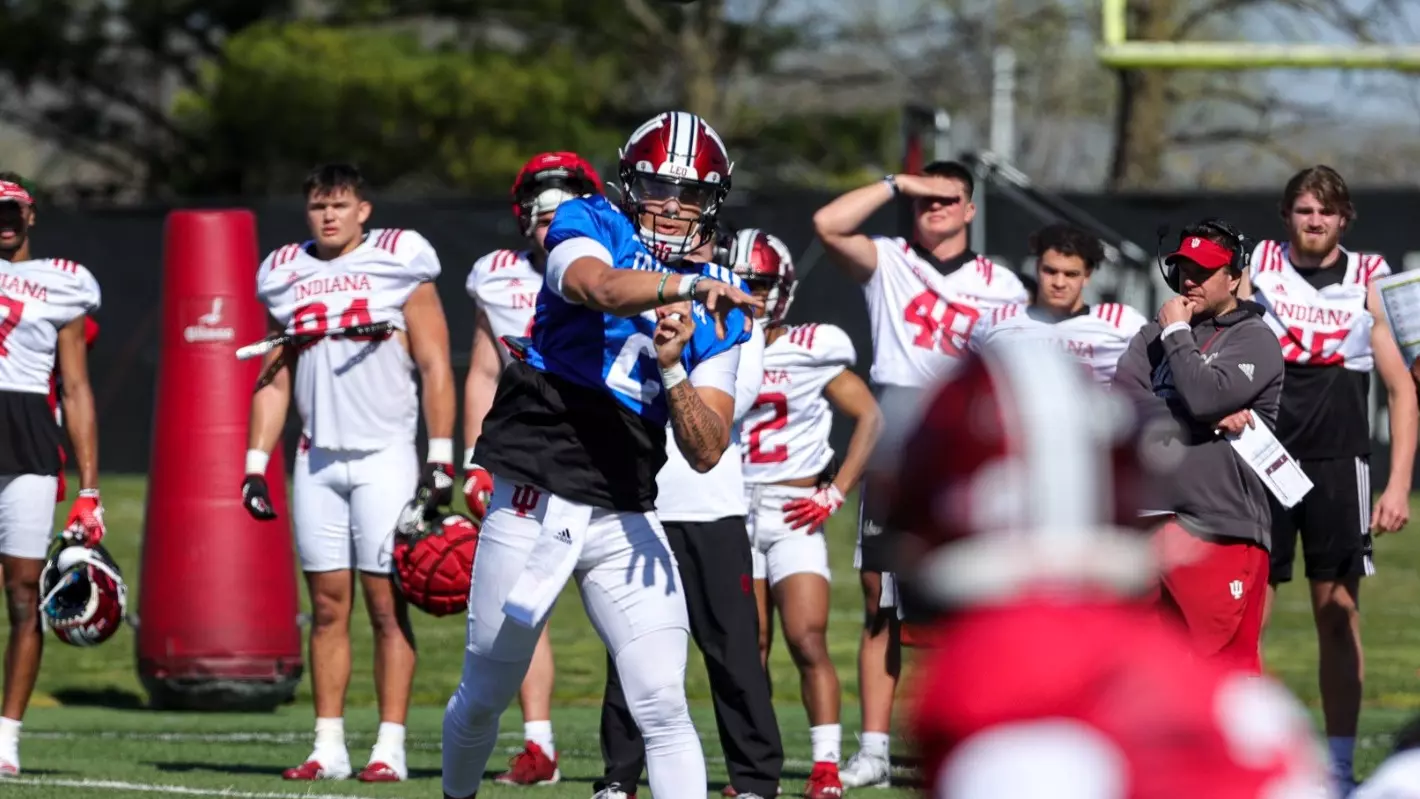 As fall camp comes to a close and Indiana football inches closer to its week one matchup with number three ranked Ohio State, one question looms large over Indiana's program. Who will start at quarterback for the Hoosiers in week one? 
Indiana Head Coach Tom Allen has made it clear that he will not publicly name Tayven Jackson or Brendan Sorsby as the starting QB before week one, as he continues to hold his cards close to his chest. 
"I would say [there is] no separation at this point. I think that the last couple of practices they have continued to grow, develop and kind of get past the installation part," Allen said on Wednesday. "We have two young quarterbacks, so when you have the whole install. It's hard, it really is. I think as you kind of zero in on what the call is going to be and that individual person, it helps them a lot. We'll see more of that in the next few practices and Saturday's scrimmage."
Read: Indiana Football Position Preview: Quarterback
While Coach Allen won't openly say it, he might be hinting that he and his staff have an idea of who will win the starting job. No matter who Coach Allen names as starter, they will be making their first start at the college level week one.

Both Tayven Jackson and Brendan Sorsby are redshirt freshmen that lack playing experience at the college level, which is part of the reason why neither has been able to separate themselves from the other.
Allen emphasized the importance of managing the pressure that comes with the position of quarterback.
"To me, they have done well and really looked good. They are still learning," Allen added. " … But at the same time I think they continue to handle the pressure of having this. I think that is a good thing because I think that is part of preparing them for the role they are going to be in, which is loaded with pressure, expectations. Do you have what it takes to be a quarterback at this level?" 
Despite their battle for the starting spot, Allen highlighted that Jackson and Sorsby still rely on one another to help each other improve during camp and emphasized the importance of their relationship in their development.
"They are going through this process together," Allen said. "They are leaning on each other. They are going to lean on each other throughout the season and lean on each other now on a weekly basis."
Even though the public won't know Coach Allen's decision until week one, it is fair to assume that Allen will likely name the starting quarterback soon, as camp approaches its end and preparation for Ohio State begins.