Indiana Football Position Preview: Quarterback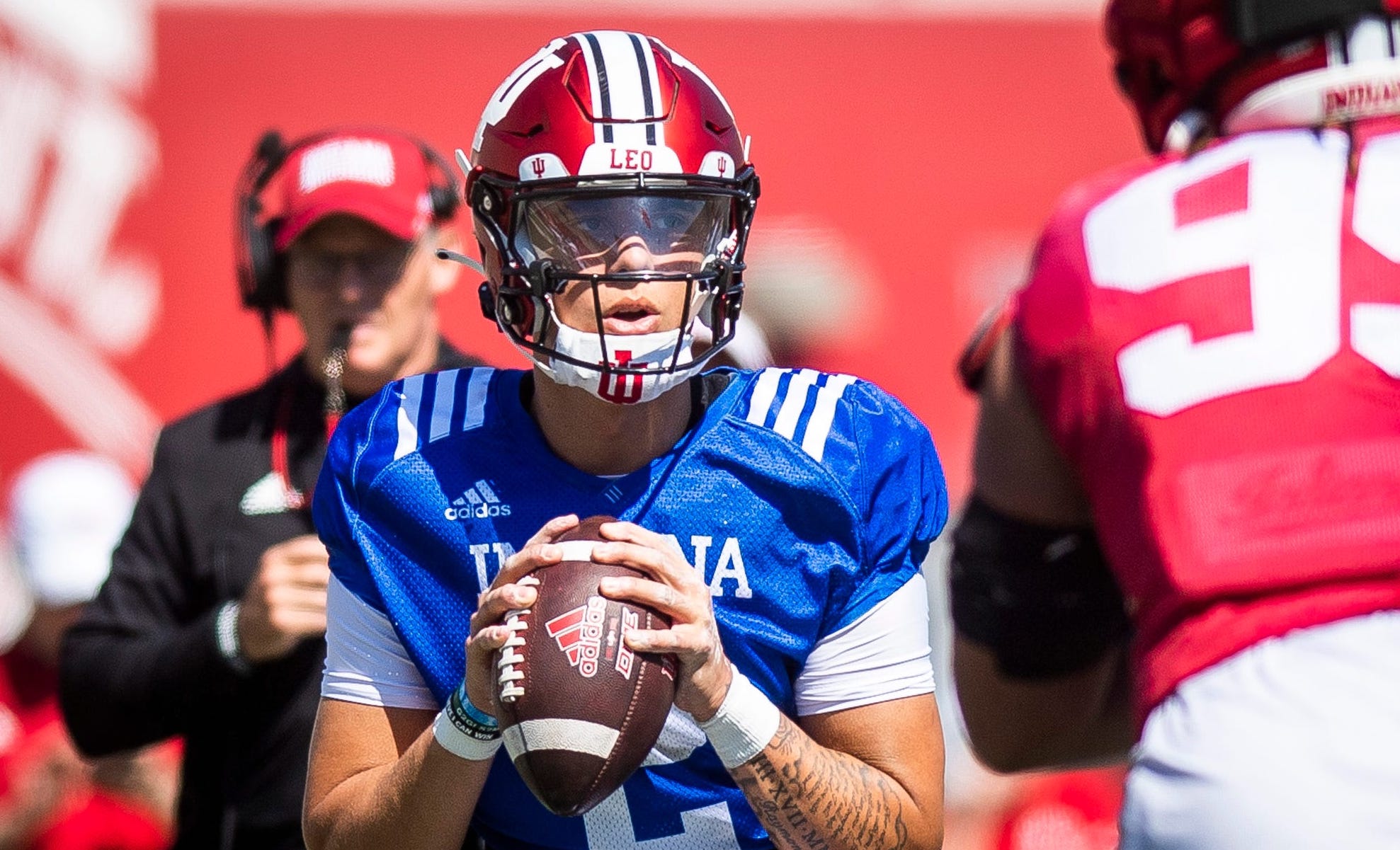 As fall camp quickly approaches, a critical summer takes place for the Indiana football program.
After amassing just a 6-18 record over the last two seasons, Indiana looks to bounce back and show some of the form that it had in 2019 and 2020.
A large reason for the struggles over the last two years has been due to quarterback play and the inconsistencies that have plagued that position. This year, it's imperative that Tom Allen and Indiana get consistent snaps from that position.
Indiana ranked 13th in the Big Ten in completion percentage (54.0) and 14th in yards per attempts (5.4) last season. The quarterback position has clearly been a missing piece for Indiana over the past two seasons.
Ahead of fall camp, HoosierIllustrated.com will take a look at the position groups on both sides of the ball and break down the state of the position.
First up are the quarterbacks.
Who needs to start?
Tom Allen hasn't named a starter and likely won't until the Hoosiers step on the field for the first time against Ohio State on Sept. 2. But, the guy who needs to take the starting role is Tayven Jackson.
Jackson, an Indiana native, comes from Tennessee through the transfer portal. He arrives in Bloomington as a former high four-star prospect but one that hasn't had much experience at the college level.
More: Indiana football quarterback named breakout candidate for Hoosiers in 2023
Jackson played in just three games a season ago. He was 3-of-4 or 37 yards and had four carries for 10 yards and a touchdown. Not something that screams 'clear starter' for a power five program.
But, the reason he's the guy is his upside and the expectations that have come with after landing him this offseason. Indiana came into this summer needing a more athletic and dual-threat quarterback. Jackson has that potential and ability — he's just young.
"What we liked about him was his athleticism," Allen said of Jackson this spring. "He's a long athlete, multi-sport guy, basketball, track, all three of those, and just felt like that he could create with his legs, with his arm. He's a tremendous leader."
Jackson enrolled in January but it's still no easy task to learn the offense while trying to be the leader that the position expects.
"That is probably a little more challenging because you are new to everything," Allens added. "Obviously, being here in January was huge, and he knew some of the guys already, which helped, I think. At the same time, you have to earn that ability to speak … I think any time you come in new, you have to establish yourself in the weight room, establish yourself by how you are going to work, how are you going to practice, and how you handle when things don't go your way."
If he isn't the guy come September 2, it'll be a disappointing start to a critical season.
Expected backup
With the expectation and pressure of having Jackson as the starter, you look to a clear backup at this point. That is Brendan Sorsby. Sorsby saw limited action last season and ended the year with his redshirt season intact.
Sorsby was just 3-of-8 for eight yards and one interception in 2022.
Despite the — again — lack of college experience, his year in Bloomington should allow him a bit of a comfort level knowing the playbook and understanding what the IU offense is and what it's trying to do.
Sorsby came into Indiana with one power five offer, from the Hoosiers.
"Really excited about what he brings," Allen said of Sorsby last season. "I'll tell you, he's a big young man that has tremendous athleticism and arm talent and the ability. I think, the upside is really, really high for him. And he's not played the position as many years as a lot of guys that have that are in his recruiting class here."
Because of the experience on a college campus, that will likely give him the nod to start as the backup over true freshman Broc Lowry. The three-star freshman comes to Indiana as the No. 54 ranked quarterback in the 247Sports Composite Rankings.
Despite being the 'backup' there is a real chance a lot of players see a good amount of snaps in 2023.
Question mark
Dexter Williams.
No question he comes into the 2023 season as the real question mark at the position for Indiana.
After playing in four games with two starts last season, Williams suffered a gruesome leg injury in the season-finale. He was 13-of-38 passing for 138 yards with two touchdowns and two interceptions. His rushing ability, however, gave Indiana's lackluster offense a different look. He ran for 165 yards and one touchdown. Williams had a 4.1 yard per carry average.
The early expectation through spring practice was that Williams would not return in 2023, rather spend the year on the sidelines resting and healing.
"Dex has kind of been wearing his coaching hat a little bit," IU offensive coordinator Walt Bell said. "He's been helping signal and we're kind of treating him like a GA (graduate assistant) right now. I think that's been really good for him too. Not only from the mental side of things, but just his general outlook and demeanor. So excited about all those guys."
But, throughout the last few months, Williams' outlook has grown more positive. It's been from no return in 2023 to a potential to see some snaps towards the end of the year to now, potentially having the ability to return midway through the year.
"I think as everything has kind of played itself out, it's kind of gone from, 'Probably going to be out the whole season,' to, 'You might be, now, where he can be ready later in the season,'," Allen said this summer. "Now it's like, 'Maybe halfway into the season,'. He's just been so disciplined in the process of rehab. If he can come back a little earlier, I think he's the right guy to do that. We'll see. We'll never rush it."
Make sure to follow Hoosier Illustrated on Twitter @Indiana_FRN and YouTube to stay up to date on all of the news, updates and coverage of Indiana University athletics.