Indiana Football Position Preview: Offensive Line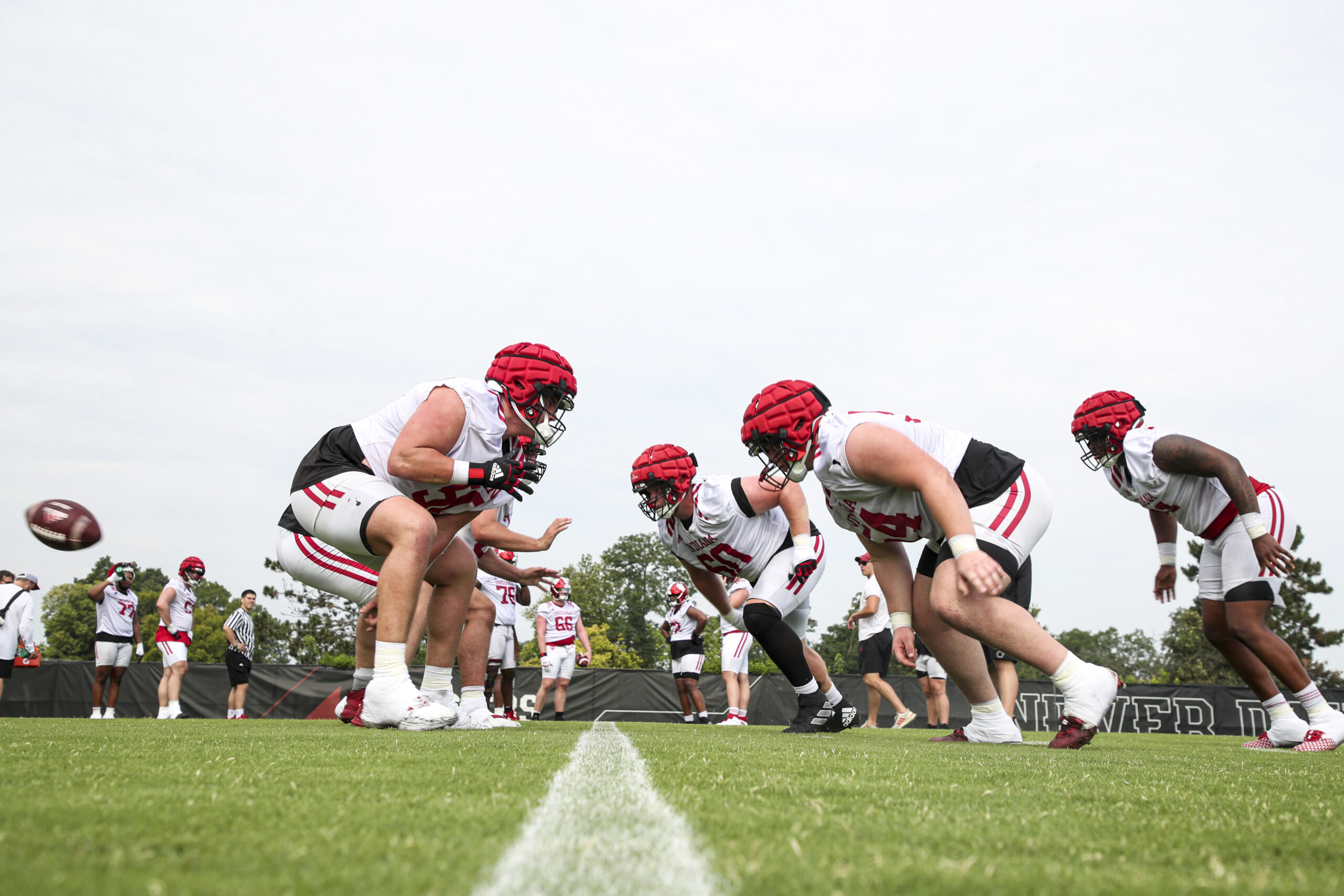 With the start of fall camp taking place this week and Big Ten Media Days in the rearview mirror, a critical summer slowly winds down for the Indiana football program.
With about four weeks left until the season opener, HoosierIllustrated.com will take a look at the position groups on both sides of the ball and break down the state of the position.
Next up is the offensive line.
The Hoosiers ranked in the bottom three in total rushing in each of the past two years and gave up 67 sacks in that same timeframe. That was second worst in the Big Ten over that span behind Iowa (72).
"We have some guys who have played a lot of football," Bostad said. "We have a quiet group that's confident that have done some good things. It's there, we just have to put it all together.
"I'm not trying to put the cart ahead of the horse right now. We have a lot of other things to do, so let's just slowly build this thing together and get it done. But I like the approach. I like the attitude. I like the willingness. Those things are all there. "
More Indiana Football Position Previews: Quarterback, Running Back, Wide Receiver, Tight End
The Backbone
Matthew Bedford is back. That is significant for the offensive line as well as the entire offense.
Bedford, who suffered an ACL injury in the season opener last season, is full-go this fall. His leadership is critical for the Hoosiers and something they missed last season. He has 28 starts in 29 appearances and has at least three starts at every offensive line position outside of center.
"Getting Matt Bedford back is huge," IU head coach Tom Allen last week. "Losing him week one was a big blow to us; he was our best offensive lineman. He's back now 100 percent which is exciting. I'm very excited for him. I think the whole group needs to be able to mesh with them. He's been with them all spring, being able to bring in his thoughts and ideas, the toughness he brings, the attention to detail, the way he coaches them, and just the relentlessness of the way he approaches offensive line play."
 It was amazing [to be back on the field]. I've been itching to get back out there and trying to get back home on the field," Bedford said this week. " … I just tried to have a high attention to drill work, high attention to detail, making it look crisp and putting the fine note details on those things. It felt so great to be back out there. I feel like I am actually moving again."
Watch: Bob Bostad talks about Indiana offensive line as fall camp begins
Core Group
Outside of Bedford, the other key names on the offensive line include Kahlil Benson, Zach Carpenter, Mike Katic and Joshua Sales. 

Carpenter has 15 starts to his name and is now in his third season with the Indiana football program. Dating back to his freshman season at Michigan, he has made multiple starts at three different positions on the offensive line, much like Bedford. He suffered a hand injury last season that forced him out of the center position, but he's expected to return there this year.
Katic started all 12 games in 2022 and has 25 starts in 27 total appearances. He's made a few starts at center, but the majority of his career he's been a consistent starter at left guard.
Kahlil Benson should be back fully healthy, both mentally and physically, this season. He missed the 2021 season recovering from an ACL injury but saw action in all 12 games with five starts last year. He'll likely be back at the right guard spot this year.
The youngest of the group is Joshua Sales. He appeared in 10 games with four starts last season.
Between the group, there are over 50 starts outside of Bedford. There's clearly enough experience, now it's about turning that experience into just an average position group.
"Whether you have a veteran guy or a young guy, you have to protect the quarterback, that goes without saying. You've gotta be productive in the run game so you have some manageable down and distances, and all those things that go together," Bostad said. "So yeah, we've got a young guy (quarterback) and we can take a lot off of his plate and be good when we're trying to run the ball and shorten down his play list and say 'hey here are some things you have to be good at to move the chains' …"
Underrated Names
Max Longman comes in from UMass with 24 starts to his name. He has played both sides of the line at left and right tackle mainly. Last season, he had all eight starts at left tackle.
He's a 6-foot-4 and 316-pounder who played three seasons under offensive coordinator Walt Bell during Bell's head coaching tenure at UMass.
Longman went through spring practice so has extra reps heading into the regular season. Having this type of experience as a rotational piece is critical, especially someone who has experience with what to expect offensively.
Another player who has stood out so far this offseason is Carter Smith. Because of Bedford's absence in certain aspects of spring ball and some other players not arriving on campus until the summer, Smith really stepped up and was able to get extremely valuable reps.
He appeared in two games last season and will likely be a very important rotational player this season. He has an outside shot of starting, but I would expect some of the experience that is back to start the season opener.
Make sure to follow Hoosier Illustrated on Twitter @Indiana_FRN and YouTube to stay up to date on all of the news, updates and coverage of Indiana University athletics.