Indiana Football: Key players to watch throughout fall camp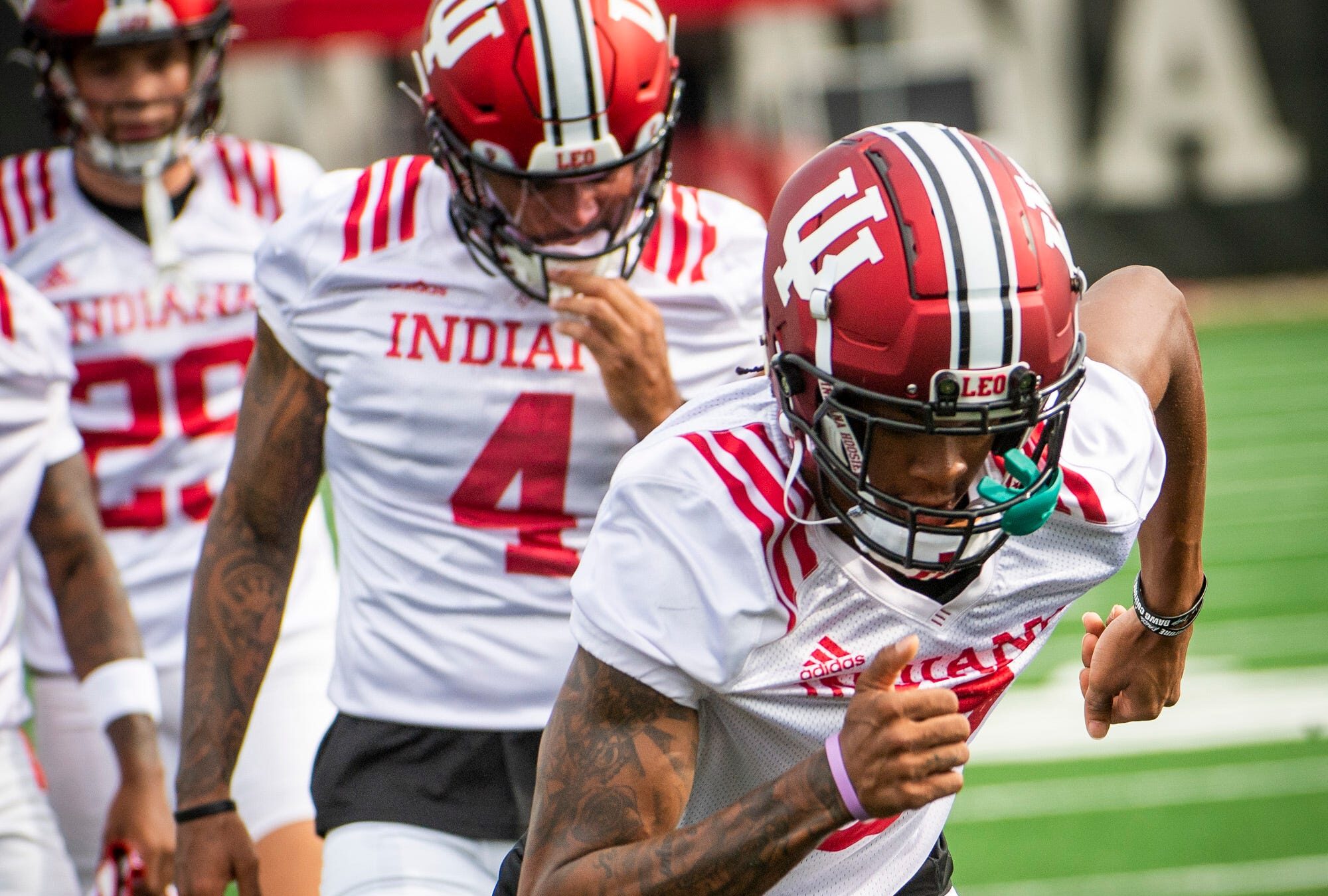 The Indiana football program began fall camp this week and are just a little over one month away from the season-opener against Ohio State.
Indiana is looking to improve on a 4-8 record last season and a 6-18 record over the past two years.
'Toughness' has been the key phrase this offseason from head coach Tom Allen. He has stressed mental and physical toughness for this season and how important the summer months are in terms of reaching the the goals they want as a program.
In order to reach some of the expectations they have, there are numerous players who need to step up this fall as we approach the season.
Who are some of the players we will be watching over the next few weeks for Indiana football? Here's a breakdown of some of the notable key players.
More: Big Ten Media Days Notebook: Takeaways from Indiana football head coach Tom Allen
QB Tayven Jackson
Not only does Tayven Jackson have 'the name', he has the resume as a high-profile recruit. The Tennessee transfer enters fall camp in a quarterback battle with Brendan Sorsby, but the desired choice from the fanbase and from the national media would look to it being a 'surprise' if Jackson wasn't the starting quarterback come Sept. 2.
Indiana came into this summer needing a more athletic and dual-threat quarterback. Jackson has that potential and ability — he's just young.
"What we liked about him was his athleticism," Allen said of Jackson this spring. "He's a long athlete, multi-sport guy, basketball, track, all three of those, and just felt like that he could create with his legs, with his arm. He's a tremendous leader."
Jackson enrolled in the spring and had some good moments. Being able to spend a few extra months with the roster is also a good step in not only getting comfortable with the roster, but also the coaching staff — specifically offensive coordinator Walt Bell.
"That is probably a little more challenging because you are new to everything," Allens added. "Obviously, being here in January was huge, and he knew some of the guys already, which helped, I think. At the same time, you have to earn that ability to speak … I think any time you come in new, you have to establish yourself in the weight room, establish yourself by how you are going to work, how are you going to practice, and how you handle when things don't go your way."
WR Donaven McCulley
Donaven McCulley enters his second fall camp at the wide receiver position. After transitioning from quarterback ahead of last season, McCulley showed promise at the position, but it obviously came with growing pains.
After making strides last season and having another spring at the position, McCulley needs to step up for this offense.
With openings in the offense, Indiana needs him to step up and produce at a different level than last year. McCulley showed promise throughout the season and had 16 catches for 169 yards and one touchdown. He also had one rushing touchdown as well.
His size and athleticism — at 6-foot-5 — brings an exciting skillset to the Indiana offense, but now it's time to maximize that potential.
"He (McCulley) made some more plays today. Every day he's made plays, and so that's what I expect," Tom Allen said this spring. "We've had some really good heart to hearts about it, and he knows where he wants to be and where I believe he can be. And just having continued growth at that position and learning and being able to just find a way to get open and make plays and then go score football."
WR EJ Williams
Williams is a former four-star recruit who was a top-50 player in the 2020 recruiting class. He had a terrific freshman season, totaling 24 receptions for 306 yards and two touchdowns. He had his best game, with five catches for 45 yards in the Sugar Bowl vs. No. 3 Ohio State. But, he wasn't that type of high-impact player his last two seasons.
The 6-foot-3 Williams caught seven passes for 70 yards in 242 offensive snaps and 13 games in 2022.
With Cam Camper (ACL) still likely a bit limited to start fall camp, Williams has a real opportunity to emerge as a playmaker on the outside. The experience level of Indiana is lacking at the position, so Williams has a legit shot at making a terrific impact.
He brings size and obvious talent to the position for IU, now it's a matter of being a consistent producer to a team that desperately needs more options.
TE Aaron Steinfeldt
Indiana has a gapping hole in its offense at the tight end position. Following the transfer of AJ Barner this offseason, it left Indiana with just two tight ends who caught a pass last year — totaling just 11 receptions combined.
One of those is Aaron Steinfeldt. Steinfeldt comes back as the 'leader' in the tight end room and someone who already flashed during the spring.
"Aaron is one of our most improved players," Allen said this spring. "He has grown a lot. He has gotten way more physical. His footwork, his hand placement. He has always had good ball skills. He had a good spring for us. He needs to continue to develop that over the summer."
Steinfeldt had six catches for 52 yards and one touchdown in 2022. He needs to step up and be the guy who Indiana can trust at the position. Showing that over the next few weeks is critical.
OL Matthew Bedford
Indiana's offensive line was bad in 2022 and wasn't much better in 2021. A main reason for the lack of success a season ago could be contributed to the season-ending injury Matthew Bedford suffered in the season-opener.
After an Honorable-Mention All-Big Ten performance in 2021, Bedford is now fully healthy and ready to lead the offensive line this season.
Bedford is not only talented, he's the leader of that unit. He's made 28 starts, and 29 appearances, including at least three starts at every offensive line position except for center.
Getting Bedford back to go along with Bob Bostad will greatly improve that unit, but a lot of it will depend on the health of Bedford and how he looks once he gets back out there.
"Getting Matt Bedford back is huge," Allen last week. "Losing him week one was a big blow to us; he was our best offensive lineman. He's back now 100 percent which is exciting. I'm very excited for him. I think the whole group needs to be able to mesh with them. He's been with them all spring, being able to bring in his thoughts and ideas, the toughness he brings, the attention to detail, the way he coaches them, and just the relentlessness of the way he approaches offensive line play."
DL Philip Blidi
Blidi is an intriguing player for Indiana this season, mainly because of who else he has on the defensive line with him. With a projected immediate impact player in Andre Carter, Blidi could have a massive opportunity to take advantage of potential double teams or shadowing on Carter's side.
Blidi had 4.5 tackles for loss and two sacks last year at Texas Tech. He's a big body at 6-foot-3 and 294 pounds. Indiana has lacked size and depth up front, but more importantly motor. Blidi has a terrific motor and never takes a play off.
Last season, Indiana gave up 33.9 points per game — last in the Big Ten. It also had just 20 sacks, ranked 11th in the league.
LB
Jacob Mangum-Farrar
Indiana needs production out of its linebacker unit. When the IU defense is at its best, the core group of linebackers are some of the most consistent in the Big Ten.
After losing a guy like Cam Jones, the Hoosiers are looking for additional players to step up in that group in addition to Aaron Casey. Jacob Mangum-Farrar could be that piece. The Stanford transfer had 44 tackles in nine games a season ago and 41 in nine games in 2021. 
Mangum-Farrar has good size, quickness and strength needed to play in the Big Ten. He's listed at 6-foot-4 and 241 pounds entering fall camp.
With his speed, he is able to drop back in coverage but his size and strength allows him to rush the passer and also disrupt the offense in the backfield. Hs gives Indiana added versatility at the position.
LB Joshua Rudolph
Staying on the linebacker path, Rudolph is a transfer from Austin Peay who was extremely productive last season. He totaled 73 tackles and 7.5 tackles for loss in 11 games during the 2022 season.
The biggest question mark with Rudolph is how productive he'll be at the Power Five level, especially with the physical play in the Big Ten. He's someone who didn't receive a P5 offer coming out of high school, so this will be a different level of athlete than he's used to going against.
Rudolph is just 5-foot-11 but he is a strong and bulky at 230 pounds. His physical nature will be a helpful tool to the linebacking room after losing some physical style players over the last two years.
DB Jamier Johnson
Last season, Indiana ranked 14th in the Big Ten in passing defense. It gave up a league-high in passing yards (3,290), yards per attempt (8.0) and touchdowns (30). On the flip side, it ranked 12th in interceptions (7).
While Jamier Johnson is still young and mostly inexperienced, he has a great opportunity right in front of him at Indiana. Tiawan Mullen and Jaylin Williams are no longer in the secondary and that leaves a lot of early potential for Johnson.
Johnson is a former four-star prospect in high school and arrives at Indiana with a lot of potential. He has good size at 6-foot-1 and is quick and long as well, adding to his already athletic stature.
The Hoosiers needed additional bodies, yes, but the Texas transfer brings athleticism and oozing potential. While there are some returning bodies to the secondary, Johnson's versatility and ability to play a few positions gives him a leg up on some potential returners.
SEE ALSO: 'It's important for me to become the best head coach I can be': Tom Allen taking a step back to — hopefully — take a step forward with Indiana football
Make sure to follow Hoosier Illustrated on Twitter @Indiana_FRN and YouTube to stay up to date on all of the news, updates and coverage of Indiana University athletics.