Indiana Football Position Preview: Defensive Line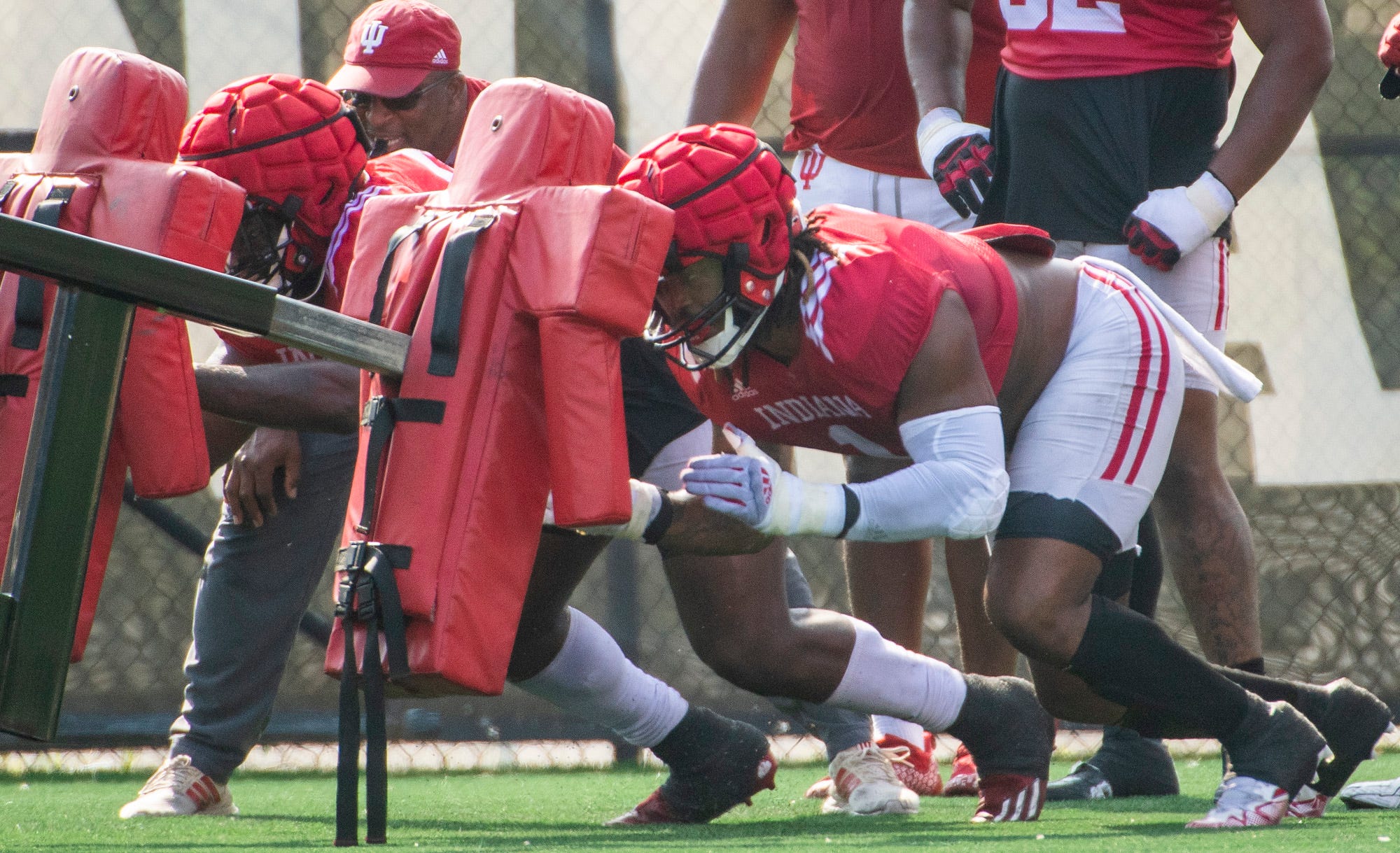 With the start of fall camp taking place last week and Big Ten Media Days in the rearview mirror, a critical summer slowly winds down for the Indiana football program.
With about four weeks left until the season opener, HoosierIllustrated.com will take a look at the position groups on both sides of the ball and break down the state of the position.Next is the defensive line.The IU defense also totaled just 37 sacks in the past two years. It was last in the league in 2021 and 11th in the Big Ten in 2022.
"I think we are bigger and more athletic. Which allows for more playmakers, guys that can do the same thing, take two [opponents]," Randolph said. "Our whole thing is two-for-one. I tell them, 'Mr. Randolph loves two-for-one, right, so we love to go two-for-one'. If we can do that, the linebackers are going to be great. If we're doing that, the linebackers are going to pull one of them [opponents] off of us at some point and now we've got to be ready to make the play. And I think we are athletic enough now to make the play when it's presented to us … we are going to make plays through our responsibility."
More Indiana Football Position Previews: Quarterback, Running Back, Wide Receiver, Tight End, Offensive Line
Andre Carter is new to the Indiana football roster but quickly asserted himself as the leader of this group.
Last season, he totaled 70 tackles, 13.5 tackles for loss, seven sacks, two forced fumbles and an interception with Western Michigan. Now, he's looking to bring that same productivity to Indiana.
Carter's IQ and skillset allows him to play multiple positions. That versatility is something that the Indiana football staff is utilizing early and often. At 6-foot-5 and 273 pounds, Carter has now played every position on the defensive line between spring and fall practice.
Carter turned heads immediately by earning MVP honors in spring practice.
"I would say, as we recognize there, he (Andre Carter) was the MVP of the defense, he and Noah," Allen said this spring. "It was that way about every day. He is 270 pounds. He is the biggest, most physical one we've had here since I've been here. Very, very disruptive."
"This is the best d-line I've ever been a part of, to be honest" Carter emphasized. "Collectively, as from down to size and just the ability to play hard and be able to execute and have the discipline … [opponents] won't just be able to key me, they'll have to key everybody on this d-line because they're playmakers."
Watch: Indiana football defensive line coach Paul Randolph discusses first week of fall camp
The Main Rotation
The theme about the Indiana defensive line is the depth that comes with it.
Indiana has added Marcus Burris, LeDarrius Cox, Patrick Lucas Jr, Philip Blidi, Trey Laing and others through the portal over the past few offseason. In addition, Venson Sneed and Nick James are young prospects looking to make a big impact in year two with the program.
"There is a lot of competition," IU defensive line coach Paul Randolph said. "That's the best part of it. We got guys competing with each other. I think the best part of them competing with each other is that they have grown into a really close brotherhood. They understand that we are going to compete. We are going to help each other be the best, but we are also competing to play … what you are hearing is that I am excited about the depth that we have and the competition that we have going every single day."
Blidi is the big name that arrives through the transfer portal. He totaled 4.5 tackles for loss and two sacks last season for Texas Tech. He's a big, physical and high-energy lineman.
Patrick Lucas was a consistent contributor in 2022, but is expected to make a bigger impact this year. He had 17 tackles a season ago.
Sneed and James were both high-profile prospects and enter their second season with the expectation to be in the main rotation for Randolph and the Indiana football defensive line.
"We all know competition breeds greatness. That's the best part about it to me … it's going to be heightened every single day the level of competition. We do, every day … adding the (new) guys in, it's about your room. The best thing I got is great character young men. So, when you bring in new guys, they welcome them in like a brother. But, we're going to compete."
Underrated Name to Watch
Texas A&M defensive lineman transfer Marcus Burris. A name that has flown under-the-radar at this point, but may be someone who plays a larger role than originally expected.
After missing most of the 2021 season with an achilles injury, he played sparingly in eight games in 2022. He now comes to Indiana moving back to defensive end, a position he hasn't played full-time since high school.
Burris is listed as 6-foot-4 and 290 pounds, but has trimmed down allowing for more versatility and quickness.
"What you don't know is that Marcus Burris is actually playing defensive end, too," IU defensive line coach Paul Randolph. "Truthfully, it's crazy because he's 287-lbs. and he moves like he is 250."
Burris is spending a lot of time around Andre Carter to learn more about the position and tendencies he can use to be successful. Carter is impressed with Burris thus far in fall camp.
"I'm pretty sure he's going to have a breakout season," Carter said. "He's very coachable, he learns, he's disciplined and he's got that dog in him. He's just a great kid, he's coming along really well."