Indiana Football: Key storylines to follow at Big Ten Media Days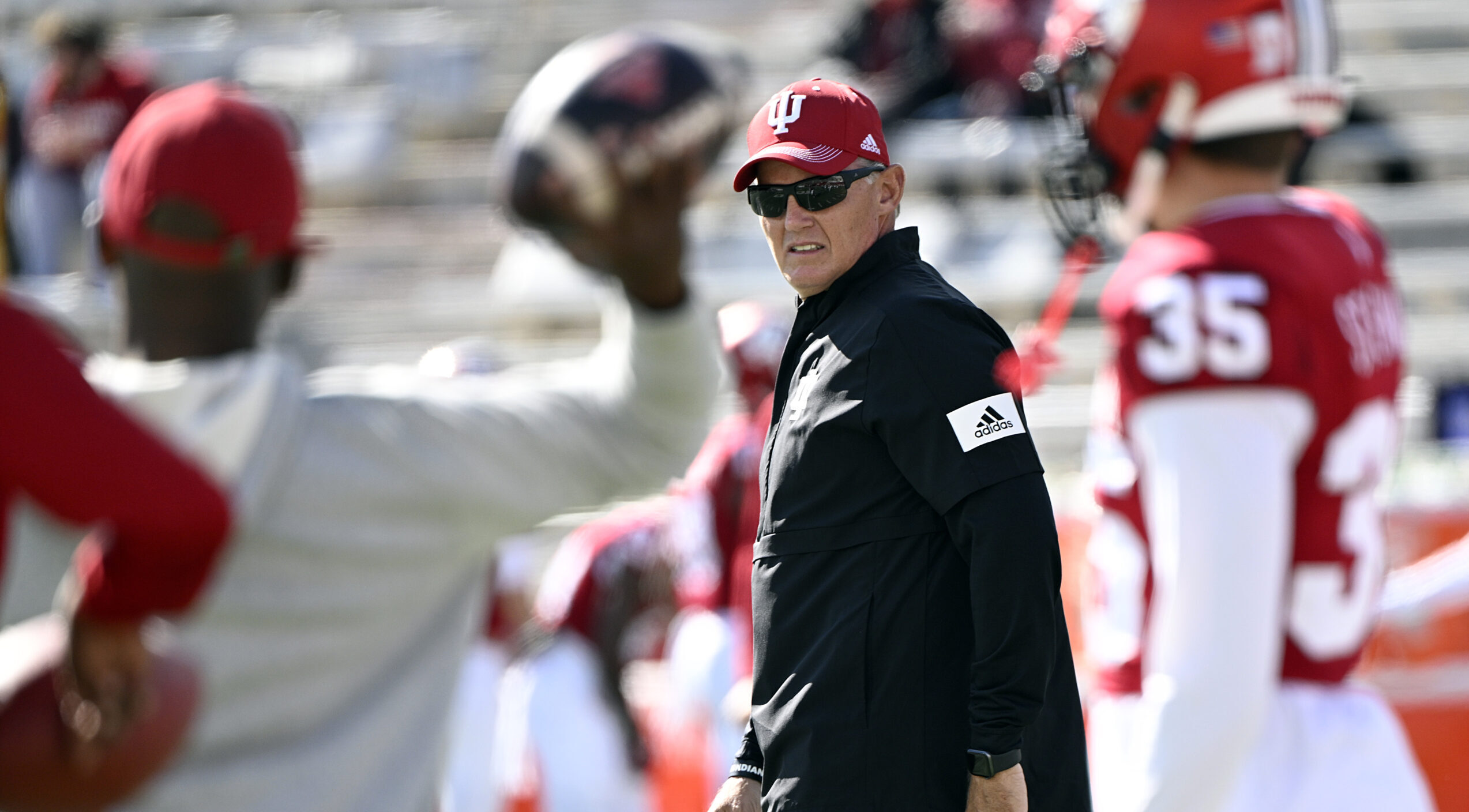 Big Ten Football Media Days is here, taking place this week on Wednesday and Thursday at Lucas Oil Stadium in Indianapolis. The Indiana football program, represented by head coach Tom Allen and three players take the stage on Thursday.
Allen will be at the podium on Thursday at 11 am. He will then head to a breakout session. Allen will be accompanied by linebacker Aaron Casey, running back Jaylin Lucas and defensive back Noah Pierre.
HoosierIllustrated.com will be in attendance.
Here are some of the key storylines to watch going into Media Days.
It's obvious, but is Indiana closer to naming a starting quarterback and what is going into the decision?
There's a good chance that this is one of the most asked questions to head coach Tom Allen throughout his IU tenure. It seems like nearly every year there is some part of a quarterback controversy heading into fall camp.
That's no different this year and likely is the most unknown quarterback situation for Allen and Indiana in quite some time. The Hoosiers bring back redshirt sophomore Brendan Sorsby and added redshirt freshman Tayven Jackson from Tennessee. The duo completed a total of six combined passes a season ago, so the inexperience looms large.
Allen and the staff have been trying to create as many variables and 'chaos' for both players throughout spring and summer sessions.
"I think that is really what we are trying to create; as much stress and pressure on them, even as much chaos as we can on them, because that is the only way you are going to get them ready for a game," Allen said.
"The only way to master it (overcoming adversity) is through failure … I think on the front end you have to do a great job of everyday, the name of the game is continuous improvement and trying to be better than yesterday," IU offensive coordinator Walt Bell added this spring. "So if that's the mindset, the failure is easier to handle … if they can't handle us and the meat of practice, they can't handle it on Saturday."
A lot of Indiana's lack of success over the past two seasons has been due to inconsistent play at quarterback. There's no question this is a critical decision for Indiana and one that Tom Allen can't miss on.
Tom Allen highlighted a critical summer for IU — what progress has been made?
The first phase of a critical offseason has come and gone and phase two is all but over as well.
As spring practice ended, Tom Allen preached the importance of the summer months. Not only for building up physically, but also mentally. His word of 'toughness' entering the 2023 season is meant to go both way.
"I feel like we made progress. I really wanted to develop our toughness as a team. That's a huge priority," Allen said. "… It's all going to be fourth quarter driven. It's all going to be how we're going to finish in the fourth quarter from a physical perspective. To be able to dominate your opponent in that situation. Win those third downs, win those critical downs. And you have to have an expectation that I don't get tired. They're the ones that get tired. That has to be built, and that's over the summertime."
Indiana is 6-18 over the last two seasons. Something has to change and it starts with being both mentally and physically tough. If that's the message being sent to the roster, fans need to see a swing in the product that is on the field for IU.
The Hoosiers get their season started with a matchup at home against Ohio State, so that toughness will be tested right away.
Which newcomers have stepped up into bigger roles following spring practice?
Indiana has new faces all over the roster. From nearly every skill position on offense to key positions defensively, the roster overhaul that took place this offseason for IU was drastic.
In total, there are 22 incoming transfers and 37 total faces that are new to Bloomington.
It's a combination of true freshman, covid-seniors and guys with a few years of eligibility remaining. But, one thing remains the same for each newcomer no matter the eligibility they have remaining. Who will step up?
In spring practice it was Andre Carter who made an immediate impact. The Western Michigan defensive lineman has received praise from numerous national outlets regarding his potential this season for Indiana. The Hoosiers also have playmakers at the wide receiver position, including former top-50 prospect EJ Williams from Clemson and an 1,100+ yard receiver last season in Fordham transfer DeQuece Carter.
Philip Blidi, Jamier Johnson, Joshua Rudolph and others have been mentioned as defensive players who will likely see a signifiant role this year. How have they fared over the past few months?
Indiana needs some of the players to a make real, legitimate day-one impact when fall camp starts up next week in order for Indiana to have a chance at turning the ship around.
What will the offense look like in year two under Walt Bell?
There's no doubt that the offensive mind of offensive coordinator Walt Bell shines through at times. He has a distinct creativity that is fun to watch … when it's successful. Unfortunately, Indiana football hasn't had players with the offensive skillset to fit that creativity.
In 2023, they should.
Starting with All-American kick returner Jaylin Lucas, the dynamic running back looks to be the face of the IU offense this season. He is already one of the most explosive players in the country and Indiana's offense should revolve around him this season.
But, it's players like DeQuece Carter, Donaven McCulley, Josh Henderson, EJ Williams, Bradley Archer, Aaron Steinfeldt and others who are stepping into new roles in year two under Bell or incoming transfers who fit the explosiveness that Bell has been looking for.
Indiana ranked 13th in the Big Ten in offensive efficiency last season, 13th in completion percentage, 12th in third down conversion and last in time of possession. The Hoosiers need to find a way to put a skilled offensive unit on the field this season.
Other Notes:
– Can Aaron Casey step up again and take over the linebacker position without Cam Jones alongside him? Casey was tremendous last season but he needs to be even better in 2023.
– Bob Bostad takes over the offensive line coaching duties for Indiana after a terrible performance from the unit over the last two seasons. If that group isn't better, that offense will continue to struggle. Through spring practice, it was rave reviews for Bostad. What changes are made heading into fall camp and throughout the season?
– Matt Guerrieri is the new play-caller for the defense, the third in as many seasons for the Hoosiers. Co-defensive coordinator Chad Wilt will help with the scheme and system but there will be no Tom Allen involved in play-calling duties. The IU defense was nowhere near the potential it could've been a season ago. Can Guerrieri turn it around?
SEE ALSO: Listen: Indiana football head coach Tom Allen previews 2023 season
Make sure to follow Hoosier Illustrated on Twitter @Indiana_FRN and YouTube to stay up to date on all of the news, updates and coverage of Indiana University athletics.