Indiana Basketball Mailbag: Transfer portal, class of 2024 & more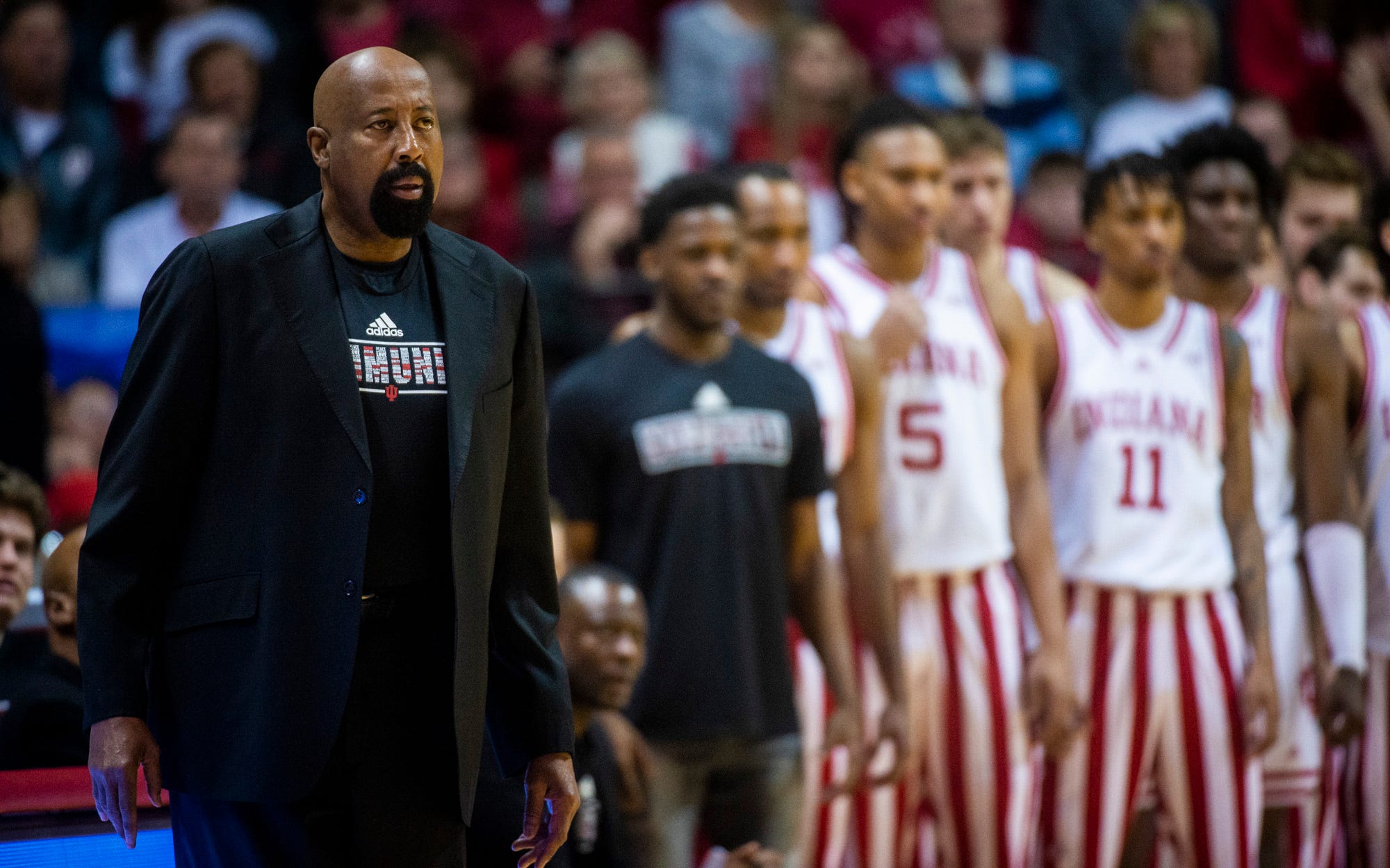 The Indiana basketball program is in the midst of a new era and this offseason is one that has a lot of question marks. Indiana moves on from consensus First-Team All-American Trayce Jackson-Davis and the main question now is — what style of play will Indiana have?
"Trayce Jackson-Davis is the first center that I've ever coached in my career where I had to utilize my center as a post-up player," Woodson said. " … it's the first time in my coaching career that I've had to coach a young man starting out on the block and expanding his game. I don't know where we're going to be next season in terms of how our style of play will be. But we've got to get better. I do know that."
Mike Woodson and the Indiana basketball staff are already involved with numerous transfer targets trying to fill the void of three open scholarships at the moment. That doesn't include any additional transfers and the looming decision of Big Ten Freshman of the Year Jalen Hood-Schifino.
Here are some key questions answered in the first installment of HoosierIllustrated.com's Indiana basketball mailbag.
Q: There's a lot, but what are the key positions IU needs in the portal? (
@Hoosiernation2)
There are a lot of spots that Indiana needs to address but most importantly it starts in the front court. Indiana will not return Trayce Jackson-Davis, Race Thompson and Logan Duncomb, so minutes will be available right away. You aren't going to go out and find a replacement for Jackson-Davis in one portal target, so this is going to be by committee. Look for Indiana to add a few transfer bigs.
Second is perimeter shooters. This is a must and almost as a high of a priority as the front court. Indiana loses Miller Kopp — its top three-point shooter from this past year — and doesn't bring back any true knock down and high volume shooters. The Hoosiers ranked 352nd in the country in attempted 3s and 334th in made 3s per game last season. That needs to change. Look for a few shooters — both spot up and off of the dribble — to be added.
In total you're probably looking at one starting big, one reserve big, and then two to three perimeter players.
Q: Who are the realistic transfer additions right now (@bball992)
Indiana has been extremely active in the transfer portal thus far. Mike Woodson has already conducted in-home visits with Towson transfer guard Nick Timberlake — a career 37.9 percent three-point shooter — and Harvard transfer wing/hybrid forward Chris Ledlum. Indiana is making a strong push to get both on campus. Sources indicate to HoosierIllustrated that there is definitely a high amount of mutual interest between Timberlake and Indiana. He has had in-home visits with North Carolina, Ohio State and Butler thus far. He has a campus visit set with UNC this week.
St. John's is involved with both prospects.
Minnesota 6-foot-7 transfer wing Jamison Battle is high on Indiana's list as well. He fits the needs of a bigger wing who can create his shot off of the dribble or in catch and shoot opportunities. Look for that interest to continue.
Ball State 6-foot-9 center transfer Payton Sparks visited Indiana on Monday. Indiana is very strong in this portal recruitment. He was the former MAC Freshman of the Year. He averaged 13.3 points and 8.7 rebounds this season.
An intriguing prospect who emerged in the portal yesterday was Virginia 6-foot-11 center Kadin Shedrick. Indiana was involved in his recruitment out of high school and assistant coach Kenya Hunter was the lead recruiter for Nebraska when he was on staff. Nebraska was Shedrick's first college offer.
Shedrick averaged 6.2 points, 3.8 rebounds and 1.4 blocks per game in 17.5 minutes a game.
That is a good look at the main group of prospects at the moment. There will be more, obviously. Right now, as Indiana you have to like where it stands for Sparks. Outside of him, things continue to progress with Battle and Shedrick is someone to keep a close eye on. With on-campus visits starting for Timberlake, Indiana needs to secure one quickly in order to keep the momentum it has with that recruitment.
Q: What are your thoughts on Payton Sparks and how he would fit IU's current needs? (@C_Scher21)
Sparks is a 6-foot-9 and 240-pound center who was very productive at Ball State in his two seasons. He's not going to come in and play starter minutes for Indiana but he is a very good depth piece with a good frame and skill.
He is almost entirely an inside-the-paint player, so he would need to be surrounded by some shooters. But, his high motor and extremely effective rebound ability is something Indiana needs at the position.
He has started all 62 games in his career and has 22 career double-doubles. He ranked second in the MAC in offensive rebound rate (12.9) and fourth in the league in total rebound rate (17.3) this season.
There is a reason high-major programs are after him right now. He would address depth and size for the Hoosiers and be a solid pickup if the were to commit to Indiana.
Q: Any 24 recruits able to reclassify to 23? (
@trvlngwlbry)
The two main 2024 targets that Indiana is after with that option are 6-foot-11 forward from Overtime Elite (Ga.) Somto Cyril and 6-foot-10 forward from Montverde (Fla.) Derik Queen.
Right now, Cyril is the 'more likely' of the two. Queen, originally from outside of the Baltimore area, is looking more and more like a player Maryland will land, according to sources.
So for Cyril, he was impressed with Indiana on his official visit in November. He's one of the more physically imposing big men in the country and showed that this summer on the AAU circuit. Right now, he's a terrific rebounder, rim protector and defender with his offensive game continuing to develop. It's likely a rim-rocking dunk at this point.
There is still a ways to go, including the potential for the professional route, for Cyril. Indiana and Cincinnati are the two programs he has visited up to this point.
Q: Who out this past freshman class will possibly see a bump up in minutes (
@acedagooch76)
You'd like to see all of them but Kaleb Banks is the guy who I think carves out a nice role next year for Indiana. We already saw what he could do this season in very limited minutes. But, his motor, energy and IQ shined on multiple occasions.
He averaged just 2.0 points and 0.9 rebounds in 24 games this season. If you spread that out to a per 40 minute production he would be at 14.5 points and 6.2 rebounds per game. He's a 6-foot-7 wing who has really nice versatility and has shown the ability to play both inside the paint and on the perimeter.
Q; Is Malik Reneau going to be able to help spread the floor by hitting shots from FT line and 3 point line? (
@realDocBob)
I would like to say yes, but not sure that will happen. We saw Trayce Jackson-Davis play for Mike Woodson for two seasons and neither year did he improve on any type of jump shot.
Reneau has much more of a perimeter and 15-foot game than Jackson-Davis ever did, but it's not likely that becomes a large part of his game-to-game skillset. Reneau will see most of his touches in the paint which he should. He's shown the ability to use his athleticism and footwork to beat defenders on the block.
I think you could see some additional looks from 15 feet but anything more and of high-volume is wishful thinking and something that I don't think happens.
Indiana basketball in top five for Dayton transfer Mike Sharavjamts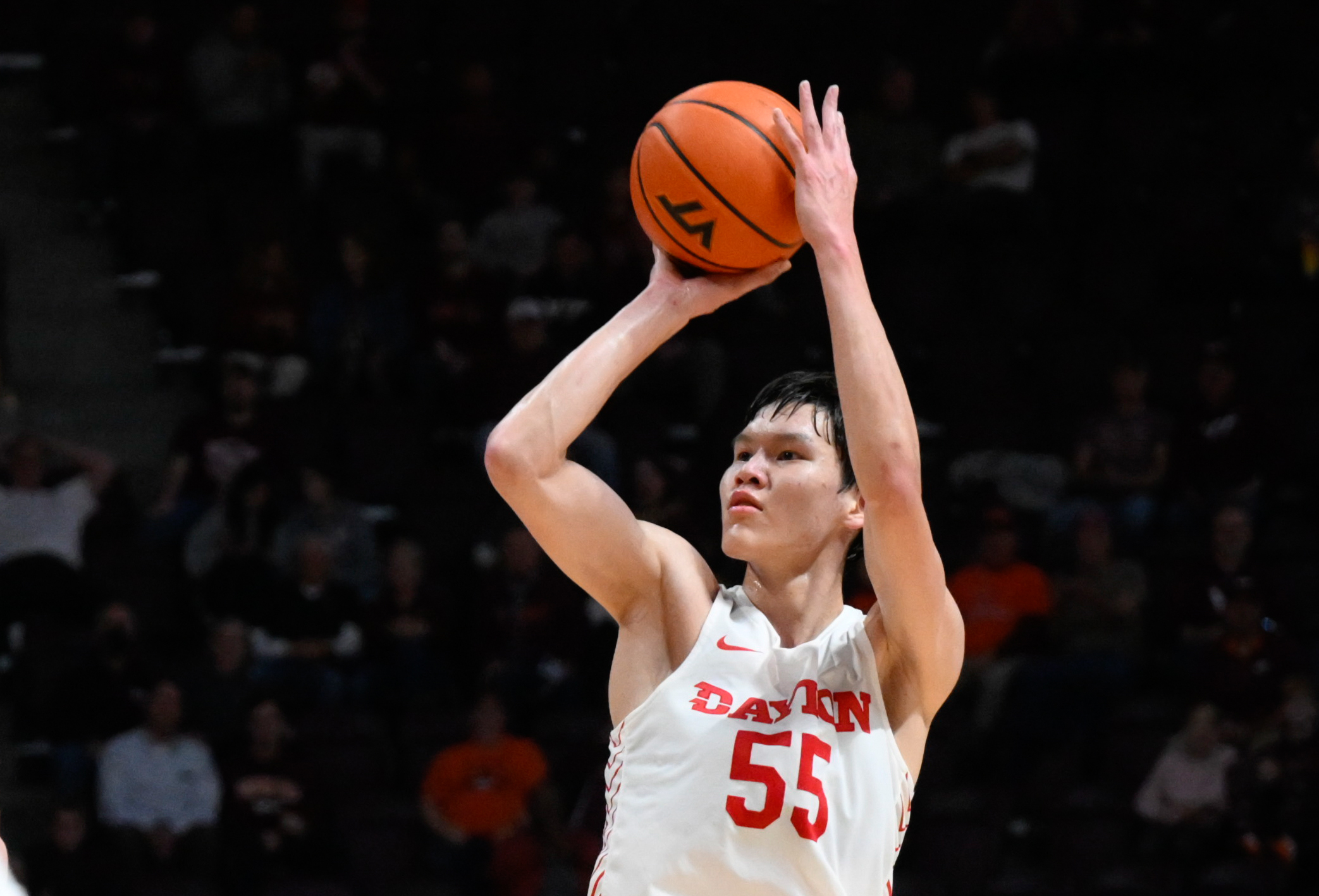 The Indiana basketball program made the top five for Dayton transfer wing Mike Sharavjamts on Wednesday afternoon. The rest of his top five includes Pitt, Memphis, Nebraska and San Francisco.
Sharavjamts was testing the NBA draft waters but decided to return to school after receiving feedback.
According to Jonathan Givony of Draft Express, Sharavjamts will be announcing his decision 'within the next week'.
Sharavjamts is a 6-foot-8 and 180-pound wing who averaged 5.6 points, 1.9 rebounds and 2.6 assists per game as a freshman at Dayton. He shot 38.8 percent from the field and 31.5 percent from three (29-of-92). He started 20 out of 32 games played.
Sharavjamts spent time at Legacy Christian (OH) and Prolific Prep (CA) in high school before playing at International Sports Academy (OH) for his final year. He was AAU teammates for one season with incoming Indiana freshman guard Gabe Cupps on Midwest Basketball Club.
He averaged 10.2 points, 4.6 rebounds and 3.6 assists in 24 games in 2021-22 for the International Sports Academy. He shot 51.2 percent from three (44-of-86).
He is the first Mongolian citizen to play Division I men's basketball.
Coming out of high school, Sharavjamts was ranked No. 93 in the 2022 247Sports composite rankings. He had offers from Dayton, Rutgers, Providence and others.
He is currently the No. 34 overall transfer.
The Indiana basketball program currently has one available scholarship. It has a transfer class that includes Oregon center Kel'el Ware, Miami forward Anthony Walker and Ball State forward Payton Sparks.
2024 five-star point guard Boogie Fland eyeing Indiana basketball visit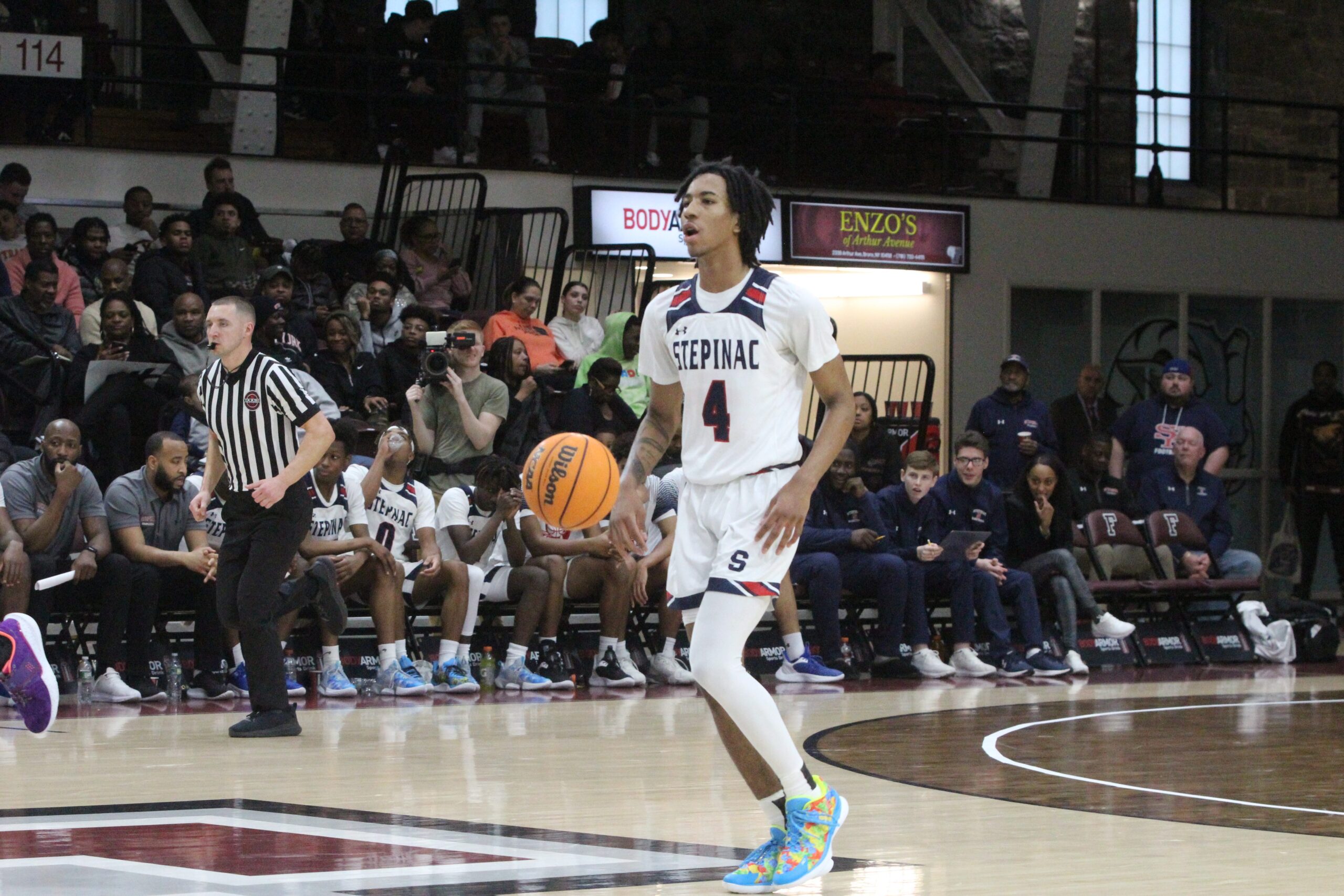 The Indiana basketball program is expected to have multiple notable prospects on campus this summer. One of those players is 2024 five-star point guard Boogie Fland.
Fland is looking to visit Indiana in June, HoosierIllustrated.com was told. There is no date set in stone, but the expectation is he will be on campus next month.
Fland is from Archbishop Stepinac (NY) and PSA Cardinals on the Nike EYBL circuit.
He is ranked No. 6 overall in the 2024 class and ranked as the No. 2 point guard in the 247Sports Composite Rankings.
The Indiana basketball staff had been involved with Fland back in the winter but not much had progressed until recently.
Fland was a perceived heavy North Carolina lean but after the Tar Heels landed five-star guards Elliot Cadeau and Ian Jackson, the Fland to UNC talk subsided a bit. North Carolina is still heavily involved.
Fland has taken two official visits. His first to North Carolina in the fall and then to Michigan this May. Other programs involved are Kentucky, UConn, Alabama, St. John's, Auburn, Miami and others.
The development of Jalen Hood-Schifino was significant for Fland and his relationship with the Indiana basketball program. Though they aren't identical players in terms of skill set, the responsibility and development Hood-Schifino had in his freshman season is notable.
"Jalen Hood-Schifino, that is something you can see. he's a big guard who can play on and off (the ball), can defend the 1, can defend 2. Similar height, 6-foot-4 ish. I can see that. Indiana played Hood-Schifino and Xavier together," PSA Cardinals head coach Joe Brown told HoosierIllustrated. "He was playing as a freshman and in the rotation. He had a significant role before the injury to Xavier. So that shows that Mike Woodson doesn't have a problem playing freshmen. There are young guys in the rotation consistently … You can see the fact that coach Woodson definitely trusts Hood-Schifino."
Because Fland can play both with and without the ball in his hands, going to a place where he can do both is ideal.
Whether that be with another point guard like Hood-Schifino and Xavier Johnson did, or just another potential ball handler, that's a situation that would give Fland the chance to showcase his versatility on the offensive end.
"His versatility allows him to do both. A place where there is an equal balance. Playing in the backcourt with another point guard is something he's done his whole life. He's always played with another point guard, so ideally that would be a good space for him. Playing with a guard who can shoot the ball so you're not just locked in to playing off the ball because you're a better shooter. It's not just the system but the personnel as well."
Fland is a terrific scoring guard who has great explosiveness. Fland is always in attack mode and can score at all three levels on the floor. He is best with the ball in his hands and making plays for himself or teammates. Fland has a very good mid-range game and utilizes a lot of different moves in the paint to create separation and get his shot up.
With good size as well, at 6-foot-4, he's a long and rangy guard who is a very talented defender. He has the tools to be a lockdown on ball defender as well as talented off the ball defensive player.
"His athleticism is getting better and he's playing above the rim now a lot more … he did a good job physically getting stronger (this year) and you can see that with his explosiveness now," Brown added of Fland's improvements. "From a maturity standpoint, he's taken leaps and bounds. His ability to run a team more, he's been able to showcase that … And being more consistent as a three-level scorer. Getting accustomed to having the game slow down to where he knows where his shots can come from."
Through 16 games on the EYBL Circuit this summer, Fland is averaging 15.5 points, 3.9 rebounds and 2.8 assists per game. He's shooting 45.3 percent from the field, 34.1 percent from three (31-of-91) and 79.1 percent from the free throw line (53-of-67). He has two 30+ point games this summer.
As a junior, Fland averaged 18.1 points, 4.2 rebounds, 3.7 assists and 2.0 steals per game. He shot 34.6 percent from three (62-of-179). They finished 22-10 and second in their league.
Make sure to follow Hoosier Illustrated on Twitter @Indiana_FRN and YouTube to stay up to date on all of the news, updates and coverage of Indiana University athletics. 
Indiana Basketball: Payton Sparks named among 'hidden gem' transfer additions this offseason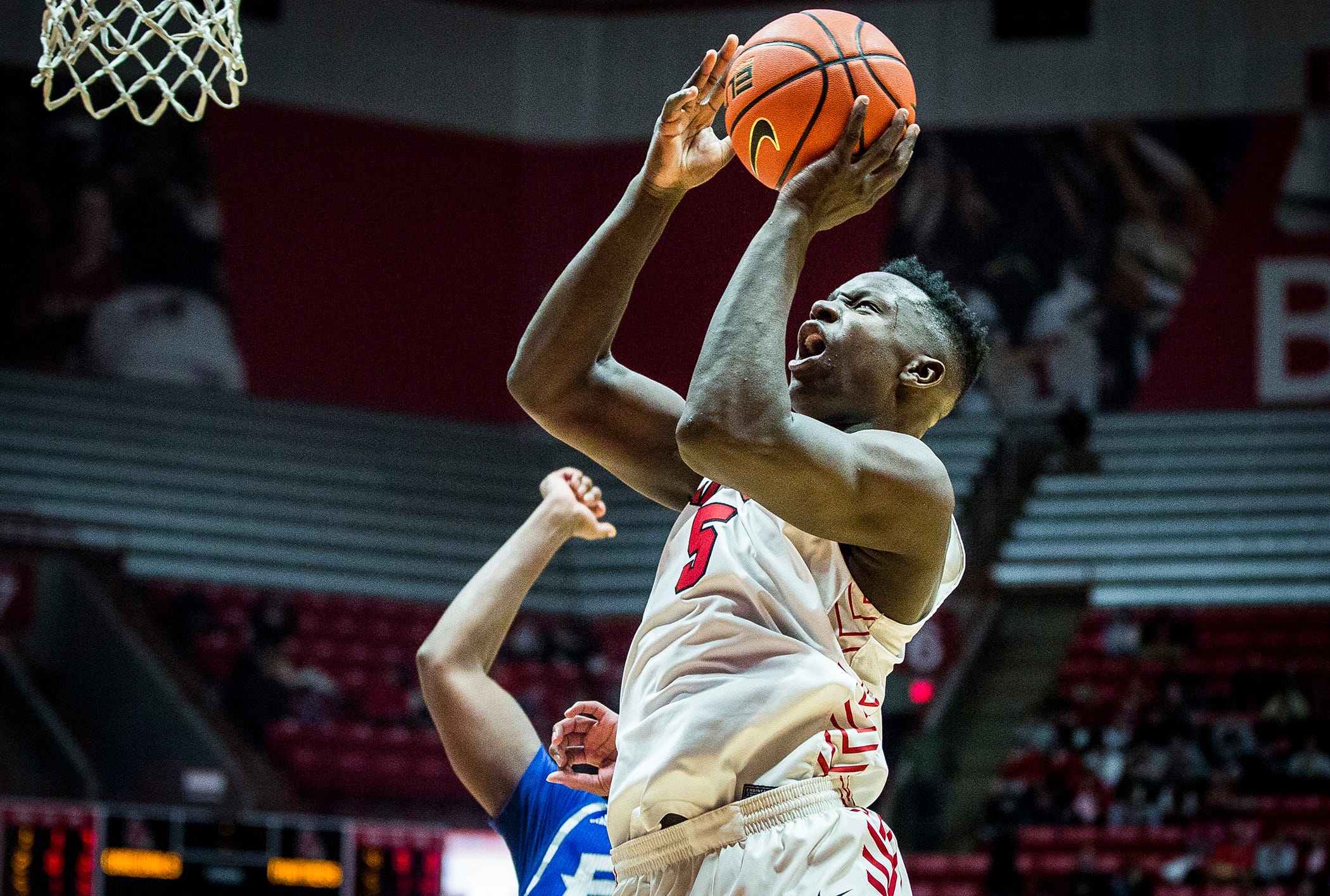 The Indiana basketball transfer class this offseason was an important one to keep any momentum from the first two years of the Mike Woodson era. After back-to-back years of making the NCAA Tournament, ushering in a new era of Indiana basketball was here.
With Trayce Jackson-Davis and Jalen Hood-Schifino two of seven total departures, the Hoosiers had large shoes to fill.
It did so by landing the No. 12 overall transfer class this offseason. While it was headlined by former five-star center Kel'el Ware, Ball State forward Payton Sparks and Miami (Fla.) forward Anthony Walker bring versatile skillsets to the floor as well.
And for Sparks, he was labeled as one of the 'hidden gems' from the transfer portal.
"Indiana's frontcourt is filled with big-name additions from Power 6 programs, so it'd be easy for Payton Sparks to slip through the cracks. But the Ball State transfer will have a real shot at an enormous role," 247Sports national writer Isaac Trotter wrote. "He's averaged at least 13 points and eight rebounds in each of the last two seasons. He has to answer some questions about defending Big Ten big men, but Sparks is a warrior on the glass and a high-effort player at all times. Sparks will help Indiana a ton."
Sparks was ranked as just the No. 167 overall transfer in the portal this offseason but his addition to Indiana can't be understated.
In two seasons for the Cardinals, Sparks averaged 13.4 points and 8.6 rebounds per game. He started all 62 games he appeared in. Last year, Sparks averaged 13.3 points and 8.7 rebounds. He ranked second in the MAC in offensive rebound rate (12.9) and fourth in the league in total rebound rate (17.3).
Sparks brings a tremendous motor and ability to score in the paint. His toughness is also valuable. He ranked third in the NCAA in free throw rate (87.1) and 16th in fouls drawn per 40 minutes (6.8).
"I really like the addition of Payton to our program for several reasons," Woodson said of Sparks. "He is an experienced player with a great work ethic, who had tremendous success individually while at Ball State. He gives us an inside scoring threat who can defend and rebound. I really like his ability to fight on the offensive glass and his ability to draw fouls on the opposition, which was one of the best nationally, is a tremendous asset."
The expectation is that Sparks will be a valuable role player to start, but that role could become increasingly important as the season progresses.
His value is also measured with his two remaining years of eligibility left.
Make sure to follow Hoosier Illustrated on Twitter @Indiana_FRN and YouTube to stay up to date on all of the news, updates and coverage of Indiana University athletics.