Indiana basketball center Kel'el Ware among the top-ranked sophomores still in college: 'The sky is the limit on his long-term potential.'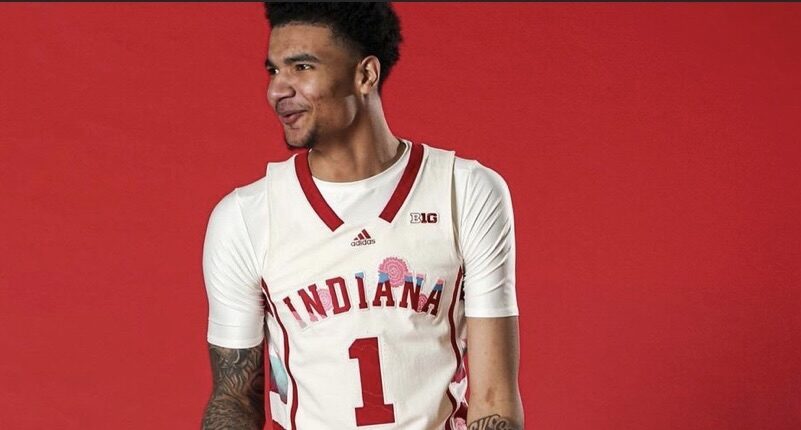 There will be a lot of eyes on Indiana basketball sophomore center Kel'el Ware next year, both from the fans and national media alike. After things did not work out during his freshman season at Oregon, the former five-star, McDonald's All-American transferred to Indiana looking for a new opportunity.
Ware entered his freshman season at Oregon as a projected NBA lottery pick in the 2023 draft. However, after averaging just 6.6 points, 4.1 rebounds and 1.3 blocks per game a year ago, it was more than obvious that Ware was not ready for the pro-level and needed a change of scenery.
That is where Mike Woodson and Indiana basketball came in. Due to Indiana's need of elite frontcourt talent plus Woodson's ability to develop players to get to that NBA level, the fit of Ware and the Hoosiers was almost a no brainer.
In the latest edition of Rivals Basketball Recruiting Director Rob Cassidy's I've Got Five On It series, Ware was highlighted as one of the top-ranked sophomores still in college basketball this upcoming season.
Cassidy, like many others, sees that a change of scenery could be exactly what Ware needs to unlock his full potential.
"One of two prospects on this list hoping a change of scenery does him well, Ware was a bit of a late bloomer on the high school circuit and saw his ranking shoot up during his senior season," said Rob Cassidy. "The positive trajectory he carried into college abruptly ended when he arrived at Oregon, however, as the lanky center found himself in a reserve role and averaged just 6.6 points in 15.4 minutes per contest. He did manage to show glimpses of elite potential, however, including a 18-point, nine-rebound outing against eventual national champion UConn in November."
"Now at Indiana, Ware figures to be a key piece of Mike Woodson's squad, he'll look to answer questions about his motor and ability to play hard for an entire game," Cassidy added. "Ware will provide the Hoosiers with a potentially elite rim protector and if he's able to become more consistent as a shooter and floor-spacer, the sky is the limit on his long-term potential."
Now entering this upcoming season at Indiana, Ware is back in the first round of numerous 2024 NBA mock drafts. He was rated as the No. 2 transfer in this current offseason.
However, while the skill is not, the motor is still the major question when it comes to Kel'el Ware. He has all the skill in a modern day big that coaches would want, but if the motor is not there, Ware is back to where he was at Oregon.
"I didn't see it in AAU. I didn't see it at Oregon," Field of 68 co-founder Jeff Goodman said earlier this summer. " … Kel'el needs to grow up a little bit. He's been told how good he was for a couple years and hadn't done a whole lot for that."
"The big question around him was effort and continues effort and being locked in on both ends of the floor at Oregon," added 247Sports national writer Isaac Trotter. "Those are rights of passage to get on the floor for Mike Woodson. So I'm not expecting him to have any issues with his motor. "If you want to play for Mike Woodson, you have to play with your motor revved up really, really high. I just want to see him assert himself."
If Ware is motivated to getting better, all you have to do is really look at what Mike Woodson was able to accomplish with development of former Indiana basketball big Trayce Jackson-Davis. While there are limitations that made Jackson-Davis fall so late in being drafted, as far as skill and offensive versatility, Ware arguably brings much more to the table of Indiana's frontcourt.
"The one thing I'll say and we have to give Mike Woodson a ton of credit for is how Trayce (Jackson-Davis) developed under him. Look at what he did for him," Goodman added. " … that staff did a really good job with Trayce. Can they do similar things with some of those bigs, especially Ware who has a knock of not always playing hard consistently."
"That's the part about Indiana and Mike Woodson that I really like about his staff," Trotter also added. "They don't try to make somebody a player they're not, and I think we'll see that with Kel'el Ware."
Arguably no other returning sophomore has as much of an opportunity to prove doubters wrong as much as Kel'el Ware does. If he can unlock that next level of his game at Indiana, the Hoosiers have a real chance at a successful 2023-24 season.
Below is the full conversation between Rob Cassidy and Dave Berry on the top-ranked sophomores returning to college basketball.
Make sure to follow Hoosier Illustrated on Twitter @Indiana_FRN, Facebook and YouTube to stay up to date on all of the news, updates and coverage of Indiana University athletics.