'He brings this grit and aggressiveness': What Mackenzie Mgbako's Indiana basketball teammates said about him after summer workouts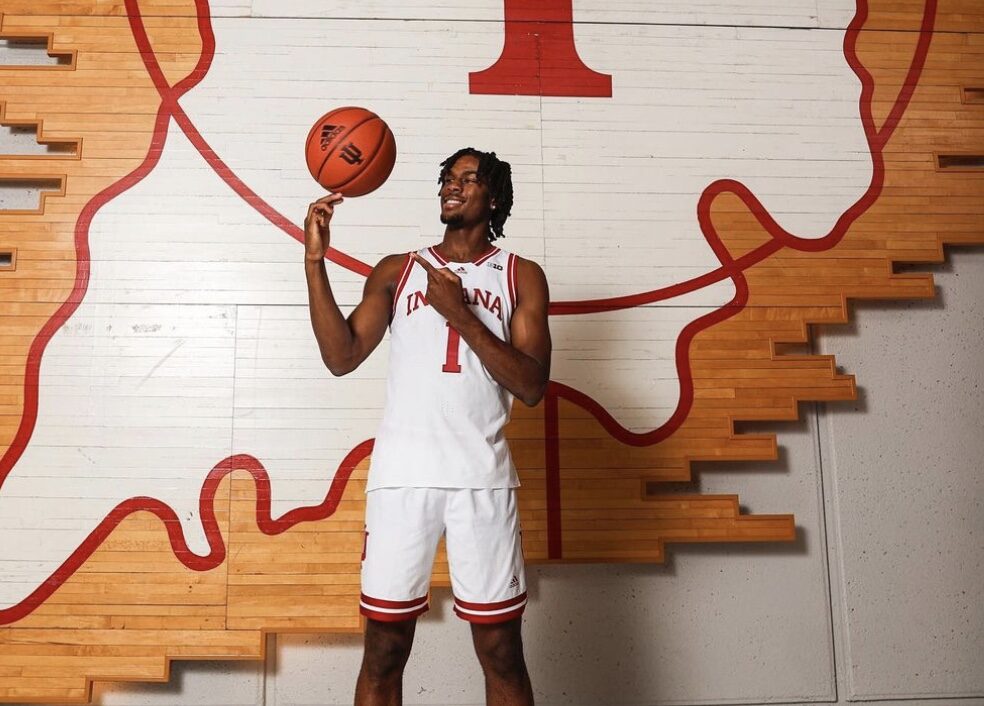 For the third straight spring, the Indiana basketball program landed a high-profile prospect in the recruiting cycle.
In 2021 it was Tamar Bates. Last season it was Malik Reneau. And this spring, the most notable of the trio, former Duke-signee Mackenzie Mgbako.
Mgbako finished the 2023 rankings ranked No. 8 overall in the 247Sports Composite Ranking.
As a senior at Roselle Catholic (NJ), he averaged 16.3 points and 9.2 rebounds per game. He was also part of the Nike Hoop Summit and had 22 points and eight rebounds for the World Team.
Mgbako was also a McDonald's All-American.
It's been widely discussed the importance of Mgbako's decision for the Indiana basketball program — but it likely won't be fully felt until midway through the season, or when his time is up at Indiana.
"He's a necessary addition for Indiana to continue cresting in the right direction," CBS Sports national writer Matt Norlander said after his commitment. " … he's going to step into Jackson-Davis' role. He's a better shooter and a more reliable shooter from the mid to deep range than Jackson-Davis was. Getting him was a big one."
"Indiana needed that commitment," MADE Hoops national high school analyst Travis Graf told HoosierIllustrated.com. "More talent needed to be injected into that locker room and what better way to do it than by adding a high profile five star in Mackenzie Mgbako, a college-ready player from a physicality standpoint and someone who can play multiple positions depending on matchups. Mgbako will most likely struggle some early but will provide a lot of flashes heading into conference play."
Watch: Indiana basketball freshman forward Mackenzie Mgbako offseason workout highlights
While it's known what analysts believe Mgbako can bring to the floor for Indiana, it's better to hear from his teammates.
Indiana wrapped up its summer workout sessions last week. Throughout the eight-week session, Indiana made several players available for media availability. Here is what they said about the five-star freshman.
IU head coach Mike Woodson: "Mackenzie is a dynamic player and an outstanding young man from a great family. He has the chance to have an immediate impact on our program. He's a tremendous offensive player who gives us athleticism, length and the ability to be an inside/out threat.  He can beat people off the dribble, rebound, run the floor and guard multiple positions. Like most freshmen, he will benefit greatly from time in the weight room. He is a winner who has played against high-level competition and was a state champion in high school."
IU sophomore forward Malik Reneau: "Adding Mgbako just boosted our team. He's got great size, can shoot the ball well, drives and can finish with both hands.  He's got a great skill set, he can post up too. Mgbako, he just adds that boost to our team that we needed. It's just a blessing to get Mgbako."
IU sophomore guard CJ Gunn: "I think he brings this grit and aggressiveness to our team that challenges us every day to get better.  We go against each other every day in practice, so just having that competition in practice … iron sharpens iron … He's a tough shot maker and he's a great player and he's a great player to play with."
IU sophomore wing Kaleb Banks: "Mack, He's a really good player.  He's a nice two-way player, and he can shoot the ball really well."
Make sure to follow Hoosier Illustrated on Twitter @Indiana_FRN, Facebook and YouTube to stay up to date on all of the news, updates and coverage of Indiana University athletics.