Indiana Basketball Returner Focus: Sophomore Wing Kaleb Banks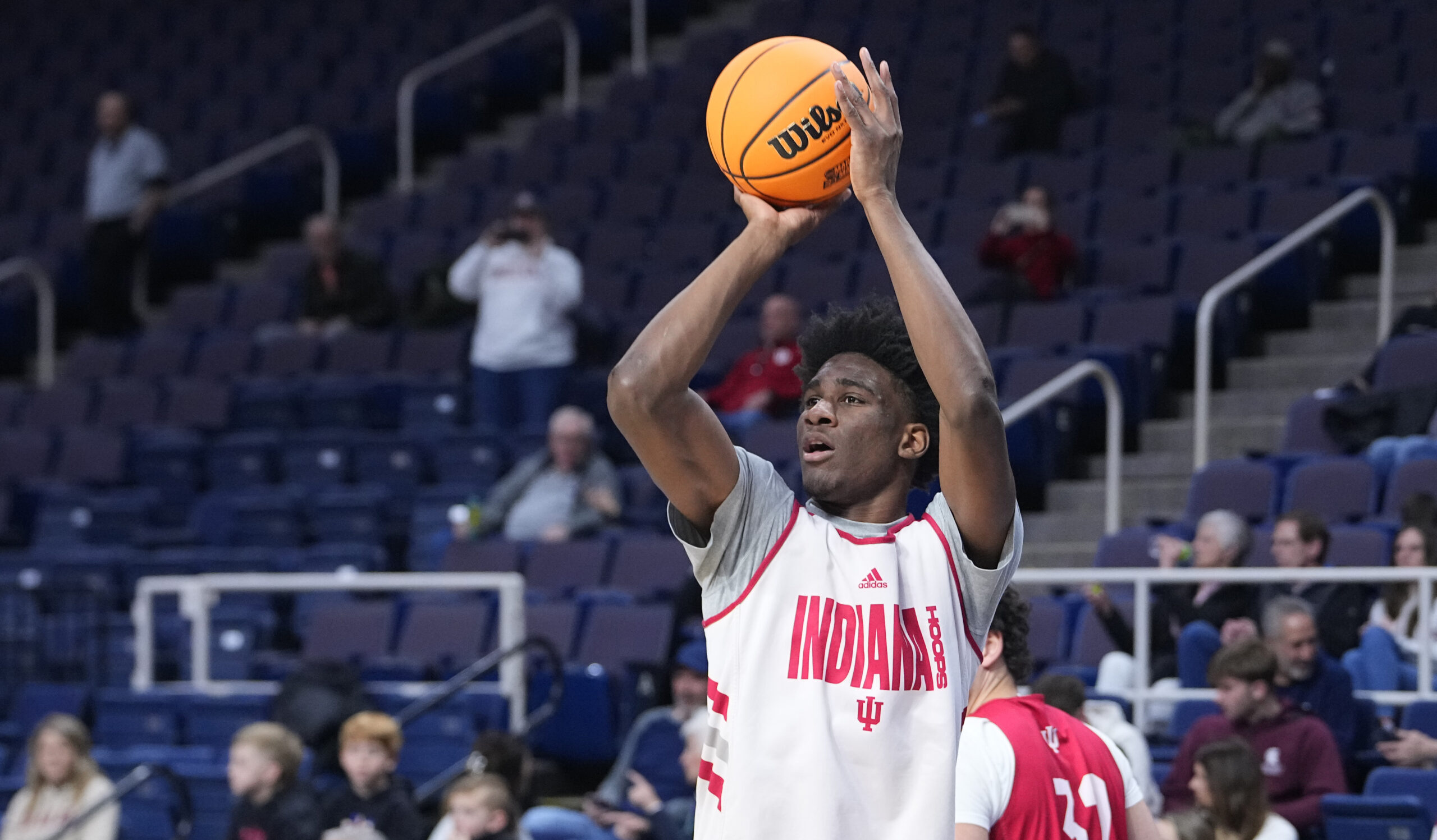 The Indiana basketball program is going to look a whole lot different with many new faces coming in this season plus the new versatile style of play that is expected to take place.
While there are many new faces to the program, the Hoosiers will return six players with the experience to help lead the new group.
Earlier this offseason, we took a look at all the new players in our Indiana basketball Newcomer Focus series. Now, we will focus on the guys that will return for Mike Woodson and Indiana this upcoming season.
For today, we take a look at sophomore forward wing Kaleb Banks and look back at last year plus his role for the 2023-2024 Indiana basketball season.
Other Players in this series: Xavier Johnson, Trey Galloway, Anthony Leal, Malik Reneau
Last Season Reflection
Kaleb Banks was the second player in the 2022 class to commit to play Mike Woodson and Indiana. He chose the Hoosiers over schools such as Georgia, Georgia State, Clemson, and Alabama. Indiana associate head coach Yasir Rosemond was the lead recruiter for Banks due to his ties in the state of Georgia.
Banks came into his freshman season as the 2022 4A Player of the Year as a senior at Fayette County (Ga.) where he averaged 23 points, 10 rebounds and 1.4 steals per game in his senior season.
However, Banks went from being 'the guy' at the high school level to a player that often got lost in the shuffle of the Indiana basketball rotation in his freshman season. He and fellow freshman guard CJ Gunn mostly earned 'spot minutes' due to the loaded, experienced rotation at each of their positions.
Banks averaged just 5.6 minutes a game and totaling just 46 points on the season. He averaged just 1.1 points in 14 Big Ten appearances and 2.0 points in 24 appearances overall.
Although his appearances on the floor were inconsistent, Banks often showed plenty of flashes of his high potential.
His motor was always high when the opportunity to play presented itself and whether it was making a defensive stop, going after a loose ball, rebounding or even just bringing a spark of energy, Banks made the most of any chance he got to on the court.
More: Player Q&A: IU basketball wing Kaleb Banks discusses offseason development
Role for 2023-24 Season
Like fellow sophomores Malik Reneau and CJ Gunn, Kaleb Banks is expected to see a major role increase in the 2023-2024 season due to the seven total departures from a year ago.
While there are still questions about what exactly the rotation is going to be for Indiana next season, Banks is projected to be a part of it no matter. His versatility has a place on this year's roster.
As a 'tweener' forward, Banks can be placed in many different roles on both ends of the court. While he may be his most natural at the wing, he is also someone that Indiana can use in the post, which was shown at times last season.
For Banks next year, it is really about being comfortable on the court no matter where he is placed.
"I feel like I'm working on that, being more comfortable playing out of position, stuff like that," said Banks earlier this summer. "Or maybe inside my position and being able to do a lot of different things. I've been working on my ball handling for sure and fighting down low with the bigs as well this summer so I can be prepared to be put on the court anywhere."
The wing is likely where you will see Banks positioned at mainly next year. Ever since Mike Woodson took over the Indiana basketball program, an emphasis has been made in him trying to be more athletic at the wing spot and next season, guys like Banks and incoming freshman forward Mackenzie Mgbako have a chance to shine there.
Defensively, there is a lot of potential for Banks on that end of the floor. Last season, he showed flashes of what he could bring on the defensive but due to inconsistent minutes, there was not ever a chance for him to get in a flow. With a more increased role paired with his overall versatility, he could sneakily be one of Indiana's best defenders.
This offseason was big for Banks as far as his development at the college level. As long as he comes into next season with more confidence and comfortableness, he should be an important piece for the Hoosiers.
Notable Quote
"I feel like I see myself having a big impact just making impact plays," Banks said over Zoom earlier this summer. "Whether grabbing that key rebound, that key defensive stop or just scoring, making that key play for the team … They (the coaches) wanted me to take that big step next year with the flashes that I showed last year they wanted me to improve off of that. I feel like I fit in well with this team this year."
Make sure to follow Hoosier Illustrated on Twitter @Indiana_FRN, Facebook and YouTube to stay up to date on all of the news, updates and coverage of Indiana University athletics.