Entire Indiana basketball staff visits Montverde Academy today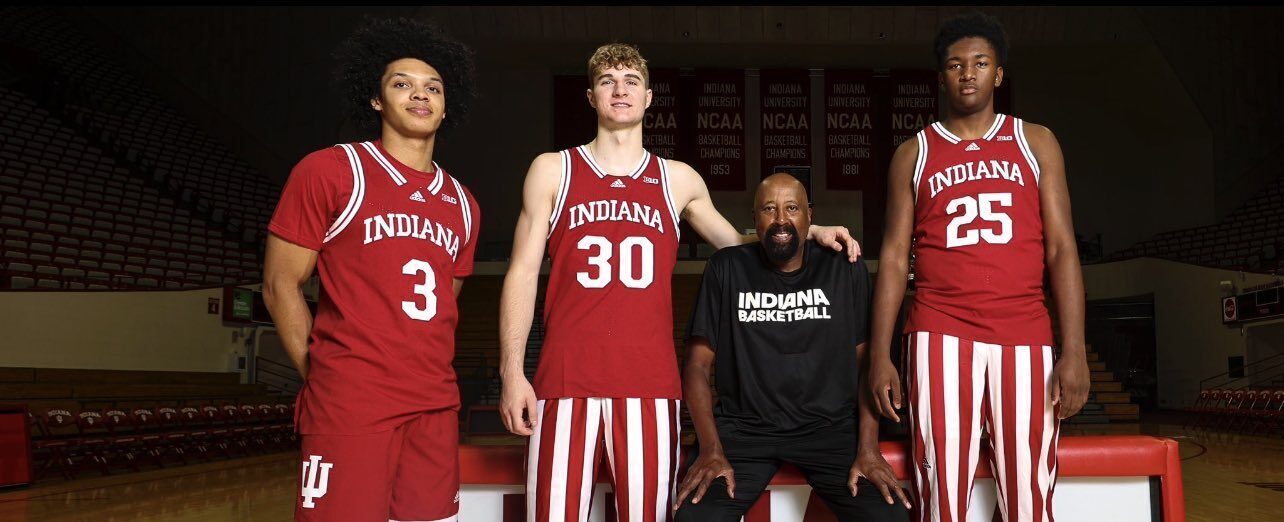 Indiana basketball is deep into the recruiting train this month as they have hosted multiple targets for on-campus visits while also being on the road themselves to see most of the prospects on their radar.
Per a report from Basketball Insider Adam Zagoria, Mike Woodson and the entire Indiana basketball staff (Kenya Hunter, Yasir Rosemond and Brian Walsh) were down in Florida today to visit Montverde Academy prospects Liam McNeeley (five-star), Derik Queen (five-star) and Curtis Givens (four-star). This news comes off after after the three visited Indiana officially just a couple of weeks ago.
Five-star wing Liam McNeeley has been the 'key priority' out of the three by all accounts. Since offering McNeeley over a year ago, his relationship with the Indiana basketball program has grown stronger and stronger ever since.
McNeeley, originally from Texas, transferred to Montverde Academy (Fla.) last season and emerged as one of the top prospects in the country. This season he averaged 13.7 points and was second in the NIBC averaging 2.2 made 3s per game.
"Indiana is obviously a historic basketball state, and the fans in Indiana almost worship basketball," McNeeley previously told HoosierIllustrated.com. "Love from the fans make me feel wanted."
See: Pictures of 2024 five-star Montverde Academy wing Liam McNeeley from Indiana basketball official visit
Queen has also been one of the top targets for the Indiana basketball for awhile now. The 6-foot-9 big man made significant strides over the last year in his overall game. As a junior at Montverde, Queen averaged 11.8 points, 6.7 rebounds and 2.2 assists while shooting 61 percent from the field. Playing for Team Thrill on the Under Armor AAU circuit, Queen averaged 19.7 points per game.
"Opposing bigs hate to see Queen coming; his versatility and quickness as a scorer and rebounder are next level. Queen has some of the best footwork of any big in the country, uses his 6-foot-10, 220-pound frame to create separation in the paint and has an IQ that reads off the charts as one of the best passers in the country," Rivals national analyst Jason Jordan wrote back in July.
Out of the three, Givens is the 'newest' player on the Indiana recruiting radar. He was offered by the Hoosiers earlier this spring but already listed them in his final 7.
Watch: Videos of Liam McNeeley, Derik Queen, Curtis Givens on Indiana basketball visits
Givens, a Memphis, Tennessee native, transferred to Montverde Academy (Fla.) last season. In his first year at Montverde Academy, Givens played more of reserve role and averaged 4.0 points and 2.2 assists per game in 14.7 minutes a game. He also shot 36% from three.
As a bigger guard, Givens looks at how Indiana used former Montverde Academy product Jalen Hood-Schifino and the success he had in his one season under Mike Woodson.
"The conversation I had with Coach Ya (Yasir Rosemond) was a very good conversation," Givens told HoosierIllustrated. "He was telling me how much he loves my game and I remind him of Jalen Hood-Schifino. And he was also saying they have a good history of good guards and how they let their guards run the show. It's really ideal for a point guard to be in that system with being given the keys to run the offense."
Look: Pictures of 2024 Montverde Academy guard Curtis Givens from Indiana basketball official visit
Only time will tell how all three of these player's recruitment is going to turn out. However, Mike Woodson and the Indiana basketball staff have worked extremely hard with the Montverde Academy targets as well as a host of others these past few months.
Make sure to follow Hoosier Illustrated on Twitter @Indiana_FRN,Facebook and YouTube to stay up to date on all of the news, updates and coverage of Indiana University athletics. You can also listen to the Talking' Bout the Hoosiers podcast on Spotify.