Top Indiana basketball target and top-15 prospect Liam McNeeley cancels Texas visit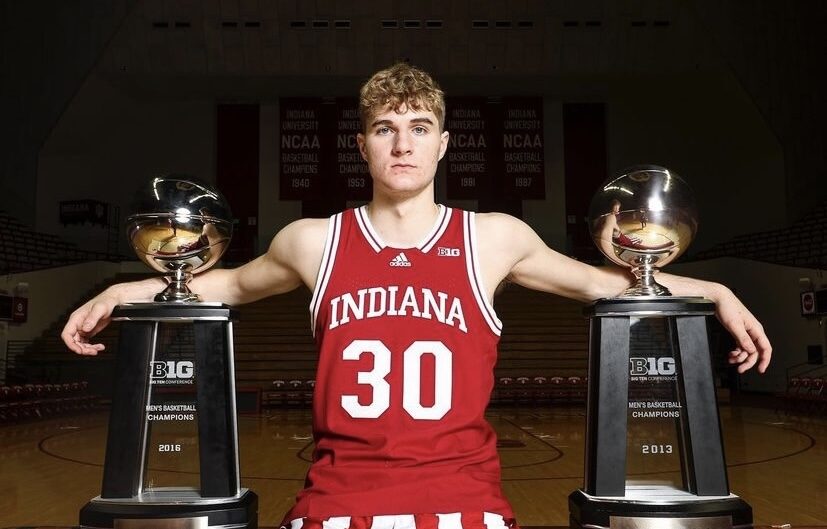 The Indiana basketball program could be closing in on its first commitment of the 2024 class.
Sources confirmed to HoosierIllustrated.com that top-15 prospect and Montverde Academy (Fla.) wing Liam McNeeley has cancelled his official visit to Texas that was scheduled for the weekend of September 22-24. McNeeley also later confirmed the news to HoosierIllustrated.
National recruiting analyst Andrew Slater was the first to indicate the news, followed by 247Sports.
As of this point, there are no other visits scheduled. It appears that the Indiana basketball program received the final visit in McNeeley's recruitment. He took one other visit in September to Kansas.
McNeeley has been the top target for Indiana for much of the past 12 months, receiving both a junior and senior year official visit. The entire Indiana basketball staff also visited Montverde Academy on Monday.
"Indiana is obviously a historic basketball state, and the fans in Indiana almost worship basketball," McNeeley previously told HoosierIllustrated.com. "Love from the fans make me feel wanted."
Indiana, Texas, Kansas, Oklahoma, Michigan and Alabama have been the key programs involved with McNeeley. It looks to be down between Kansas and Indiana going forward.
McNeeley, originally from Texas, transferred to Montverde Academy (Fla.) last season and emerged as one of the top prospects in the country. This past season he averaged 13.7 points and was second in the NIBC averaging 2.2 made 3s per game.
Playing for Florida Rebels on the Nike EYBL Circuit this summer, McNeeley averaged 16.7 points, 5.1 rebounds and 2.0 assists per game across 17 games. He shot 37 percent from three (30-of-81).
"I think he's proven himself to be one of the ten best players in high school basketball today…" 247Sports Director of Scouting Adam Finkelstein recently said. "There also aren't ten other players that I would rather have as freshman in college basketball next year."
If McNeeley pulls the trigger for Indiana that is a critical step in another target's recruitment as well. Fellow five-star and Montverde teammate Derik Queen is good friends with McNeeley and sources have indicated to HoosierIllustrated.comthat it could ultimately play somewhat of a role in his recruitment. The programs that are recruiting both Queen and McNeeley are Indiana and Kansas. They took back-to-back visits to Kansas and Indiana the first two weekends of September.
McNeeley is ranked the No. 13 overall prospect in the 2024 247Sports composite rankings.
Make sure to follow Hoosier Illustrated on Twitter @Indiana_FRN, Facebook and YouTube to stay up to date on all of the news, updates and coverage of Indiana University athletics. You can also listen to the Talking' Bout the Hoosiers podcast on Spotify.