With his 'signature skill' and approach to the game, Jalen Hood-Schifino has unlimited upside heading into his NBA rookie season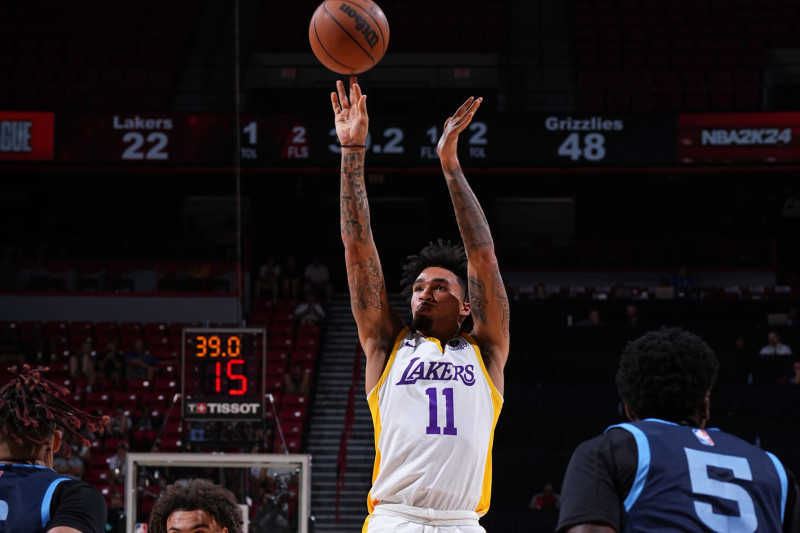 In just a few short months, former Indiana basketball guard Jalen Hood-Schifino will be officially entering into his NBA rookie season for the Los Angeles Lakers, who drafted him with the 17th overall pick in this past draft.
For the Lakers, Hood-Schifino comes in as player with an unlimited amount of upside and the talent and mindset to be the best player he can be. His approach to the game and how he prepares is what attracted him to both Indiana head coach Mike Woodson, and then eventually Lakers GM Rob Relinka.
"It's something I saw in high school, and high school is not college," Indiana head coach Mike Woodson said about the mentality of Jalen Hood-Schifino. "Once he got here, you could see how he approached things on and off the floor, his demeanor."
As far as on the floor skill, Hood-Schifino is a bigger guard that proved in his short time in Bloomington, that he can play both on and off the ball, score all three levels and defend multiple positions."
However when it comes to his play on the floor, what would you say is the 'signature skill' of Hood-Schifino? If you have watched him consistently, the majority would likely say it is his ability to create looks on the ball, especially when it comes to the pull-up shooting.
Bleacher Report Lead Scout/NBA Draft Insider Jonathan Wasserman agrees that pull-up shooting is currently Hood-Schifino's best asset on the floor right now.
"At Indiana, Jalen Hood-Schifino drilled 80 pull-up jumpers in 32 games," Jonathan Wasserman said when discussing the 'signature skill' of Hood-Schifino. "Shooting off the dribble represents his go-to method for scoring."
"It keeps a lack of explosiveness from hurting him too much, as Hood-Schifino doesn't need to get all the way to the rim to threaten defenses," Wasserman added. "He shot 42.1 percent on 152 two-point jumpers, showing a high comfort level stopping and popping in the mid-range. He also made 37.1 percent of his pull-up threes, compared to just 30.4 percent on catch-and-shoot threes."
"Hood-Schifino ultimately operates with good pacing and change of speed, which along with 6'6″ size for a ball-handler, helps him to create space and balance when rising up off the dribble."
More: Jalen Hood-Schifino reflects on lone season at Indiana: 'It was a great experience'
Like Wasserman eluded to, Hood-Schifino's ability to create on the pull-up is a threat to the defense, as he showed in his loan season at Indiana. The style of play that Hood-Schifino brought on the court for the Hoosiers led him into becoming the Big Ten Freshman of the Year while averaging 13.5 points, 4.1 rebounds and 3.7 assists per game.
His approach and style of play is what makes Hood-Schifino have so much potential heading into his pro-career. He checks a lot of boxes, and he is confident in knowing he does.
"I think really just my approach," Hood-Schifino said previously. "I'm a player who I'm going to bring it every day, work hard and I think I check a lot of boxes. Obviously, I'm a big guard, size, can score from all three levels, unselfish, get my teammates involved and then I can also really guard, guard multiple positions. Overall, I think I'm a really good player and an even better person."
Along with his play, the approach of the game and Hood-Schifino's mentality is what ultimately sold Lakers GM Rob Relinka into drafting the former Indiana guard.
As a Kobe Bryant fan, Jalen Hood-Schifino adopted the 'Mamba Mentality' early on in his basketball career…which ultimately led him into achieving his dream of playing for the NBA, for his dream organization.
"It's honestly really crazy and kind of hard to say how I feel because growing up I was a big Kobe fan. I was always watching his videos, watching the Lakers," Hood-Schifino said post-selection. "For me to get drafted by the Lakers is kind of surreal and kind of crazy."
"His Mamba Mentality is something that he's lived by. It's a code he's lived by his whole life," Pelinka added. "You could tell he just didn't throw that out because he was at a Lakers interview. It felt like it was from his heart and genuine. He has a very, very serious approach to the game."
Hood-Schifino is in line for a four-year contract worth up to $17.9 million, according to the rookie salary scale. His contract includes $3.7 million in year one, with the assumption he signs for 120 percent of the standard rookie scale, which according to Hoops Rumors 'virtually every first-rounder does'.
For the Los Angeles Lakers, Hood-Schifino averaged 13.7 points, 4.2 rebounds, 3.3 assists, and 1.3 steals per game in six appearances in the Sacramento and Las Vegas. He shot 34.0% (32-of-94) from the floor, 21.7% (5-of-23) from the 3-point line, and 56.5% (13-of-23) from the free throw line.
Make sure to follow Hoosier Illustrated on Twitter @Indiana_FRN and YouTube to stay up to date on all of the news, updates and coverage of Indiana University athletics.