The 5 biggest questions facing Indiana football this season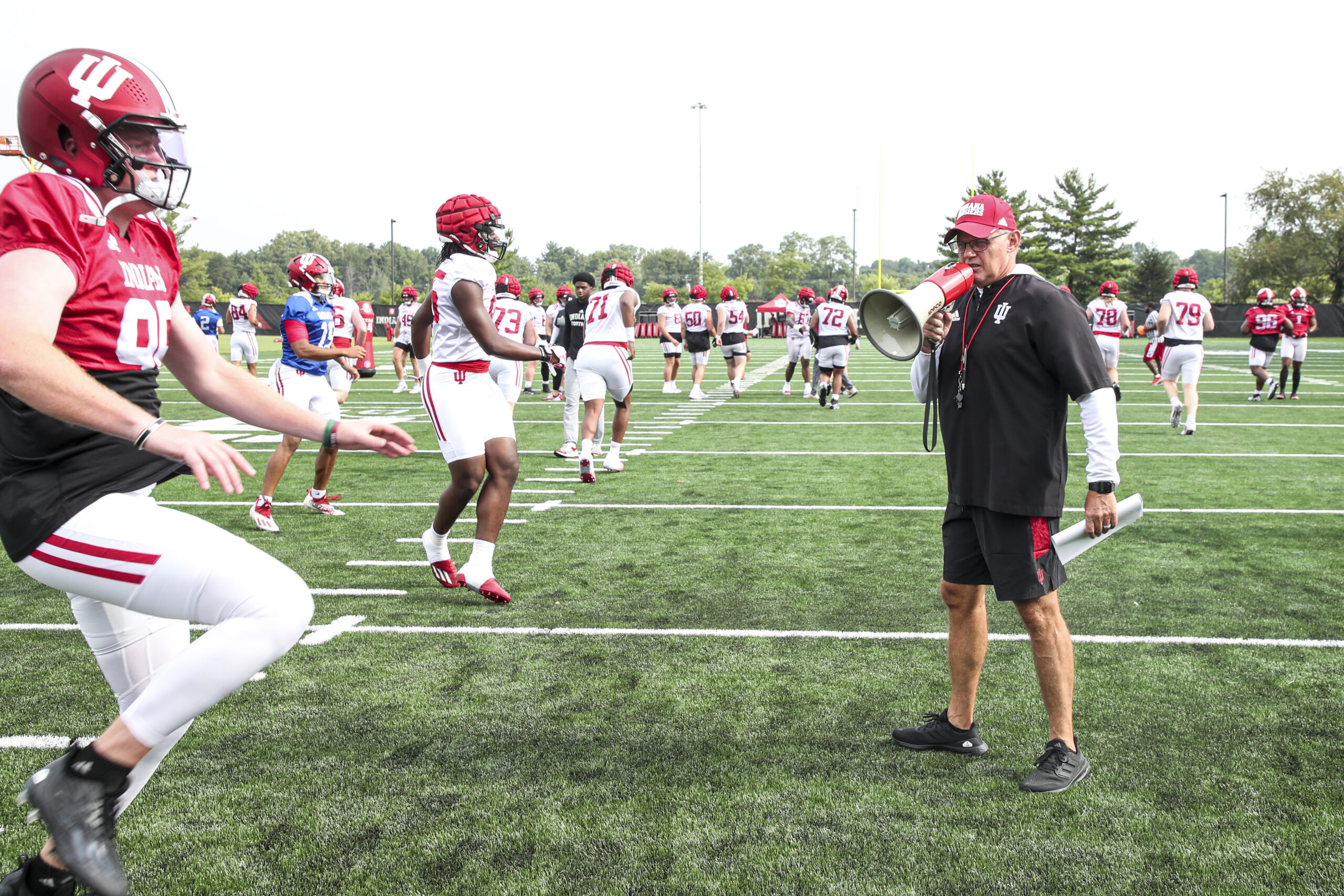 We are almost a week away from the start of the season for Indiana football and with that comes some burning questions that won't be answered until the Hoosiers step foot on the field.
The answers to these questions could determine the fate of Indiana football for 2023 and the future of the program.
The Quarterback Question
Head coach Tom Allen announced that they had decided on a week one starter after the team's final scrimmage, but that still does not completely answer the QB question.
READ: Indiana football makes decision on starting quarterback, won't announce publicly
"We have a decision, and no we're not going to announce it," Allen said Wednesday. "I would say that the process that you go through, especially with two guys who are the same age and both young, both talented, both bring different skillsets to the team."
Rather than repeat the same question, who will start week one against Ohio State between Tayven Jackson and Brendan Sorsby? A better question to ask is who will start the most games at the position for Indiana.
Most of the conversation about the quarterback room this offseason has centered around the two redshirt freshmen, and rightfully so, as one will start at QB for Indiana's opener. But had it not been for a knee injury to Dexter Williams II late in 2022, there would not likely be a competition for the QB position.
Williams II is expected to be back at some point during the middle of the season and if he takes back the starting job will be decided by the play of the starter. If the Hoosiers are 3-1 behind Jackson or Sorsby, Allen would be less inclined to make the switch. If Indiana football struggles early, Allen could be forced to make the switch to Williams II.
There is a very real possibility that Indiana could start all three at some point this season, especially if none of the three play well. Despite the announcement of a decided starter, Indiana football still has real questions in the QB room that won't be answered until the team takes the field.
Can the new faces fit together
Indiana football had a ton of turnover this past offseason and with so many new players expected to start for the Hoosiers, the question of fit comes into play.
Indiana lost over 20 players from the 2022 roster to the transfer portal and the NFL, but Tom Allen and his staff worked hard to reload the roster. They brought in 23 transfers this offseason and many are expected to start immediately for Indiana.
With the influx of new faces, how they fit together on the field will likely determine the success of Indiana football.
Jacob Mangum-Farrar transferred from Stanford and is expected to step into the MIKE linebacker role on defense. While Mangum-Farrar has experience playing the position, he will be tasked with leading an almost entirely new group on Indiana's defense.
Allen and the coaching staff have had all spring and fall to build chemistry with this group. He has spoken very highly of many of the transfers, but unless it translates to on-field success, it could be a long year for the Hoosiers.
How does Bob Bostad affect the Offensive Line
Indiana's offense has been an issue over the past two seasons and offensive line struggles have been a major factor. Over the past two years, Indiana has given up 67 sacks, which is the second most in the Big Ten, only behind Iowa (72).
Indiana addressed this issue when they hired offensive line coach Bob Bostad from Wisconsin. Bostad is a major addition to the program and his resume shows that. During his time with Wisconsin, Bostad has produced nine NFL draft picks, including three first rounders.
READ: Indiana football offensive line a 'quiet group that's confident' and Bob Bostad looks to unlock it
Since his arrival, Tom Allen has noticed a difference with the unit during camp.
"In pre-practice they are full bore lathered up like they have been going for a while … It's just the relentless attention to detail," Allen said before Indiana's practice at Lucas Oil Stadium. "The absolute bulldog focus on technique and fundamentals, it's just the same things over and over again, which develops toughness, consistency and confidence in your guys. I've seen that and it's been very obvious."
With a quarterback making their first start of their career for Indiana, the play of the offensive line will be crucial to their development and the success of the offense. All signs during camp are pointing towards improvement from the unit, but until they step onto the field for week one, we won't know how much of a difference Bostad will be able to make in his first year with the program.
Andre Carter's impact on the defense
I talked about the impact transfers will have on the success of this football team, but no transfer is expected to have a bigger impact than Andre Carter from Western Michigan.
The 6-foot-5 270 pound Carter is expected to be a game wrecker for the Indiana defense. During his last season in Kalamazoo, Carter had seven sacks, forced two fumbles and had 35 tackles for the Broncos. Carter was one of if not the most important transfer Indiana landed this offseason.
He has already made his presence felt during his short time in Bloomington. Carter was named one of Indiana's five captains for the 2023 season. It is not often that a transfer is named captain in their first year with the program. That alone shows how quickly he has been able to earn the trust and respect of his teammates and coaches here in Bloomington.
"Andre [Carter] coming in here in January and earning the respect of his teammates by his work ethic and his performance during our practices in spring ball and all and the way he's worked," Allen said about Carter's selection.
Carter's versatility to play inside and outside on the defensive line will be extremely useful for Indiana's defense, which will rely on him to disrupt the opposing offense.
"I started as a defensive tackle my freshman year at Western Michigan, so I am familiar being up and down the defensive line," Carter said about his versatility. "I enjoy it a lot, it allows me to be able to make plays and open up plays for my teammates, as well."
While it's likely that Carter will only play one season in Bloomington, he has the ability to make a huge impact on the defense and the outcome of the season for Indiana football.
Is Tom Allen on the hot seat?
In his first four years as head coach, Tom Allen gave a Hoosier fans a sense of belief in the program. That belief peaked during 2020 when Indiana finished 6-2 with wins over Penn State, Michigan and Wisconsin.
The program has since taken a step back with an extremely disappointing 2-10 record in 2021, followed by a 4-8 season in 2022. Many have speculated about the safety of Tom Allen's job if the Hoosiers were to have a third consecutive disappointing year.
Allen is under contract with Indiana University through 2027 with an average salary of $4.9 million after signing an extension following the 2020 season. If Allen were to be let go before Dec. 1, 2024, the school would owe Allen all of his remaining compensation.
Because of the expensive buyout clause, it is unlikely Allen would be let go prior to the 2024 season but that does not mean his seat isn't warm after two bad years from the program.
If Indiana is to struggle in 2023, public pressure could put Indiana Director of Intercollegiate Athletics Scott Dolson in a difficult position. In 2020, boosters generated enough money to buyout basketball coach Archie Miller's contract and they could do the same if the football program has another down year.
2023 will be an important year for Indiana football, and the future of the program could be decided based on the results of this season.