Ohio State football unclear on starting quarterback for opener against Indiana: 'You'd like for someone to emerge during camp'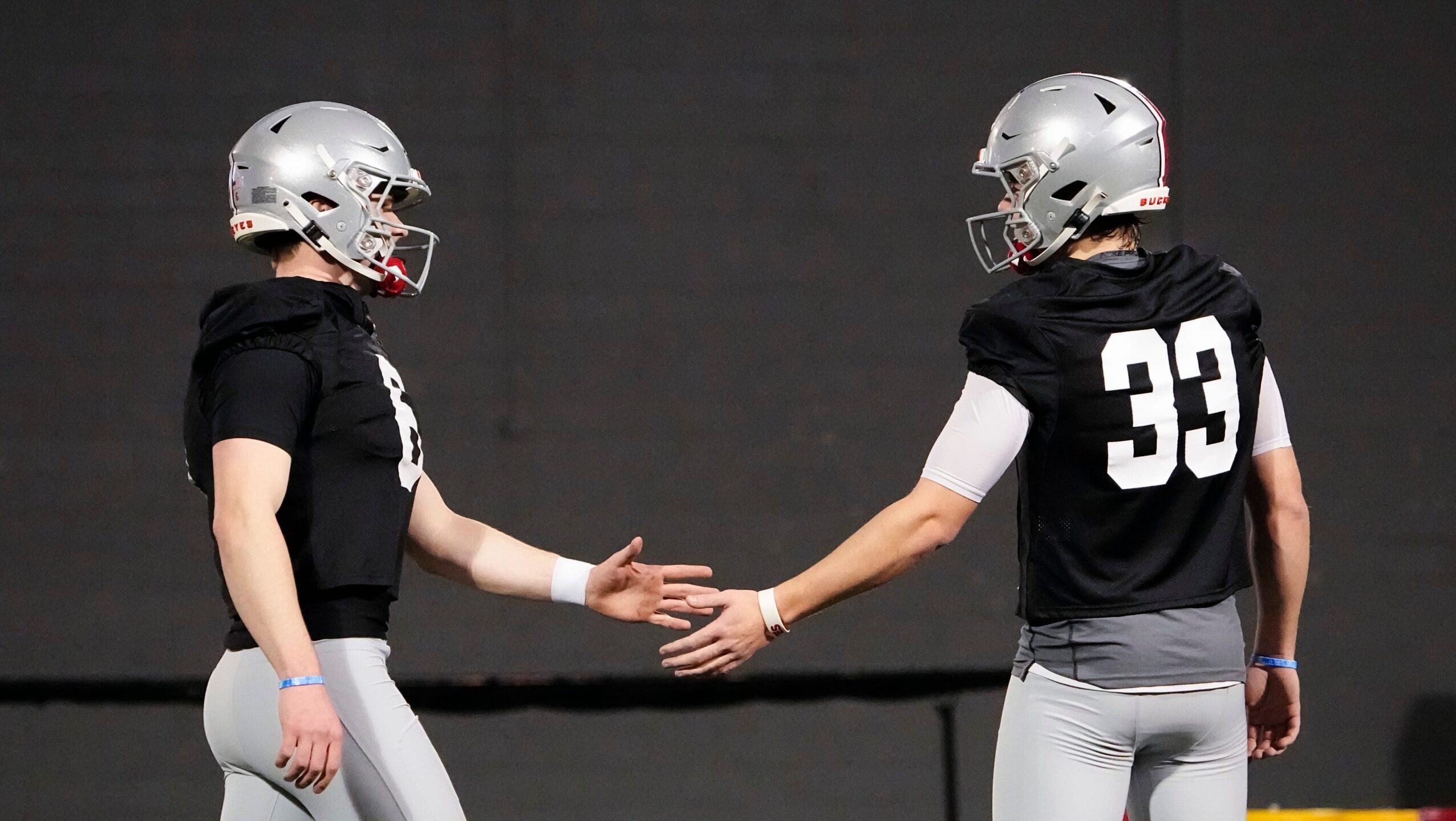 Wednesday was day one for Big Ten Media Days and while the Indiana football program doesn't take the podium until Thursday, Ohio State football, IU's season-opening opponent, did.
The Buckeyes are moving into a new era — the first season following the departure of CJ Stroud. Stroud was the 2nd overall selection in this spring's NFL Draft, coming after a Second-Team All-American season.
Now, it's a quarterback battle for the Ohio State football program, something it hasn't had in a few years.
Kyle McCord and Devin Brown are the two players going head-to-head in the summer and fall camp. McCord seems to be the guy that should be the starter this fall as he returns as a junior and in-game experience. Brown, however, is a redshirt freshman.
McCord has started one game in his career, back in 2021 against Akron. He threw for 319 yards and had two touchdowns to one interception.
On Wednesday, head coach Ryan Day wasn't ready to give the title to McCord.
"You have Devin and Kyle. They both had very good summers. They both have shown leadership. Mick (Kyle McCord) has really put him in situations to do that. Now it's going to be time to go put it on the field. We obviously would like for someone to emerge here quickly. We'll kind of have to see once we get on the field," Day explained. "In I guess the last now going on seven years, we've been in this situation quite a few times at Ohio State and just not knowing who the quarterback is going to be going into the season."
The Hoosiers are entering the 2023 season with a revamped defense and is a unit with multiple new faces and names. It's been a disappointing past two seasons from that side of the ball for Indiana, but with some of the changes this offseason, the program is looking for a better performance this year.
Ohio State defeated Indiana easily in each of the last two seasons by a combined score of 110-21.
While the Buckeyes head into fall camp with the position still up for grabs, the expectation is that the starter will be named before the season opener.
"When you go into these situations, you'd like for someone to emerge during camp, but who knows if that's going to happen or not? You'd like to see somebody emerge, and then you name them," Day added. " … If that doesn't happen, then maybe that (playing two quarterbacks) is the case. We'll have to evaluate it from there."
The Ohio State football program travels to Indiana on Sept. 2.
Make sure to follow Hoosier Illustrated on Twitter @Indiana_FRN and YouTube to stay up to date on all of the news, updates and coverage of Indiana University athletics.