Indiana Football vs Akron: Key players, notes and opening spread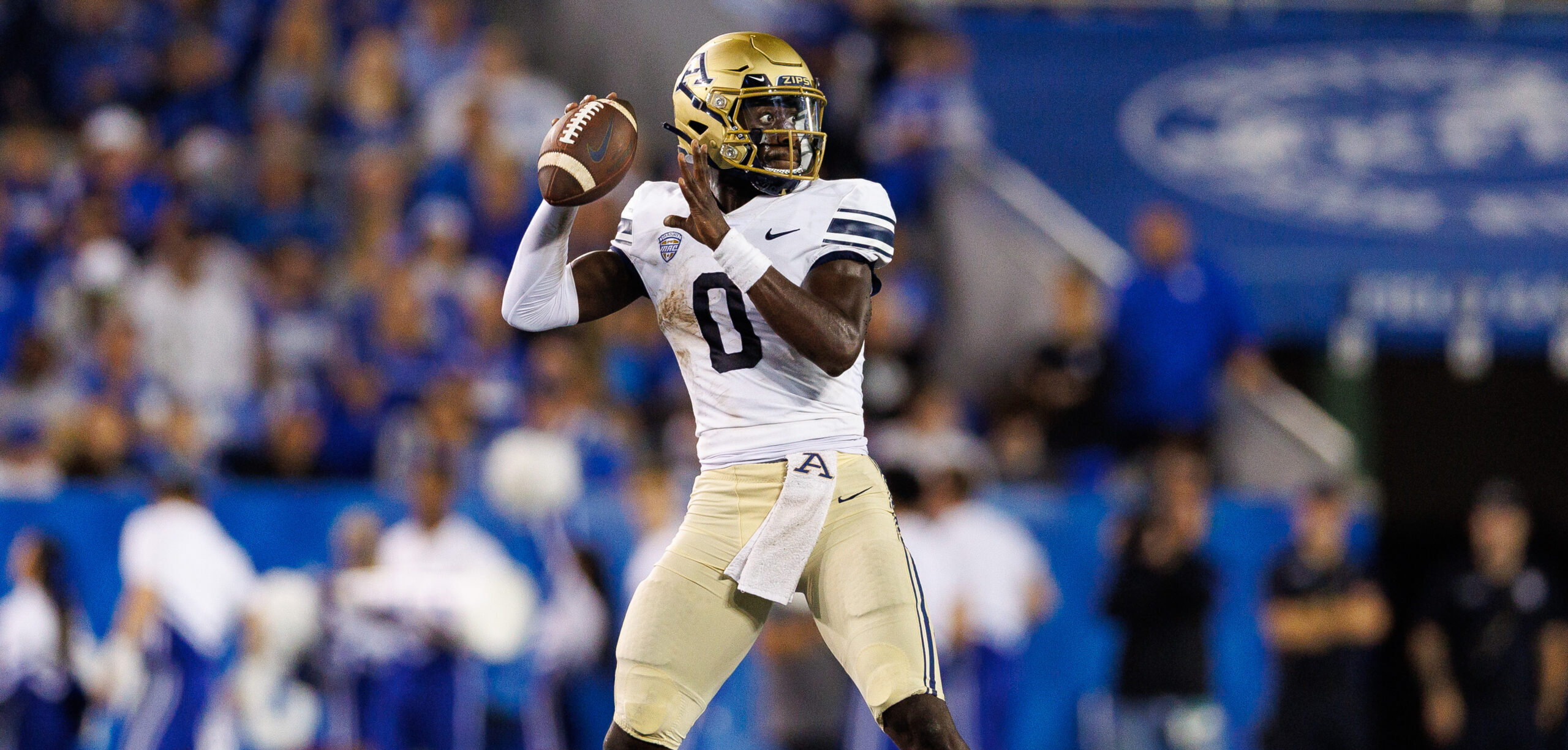 Indiana football hosts the Akron Zips at Memorial Stadium this Saturday. It will be the last of Indiana's three non-conference games in 2023.
Akron comes into this one with a record of 1-2 with their only win coming against Morgan State. The Zips losses came on the road against Temple and Kentucky.
Kickoff is set for 7:30 pm ET on Saturday and the game will be on the Big Ten Network.
Here is a look at some of the key players, notes and the opening spread.
Key players
QB DJ Irons: Irons is a redshirt senior who started all 10 games he appeared in during the 2022 season. He was named Third-Team All-MAC in 2022 after passing for 2605 yards, 10 touchdowns and adding four more scores on the ground. Prior to joining Akron, Irons played JUCO at Iowa Central CC. The 6-foot-4, 215-pound QB has a strong arm but can struggle with ball placement. He has a high football IQ and makes quick decisions in the pocket. So far in 2023, Irons has 392 passing yards, two passing touchdowns and one interception while being sacked nine total times in three games.
Related: Indiana football set to debut 'ghost' jerseys against Akron this weekend
RB Lorenzo Lingard: The redshirt senior is in his first season with Akron after transferring from Florida, where he spent three seasons. Prior to playing at Florida, Lingard played his freshman season at Miami (FL) where he originally committed as a 5-star RB and the 2nd highest ranked RB in the 2018 recruiting class (247sports composite). Lingard is a receiving threat out of the backfield for the Zips, totaling 139 receiving yards in three games this season. He has struggled as a rusher this season, averaging 3.7 yards-per-carry on 21 rushes thus far. Lingard has shown his big play abilities this season, including a 77 yard receiving touchdown.
WR Daniel George: The redshirt senior is in his second season at Akron after transferring from Penn State where he played for three seasons. George was a 4-star recruit when committed to Penn State but only had 18 receptions during his time with the Nittany Lions. In his first season with the Zips, George was third in receiving yards, totaling 67 receptions for 793 yards and two touchdowns. The 6-foot-2 210-pound wide receiver has totaled 12 receptions for 136 receiving yards in three games this season.
WR Alex Adams: The junior wide receiver is in his second season with the Zips after transferring from LSU. Adams spent his first two years of college at LSU after committing as a 4-star (247sports) in 2020. In his first season with Akron, the 6-foot-1, 190-pound receiver caught 63 passes for 855 yards and nine touchdowns. His play earned him First-Team All-MAC honors in 2022. In three games this season, Adams has caught 14 passes for 102 yards and one touchdown.
LB Bryan McCoy: The sophomore linebacker appeared in 10 games for the Zips in 2022, totaling 23 tackles on the year. The 6-foot 225-pound linebacker is off to a hot start in 2023, leading the team in tackles (25). McCoy scored a touchdown on a fumble recovery return against Morgan State in Akron's only win of the season. McCoy was a 2-star recruit and a top 50 player in Illinois when he committed to Akron, according to 247sports.
DL CJ Nunnally IV: The junior defensive lineman is in his first season with Akron after transferring from Independence Community College, where he played in eight games. He recorded 35 tackles and a pair of sacks during his time playing JUCO. The 6-foot-3 230-pound defensive lineman is off to a hot start with the Zips in 2023. He has recorded 11 tackles, three sacks, forced one fumble and had one pass defense in the team's first three games of the 2023 season.
CB Judson Tallandier II: The redshirt senior cornerback is in his first season with the Zips after transferring from Pitt where he played from 2018-2022. During his time at Pitt, Tallandier II recorded 51 total tackles, one sack and one pass defended. At 6-foot-1 180-pounds, Tallandier II has good size for the position and he has used it to make an immediate impact on the field despite being new to the program. In three games in 2023, Tallandier II has nine total tackles and broke up two passes.
S KJ Martin: The senior safety is in his second season with Akron after transferring from West Virginia after two years. As a freshman at WVU, Martin was named to the Pro Football Focus All-Freshman Third Team after recording 50 total tackles and breaking up five passes. In his first season at Akron, Martin recorded 53 total tackles and had one interception on the season. The 6-foot-1 195-pound safety, has played well early in 2023, recording eight tackles, breaking up two passes and one interception.
Other Notable Players: 
Jasaiah Gatchings, WR R-So.
Drake Anderson, RB R-Sr.
Corey Thomas, Jr., OLB R-Jr.
Jeff Undercuffler Jr., QB R-Sr.
Terray Jones, DT R-Sr.
Darrian Lewis, R-So CB.
Key Notes
Indiana football is 3-0 against Akron all time

Indiana is 39-9-1 overall against the MAC

The last matchup between the schools took place on 9/25/2010 when Indiana won 35-20 at home

All four meetings between the two programs have been double-digit point wins by Indiana

Akron head coach Joe Moorhead is 3-12 since taking over at Akron

Joe Moorhead previously was the head coach at Mississippi State (2018-19) and Fordham (2012-15)

Akron has scored 16 points-per-game through the team's first three games

Both QBs DJ Irons and Jeff Undercuffler Jr. have played in the team's last two games and both could see action Saturday
Spread
Indiana football opens as 17-pt favorites and an O/U set at 45.5
Make sure to follow Hoosier Illustrated on Twitter @Indiana_FRN, Facebook and YouTube to stay up to date on all of the news, updates and coverage of Indiana University athletics. You can also listen to the Talking' Bout the Hoosiers podcast on Spotify.