Indiana Basketball Newcomer Focus: Freshman forward Mackenzie Mgbako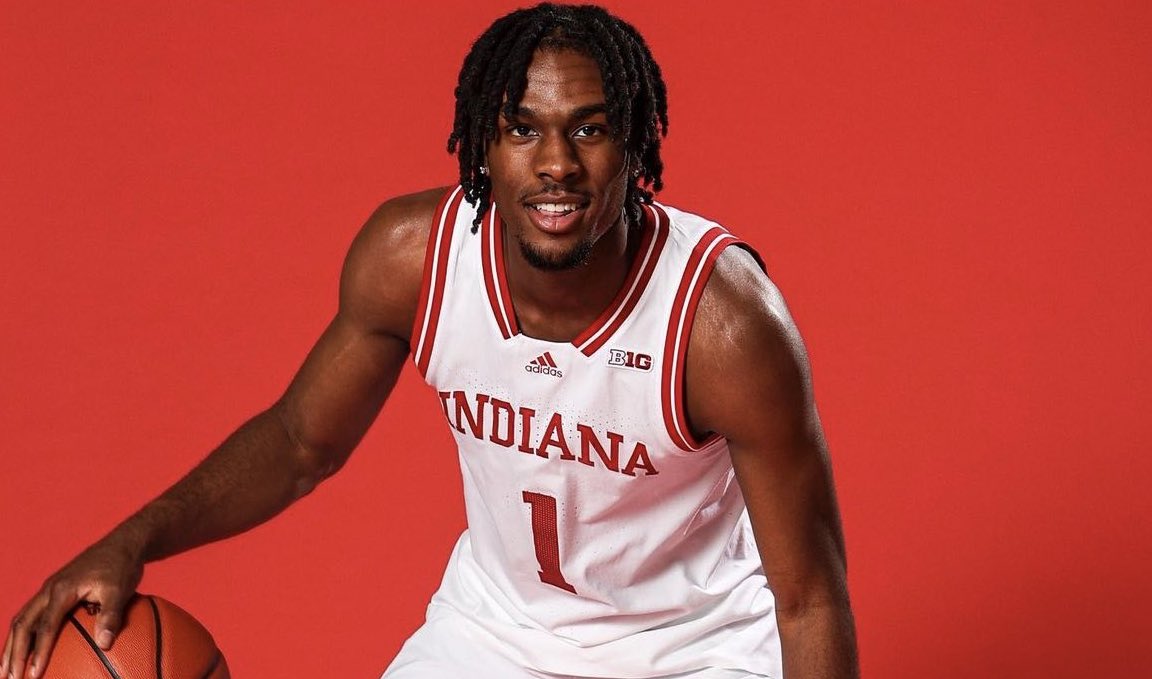 Indiana basketball came into this offseason with many, many spots to fill with players like Trayce Jackson-Davis, Jalen Hood-Schifino, Race Thompson, and others departing from the program. With only two signees in the 2023 class, it was well-known that Mike Woodson and the Hoosiers were going to have to hit the transfer portal aggressively, especially when it came to rounding out the frontcourt.
Heading into the summer portion of the offseason and only one scholarship remaining, the Hoosiers did an outstanding job of filling the spots on the floor they needed with a total of three incoming freshman and three players out of the transfer portal all coming in.
The Indiana Hoosiers brought in many new faces into the men's basketball program for the upcoming 2023-24 season. Today, we take a look at freshman guard Makenzie Mgbako and discuss what he brings to Indiana, what his role will be, and more.
Where He Comes From
Mgbako, a Gladstone, New Jersey native, originally committed to play college basketball at Duke as part of the 2023 class before decommitting in April of this year and reopening his recruitment.
He originally chose the Duke Blue Devils over programs like North Carolina, Kentucky, Ohio State, Memphis, UConn, St. John's and more.
Mgbako was a consensus five-star and ranked No. 8 by Rivals, No. 7 by 247Sports, No. 12 by On3, and No. 9 in the ESPN Top 100.
Playing for Roselle Catholic High School in Gladstone, New Jersey, Mgbako was also a 2023 McDonald's All-American. He averaged 16.3 points and 9.2 rebounds per game as a senior for Roselle Catholic (NJ).
When Mgbako decommitted from Duke, the schools involved were Indiana, Kansas, Louisville, and St. John's. Mgbako would go on visits to St John's, Kansas, and Indiana before he canceled his planned visit to Louisville.
The five-star wing would then decide between Kansas and Indiana before ultimately committing to play college basketball for Mike Woodson and the Hoosiers and join the 2023 Indiana recruiting class alongside four star guards Gabe Cupps and Jakai Newton, which would rank No. 17 in the 247Sports team rankings.
He committed nearly a week after his visit to Bloomington.
Mgbako would be the third straight spring commitment for Mike Woodson and Indiana basketball joining Tamar Bates (2021) and Malik Reneau (2022).
Mgbako is the highest ranked player that Indiana has landed since Romeo Langford (2018).
What He Brings
Mgbako brings athleticism, shooting, and overall elite playmaking on the wing, something the Hoosiers have not see in years as a program.
Heading into this offseason, Indiana had a glaring hole at the wing position with Miller Kopp graduating and Tamar Bates opting to transfer to Missouri. The Hoosiers also struck out on many wings they targeted in the transfer portal as well.
When Mike Woodson took over the Indiana basketball program, he made it clear in his recruiting that he wanted high athletic ability and shotmaking on the wing. Mgbako brings that and much more.
With Mgbako's size at 6-foot-8 on the wing, he has the ability to shoot both on and off the ball while also being able to mix it up inside very well. He creates very well off the bounce and is athletic enough to make plays happen off the ball. His great mobility and overall skill is just something you can't teach.
Defensively, Mgbako is skilled enough to guard both the perimeter and post at a high level. He also is an excellent rebounder on both ends and will give Indiana a much needed boost in that area.
He has a true shot at averaging a double-double next season.
He is the type of athletic, scoring, and defensive wing that Indiana has arguably not seen since the days of OG Anunoby, Troy Williams, and Victor Oladipo.
His versatility to play both the wing and post will be a major advantage for the Hoosiers next season.
What His Role Will Be
Mgbako is very likely to come into the 2023-24 season as the starting wing for the Indiana Hoosiers. The Hoosiers had many starting minutes to give out unlike other schools that were also in the mix such as Duke and Kansas for example.
As a coach, Mike Woodson is more comfortable playing through his guards and wings, like stated in the past. Mgbako will likely be that guy that the Indiana head coach plays through a lot and will be looked at to get a bucket when the Hoosiers need on, similar to what Jalen Hood-Schifino was last season.
He will take a lot of pressure off of Indiana's guards and bigs with his high level playmaking.
Being a five-star and McDonald's All-American, Mgbako will come in and be looked at the contribute early and often, especially when it comes to shooting the three ball. His ability to shoot the three ball is comparable to former Mike Woodson player Carmelo Anthony, who also spoke with Mgbako ahead of his decision to commit to Indiana.
The commitment of Mgbako was an absolute home-run for this Indiana basketball program as the Hoosiers were in desperate need of an upgrade at the wing position.
Mike Woodson got his wing and Mgbako's ability as a player will be on full display.
Notable Quote
"Mackenzie is a dynamic player and an outstanding young man from a great family," Mike Woodson said on the addition of Mackenzie Mgbako. "He has the chance to have an immediate impact on our program.  He's a tremendous offensive player who gives us athleticism, length and the ability to be an inside/out threat.  He can beat people off the dribble, rebound, run the floor and guard multiple positions.  Like most freshmen, he will benefit greatly from time in the weight room.  He is a winner who has played against high-level competition and was a state champion in high school.  We can't wait to welcome him and his family to Bloomington."
Make sure to follow Hoosier Illustrated on Twitter @Indiana_FRN and YouTube to stay up to date on all of the news, updates and coverage of Indiana University athletics.