Indiana Basketball: Kel'el Ware labeled as 'boom-or-bust' transfer for 2023-24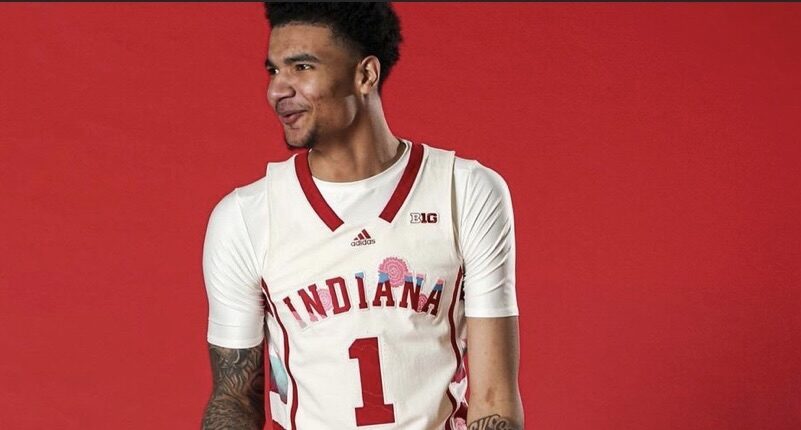 The transfer portal window is the newest recruiting cycle in college basketball and an avenue that many teams take to strengthen their rosters. It's also a place where the Indiana basketball program has lived for much of the last few cycles.
This offseason, Indiana added three transfers to its roster. All three will play different roles, but important ones at that.
No transfer around the country has the potential upside as Oregon transfer center Kel'el Ware, however. The 7-footer was a projected NBA lottery pick heading into his freshman season.
While the fit wasn't great out west, there still are questions to be answered about his motor and toughness. But, the tools are clearly there.
Because of the risk-reward opportunity with Ware, he was labeled as one of the biggest 'boom-or-bust' transfers this offseason by 247Sports.
"Kel'el Ware is a phenomenal talent. Ware's tape last season wasn't great. Both can be (and are) true. It's up to Mike Woodson and the Indiana staff to put Ware in a position to reach his immense upside," Isaac Trotter of 247Sports wrote. "A full offseason in the weight room should help him not get knocked off his spot while banging for position in the middle of the lane. Playing with a point guard like Xavier Johnson will be beneficial, too. But Indiana does not have a ton of proven, high-volume perimeter shooting on the roster right now which presents some pitfalls for a potential breakout season for the uber-talented big man."
As a freshman, Ware averaged just 6.6 points, 4.1 rebounds and 1.3 blocks per game. His per-40 minute stats were: 16.8 points, 10.3 rebounds and 3.3 blocks per game.
His inconsistency was evident, like most freshmen.
In a four-game stretch at the Phil Knight Invitational in November, Ware posted averages of 12.5 points, 7.0 rebounds and 1.3 blocks per game. He shot 51.4 percent from the floor. He had 18 points and nine rebounds against UConn. Followed by a 17-point and nine-rebound game against Michigan State. And then finally, 13 points and seven rebounds against Villanova.
"Kel'el is an extremely gifted player who will bring a lot to our program," Indiana basketball head coach Mike Woodson said. "He is a tremendous athlete whose skill level in all facets of the game will make us better. He's a rim protector with great size and length, he runs the floor so well, he can shoot …"
Ware looks to be the starting center in Bloomington next season. His skillset is the ideal fit with what the Hoosiers are bringing back. Pairing Ware with Xavier Johnson could prove to be an extremely lethal pick and roll game — something Johnson mastered with Trayce Jackson-Davis.
He is an extremely athletic center with great length and size. Ware has a good ability to finish at the rim with his athleticism but is still raw offensively. He has the ability to step out on the perimeter but hasn't been consistent thus far, going 15-of-55 (27.3 percent) from three last season.
Ware was the No. 2 overall player in the 247Sports transfer portal rankings. He was previously ranked the No. 7 overall player in the 2022 class.
Make sure to follow Hoosier Illustrated on Twitter @Indiana_FRN and YouTube to stay up to date on all of the news, updates and coverage of Indiana University athletics.