'He's got a real opportunity with us.': Steve Kerr sees Trayce Jackson-Davis as valuable piece to Warriors roster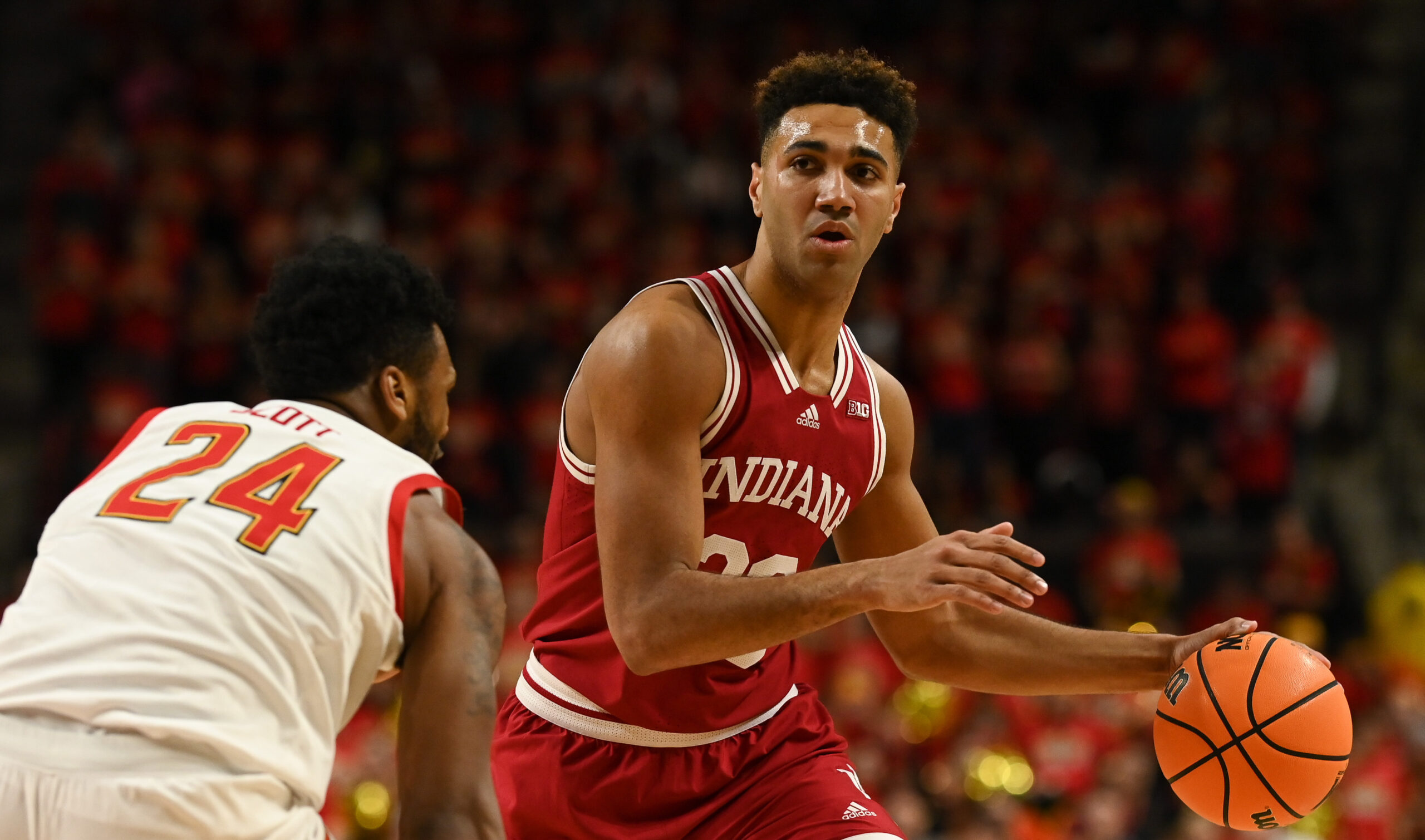 Carving out a role in the NBA as a rookie is a difficult task — especially is you're selected outside of the first round. But, for Indiana basketball standout Trayce Jackson-Davis that may not be the case with his situation in Golden State.
Jackson-Davis slipped all the way to No. 57 overall in last week's NBA Draft, but it resulted in a guaranteed roster spot with the Warriors.
Entering the draft, the talk surrounding Jackson-Davis was the lack of outside shooting he showed at Indiana. But, throughout the draft process, teams and even Jackson-Davis himself emphasized it wasn't his inability to shoot, rather just the dominance he had in the paint and the system set in place around him.
What other scouts were talking about as well was his improvement in many areas, none more than his playmaking ability as a passer. At 6-foot-9, his passing ability sets him apart from other forwards with similar scoring skillsets. That proved to be a tremendous asset at Indiana and will be even more at the next level.
"I think teams were able to see his playmaking and defense take a step, with his PnR (pick and roll) defense previously being a big knock on him he's probably still inconsistent but above average at this point and every team loves having the ability to play through big's, especially since most PG's in the NBA are more combo guards than true PG's," an anonymous NBA Scout told HoosierIllustrated.com. "Coaches increasingly appreciate and know how to use versatility at each position, so this gives you someone else on the floor that can make plays for others.
"His rebounding, rim running/rolling and ability to finish at the rim as well as his ability to be a multi-threat playmaker in short rolls and in DHO (dribble hand offs). He may be equally good in all of those areas and I see him being able to translate each of those skills to the next level."
His playmaking ability out of pick-and-roll situations stood out to the Warriors as well.
Whether it be pick-and-roll or pick-and-pop and even dribble-hand-off situations, Jackson-Davis brings a skillset that the Warriors need with their big men. It's also one that is similar to a future potential Hall of Famer in Draymond Green, says Warriors head coach Steve Kerr.
"Talking to our scouts, the guys who do this all year long, they loved his ability to make plays out of the pocket in pick-and-roll. So you can picture him setting a screen for Steph, you can picture Trayce setting a screen, rolling to the rim, catching a lob and finishing," Kerr said of Jackson-Davis on 'The Pull Up! Podcast'. "But also if they blitz Steph (Curry) for example, he can get into that short roll, catch and move the ball on like Draymond does so well. He's a dribble hand-off guy, so if he's trailing the play and you swing it to him he's gonna be great dribbling to the weak side, DHO with Klay (Thompson) for a jumper, diving to the rim. He's a traditional big, he's an excellent rebounder, plays with force, runs the floor hard.
"Our guys thought he had a chance to go in the first round, so to get him at 57 was really kind of a coup."
The Warriors enter this season with a thin front court. While the expectation is Draymond Green will be back, he's currently a free agent. That leaves Kevon Looney and Jonathan Kuminga as the forwards on the roster.
Look: Trayce Jackson-Davis has his Golden State Warriors locker next to Steph Curry
Jackson-Davis will enter summer league play and training camp with a real opportunity to carve out a specific role heading into the season.
And for Steve Kerr, he thinks that's a real possibility.
"The great thing for Trayce, if you look at our roster, our bigs really are Draymond, Looney and Kuminga. We don't have a big team. We don't have a big group of big guys on our roster. So, he immediately becomes a viable option at that position," Kerr explained. "I like the fact he played 120-something games in college in Indiana. He has a lot of experience as a 23-year-old that will make him much more experienced right away than half the NBA.
"I love the fact that Trayce has played four years in college, played for Mike Woodson — NBA coach, NBA system. Geat conference in the Big Ten. Great basketball tradition. Sold out crowds at Indiana, like that stuff matters. He's got a really opportunity with us and a chance to be a good fit."
Warriors GM Mike Dunleavy echoed that sentiment.
"He's a guy that been a four-year college player, proven player, skilled player, can do a lot of things," Dunleavy said of Jackson-Davis. "Defend, rebound, finish, and his passing I thought really improved the last year or two in college."
In his four years at Indiana, Jackson-Davis averaged 17.9 points and 9.1 rebounds in 126 career games. He is the lone Indiana player in program history to score 2,000+ points and grab 1,000+ rebounds. He is one of only five Big Ten players to accomplish that.
Jackson-Davis finished his Indiana career as the program's all-time leader in rebounds (1,143) and blocked shots (270) and was third in scoring (2,258) and double-doubles (50).
He'll get his NBA Summer League started on July 3 on ESPN2 in the California Classic Summer League. He will also take part in the Vegas Summer League.
The full interview with Steve Kerr is below. The segment talking about Trayce Jackson-Davis is from 9:50 to the 12:40 mark.
Make sure to follow Hoosier Illustrated on Twitter @Indiana_FRN and YouTube to stay up to date on all of the news, updates and coverage of Indiana University athletics.