Lakers GM Rob Pelinka sees Austin Reaves player-comp for Jalen Hood-Schifino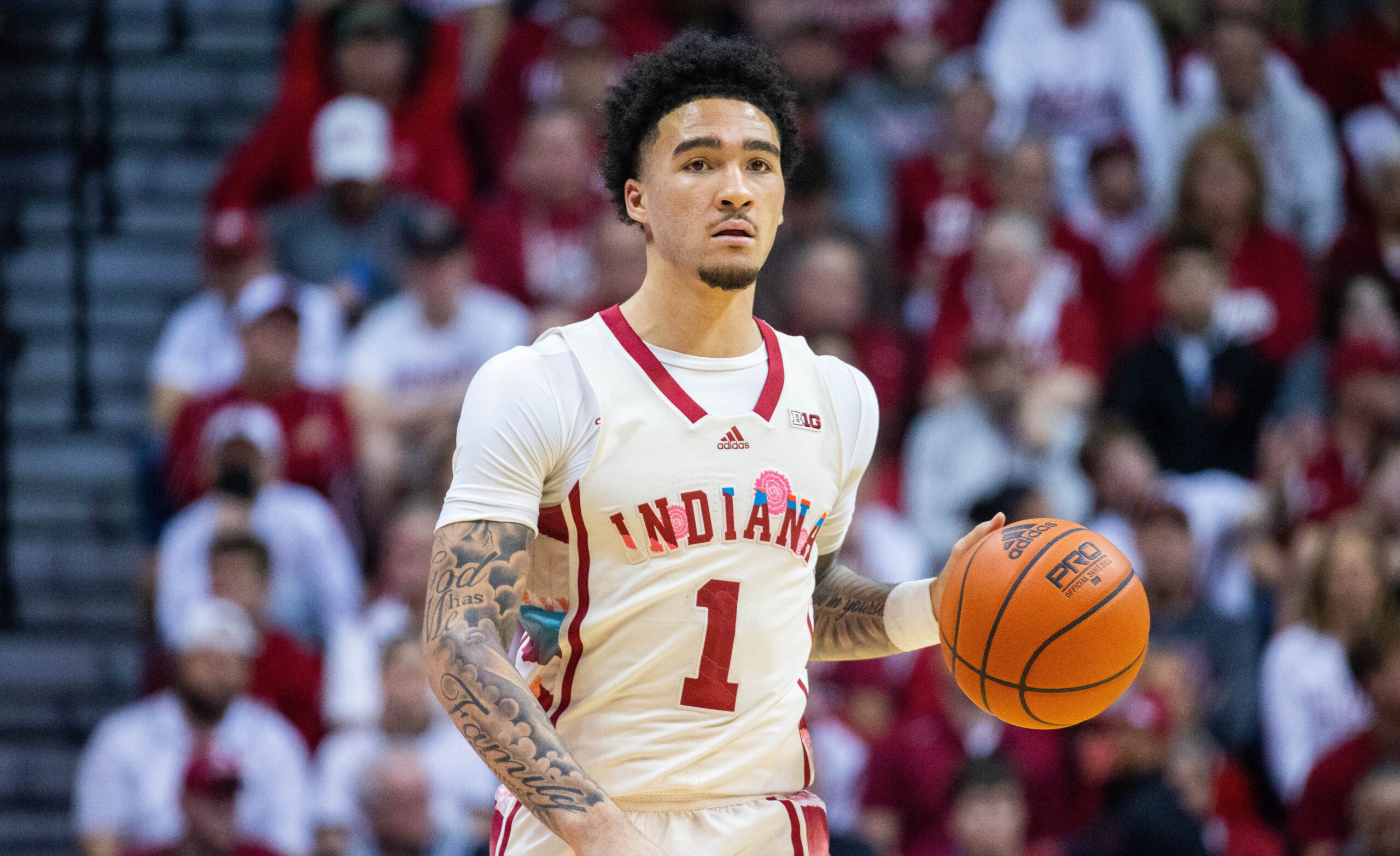 Jalen Hood-Schifino was seen as a 'lottery-level' talent by Los Angeles Lakers general manager Rob Pelinka heading into the 2023 NBA Draft. The Lakers — just outside the lottery at pick No. 17 — didn't hesitate when Hood-Schifino was still available.
Initially impressed by his composure and maturity, Pelinka knew the on-court ability that the Indiana guard had.
His skillset fit a need, as did his position. The Lakers head into this offseason with a lot of uncertainty in their backcourt with free-agents including D'Angelo Russell, Dennis Schröder, Malik Beasley and others all unrestricted.
More: Full Q&A from Jalen Hood-Schifino after being drafted by Los Angeles Lakers
One player who broke out in a big way this season was Austin Reaves. The second-year guard averaged 13.0 points, 3.0 rebounds and 3.4 assists per game in 64 appearances. In 16 postseason games — all starts — he averaged 16.9 points, 4.4 rebounds, 4.6 assists and shot 44.3 percent from three.
Reaves, himself, is also a free-agent — albeit a restricted one. So, having the opportunity to land someone like Jalen Hood-Schifino with their first pick of the night was critical.
Pelinka also saw the fit in a different way as well, with a comparison to Reaves.
"We saw, again, just as a point of comparison, with a player like Austin Reaves, when we drafted him, he wasn't a knockdown shooter. But he is now," Pelinka told Jovan Buha of The Athletic."It's because he put in work—and work with our staff. And I know that's something Jalen is committed to too."
With the expectation that the Lakers will bring back Reaves next season, the ability to pair him with Jalen Hood-Schifino was also appealing. While Hood-Schifino played a large majority of his minutes at Indiana on the ball, he was brought in last season with the expectation of playing alongside Xavier Johnson.
Hood-Schifino has the versatility as a scorer and playmaker to play both on and off the ball. With a ball dominant player in LeBron James, the Lakers need that versatility with their other perimeter players. But Hood-Schifino's ability to create plays with the ball in his hands is also critical in taking some of the potential playmaking responsibility off of James.
"You think about the opportunity to pair two young guards together like Austin Reaves and Jalen Hood-Schifino. People would say, 'Is Austin a point guard? A 2-guard?' Well, he's an on-the-ball guard. He can make plays with the ball in his hand," Pelinka added. "And I would say the same thing about Jalen Hood-Schifino."
"I had major concerns with his ability to put pressure on the defense with his lack of scoring initially, but it was encouraging to see him continue to improve in that area as the season wore on," an NBA scout told HoosierIllustrated heading into the draft.
If Hood-Schifino can take on the same trajectory as Reaves, that would be a very successful first two seasons — when comparing to Reaves. As a shooter, Reaves increased his percentage from 45.9 percent to 52.9 percent and 31.7 percent to 39.8 percent from three from his rookie to sophomore years.
Hood-Schifino has always been a worker and there is no doubt he will do the same starting this summer. While Hood-Schifino may not get a large mix of minutes early on, the options and versatility he gives the Lakers is intriguing and something that will help him in carving out a consistent role as a rookie.
Make sure to follow Hoosier Illustrated on Twitter @Indiana_FRN and YouTube to stay up to date on all of the news, updates and coverage of Indiana University athletics.