Warriors GM Mike Dunleavy on drafting Trayce Jackson-Davis: 'Little surprised he made it that far.'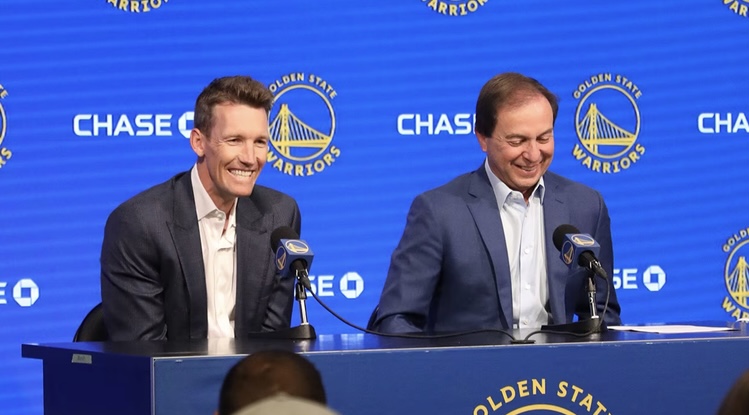 It was a long, frustrating wait that many, almost everyone, expected it to be when it came to the selection of Trayce Jackson-Davis in last night's NBA Draft. However, after 56 picks before him, the Golden State Warriors elected to pick the former Indiana Hoosier in the 2nd round, No. 57 overall.
While it was certainly frustrating for the fans that stayed up and waited for the all-time Indiana great to be drafted, Jackson-Davis himself even voiced his frustration as he watched 56 guys be selected before him.
"Y'all will regret it… I promise you," said Trayce Jackson-Davis on his Twitter last night.
It was very surprising not only for the spectators and Jackson-Davis, but as well as the person that ended up making the decision to draft him, new Warriors General Manager Mike Dunleavy.
"We think there is tremendous value there," Mike Dunleavy said when drafting Trayce Jackson-Davis with the No. 57 pick. "Another guy we had pretty high on our board. Little surprised he made it that far."
"He's a guy that been a four-year college player, proven player, skilled player, can do a lot of things, defend, rebound, finish, and his passing I thought really improved the last year or two in college."
More: Pictures of Jalen Hood-Schifino drafted by the Los Angeles Lakers
Usually when a player is drafted in the second-round of the NBA Draft, it is uncertain what the exact plan is with that player. Most of the time, a second-round drafted player is given a two-way deal, assigned to the G-League, or given a variety of different contract options. However, Dunleavy made it clear that there is a spot on the roster for Trayce Jackson-Davis.
"Yeah that's the plan, he will be on the regular, 15-man roster," Dunleavy said. "Not sure that we will carry 15, but he will be on the main roster."
The addition of Jackson-Davis just makes sense overall for this Golden State Warriors team. As the roster currently sits, there is not a lot of front court depth at the moment and with the way the organization has used their in the past, Jackson-Davis' skill, athleticism, defense, and passing just fits with the way the Warriors play.
"We're not overly loaded in the front court you know with (Kevon) Looney, hopefully we can get Draymond (Green) back, but he is a guy that will provide insurance and hopefully be able to grow within our program," said Dunleavy.
More: Watch Jalen Hood-Schifino selected by Los Angeles Lakers in NBA Draft
Along with Jackson-Davis, the Warriors also selected Santa Clara guard Brandin Podziemski, who will provide more scoring in the backcourt, with the No. 19 overall pick. Dunleavy feels that both him and Jackson-Davis fit right into this prestigious organization.
"We are really excited about the stuff we've done and we feel like these guys fit our makeup, our fabric, and we are excited to get them out here and hit the ground running."
It was unnecessary longer wait than it should have been for Jackson-Davis to be drafted, but being drafted to the Warriors might have been the best scenario for the Indiana native.
Trayce Jackson-Davis is now teammates with future Hall of Famer's Steph Curry, Klay Thompson, and Chris Paul.
When it is all said-and-done, Jackson-Davis may end up being the steal of the 2023 NBA Draft.
Make sure to follow Hoosier Illustrated on Twitter @Indiana_FRN and YouTube to stay up to date on all of the news, updates and coverage of Indiana University athletics.