Trayce Jackson-Davis selected No. 57 overall by Golden State Warriors in NBA Draft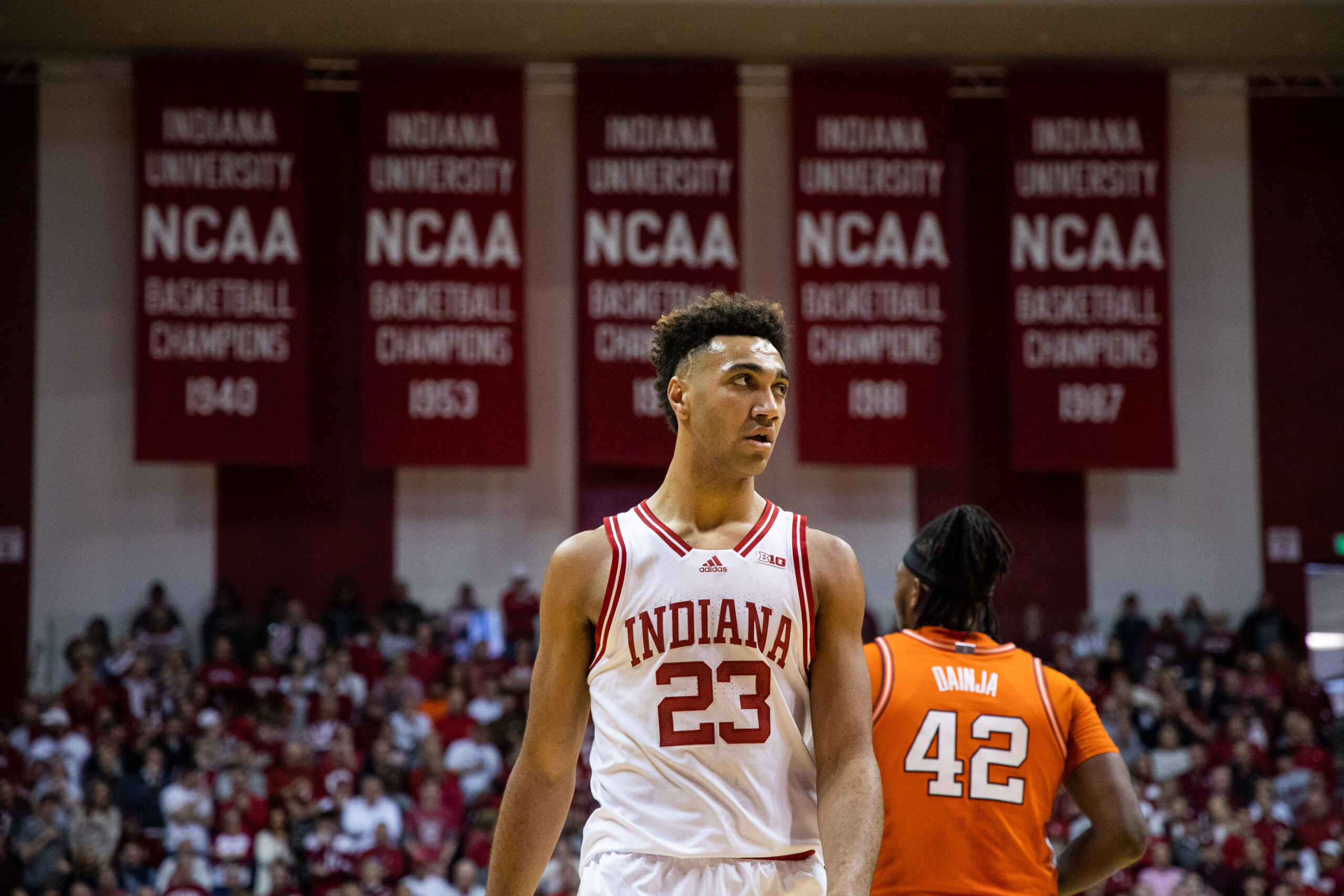 The second member of the Indiana basketball program heard his name called during the 2023 NBA Draft. Trayce Jackson-Davis was selected No. 57 overall on Thursday night by the Golden State Warriors.
His former Indiana teammate, Jalen Hood-Schifino, was selected No. 17 overall in the first round.
Jackson-Davis came back to Indiana after a positive Covid test popped up during the 2022 NBA Draft Combine. That turned out to be a huge turning point in his now-professional career.
This season, he averaged 20.9 points, 10.8 rebounds, 4.0 assists and 2.9 blocks per game. He was a consensus First-Team All-American and unanimous First-Team All-Big Ten selection. He was also the Karl Malone Award winner for the top power forward in the country.
Jackson-Davis' scoring average marked the highest for an Indiana basketball player since Eric Gordon (20.9 points per game in 2007-08). His rebounding average was the highest since Steve Downing (15.1 rebounds per game in 1972-73). Additionally, his blocks per game was the most since Dean Garrett (3.4 blocks per game in 1987-88).
Jackson-Davis is the lone Indiana player in program history to score 2,000+ points and grab 1,000+ rebounds. He is one of only five Big Ten players to accomplish that.
He finished his Indiana career as the program's all-time leader in rebounds (1,143) and blocked shots (270) and was third in scoring (2,258) and double-doubles (50).
The biggest knock on Jackson-Davis throughout his career was his inability to make — or take — outside shots. He took just three 3s in four seasons, finishing 0-of-3 from three.
"I just listened to what coach Woodson said," Jackson-Davis told reporters at the NBA Combine. "He never said that I couldn't shoot, but when I'm close to the rim and I'm shooting 60 to 70 percent from the floor every game, there's not really a reason for me to go outside and take shots … I thought the team would benefit with me more being inside. It's not that I couldn't shoot. It's more that I didn't shoot."
Instead of taking jump shots as a senior, however, he continued to dominate in the post and show he can be a tremendous asset to any NBA team regardless of his shot.
"I think teams were able to see his playmaking and defense take a step, with his PnR (pick and roll) defense previously being a big knock on him he's probably still inconsistent but above average at this point and every team loves having the ability to play through big's, especially since most PG's in the NBA are more combo guards than true PG's," an anonymous NBA Scout told HoosierIllustrated.com. "Coaches increasingly appreciate and know how to use versatility at each position, so this gives you someone else on the floor that can make plays for others.
"His rebounding, rim running/rolling and ability to finish at the rim as well as his ability to be a multi-threat playmaker in short rolls and in DHO (dribble hand offs). He may be equally good in all of those areas and I see him being able to translate each of those skills to the next level."
During the course of the past two years, Jackson-Davis proved to be one of the most improved players in the country.
In his four years at Indiana, Jackson-Davis averaged 17.9 points and 9.1 rebounds in 126 career games.
"He's meant a lot to this program. I don't think we're sitting here today if it wasn't for Trayce Jackson-Davis," IU head coach Mike Woodson said earlier this season. "He could have left two days after I got the job, but he decided to stay on board. He worked his butt off. I pushed him on and off the court. A lot of nights and days, it wasn't pretty for him, but he got better. He benefited from it, and our team benefited from it."
Coming to Indiana, Jackson-Davis was a four-star prospect ranked No. 3o in the 247Sports Composite Rankings.
Trayce Jackson-Davis becomes the 79th player in Indiana basketball program history to be selected in the NBA Draft.
Make sure to follow Hoosier Illustrated on Twitter @Indiana_FRN and YouTube to stay up to date on all of the news, updates and coverage of Indiana University athletics. 
Former Indiana basketball guard Parker Stewart signs pro deal with Sheffield Sharks of the British Basketball League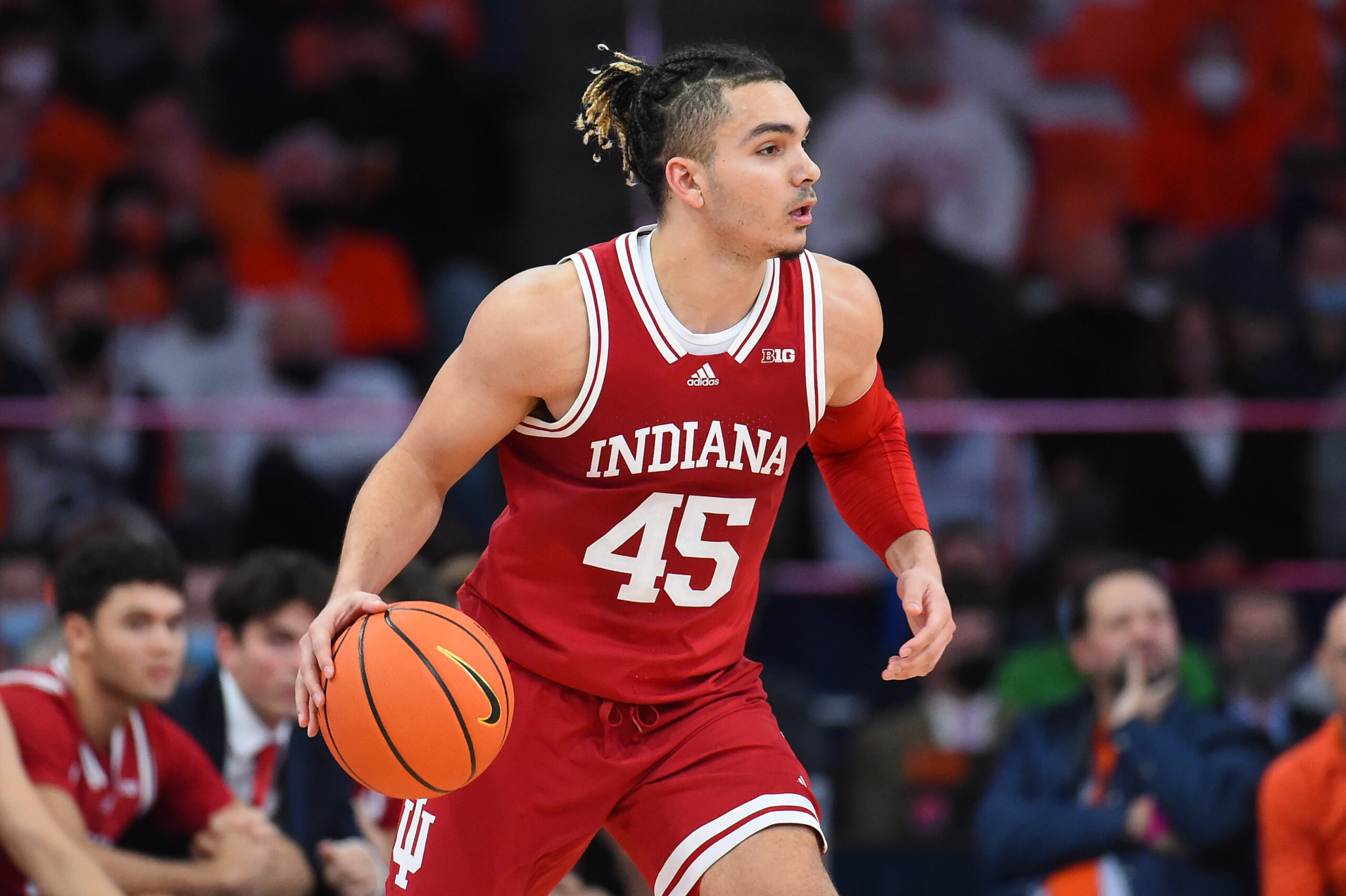 Former Indiana basketball guard Parker Stewart has signed a pro deal with the Sheffield Sharks of the British Basketball League, the team announced on Monday.
Stewart played one full season at Indiana during the 2021-22 season. After coming in at the mid-way point during the final year of the Archie Miller lead Hoosiers and not being able to play due to transfer rules, Stewart opted to stay in Bloomington when current head coach Mike Woodson took over the Indiana basketball program.
During Stewart's time at Indiana, he played in 34-of-35 total games for the Hoosiers which included 31 total starts. In an average of 24.4 minutes per game, Stewart averaged 6.2 points while shooting 37.4% (70-of-187) from the field which included 39.3% (53-of-135) from three.
Before his time at Indiana, he spent one season at Pittsburg and two seasons at UT-Martin once his dad became head coach of that program. After his dad sadly passed away, he would then transfer to Indiana for a fresh start. After his time at Indiana, Stewart opted to transfer back to UT-Martin to finish out his collage career. He averaged 16 points, 4.8 rebounds, 2.1 assists, 1.3 in his senior season at UT-Martin.
Below is the full release from the B. Braun Sheffield Sharks of the British Basketball League
SHEFFIELD, UNITED KINGDOM – 4 September 2023 – The B. Braun Sheffield Sharks of the British Basketball League, are thrilled to announce the signing of Parker Stewart to their roster. The 25-year-old shooting guard, hailing from Union City, Tennessee, is set to make his mark in the BBL following an impressive college career in the United States.
Parker previously showcased his skills at renowned universities such as Pittsburgh, Indiana, and Tennessee Martin where he averaged 16 points, 4.8 rebounds, 2.1 assists, 1.3 steals last season. The 6'5 talent is looking to make his mark on the international basketball scene, in his inaugural professional season.
In a statement, Parker Stewart expressed his excitement about joining the Sheffield Sharks and embarking on this new chapter in his career: "I'm excited to have the opportunity to play in the British Basketball League and represent the Sheffield Sharks. This is the first step in my professional journey, and I want to go out there and compete at the highest level."
Head Coach Atiba Lyons is equally enthusiastic about adding Parker Stewart to the team's roster: "Parker is an incredibly talented player with tremendous potential. He has the skills to make an immediate impact in the British Basketball League. We are excited to have him on board and believe that he will be a valuable asset to our team as we strive for success in the upcoming season."
Make sure to follow Hoosier Illustrated on Twitter @Indiana_FRN and YouTube to stay up to date on all of the news, updates and coverage of Indiana University athletics.
With his 'signature skill' and approach to the game, Jalen Hood-Schifino has unlimited upside heading into his NBA rookie season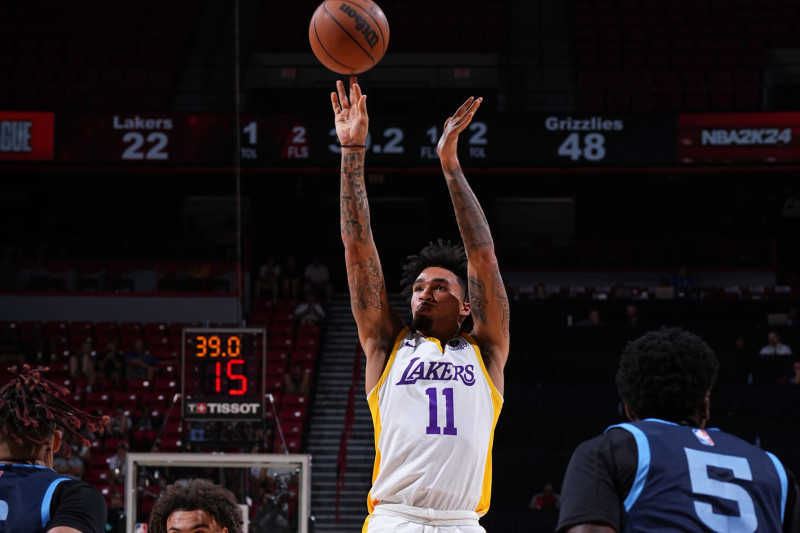 In just a few short months, former Indiana basketball guard Jalen Hood-Schifino will be officially entering into his NBA rookie season for the Los Angeles Lakers, who drafted him with the 17th overall pick in this past draft.
For the Lakers, Hood-Schifino comes in as player with an unlimited amount of upside and the talent and mindset to be the best player he can be. His approach to the game and how he prepares is what attracted him to both Indiana head coach Mike Woodson, and then eventually Lakers GM Rob Relinka.
"It's something I saw in high school, and high school is not college," Indiana head coach Mike Woodson said about the mentality of Jalen Hood-Schifino. "Once he got here, you could see how he approached things on and off the floor, his demeanor."
As far as on the floor skill, Hood-Schifino is a bigger guard that proved in his short time in Bloomington, that he can play both on and off the ball, score all three levels and defend multiple positions."
However when it comes to his play on the floor, what would you say is the 'signature skill' of Hood-Schifino? If you have watched him consistently, the majority would likely say it is his ability to create looks on the ball, especially when it comes to the pull-up shooting.
Bleacher Report Lead Scout/NBA Draft Insider Jonathan Wasserman agrees that pull-up shooting is currently Hood-Schifino's best asset on the floor right now.
"At Indiana, Jalen Hood-Schifino drilled 80 pull-up jumpers in 32 games," Jonathan Wasserman said when discussing the 'signature skill' of Hood-Schifino. "Shooting off the dribble represents his go-to method for scoring."
"It keeps a lack of explosiveness from hurting him too much, as Hood-Schifino doesn't need to get all the way to the rim to threaten defenses," Wasserman added. "He shot 42.1 percent on 152 two-point jumpers, showing a high comfort level stopping and popping in the mid-range. He also made 37.1 percent of his pull-up threes, compared to just 30.4 percent on catch-and-shoot threes."
"Hood-Schifino ultimately operates with good pacing and change of speed, which along with 6'6″ size for a ball-handler, helps him to create space and balance when rising up off the dribble."
More: Jalen Hood-Schifino reflects on lone season at Indiana: 'It was a great experience'
Like Wasserman eluded to, Hood-Schifino's ability to create on the pull-up is a threat to the defense, as he showed in his loan season at Indiana. The style of play that Hood-Schifino brought on the court for the Hoosiers led him into becoming the Big Ten Freshman of the Year while averaging 13.5 points, 4.1 rebounds and 3.7 assists per game.
His approach and style of play is what makes Hood-Schifino have so much potential heading into his pro-career. He checks a lot of boxes, and he is confident in knowing he does.
"I think really just my approach," Hood-Schifino said previously. "I'm a player who I'm going to bring it every day, work hard and I think I check a lot of boxes. Obviously, I'm a big guard, size, can score from all three levels, unselfish, get my teammates involved and then I can also really guard, guard multiple positions. Overall, I think I'm a really good player and an even better person."
Along with his play, the approach of the game and Hood-Schifino's mentality is what ultimately sold Lakers GM Rob Relinka into drafting the former Indiana guard.
As a Kobe Bryant fan, Jalen Hood-Schifino adopted the 'Mamba Mentality' early on in his basketball career…which ultimately led him into achieving his dream of playing for the NBA, for his dream organization.
"It's honestly really crazy and kind of hard to say how I feel because growing up I was a big Kobe fan. I was always watching his videos, watching the Lakers," Hood-Schifino said post-selection. "For me to get drafted by the Lakers is kind of surreal and kind of crazy."
"His Mamba Mentality is something that he's lived by. It's a code he's lived by his whole life," Pelinka added. "You could tell he just didn't throw that out because he was at a Lakers interview. It felt like it was from his heart and genuine. He has a very, very serious approach to the game."
Hood-Schifino is in line for a four-year contract worth up to $17.9 million, according to the rookie salary scale. His contract includes $3.7 million in year one, with the assumption he signs for 120 percent of the standard rookie scale, which according to Hoops Rumors 'virtually every first-rounder does'.
For the Los Angeles Lakers, Hood-Schifino averaged 13.7 points, 4.2 rebounds, 3.3 assists, and 1.3 steals per game in six appearances in the Sacramento and Las Vegas. He shot 34.0% (32-of-94) from the floor, 21.7% (5-of-23) from the 3-point line, and 56.5% (13-of-23) from the free throw line.
Make sure to follow Hoosier Illustrated on Twitter @Indiana_FRN and YouTube to stay up to date on all of the news, updates and coverage of Indiana University athletics. 
'I'm glad we made history tonight': Eric Gordon and Bahamas on verge of Olympic qualifying following historic run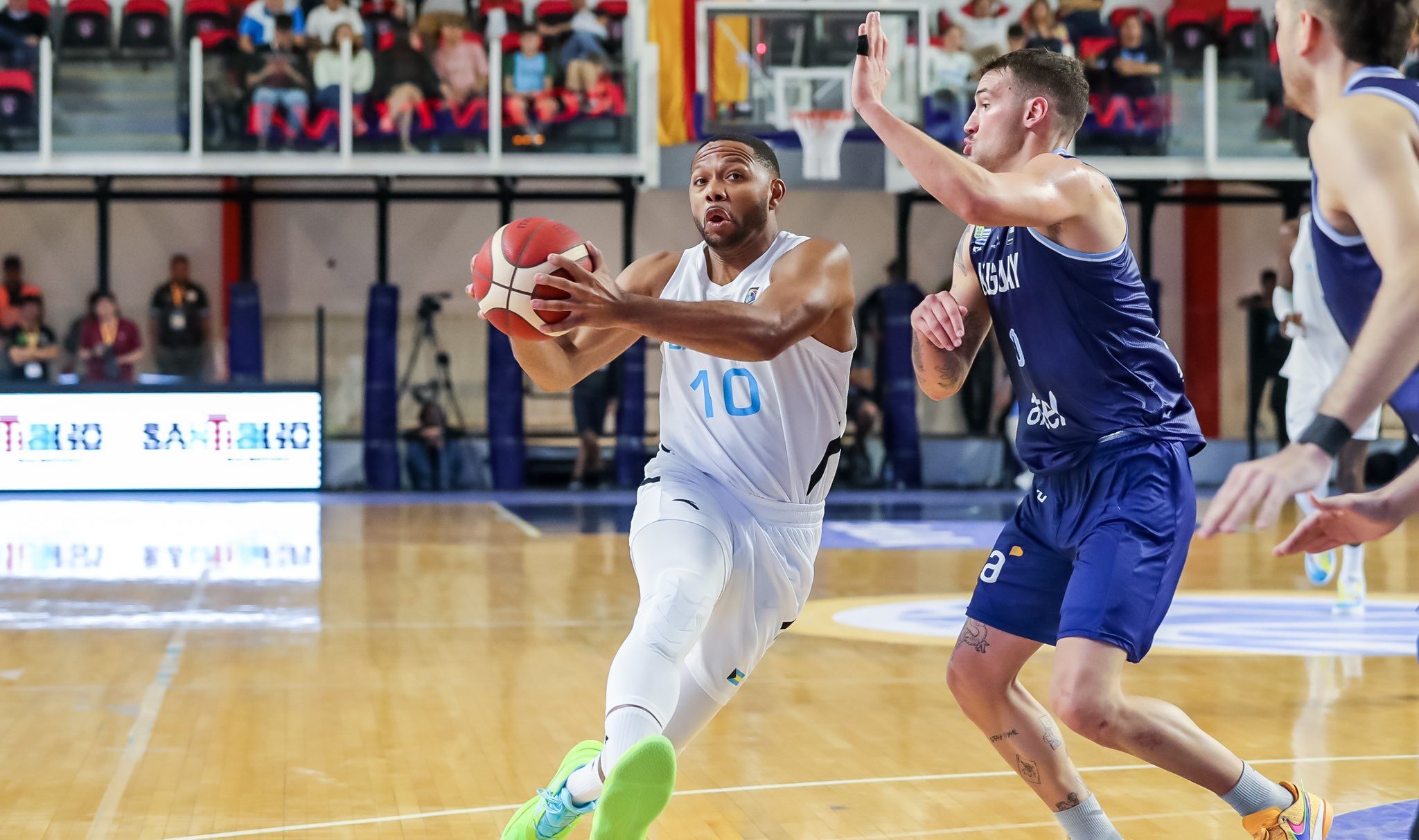 Eric Gordon is US born, but his ties to the Bahamas were too much to keep him away from trying to do something special. On Sunday, the former IU basketball star helped lead the Bahamas to a win over Argentina that could go down as the biggest win in country history.
Gordon, whose mom is a native of Nassau, chose to play with the Bahamas in the Pre-Olympic Qualifying Tournament over the last few weeks. It led to the greatest performance of his international career as he helped lead the Bahamas to a 4-0 record and with Sunday's win, punched the country's ticket to next year's FIBA ​​Olympic Qualifying Tournaments.
The 34-year-old scored 27 points and was 6-of-7 from three in the 82-75 victory. This now gives the Bahamas a chance at qualifying for the Olympics for the first time in its country's history.
"Man it means a lot," Gordon told reporters following the win. "… I am just glad we get to advance with these guys. We have a great group of guys here. I'm loving it."
Gordon averaged a tournament-high 20.3 points per game while shooting 54.5 percent from the field and 65 percent from three (13-of-20).
The 16-year NBA vet joined a Bahamas roster that included Phoenix Suns center DeAndre Ayton and Indiana Pacers guard Buddy Hield. In total, it included three additional players who played division one basketball in the US.
"This is collective," Gordon said. "We have good coaches, good players. We are together. This is what it's all about. I'm glad we made history tonight."
A lot was spoken beforehand about Gordon's connection to the Bahamas. Coming into the tournament, Gordon needed clearance from FIBA in order to officially join the roster.
Despite everything, Gordon wears his love for the Bahamas on his sleeve and was welcomed with open arms from the rest of the roster.
"He's terrific, he's out there doing it … I'm so happy for him to come out there. I know a lot of Bahamians say, 'Eric, he's not always in the Bahamas,' but he's in the Bahamas probably more than me," Hield said. "He's always there. Having a guy there to rep the Bahamas … he's been in the league for 16 years. He was there to weather the storm for us. "
Now, the country waits until next summer when they will take the court again and try to advance to the Paris Olympics.
In the meantime, Gordon will begin his next step in the NBA with the Phoenix Suns, where he signed this offseason. Gordon, 34, has averaged 16.0 points for his career and holds a 37.1 percentage from three.
He has played in 818 career games.
Make sure to follow Hoosier Illustrated on Twitter @Indiana_FRN, Facebook and YouTube to stay up to date on all of the news, updates and coverage of Indiana University athletics.