Where Indiana basketball ranks in Jon Rothstein's preseason Big Ten projections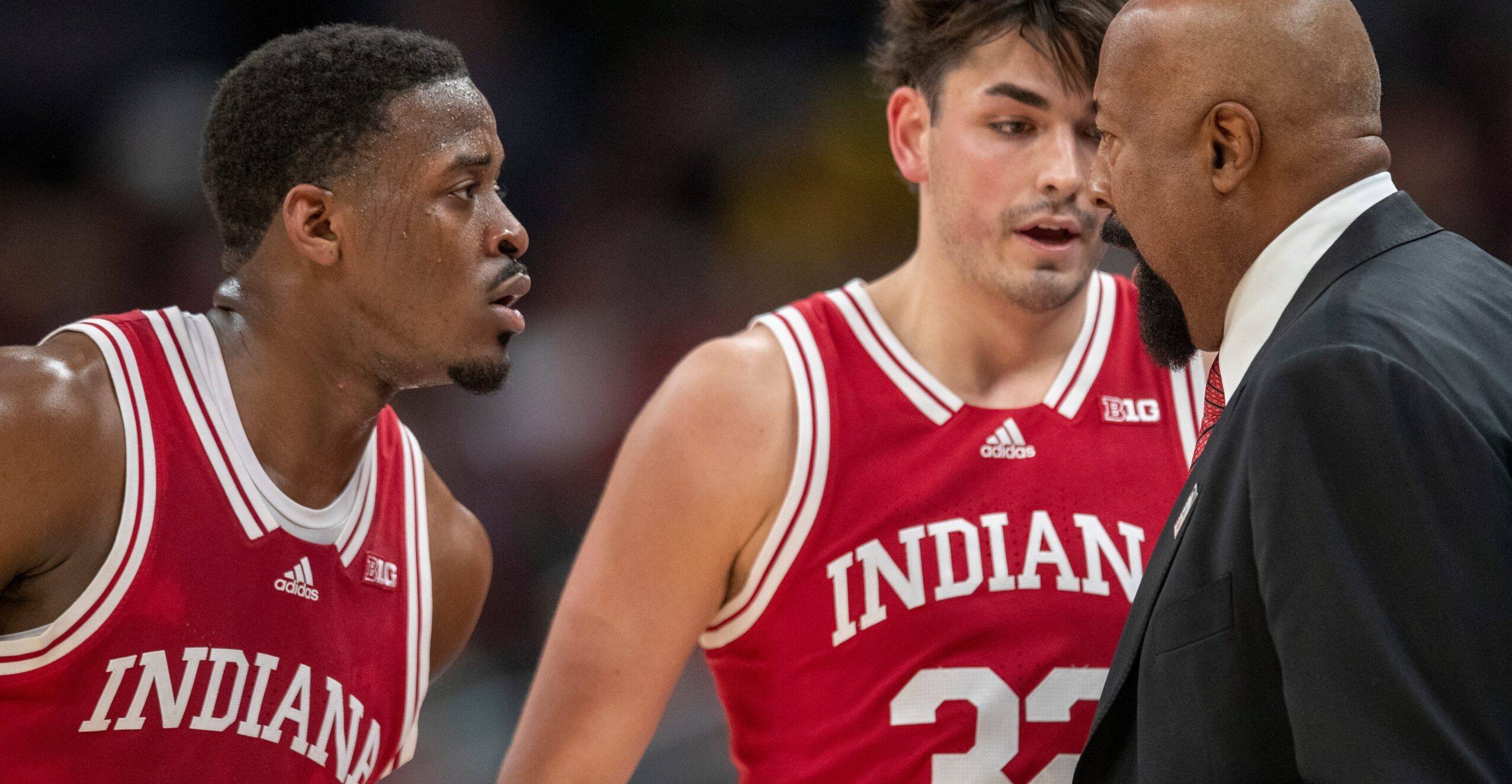 There is no question that the Indiana basketball program will have different expectations heading into the 2023-24 season than it did a year ago.
After finishing ninth in the Big Ten in Woodson's first season at Indiana, the Hoosiers took a massive jump in year two, finishing second in the conference. Now, there are more questions than true answers about this roster and the untapped potential that comes with.
On Monday, College Basketball national writer Jon Rothstein published his Big Ten outlook and the Indiana basketball program was closer to year one under Woodson than last season.
Rothstein had Indiana projected 8th in the league, sandwiched between Rutgers (7th) and Michigan (9th).
With no more Trayce Jackson-Davis or Big Ten Freshman of the Year Jalen Hood-Schifino, the offense will look largely different from the past few seasons, but will likely fit more of what head coach Mike Woodson is looking for in his style.
"So there are a lot of things that I started implementing because again, it was new for me with the guy (Jackson-Davis) with his back against the bucket and giving him the ball and trying to design things to get him to basketball. I don't have that anymore coming into this season and I can pretty much go back to my comfort zone and how we somewhat played in New York," Woodson said earlier this summer. "We kind of spread at the floor and that's not to say our bigs, if I got mismatches and our bigs are early running, I expect them to try to post and get early strikes that way. We try to get easy buckets right off our initial thrust. It's gonna be a little bit different."
More: New-look IU basketball front court offers versatile and 'fast-paced' offensive style
In total, Indiana lost seven players from a year ago, six rotational players. Four starters and two key rotation pieces no longer being on the roster left a large hole for Woodson and staff to fill this offseason. That they did, however.
Indiana landed commitments from former five-star center Kel'el Ware from Oregon, powerful forward Payton Sparks from Ball State and then veteran and athletic forward Anthony Walker from Miami (Fla.). A late signing in the 2023 class with five-star wing Mackenzie Mgbako gave Indiana a much-needed incoming class.
"I mean, I haven't seen all of them yet in person, but I would say from my watch, I think we have a pretty unique team," Woodson said. "We'll be more athletic than last year's team. It's hard compete with Trayce's (Jackson-Davis) athletic ability, but I think Kel'el (Ware) is up there because he's seven foot and he can actually jump out of the gym as well and he can spread the floor out and shoot as well. (Mackenzie) Mgbako, he can shoot, he can score at all three levels. I mean, I can go down a list, but I ain't gonna name all of them, but I think we have some pretty solid pieces coming in."
Purdue and Michigan State come in No. 1 and No. 2 in the preseason outlook from Rothstein, and likely should be the two teams competing for the top spot for the majority of the season.
The Indiana basketball program will get tested early and often this season. With contests at Madison Square Garden against a field of UConn, Louisville and Texas, a home matchup against Kansas and neutral site games against Auburn and Harvard, there is no question the non-conference schedule will prepare the Hoosiers for the Big Ten gauntlet.