Trey Galloway looking to fill the void as leader left from last year's seniors: 'All those guys were really helpful to me'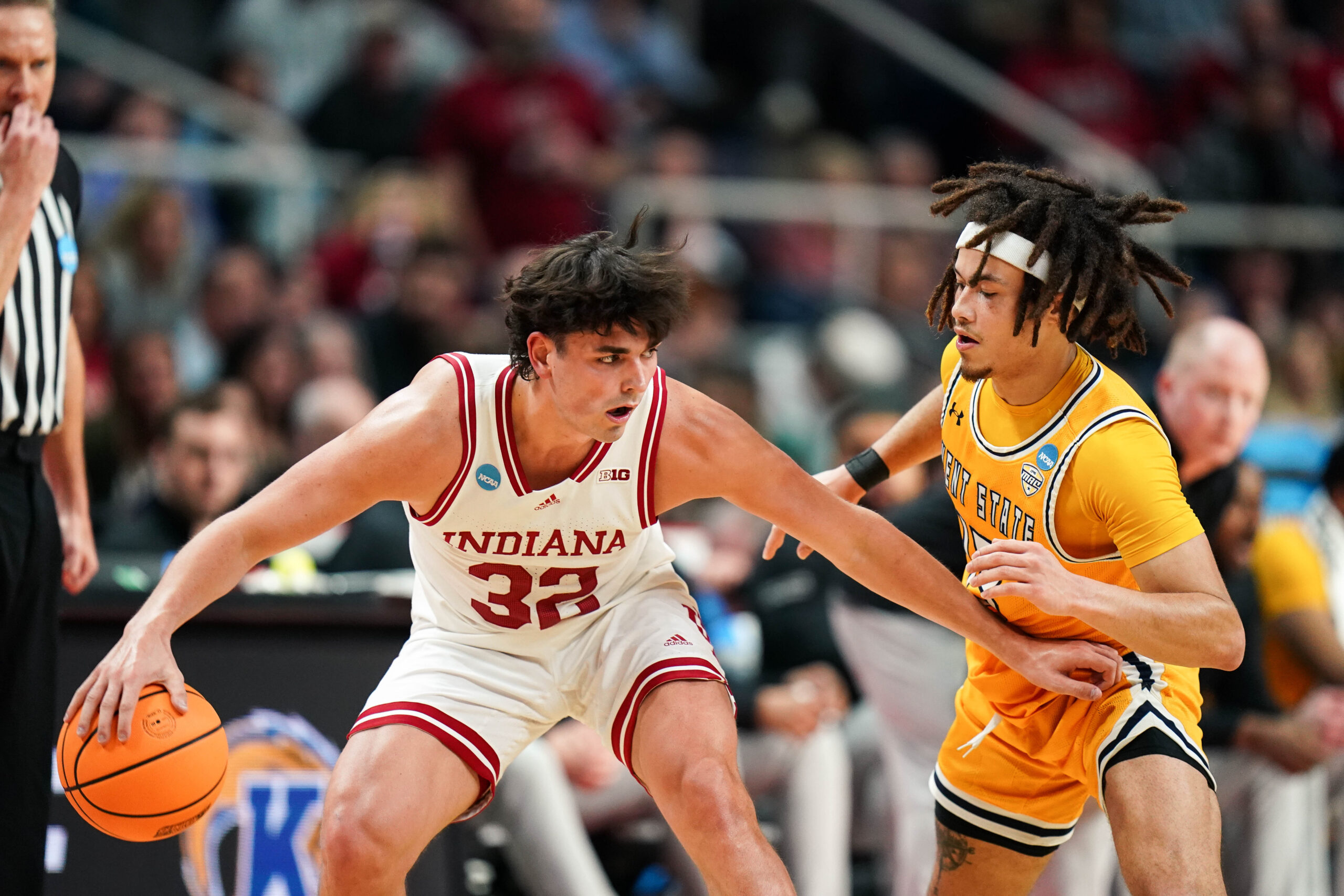 The 2023-24 Indiana Hoosiers are a very young, inexperienced team that is not only leaning on untapped potential next year to help them, but for players to step up and lead. When it comes to who leads this young Indiana team, by process of elimination, you look at senior guards Xavier Johnson, Trey Galloway, and Anthony Leal to step up.
However, one player in particular in that trio that stands out among the rest is Culver, IN native Trey Galloway. He comes in next year as the player that has the most experience playing for Indiana.
When speaking to the media on Thursday, being a leader both on and off the court is something Galloway brought up multiple times, so it is clear to him that this is a void he needs to fill in order for next year's team to have a better opportunity at success.
Going into this offseason, Mike Woodson and the Indiana coaching staff made it clear that being a leader for this team is one of the areas they wanted Galloway to step up in.
"I think just stepping up overall in every aspect because I am senior now and I have been here the longest with this coaching staff," said Trey Galloway when asked what challenges the coaches gave him going into this offseason. "I know what it takes. So I think just my leadership, leading on the court, off the court."
Offseason Q&A's: Malik Reneau, Calbert Cheaney, Trey Galloway
As fans have witness, Trey Galloway is a much more matured player than what he was when he first came to Bloomington and put on that IU jersey. His energy and defense have always remained a constant since day one, but the challenges he had with paying a little out of control at times, lack of shooting ability, and injuries were areas that held him back.
Now with being a four-year player, Galloway seems more comfortable in his basketball skin. He has improved his game on the court, but maybe more importantly, he feels that his voice is much stronger than what it was and that he can trust himself to be more vocal when he needs to be, especially with this younger team.
"I think just kind of learning from the older guys as the time goes on and getting more comfortable with speaking up, cause I have to now since I am a senior and I have been here with this coaching staff for awhile now," said Galloway. "I think just trusting my voice because I have been through it and I know what it takes to compete at this level. I think just trusting myself to talk to teammates cause they need it as well because we are a young team this year.
"We got a lot of guys that are willing to listen and want to win. I am really excited about that. The main thing that I have grown is my leadership and being able to talk and just being comfortable on the court, being able to set the tone."
When it comes to the older guys that Galloway learned from during his time as an Indiana Hoosier, he especially looks at last year's team as perfect examples of what a leader should be. Last year's Indiana team was filled with experience at nearly every aspect of the game.
Guys like Trayce Jackson-Davis, Race Thompson, and especially Miller Kopp are who Trey Galloway wants to mirror with the task as one of the experienced leaders this season. In his opinion, the way those guy's led was special.
"We had a really good group of seniors last year and older guys that really stepped up," Galloway said. "Miller (Kopp), just the way he led by example was special. He was a guy that never missed a practice and was always in the gym working on his game. He was a really good example that I want to follow just because of the way he worked on the court and the example he led off the court, as well. He was just a special, special guy. He wasn't our captain, but he was for sure our leader and definitely showed ways to help win. He was a main guy that I looked up to, as well as Trayce (Jackson-Davis) and Race (Thompson). Both were special too because they wanted to win as much as anybody.
"All those guys were really helpful to me and I just look up to them for sure."
If Galloway can just replicate a fraction of what last year's seniors did as leaders, this young Indiana team should be in great hands with the four-year guard leading the charge.
Make sure to follow Hoosier Illustrated on Twitter @Indiana_FRN and YouTube to stay up to date on all of the news, updates and coverage of Indiana University athletics.