The Field of 68 on Mackenzie Mgbako: "I hope he ends up at Kansas… it just makes a lot of sense"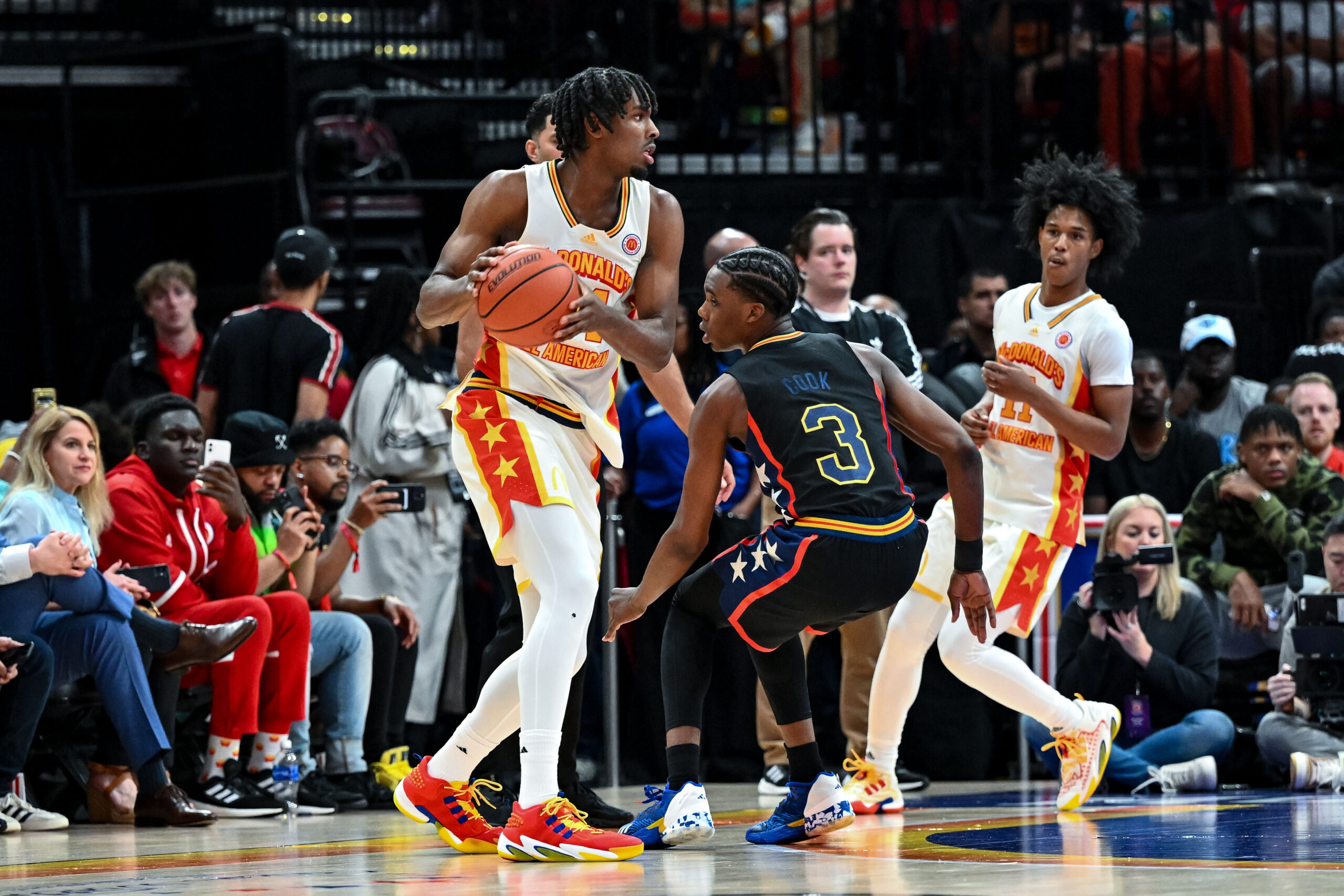 2023 five-star forward Mackenzie Mgbako has narrowed his list down to Indiana and Kansas.
After decommitting from Duke last month, Mgbako had originally scheduled four visits to St. John's, Kansas, Indiana and then Louisville. However, after visiting St. John's, Kansas and Indiana, he elected to cancel his trip to Louisville.
He visited the Hoosiers last weekend.
During Tuesday's episode of The Field of 68, founder Rob Dauster felt it made more sense for Mackenzie Mgbako to commit to Kansas over Indiana.
"I hope he ends up at Kansas, cause Kansas just makes so much sense in terms of  what they need, a shooter, the role that he can kind of play in that kind of three-slash-four role," said Dauster on Tuesday's show. "I think that you could put him on the floor at the same time as Hunter Dickinson and KJ Adams and have it make sense. And I think if you look at the guys that have played those wing roles for Bill Self, the years and the development that we see out of them, I think that it just makes a lot of sense for Mackenzie."
While Dauster does make a valid point, Indiana still has a great pitch themselves as far as why Mackenzie Mgbako should choose to come to Bloomington and play for Mike Woodson and the Hoosiers.
He would have a chance to come in and have a realistic opportunity to compete for starting minutes while also providing Woodson and Indiana with a legit scoring, athletic threat from the wing.
Sources have indicated to HoosierIllustrated.com over the last week that Kansas 'feels good' where it currently sits. However, there is still a lot of background chatter on where exactly the highly skilled shooting forward will land.
"I think a lot of people are right now in the dark at what he's gonna do," basketball analyst Jeff Goodman added while speaking on The Field of 68.
Only time will tell where the top-10 forward prospect will land. But as for right now, Indiana has just as much of a chance as Kansas does to win this recruiting battle.
Mackenzie Mgbako is rated the No. 8 prospect in the 247Sports composite rankings.
You can watch the full The Field of 68 segment on Mgbacko below (47:05-49:25).
Make sure to follow Hoosier Illustrated on Twitter @Indiana_FRN and YouTube to stay up to date on all of the news, updates and coverage of Indiana University athletics.