'That's frustrating': Indiana football head coach Tom Allen details failed 4th-and-goal play vs Louisville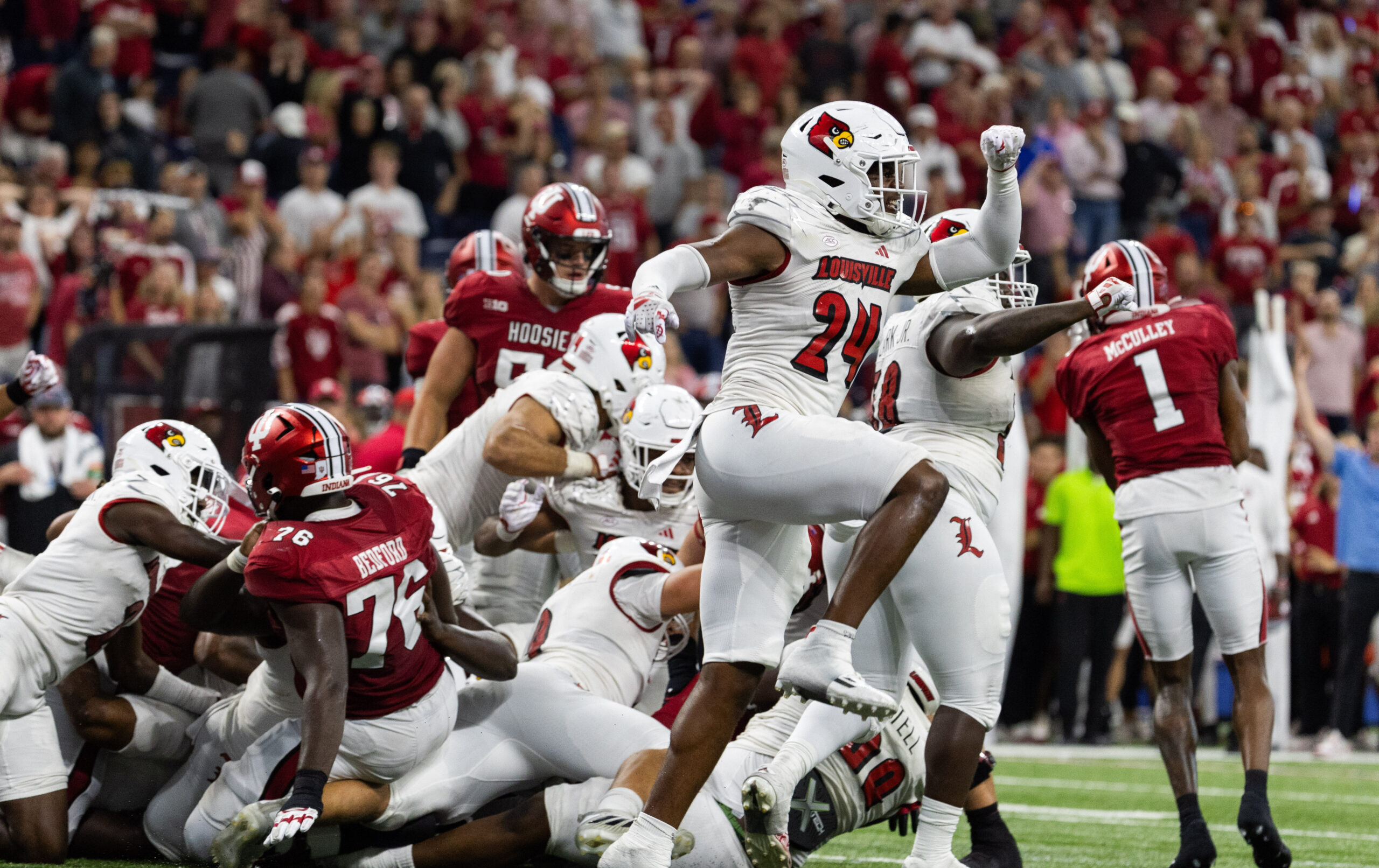 While no game truly comes down to one singular play, you can't help but wonder what could've been for the Indiana football program if it was able to change the outcome of one play in Saturday's loss to Louisville.
With 4:45 remaining in the fourth quarter, Indiana's Tayven Jackson dove towards the pylon — coming up just short. It resulted in a fourth and goal play from the 1/2 yard line.
It was a one score game and Indiana had the chance to come back from 21-down to tie it. Indiana came out lined up in an offset I-formation with Josh Henderson as the back and handed it off that resulted in no gain and a turnover on downs.
It was a head scratching play call that had no real answer from Indiana football head coach Tom Allen postgame.
"We didn't execute it obviously. That's frustrating," Allen said postgame. "I'm sure that's one that everybody is going to focus on. There are a lot of other variables leading up to that. Since the play didn't work, I wish we would have called something else. I love or team, love our coaches. We just got to keep battling."
Indiana would lose 21-14, heightening the result of that play call.
Louisville came in outscoring opponents 54-6 in the second half this season. Indiana outscored them 14-0 and held the Cardinals to just 120 yards in the second half.
Its best drive of the second half came right after the change of possession, running the remaining 4 minutes and 37 seconds off of the clock.
"Could have run a quarterback sneak, run your base power play, whatever. We obviously chose to run, not to sneak," Allen said. "Obviously since it didn't work, you want to run the other one. We scored previously on the other one. Yeah, didn't work, so … You obviously wish you would have done something else. I think that's how we all would think the same exact way.
Jackson had his ups and downs in his first start after being named the official starter for Indiana. But, the potential is clearly there.
He finished 24-of-34 for 299 yards passing with one touchdown and one interception.
He led Indiana to a 13-play, 97-yard drive midway through the third quarter and then an eight-play, 89-yard drive that resulted in the fourth down play call.
"Growing up as a little kid you're always in the backyard pretending, 'Three, two, one …  I'm diving for the endzone'. When you finally get that moment, and it doesn't go as planned, that is a hard pill to swallow," Jackson said postgame. 
"I don't second-guess that. Goodness, you just got to execute. You have the ball on the six-inch line. Knock 'em off the football and score," Allen emphasized. "I don't care what you call. If you run the football … You do something that has a little riskiness to it."
Indiana football moves to 1-2 on the season with a matchup against Akron next Saturday.
Make sure to follow Hoosier Illustrated on Twitter @Indiana_FRN, Facebook and YouTube to stay up to date on all of the news, updates and coverage of Indiana University athletics. You can also listen to the Talking' Bout the Hoosiers podcast on Spotify.