Indiana football offense shows signs of promise with Tayven Jackson despite loss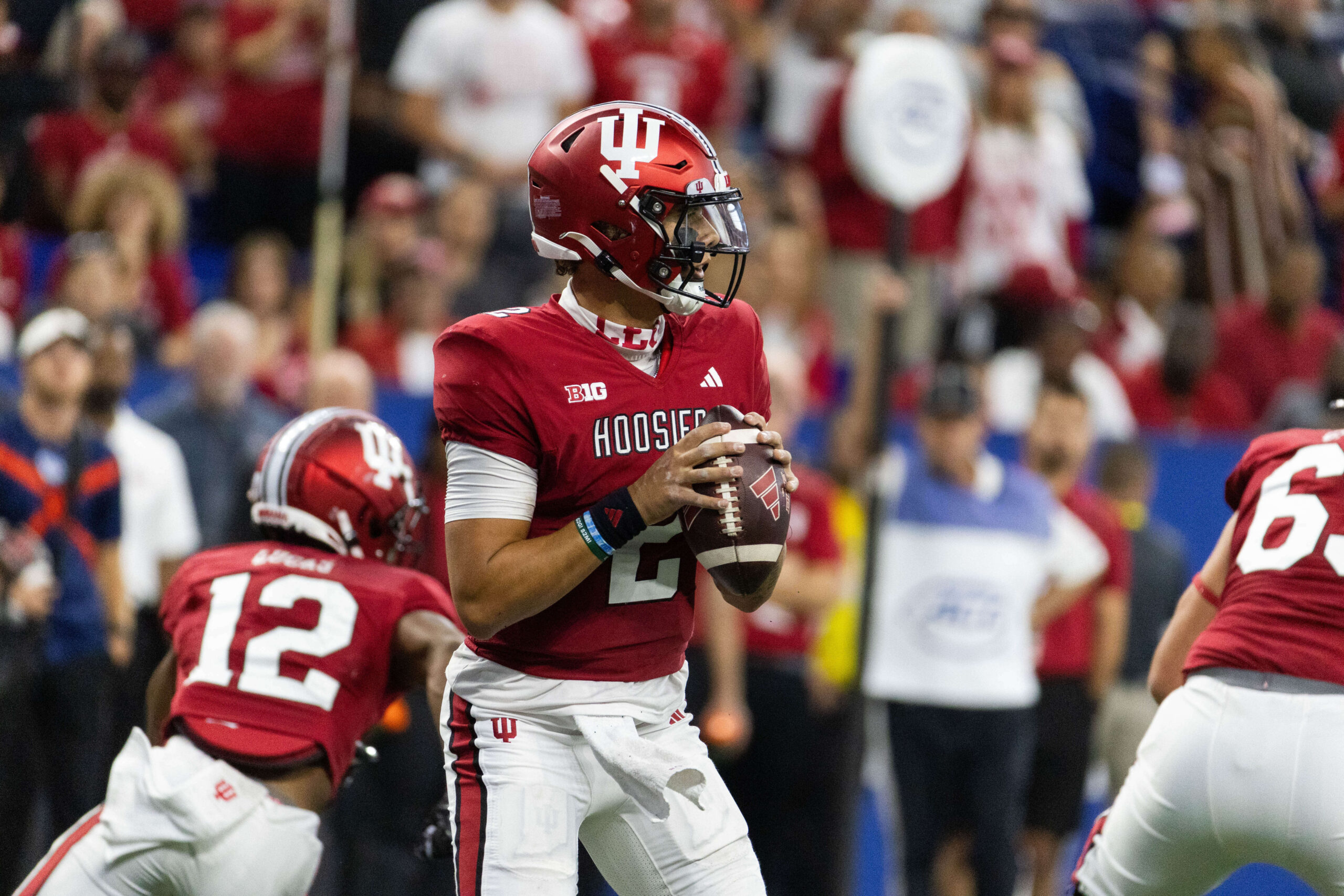 It was a tale of two halves for Indiana football and the offense in their 21-14 loss against Louisville at Lucas Oil Stadium.
In the first half, Tayven Jackson and the offense struggled to move the ball. They totaled 107 yards in the half and turned it over one time on an interception thrown by Jackson. The Hoosiers went into the half trailing the Cardinals 21-0 and looked lost at times during the first half.
"You got to play two halves of football. Disappointed in our first-half performance," Allen said post game Saturday. "Gave up some big plays by our defense. Too many self-inflicted wounds offensively in the first half."
With no momentum and Louisville getting the ball at the start of the half, Tom Allen made a gamble and went for the onside kick. It paid off as Louis Moore recovered the kick and flipped the momentum in the Hoosiers' favor.
After the onside kick recovery, Indiana started to push the tempo on offense and scored their first touchdown of the game less than two minutes later, giving the team some life.
Tayven Jackson felt the up-tempo offense helped him and the guys around him get some momentum on that side of the ball in the second half.
"I think once we started playing fast. I'm used to that," Jackson said when asked about finding a rhythm. "I think it brings out all of us as a group of quarterbacks and wide receivers. We all know how to play fast and when we play fast, we play free."
Jackson finished this game passing for 299 yards, one touchdown and one interception. 221 of his passing yards and his first passing touchdown of the season came in the second half.
"There's things that happen that you don't always see, especially in the first half, just mistakes being young, the clock, different formations, checks, seeing guys in motion, things like that," Allen said about Jackson's performance. "But those will continue to get better."
Allen recognizes he has a young quarterback in Jackson and knows there will be mistakes. But he sees the potential that Jackson has at quarterback.
"I just love the fact that he just makes plays. He's able to create, extend plays, eyes downfield, finding receivers," Allen said about Jackson. "Those are things you can't teach. That's just instinctual things that he has."
Running back, Jaylin Lucas was a key figure in Indiana's offensive attack, leading the team with 18 total touches. Lucas had 8 carries for 29 yards on the ground and added 10 catches for 98 yards and a score through the air.
The versatility of Lucas as a receiver, rusher and returner has made him the focal point of the Indiana offense.
"We worked hard on that this off-season, for him in that role," Allen said about Lucas' ability to impact the game in multiple ways. "I just continue to see that being a focus for him, getting the ball in space, try to do a good job with that. "
Last season, Lucas primarily touched the ball as a returner and rusher, but has gained a much larger role in his 2nd season in Walt Bell's offense.
"I think just getting me the ball and giving me open space," Lucas said about his involvement in the passing game. "I felt like I did well, it's just going to take continuous reps at it and keep doing what I do."
Tom Allen and Walt Bell have emphasized they want Lucas to touch the ball 15-20 times a game and Indiana football has made it a point of emphasis to get him the ball in space.
His chemistry with quarterback Tayven Jackson will be crucial to the success of the Indiana offense and their connection on the field was clear against Louisville Saturday.
"I love the way he was making the right decisions, but Tayven played his butt off today, like every drive it was hard work," Lucas said about Jackson's improvement in the second half. "He had a winning mentality … I feel like we were executing well in the second half."
While the loss was not the result Indiana football was looking for Saturday, the second half play of Jackson, Lucas and the rest of the offense will give them something to build on heading into their week four matchup with Akron.
SEE ALSO: Indiana Football Week 3 Stock Report: Who's trending up? Who's trending down?
Make sure to follow Hoosier Illustrated on Twitter @Indiana_FRN, Facebook and YouTube to stay up to date on all of the news, updates and coverage of Indiana University athletics. You can also listen to the Talking' Bout the Hoosiers podcast on Spotify.