Malik Reneau on personal expectations next season: 'I just want to be able to show my all-around game'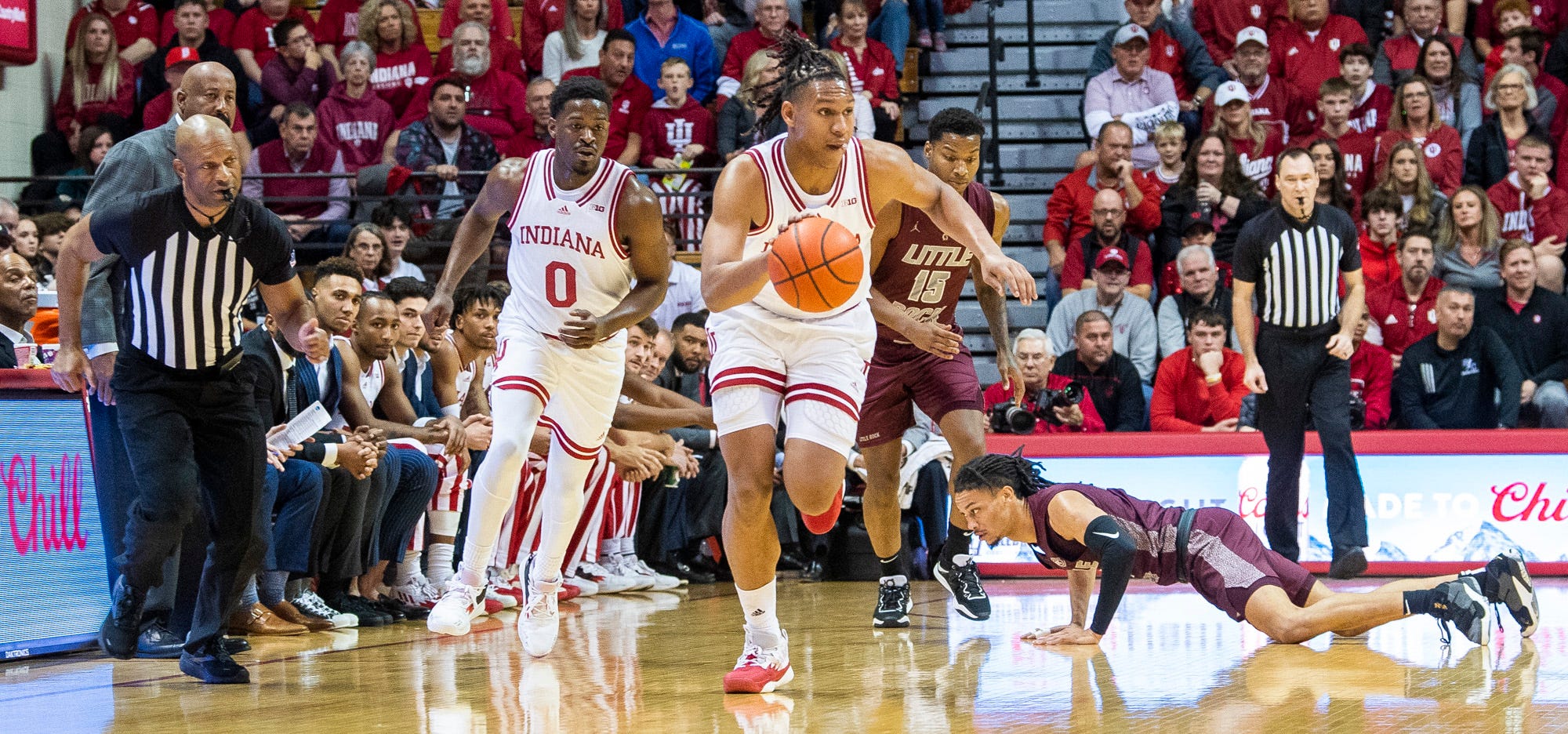 The Indiana men's basketball frontcourt is going to look much different starting next season. Gone are the days of Trayce Jackson-Davis and Race Thompson. We now look into a different style of frontcourt for the Hoosiers and one player that is looking to show a bit more of what he can do is sophomore forward Malik Reneau.
Going into the 2023-24 season, there is an increased opportunity for Malik Reneau to showcase himself a little more than what he could last year. With Mike Woodson looking to bring in a more versatile style of play starting next year, Reneau is a player that can benefit from that change.
Last year, many saw just a sample size of what the Miami (Fla) native could do. Reneau stuck to more of what Jackson-Davis was doing on the floor last season, however Mike Woodson recruited Reneua for the versatile upside of his game.
"Being able to do everything on the court and this year I think I'll be able to do that and show a lot more of my game," Reneau said during media availability on Thursday. "Being able to step out and shoot the three ball, grab it off the rebound and push it. Just doing all the stuff that I am used to doing and just making it where I'm not making a lot of mistakes when I am doing it. Pushing the ball in transition, posting up, shooting threes, you know all that stuff. I just want to be able to show my all-around game."
More: IU basketball forward Malik Reneau discusses offseason development
With the increased opportunity that Reneau has to expand his game, there are also areas that the sophomore forward struggled with last year, mainly on the defensive end and foul trouble, specifically. In order for Reneau to have those increased opportunities, he realizes those are areas that need to be improved on.
"Some of the things I need to improve on is being able to defend on the perimeter, which I have been in the gym working on my defensive side, really guarding the smaller guys when I switch onto them," Reneau said. "Trying to defend and stay away from putting my hands on the defenders and picking up those ticky-tack fouls. Just being aware of what I am doing on the court and understanding that I can get those ticky-tack fouls when I put two hands on a defender."
Along with the goals of improvement that Reneau put on himself, the Indiana coaching staff also had challenges they wanted to see the Montverde Academy (FL) product attack this offseason as well. With increased conditioning being one of them, they also wanted to see him become one of the leaders for this younger Hoosier squad.
As a sophomore being tasked to be a leader is challenging for sure, but when you are the only returning frontcourt player left, you pretty much have no choice but to step up in that area.
"Being one of the leaders on the team since we are bringing in so much people and helping out the other players on the defensive things," Reneaau said about the coaches challenging him. "Just being that leader other than guys that have been here a long time like X (Xavier Johnson) or Gallo (Trey Galloway). Just being one of those guys cause I understand the defensive side and I know what coach Woodson wants us to do.
"Also just work on my condition like I am and getting in top shape before the season comes."
When it comes to the condition aspect of the game, Reneau has been making that a focal point during the summer workouts.
"Having those scrimmages or those games where we are playing 15 minutes straight and just working on conditioning and getting out and having that pace," Reneau added. "That is definitely helping me out with conditioning and being able to be out there long periods of time without getting breaks.
"Having individual workouts every day with my trainer and just working on the things that we need to work on like rim-running, posting up hard, catch-and-shoot threes, trail-threes, pull-up stuff like that. Just trying to mix up all types of games and work on my strong suit, posting up, working on my hooks too. Just working on everything every time I step on the court."
While the opportunity is there for Malik Reneau to show more of his all-around game, the areas that Reneau flashed so much potential in last season is not going away at all, even with the new additions on the team.
There is a lot of upside with Reneau next season as he is looked as the guy to lead the new look Indiana frontcourt. But at the end of the day, Reneau will what it takes to help his team win with his new found confidence.
"My game doesn't change at all," said Reneau. "I'm still going to be able to do the same things I was doing like posting up, it's just expanding my game more. Being more confident when I get a wide open shot and to take the shot instead of passing it up.
"Helping my teammates out and doing things on the court other than just trying to score the basketball."
Make sure to follow Hoosier Illustrated on Twitter @Indiana_FRN and YouTube to stay up to date on all of the news, updates and coverage of Indiana University athletics.