Look: Indiana basketball adds new NBA Draft banner to Cook Hall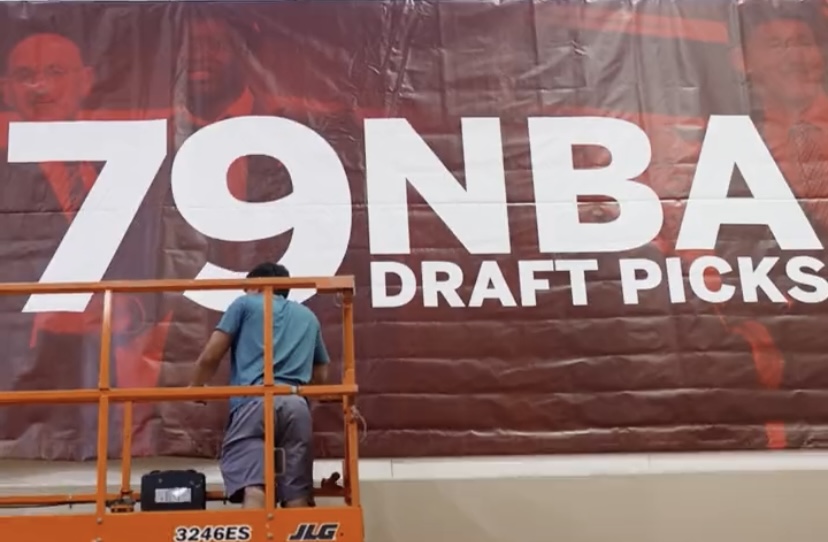 With both Jalen Hood-Schifino and Trayce Jackson-Davis being selected in this year's NBA Draft, it was time for Indiana basketball to update some signage.
In a Twitter post on Tuesday, Indiana basketball revealed their updated NBA Draft banner with the new total of 79 players from the program being drafted to the NBA.
Jalen Hood-Schifino became the 78th Indiana basketball player drafted when he was selected by the Los Angeles Lakers with 17th overall pick. Trayce Jackson-Davis would later become the 79th Hoosier drafted when the Golden State Warriors took him No. 57 overall in the second round.
The Indiana basketball program ranks seventh among all Division I programs with 27 players selected in the first round of the NBA Draft since its inception in 1947. The Hoosiers also rank second among Big Ten teams in first-round picks and are one of five conference schools with at least 20 first-round selections.
In total, Indiana has produced two No. 1 overall picks, tied for third in the NCAA.
With how Indiana basketball head coach Mike Woodson is recruiting, it will only be a matter of time before that banner needs to be updated again with more NBA Draft picks from the prgram.
"When I took the job, I made it clear to my coaches that we deserved to sit at the table with the best players," Woodson told reporters last month. "We kind of squabbled a little bit early on because they didn't think we were in that position to be able to do that.
See full video of new NBA Draft banner below. 
𝟳𝟵 @NBA Draft Picks pic.twitter.com/SCpJMXtu2w

— Indiana Basketball (@IndianaMBB) September 12, 2023
Make sure to follow Hoosier Illustrated on Twitter @Indiana_FRN, Facebook and YouTube to stay up to date on all of the news, updates and coverage of Indiana University athletics. You can also listen to the Talking' Bout the Hoosiers podcast on Spotify.