Indiana QB battle far from over: 'Not even ready to say who is in the lead at this point'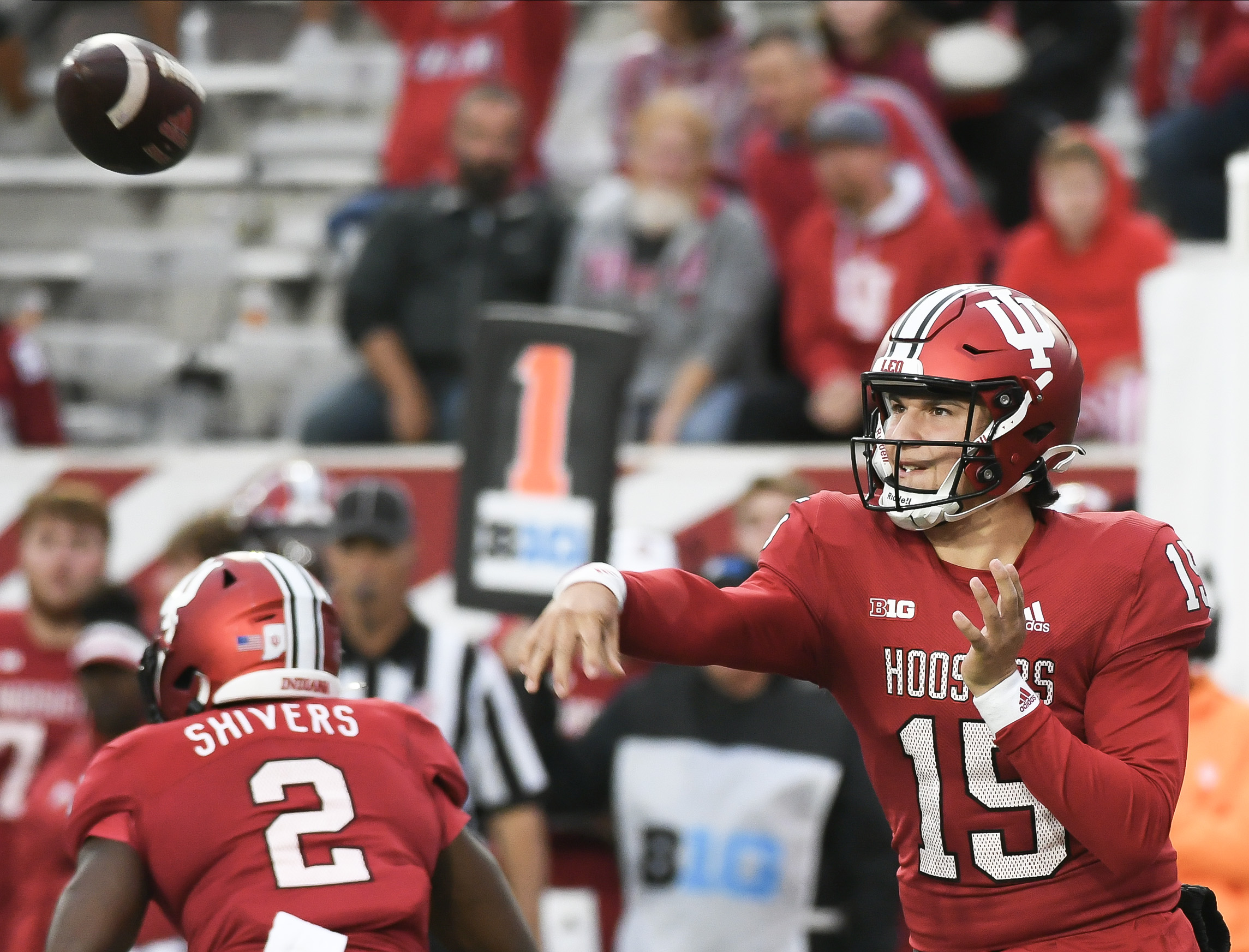 The Indiana football program enters its second-to-last week of spring practice this week and that means the conversation about quarterback play has heightened.
For yet another offseason, the main position battle for Indiana revolves around the player under center. This offseason, however, it brings two inexperienced but talented players. The two who have emerged as prime candidates are a redshirt freshmen pair of returner Brendan Sorsby and Tennessee transfer Tayven Jackson.
And, with a long time until the first snap of the regular season, Indiana football head coach Tom Allen is not anywhere close to making a decision.
"We are not ready to make that decision, but if something changed, we would," Allen told reports on Tuesday. "At the same time, there is so much to be done over the summer, there is so much to be done in fall camp, that it is really going to be difficult to make that decision prior to (summer), I would think."
Despite not making a definitive choice in either direction, both players have flashed their potential in many ways. The biggest is being a leader and making sure that the rest of the roster will follow them.
"I love the way they are working. I am excited about both of them," Allen added. "They've both shown that they can run our offense and lead our football team, which is great."
Jackson comes to Indiana with a certain pedigree and high profile high school career. He was a four-star prospect and the No. 100 overall recruit in the Rivals rankings. He was a consensus top-250 prospect across all recruiting services. At Tennessee, he played in three games and totaled 37 passing yards on 3-of-4 passing. He also had one rushing touchdown.
But, that doesn't mean he's going to be given he keys right away. Especially with a very important offseason and upcoming season for Tom Allen and Indiana.
"That is probably a little more challenging because you are new to everything," Allens said of Jackson. "Obviously, being here in January was huge, and he knew some of the guys already, which helped, I think. At the same time, you have to earn that ability to speak … I think any time you come in new, you have to establish yourself in the weight room, establish yourself by how you are going to work, how are you going to practice, and how you handle when things don't go your way."
Sorsby appeared in one game last season, going 3-of-8 for eight yards and one interception. However, his resume hasn't given him any leg up in the quarterback competition despite being in Bloomington for a year.
With a lot still unanswered at the position, this Indiana football staff is going to create as many variables for that duo as possible to see how everything will be handled.
"I think that is really what we are trying to create; as much stress and pressure on them, even as much chaos as we can on them, because that is the only way you are going to get them ready for a game," Allen added.
"The only way to master it (overcoming adversity) is through failure … I think on the front end you have to do a great job of everyday, the name of the game is continuous improvement and trying to be better than yesterday," IU offensive coordinator Walt Bell said ahead of the Spring Game. "So if that's the mindset, the failure is easier to handle … if they can't handle us and the meat of practice, they can't handle it on Saturday."
With two more scrimmages upcoming for Indiana, it's a chance to better evaluate both players. However, the process of naming a starting quarterback is a long time out and something that will likely run its course until the fall.
"We have two more scrimmages that I feel like we need to know better for that. I think there is back and forth," Allen said. "Good days for one where one may take the lead, so I think they are both obviously young, they are both learning, they are both making plays. I think it is a process you go through, without questions. I just think we are not even ready to say who is in the lead at this point."
Indiana ranked 13th in the Big Ten in completion percentage (54.0) and 14th in yards per attempts (5.4) last season. The quarterback position has clearly been a missing piece for Indiana over the past two seasons. This offseason and eventual decision is extremely critical for Tom Allen.
"I think our quarterback room is right where we need it to be," Bell added. "All of them are athletic, can move, have the ability to distribute the ball. I feel really good about that."
SEE ALSO: Video: Tom Allen discusses the Indiana quarterback battle
Follow Hoosier Illustrated on Twitter @Indiana_FRN to stay up to date on all of the news, updates and coverage of Indiana University athletics.