Indiana gets 'best addition of its offseason' with Xavier Johnson's return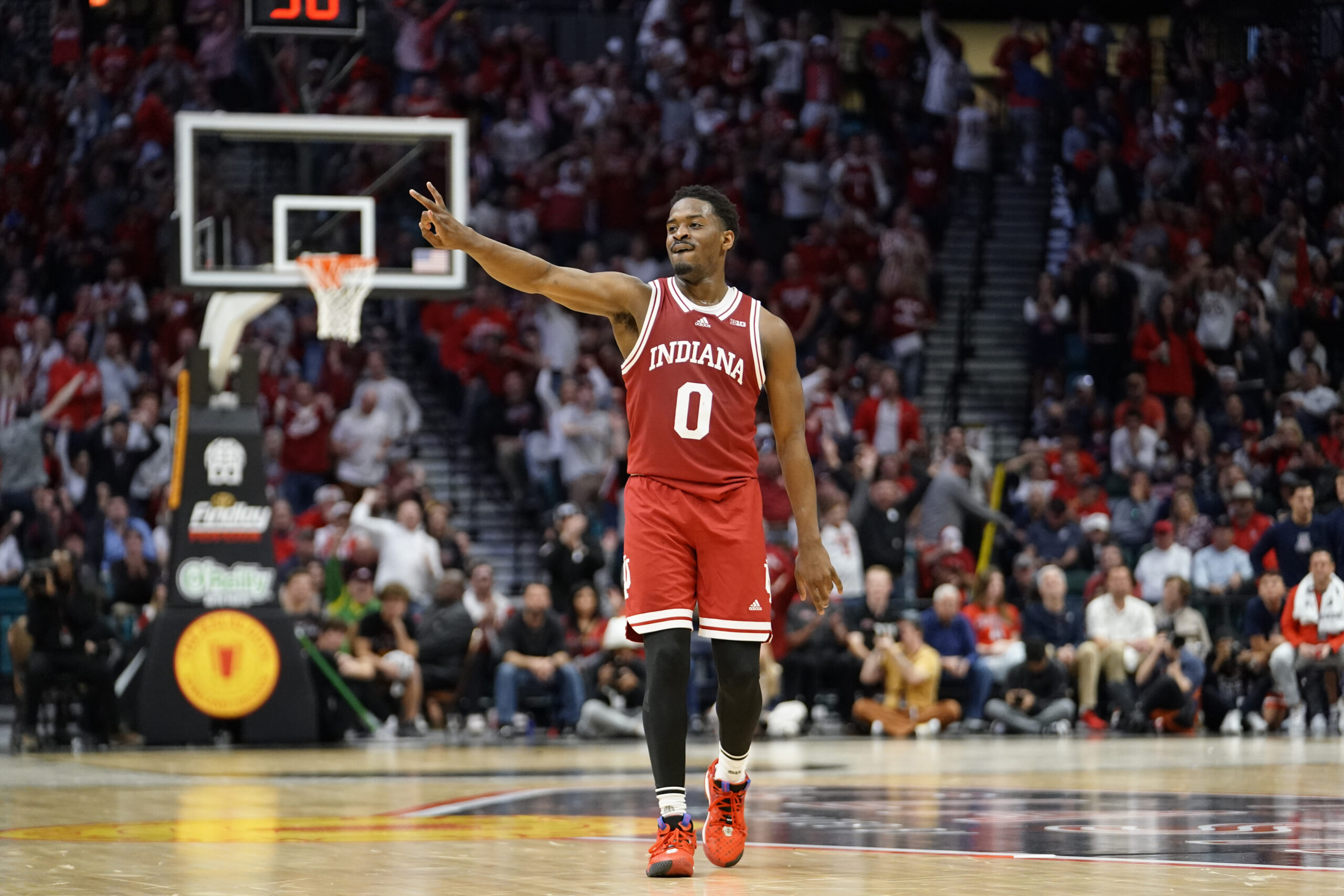 The Indiana basketball program got significant news on Wednesday as senior guard Xavier Johnson was granted an extra year of eligibility. The NCAA granted his hardship waiver after Johnson played in just 11 games in 2022-23.
After suffering a broken foot on Dec. 17 against Kansas, Johnson missed the remainder of the season.
While there was always optimism the fifth-year point guard would get an extra year, there were still uneasy feelings until it became official.
Indiana goes into next season still with some question marks surrounding its roster. But even after receiving two commitments from transfer portal targets in the front court, the Xavier Johnson news is the 'best addition' yet for Mike Woodson and Indiana this offseason.
"Indiana still needs another shot-maker from the portal, but the floor for Mike Woodson's squad is much improved after Wednesday's news that Xavier Johnson was granted a medical hardship waiver," 247Sports' Isaac Trotter wrote. "It's Indiana's best addition of the offseason, so far."
Johnson returns to Bloomington with a certain level of experience that most programs around the country don't have. He has played in 129 games (126 starts) across five years, three in the ACC and now going on his third in the Big Ten.
Throughout his career, especially at Indiana, Xavier Johnson has proven to be a valuable member of his team. Whether it's scoring — with a career 13.0 point per game average — or playmaking, averaging 5.0 assists for his career, Johnson finds ways to make his team better.
Now, in year three under Mike Woodson, he not only will have a full understanding of the offense, but it will likely run through him.
"The return of Johnson means Woodson won't have to worry about the most important position on the floor. If Woodson's point guard play is fine, then he's fine," Trotter continued. "It makes Malik Reneau's breakout candidacy in 2023-24 so much more feasible. Unlocking Kel'el Ware would be nearly impossible without a veteran point guard like Johnson. Indiana's point-of-attack defense should have no issues with Johnson and Trey Galloway on the floor together. All that's left to do is for Indiana to find a transfer who can make shots.
"When healthy, Johnson is one of the Big Ten's best point guards."
Johnson returned to Indiana last season after a terrific end to his 2021-22 season. Following a four game losing streak and the end of February, Johnson hit his stride in the last month of the year. In the last nine games, he averaged 16.7 points per game and 6.9 assists to just 2.8 turnovers a game. That helped lift IU to a NCAA berth.
"X (Xavier) hung in there with me. He fought me at times, but it worked out well for him at the end and for our ballclub," Woodson said coming into this season. "Watching him go through his summer work, because he did taste some success, it's the first time he had experienced being in the big dance, he really — I mean, he just came in with a totally different attitude, which was kind of nice to see. It means to me he's growing up.
"It has displayed nicely on the basketball court, because out of all the summer play that I've watched and been a part this summer, he's probably been the brightest of them all."
Indiana is looking to return to the NCAA Tournament for the third straight season in 2023-24. That would be the first time of three consecutive trips since the 2006-2008 stretch.
With Johnson back in the fold, it certainly increases those chances. Now, it's about capitalizing on this for the Indiana basketball program and putting the finishing touches on the roster.