Indiana Football Week 1 Stock Report: Who's trending up? Who's trending down?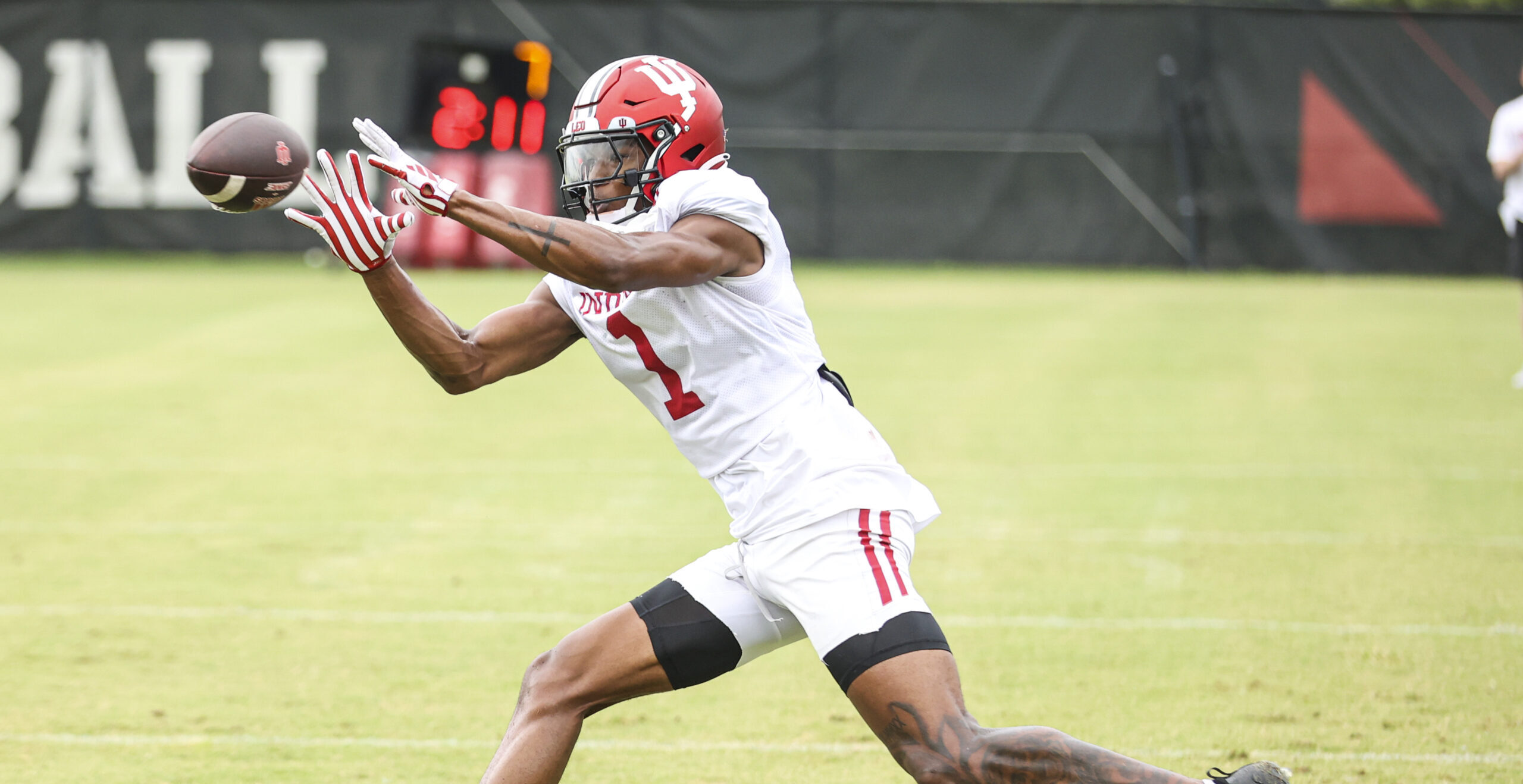 After nine months without Indiana football on the field, we are just days away from its week one kickoff against Ohio State. 
It's year seven for head coach Tom Allen and an extremely important season for his future. Indiana is coming off of a 4-8 record in 2022 and 6-18 record over the past two seasons. 
After four weeks of fall camp, who is trending up? Who's trending down? We take a look at some players, and position groups here. 
TRENDING UP
Lannell Carr: Carr has been tremendous throughout fall camp and someone that is playing above the expectations he came to Bloomington with. 
The West Virginia transfer is going to be a critical member of the Indiana football pass rush and his potential at the bull linebacker position will be extremely valuable. 
"Lanell Carr continues to be a guy that is playing with a lot of confidence right now with regards to what he sees in practice," Allen said. "It needs to translate to the game without question, but he's a guy that's been playing at a higher level maybe than we even expected in the beginning. So I'm really excited about that."
Carr had 21 tackles with 4.5 tackles for loss and one sack last season.
Donaven McCulley: Entering his second season at wideout, McCulley could be in store for a breakout season. The talented receiver is now looking to step into a larger role and was a name that continued to be brought up throughout the summer and fall camp. 
McCulley has been challenged by Tom Allen numerous since even going back to the spring. He has responded every time. 
"Donaven McCulley continues to elevate his game, and to me that's something I really challenge him about," Allen said. "He's worked extremely hard this off-season and just being able to be a guy that can make game changing plays, which is what we need on that side of the ball and need to create explosive plays on offense to be able to allow us to move the football and do good things in that regard."
In 2022, McCulley had 16 receptions for 169 yards and one touchdown. He had at least one reception in nine of 12 games played.
Wide Receiver Room: In addition to McCulley, the entire wide receiver room has emerged with numerous playmakers. After being bit depleted through the transfer portal and graduates last year, Indiana went in and landed key transfers to fill immediate roles. 
Clemson transfer EJ Williams and Fordham transfer DeQuece Carter have both been standouts in fall camp as well and look to play a significant part in the offense. Williams is a former top-50 prospect while Carter has totaled 3,035 yards and 31 touchdowns for his career.
Add in Andison Coby and Kamryn Perry and Indiana has a very good rotation of versatile wideouts.
"Our receiver room has a lot of depth to it. I like that room a lot," Allen said. "I feel the same way about it and getting those guys through camp and working through injuries. Nothing serious there, but just everybody has pulled things along the way that you work through. Feel good about where we're at with those guys and those positions."
"I think that it was something that we as a staff collectively identified trying to create explosive play," Allen said of the wideouts at Big Ten Media Day. " … We're not creating enough on offense, and it's hard to drive a football 75 yards on the defenses in the Big Ten. So wanted to get some more receiver body types to help create more explosive plays. That was by design."
Then, add in Cam Camper who was one of the most productive receivers in the Big Ten before an ACL set him back for the remainder of the season. He's back and healthy and will be a 'game-one starter' for Indiana.
TRENDING DOWN
Quarterback Room: This was the one position that was in major question heading into the offseason and still, just days before week one, has questions. Who is going to start? 
All throughout fall camp, the reports were neither Tayven Jackson or Brendan Sorsby were consistent enough to create the necessary separation to be named the starter. That was the case up until last week following the final scrimmage in fall camp. 
At this point, there is a starter named internally — but no public announcement has been named. 
Allen broke down what went into the decision and what were some of the factors.
"You're looking for a guy to be able to command that side of the football, lead that side of the football and that's with leadership and production so you've got to make plays and the verbalization of all that," Allen said. " … As you go through, when you make these difficult decisions, you basically say okay when you go live — or move the football (in game like situations) — you look at those and that's where you separate yourself … bottom line is we have two talented quarterbacks that are both just young and haven't played a lot collegiately. When you go through, it's just who gives you the best chance to win and you approach it accordingly."
"We believe we have two guys that are really good players and really excited about that. That's a situation you want to be in to be able to have more than one … bottom line is we know we have to have multiple quarterbacks to help us win and do what we need to do in the 2023 season."
Indiana has missed on quarterbacks over the last few years, so this is an extremely important decision. 
Kicking Room: Like the QBs, the Indiana football kicking situation has been confusing this offseason. After Charles Campbell transferred following last year, it was a position of need. Indiana landed five-star kicker Nico Radicic and brought back Chris Freeman, but it was made up of largely inexperienced collegiate kickers. 
Indiana heads into the season with a starter named, but no announcement made publicly … so we'll see what happens. 
In total, Indiana ranked 11th in field goal kicking in the Big Ten, finishing 14-of-20 for the season a year ago. It's a critical position for the Hoosiers this season.
Everyone within the Indiana football program understands the importance of the position heading into 2023.
"It's different when you're kicking in Memorial Stadium. So you've got to try to continue to just out-execute it, get their confidence built. It's gonna come with the preparation that we're giving them," Teegardin said. "You tell them you've been doing this, you've done this. You just keep hammering it home with them and it'll show up on September 2, I'm confident in that.
"We have points on the line and that is absolutely critical."
It appears that both Radicic and Freeman will split kicking duties for now until someone really emerges as the clear standout.
MOST TO PROVE
Secondary: This could have easily been the quarterback room as well, but the Indiana secondary has just about as many questions — if not more — as the quarterbacks. 
Indiana is not only inexperienced at the position, but also have a lot of new faces from the transfer portal that will be playing significant roles this year. Still, there is no clear rotation at this point and a lot to be desired with the entire secondary. 
"I think the biggest question mark is just a lot of new faces in the secondary, and they'll be tested at a very, very high level right from the get go. Definitely excited about that," Allen said. "We have to play extremely well within our system. We have to do what we do well, and they're going to have some catches and get some yards. You've got to be able to do a great job of preventing the explosive plays. I think we all know that. But saying that and doing that is not as simple as it might sound."
Jamier Johnson, Jamari Sharpe, Nic Toomer, Kobee Minor and Noah Pierre headline that group and will likely be the starting unit in the back.
Indiana football will be in store for its most difficult afternoon on the season against Ohio State's receivers on Saturday. It will be a great test.
Make sure to follow Hoosier Illustrated on Twitter @Indiana_FRN, Facebook and YouTube to stay up to date on all of the news, updates and coverage of Indiana University athletics. You can also listen to the Talking' Bout the Hoosiers podcast on Spotify.