Indiana Football Notebook: Final thoughts, takeaways from week two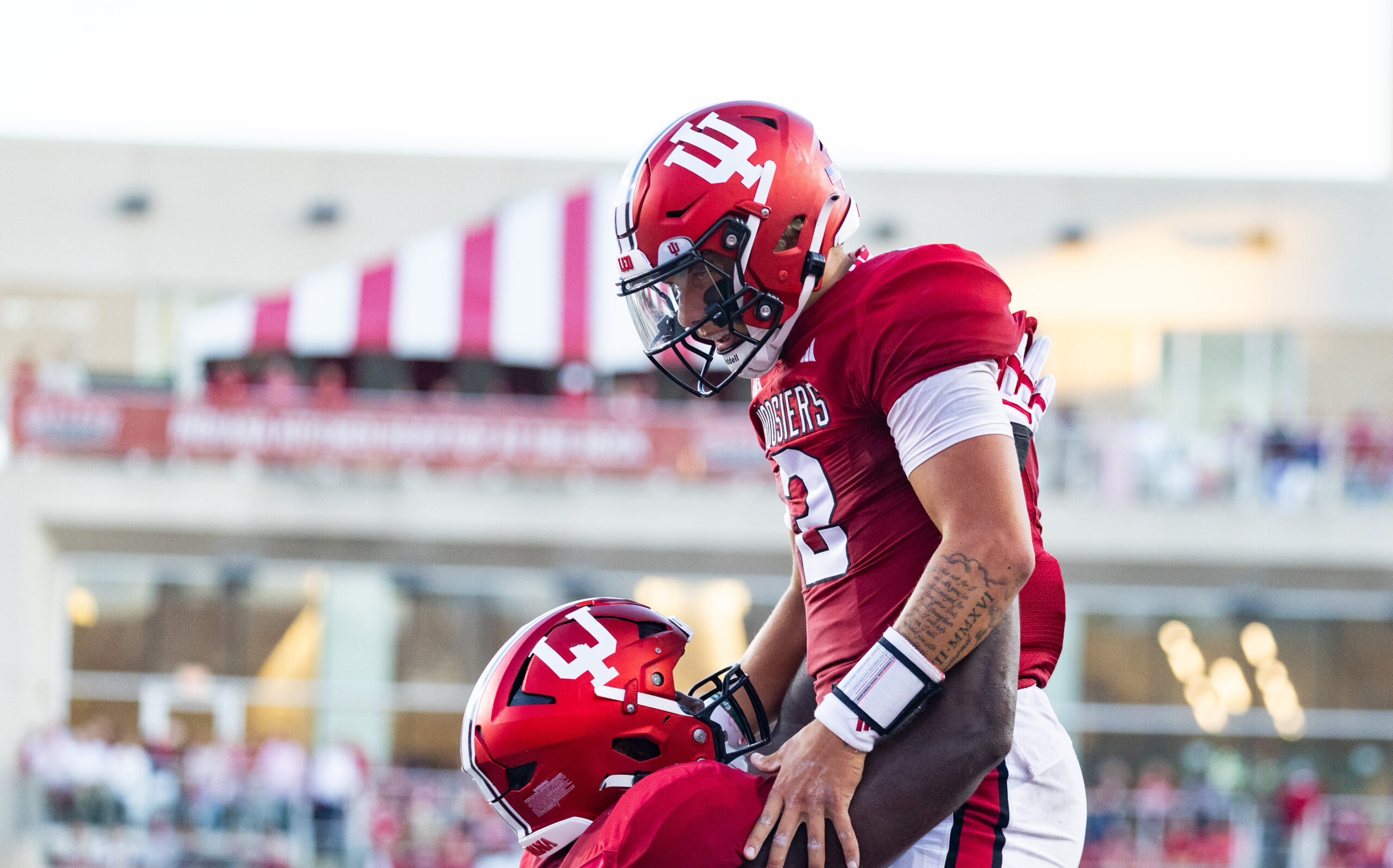 The Indiana football program got its first win of the 2023 season on Friday, taking down Indiana State 41-7. It was a performance you would've expected to see — and needed — from an Indiana perspective.
Now 1-1, the Hoosiers get back to work ahead of a critical week three matchup against Louisville.
There were some key takeaways from Friday's performance, so let's dive in.
Tom Allen ready to name a starter as Tayven Jackson stands out
After Brendan Sorsby started in week one against Ohio State, it was Tayven Jackson who got the start in week two. While both QBs played in each game, there was a different level of pop with Jackson under center on Friday night.
Now, Tom Allen is ready to make a decision on his starting quarterback.
"They played minutes in both games. And we said we were going to go back and evaluate both games and make a decision. So we will have a starter for week three," Allen said postgame. "I do think it's important to have a guy that you name the starter."
Jackson finished 18-of-21 for 236 yards and a rushing touchdown. He was in total control of the offense, leading Indiana on drives of 73, 81, 71, 93 and 45 yards. Jackson played 16 more snaps than Sorsby on the night.
Through two games this season, Jackson is 19-of-26 for 260 yards. Sorsby is 17-of-31 for 166 yards. Neither QB has a passing touchdown, while Jackson has one rushing touchdown.
Allen will likely name his starter early in the week to ensure 100 percent of the practice reps and game planning this week surrounds that quarterback.
At this point, it would be a shock if it wasn't Jackson, the highly-regarded Tennessee transfer.
Playmakers were unleashed
It was a lackluster week one outing offensively, but week two was a different story. Walt Bell and the Indiana offense opened up and looked smoother, more in rhythm and more explosive.
Jaylin Lucas has been the talk of the town all offseason and while his week one performance was questionable from a usage standpoint, it was vastly different this week. Lucas finished with 10 carries for 88 yards and two touchdowns. He also had four catches for 39 yards. His two rushing touchdowns both came from 25 yards out.
"Trying to find ways to get him the football. And, obviously, he was very dynamic tonight," Allen said. "That's who he is and trying to get him — hand him the ball, toss him the ball, and throwing him the ball. And catching punts and catching kickoffs."
Josh Henderson added 115 total yards on 15 touches and a touchdown. Donaven McCulley had four receptions for 58 yards and Omar Cooper Jr broke out with seven receptions for 101 yards.
Indiana finished with 558 yards of total offense on Friday night, the most since its performance against Western Kentucky in 2021.
Defense stands out again
The defense for Indiana football was once again extremely effective on Friday night. In total, it gave up just 93 total yards on the night, the second fewest yards allowed by an Indiana defense since 1996.
The Hoosiers made sure very little momentum was ever gained from the ISU offense, holding them to just 2-of-13 on third downs and eight first downs total.
It's becoming a very good combination — the elite pass rush helping out a young but talented secondary. Only two Sycamores had a catch on Friday, with just 21 total passing yards, third fewest passing yards in a game by an IU defense.
Phillip Dunnam led Indiana with eight tackles, while Aaron Casey, to no surprise, had seven. Eight Hoosiers had at least two tackles. Andre Carter led the pass rush again and totaled two tackles for loss. His four tackles for loss this year are the most by an Indiana defender over the first two games of a season since Kyle Killion (5.5) in 2004.
The turnover belt was out again as Nic Toomer picked off Indiana State the only time the Sycamores reached the redzone.
"They didn't even have 100 yards of offense. So that's hard to do. I don't care who it is. And so, I'm still ticked about the fact that we didn't get a shutout," Allen said. " … I thought the second half response was excellent. I think we gave up 27 yards the whole half. So just want to see us finish. And I thought we did defensively. So it wasn't perfect, but pretty dang good."
Sloppy play again rears its ugly head
It was another game that came out with numerous silly and self-inflicted mistakes for the Hoosiers. Indiana finished with seven penalties for 60 yards — including two ineligible men downfield penalties, a catch interference penalty after a punt and two roughing the kicker calls. That follows a week one game when the Hoosiers had eight penalties for 75 yards.
"So it was kind of more just silly, I think, lack of focus mistakes," Allen said. " … Just running into a punter should never happen. So we'll get them cleaned up. Obviously, gave an earful to Coach T (Kasey Teegardin). I love him to death. But he knows. We're in this together."
Tom Allen emphasized it even more, calling them 'stupid' penalties on IU's side.
Indiana needs to clean it up because there have now been numerous 'stupid' mistakes through two weeks. And every yard and play matters with this team, especially heading into a critical week three matchup.
Other Quick Hits:
Indiana had five rushing touchdowns against Indiana State, the most by an IU team since it had six against Maryland in 2016. In total, IU finished with 214 rushing yards with a 5.1 average.

Omar Cooper broke out with a game-high 101 yards and 10 targets. He was terrific stepping up for some injuries to the wide receiving core. This just more proves the depth Indiana has at the wide receiver position.
Tayven Jackson is your starter — he needs to be. While it was Indiana State, Jackson's completion percentage of 85.7 ranks third all-time in Indiana single-game history.
Game Highlights: