Indiana Football: Everything Tom Allen said about naming Tayven Jackson the starting QB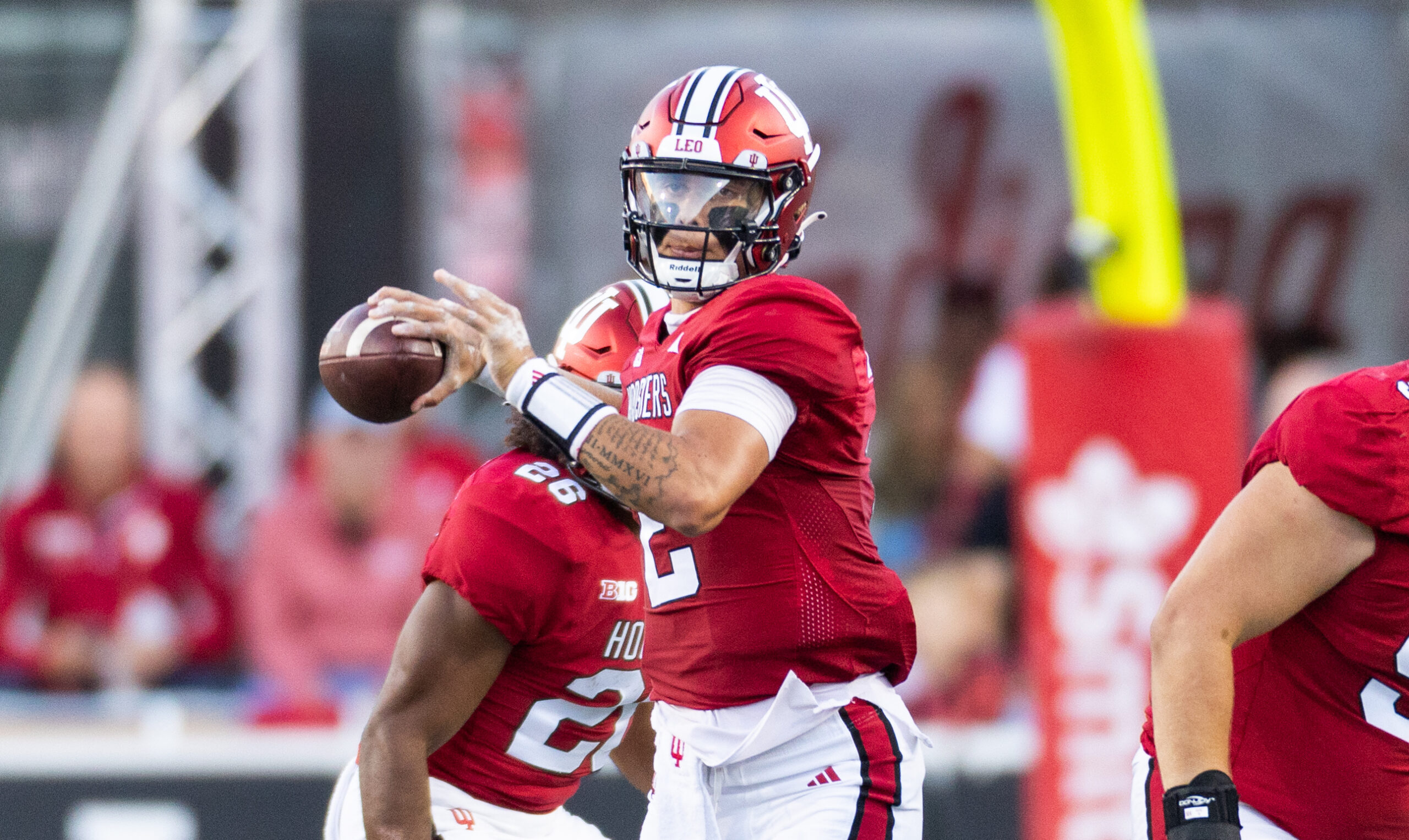 Indiana football head coach Tom Allen made his official announcement on the starting quarterback moving forward. On Monday, he announced that redshirt freshman Tayven Jackson will be the starter for the Hoosiers.
Jackson started week two and finished 18-of-21 for 236 yards and a rushing touchdown during IU's 41-7 win over Indiana State. He leading the Indiana offense to scoring drives of 73, 81, 71, 93 and 45 yards.
Jackson's 85.7 completion percentage finished third on the Indiana single-game passing charts.
Through two games, Jackson is 19-of-26 for 260 yards and has one rushing touchdown.
Here is everything Allen said about naming Jackson the starting QB of the Indiana football program.
Related: Tom Allen discusses Tayven Jackson as QB1, IU football week two matchup vs Louisville
Q. You've kind of grouped them together kind of throughout the fall and you talked about them. But what specifically, especially in the last — you said there was a distinction after the first game — what separated Tayven? I know you mentioned his moxie, but what else sort of made the difference to you to give him the job?
Well, I felt like we needed to get to just full game evaluation because it was so close and to be able to see, okay, who moves the ball down the field and scores points. That's really what it comes down to at the end of the day, and there's a field presence you have during games. Practice is important. We know that, and we evaluate that and how you handle things.
But there's nothing like the game, the ebbs and flows of the game, motions of the game. I felt like there was just a poise to that part of it and an ability to move our team down the field.
At the end of the day, that's really what it comes down to, being able to score points. And I think both guys can do it at a high level, I really do. I think you saw that from both of them. Obviously two different opponents we're playing, but at the same time I think at the end of the day you've got to make a decision.
And I'll say it was close without question, but at the same time this is where we are. I'm excited about the decision moving forward.
Q. I remember you talking about Peyton and Mike Penix both this way at different times, but were there things you saw from Tayven maybe the game brought out of him, I guess, the game atmosphere as opposed to practices and scrimmages, things that maybe you saw him elevate or change a little bit when it was live game action?
COACH ALLEN: Actually, I think he plays better than he practices in regards to even some executional things. Some guys are like that, when the lights are on and the pressure's on and you've got to make those throws and you've got to make plays and people are in your face, you're getting hit.
But I thought it was pretty telling. We had a situation where he got hit. He had to come out. Brendan comes in, throws a strike. Throws a great pass off the bench.
So just that ability to be — then we brought Tayven right back in. So he got the wind knocked out of him. But at the same time, I think just being able to be in there and we saw both guys needed — they both are young and needed to play. They got the opportunities.
But Tayven, just needed to have the game-day poise and execution was critical. And gotta do it on game day. That's where the final piece of the evaluation for me since they had not had that experience in the past.
So that was a little bit different than in previous competitions we've had. You had two different guys, both of those times, that have played more or less than the other guy, where now you have both of them that did not have game experience at all.
So that's where I feel like Tayven was able to separate himself there.
Trending: Indiana football receives high praise from Ohio State: 'Indiana is going to a bowl game this year, easily'
Q. At any point did that become a clearer decision for you? Did that occur over the weekend sometime after something you saw on film? When did that kind of crystallize in your mind?
COACH ALLEN: I would say on Saturday, after you had a chance to go back. I always want to make sure, you know — I wasn't going to make a decision when we walked off the field. I wanted to be able to see the film, see everything, take a deep breath, evaluate it, and just make sure we were all on the same page, which we are.
So Saturday was the day you make that decision. And both players, yesterday, told them together, face to face, at the same time. Because we've been this way since the beginning with these two.
So we told them — we first made the decision about playing each one of them, did it together, and made this decision with them and talked them through it together.
Excited about the way they're handling it because I know they both want to be the guy. I get that. You're competitive. You (Indiana football) want to be in this position. But Tayven knows he's got to perform, and Brendan knows he's got to be ready. That's the reality of competition and performing at an elite level. Saturday was the day the decision was made and we communicated it yesterday.
Q. Just following up on what you said. You kind of told the quarterbacks together. Had you ever done that before? What kind of spurred that decision to do that. I know you mentioned the relationship, but unique kind of circumstance?
COACH ALLEN: I've not done it that way before. I've always done it separate. I just wanted crystal clear understanding that they both are the exact same message.
And that way there's no, well, coach said this to me or coach said this to me. No this was what you were told together. To me, I just wanted to make sure. I know how important it is that these guys stay together and that they complement each other and they encourage each other and they challenge each other and hold each other accountable and they're going to be there for each other and we're going to need them both. That to me is a huge part of this. And just to be able to, whether it's within the game or season or whatever, no one knows what the future holds.
Just felt like we've done it that way the first time you talked with them and just wanted to do it that way again. Glad we did it that way, and it was just a decision that I made and with coach Bell and feel like it was the right way to handle it.