Indiana football defense shines in opener against Ohio State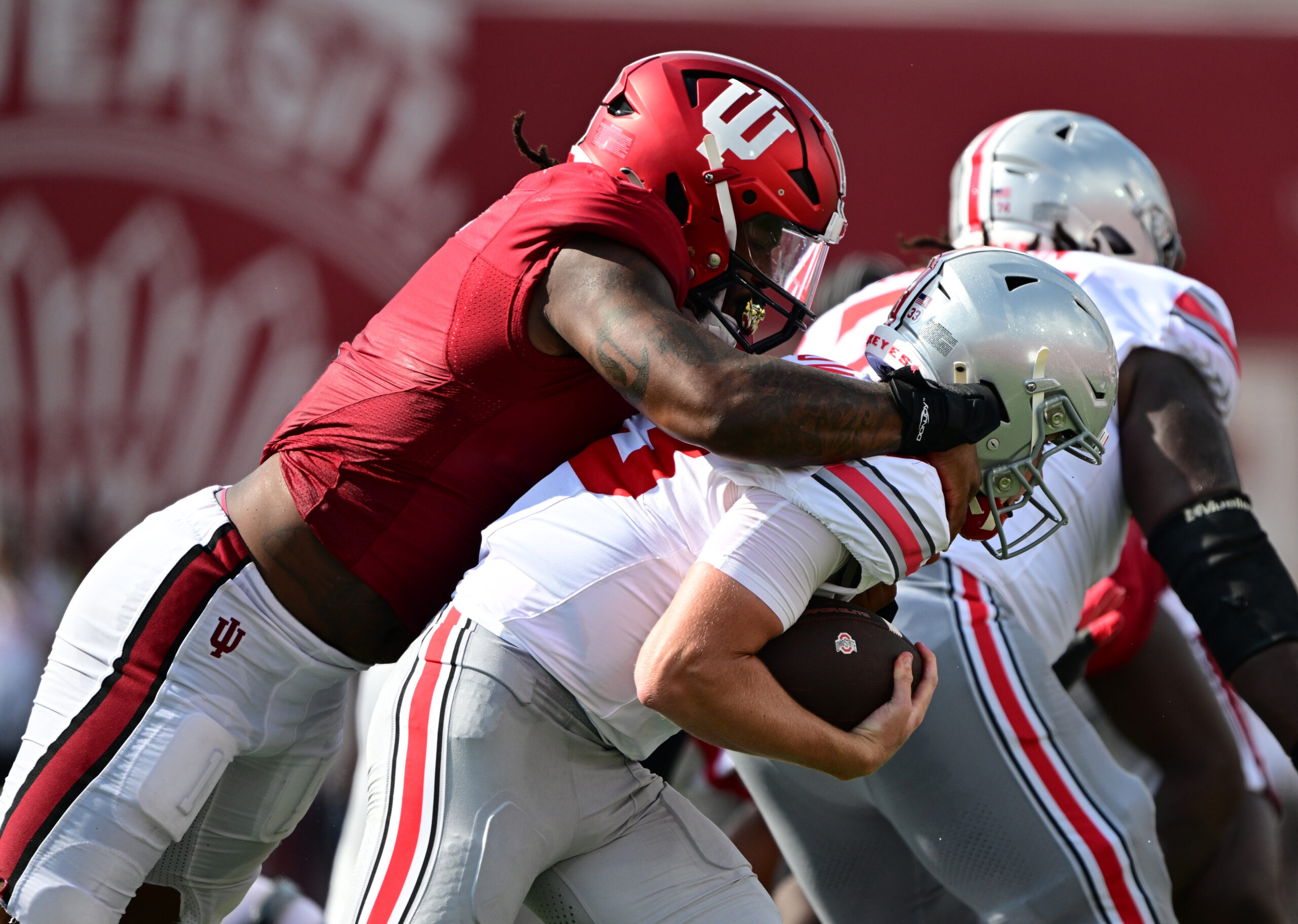 The Indiana defense shined in the team's season opener against the number 3 ranked Ohio State Buckeyes.
The Hoosiers lost their opener 23-3 to the Buckeyes, but the defense still stood out in the loss. Indiana came into the game as 30 point underdogs and many expected the game to be over by the end of the first half.
That was not the case, despite a no-show from the Indiana offense. The Hoosiers offense scored only 3 points and did not run a single play inside the red zone.
The Indiana defense kept the Hoosiers in the game for as long as possible against the Ohio State offense. OSU QB Kyle McCord finished the game 20-33 with 239 yards and an interception.
"Just to be able to keep [the Ohio State receiving core] in check was critical. The combination of pressure up front as well as the guys covering the back end, just trying to do a good job disguising things," Allen said about his secondary's ability to matchup against the Ohio State WRs. "… We got some length in the back end and some playmakers. We dropped two picks that they ended up getting six points off of."
The young secondary played a good game in spite of some growing pains. Other than a couple of poorly timed penalties and dropped interceptions from the young group, they did a good job against the Buckeye WR core. They did not allow a single passing touchdown and held projected top ten pick, Marvin Harrison Jr. to only 2 catches for 18 yards on 8 targets.
The Indiana secondary forced the only turnover of the game in the first half. With the Buckeyes going for it on 4th and 2 on the Indiana 29 yard line, leading 7-0, sophomore safety Phillip Dunnam jumped the route and intercepted Kyle McCord's pass to get the stop and flip momentum in the Hoosiers' favor.
Indiana would kick a field goal on the ensuing drive to cut the deficit to 7-3, but the offense would not score again.
The Indiana defense had eight total pass breakups, with linebacker Jacob Mangum-Farrar leading the team with two pass breakups in the game.
Mangum-Farrar and Aaron Casey played a big role in the defense's success against the Buckeye offense. Casey led the team with 11 tackles including one tackle for loss.
"I thought [Mangum-Farrar] he did a really good job. I think [Casey] played the way we expect him to play," Allen said about his linebackers performances. "We are excited about those two guys, they're two big physical guys that can both run and make plays. … They are gonna be very important moving forward."
Aaron Casey emphasized the trust he has in his new teammate and fellow linebacker Mangum-Farrar.
"We are really just playing off each other," Casey said postgame. "I trust him and he trusts me."
The play of Casey and Mangum-Farrar is going to be critical to the success of this defense, especially against the run.
In his debut with the Hoosiers, transfer Andre Carter made four tackles, including two tackles for loss and one pass breakup. Carter played a big role in stopping the run for Indiana and his teammate Aaron Casey has taken notice of his impact since his  arrival at Indiana.
"Man, he's a dog. I know how hard he works," Casey said about Carter. "He is giving you everything he's got every play. So I love to see how he works."
Carter was one of the big acquisitions to this roster and he made his impact felt early. Allen knew they needed to get better against the run and bringing in Carter only helped this run defense improve.
"I thought we did a good job of establishing the line of scrimmage defensively and made it hard on them," Allen said postgame. "… We have not done a good job stopping the run against these guys for many years now. … We found guys that gave us some size and length and ability to help us do a better job physically."
Indiana did a much better job against the run than they have in years past and the play of transfers like Mangum-Farrar and Carter was a big reason why.
Indiana's red zone defense was another reason why the game stayed close late and Allen was happy with his guys' ability to bend but not break. The Hoosiers only allowed two touchdowns and forced Ohio State to kick three field goals in the game.
"That's when you have a long drive, you're tired, you're fatigued and it's a gut check," Allen said about the red zone defense. "Can you bow up when your body is really exhausted and make a play against an elite team. … To me, our guys showed that."
While it was not the result Tom Allen and his program were hoping for, there are still plenty of positives that the Indiana defense can take away from this one into next week's matchup with Indiana State.
"A step towards the right direction," Carter said. "We just got to come back to work and keep putting in the work that we've been putting in. And again 23 points against Ohio State, that might be the lowest they score all year you know. It's still an L, but we still have a lot of good things we did out there and a lot of things we can build on."
Make sure to follow Hoosier Illustrated on Twitter @Indiana_FRN, Facebook and YouTube to stay up to date on all of the news, updates and coverage of Indiana University athletics. You can also listen to the Talking' Bout the Hoosiers podcast on Spotify.