Recap: Indiana football falls to No. 3 Ohio State 23-3, starts season with loss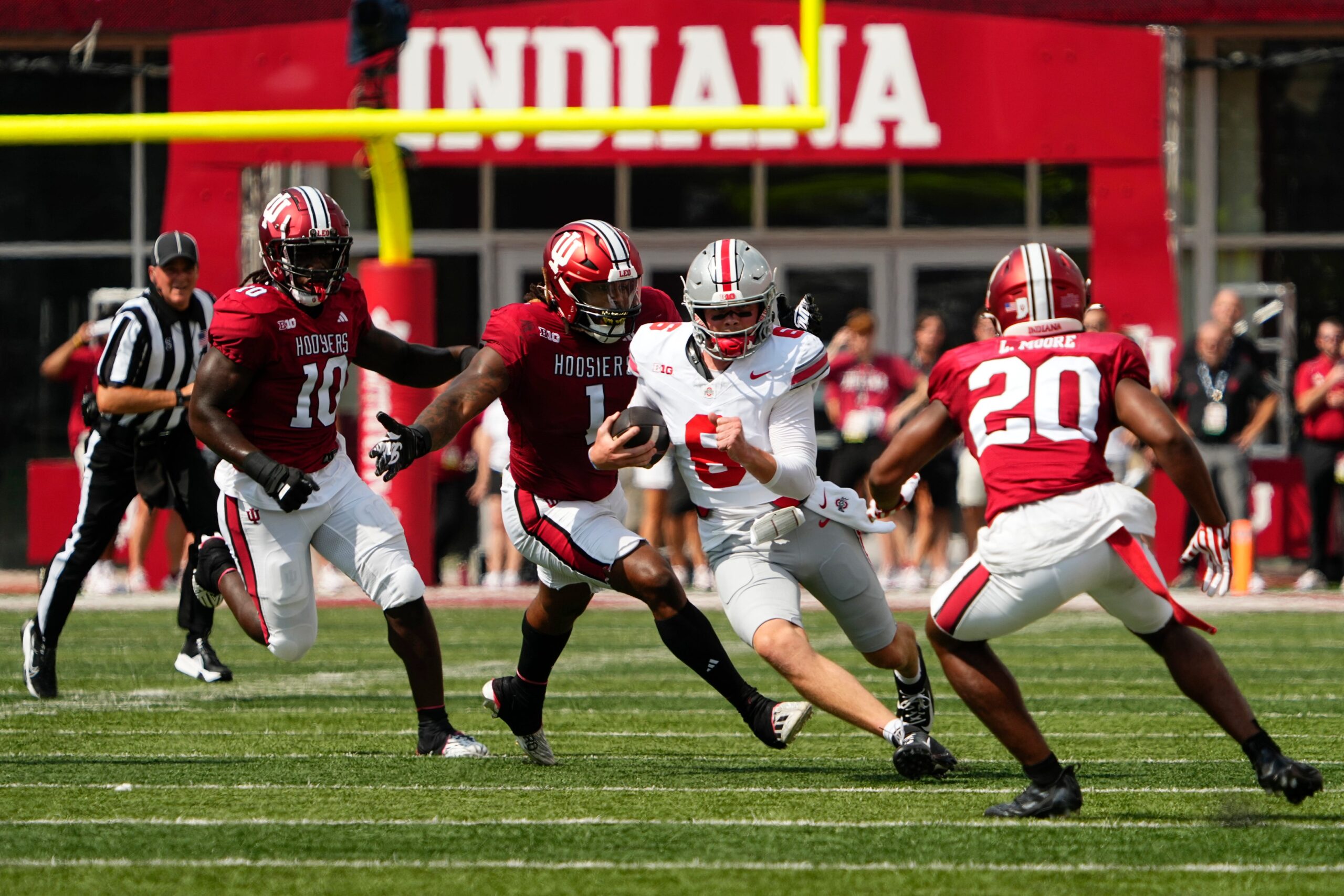 Indiana football kicks off their season today at Memorial Stadium but face a tough challenge with No. 3 Ohio State coming into Bloomington.
It was also announced that redshirt freshman Brendan Sorsby would be the starting QB for Indiana football.
The Hoosiers are looking to bounce back from a dreadful 4-8 campaign in 2022. Meanwhile, Ohio State went 11-2 last season and had a one-point loss to Georgia in the College Football Playoff Semifinals.
Indiana will open with a Big Ten foe for the fifth time in Tom Allen's seven campaigns and fourth straight season. Allen has faced Ohio State (2017 & 2023), Penn State (2020), Iowa (2021) and Illinois to open the season as the Hoosiers frontman. Since 2002, Indiana has opened the season at home in 14 of the previous 21 seasons. The Hoosiers own a 13-1 record in those games, with the lone loss to No. 2 Ohio State (2017).
Indiana football has a 6-18 record over the past two years which followed a 14-7 record the two seasons prior.
Below is a live blog with updated coverage throughout the game.
First Quarter
Ohio State won the count toss and elected to defer. Indiana started with the ball.
Brendan Sorsby led the offense on the field. His first snap as a started ended up with a sack. He made up for with a 15 yard run.
There was originally targeting called on Ohio State but would be overturned. Hoosiers would open up the season going 3-and-out.
Ohio State would have a nice consistent offensive drive to start their season off.
At 3rd and 2, Indiana got a huge stop on third down but Ohio State kept its offense on the field and got the first down. Ohio State would go onto score with a. 7-yard TD run by RB Miyan Williams. Buckeyes only needed 11 plays and 80 yards to get it done.
Ohio State led 7-0 with 7:16 left in Q1.
RB Jaylin Lucas would have a 34 yard return but a block in the back would bring the ball back to 8-yard line.
Indiana would have another 3-and-out. The Ohio State defense was not letting Indiana get anything. Ohio State ball at the 38-yard line.
Indiana football would force a 3-and-out from Ohio State. Great defensive stop from the Hoosiers. Indiana ball on the 19-yard line.
In no surprise, Tayven Jackson would replace Brendan Sorsby at QB. He would lead the Hoosiers to their first, first-down of the game but Indiana would then be forced to punt again. Ohio State ball on the USO 21-yard line.
After two plays, the quarter would end. After the first quarter Indiana's offense had gained 27 total yards.
End Q1: Ohio State 7, Indiana 0
Second Quarter
Ohio State would start the second quarter on the OSU34.
Despite getting called for a hold earlier in the quarter, Ohio State would march down the field. Indiana would then get another big stop at 3rd down on the IU 29-yard line, but Ohio State would then keep its offense on the field. That however, resulted in an intercepted from Indiana safety Phillip Dunham.
That interception built some much needed momentum for Indiana's offense. After a really good drive from the Hoosiers, they would get to a 4th-and-y on the OSU 24. After unsuccessfully trying to get the Buckeyes to come offsides, Tom Allen would call a timeout.
Indiana would attempt a field goal and make it. Hoosiers were rewarded with points after their best drive of the game.
Ohio State led 7-3 with 6:15 left in Q2.
Indiana would force a three-and-out and get the ball back. Jaylin Lucas would follow that with a 29-yard return. Hoosiers' ball on the IU 42-yard line.
Hoosiers would get stopped on the OSU 39 after going for it on 4th-and-4. Tayven Jackson's pass was incomplete to Dequece Carter. Tun over on downs.
Indiana would then get called for taunting. The taunting call came from Jamari Sharpe.
A couple of plays later, it looked as though Indiana recovered a fumble, however it was called incomplete. Play went under review and was determined to be an incomplete pass. Very tough call. Hoosiers would call a timeout with 11 seconds to go.
Hoosiers would force a stop on 3rd down. Ohio State would send out the FG unit. Tom Allen would call the final timeout of the half to try and ice the kicker.
Ohio State would convert on the FG attempt with would extend the lead to 7.
Half would end. Overall, Indiana's defense made enough plays to keep the Hoosiers in this one heading into the second half.
Ohio State was able to compile 172 total yards compared to Indiana's 88.
End Q2: Ohio State 10, Indiana 3
Third Quarter
Ohio State with the ball to start off the second half. They would start at the 25-yard line.
Hoosiers would force a 3-and-out and get the ball back. Fantastic way for the defense to start off vs the No. 3 team in the country.
Hoosiers would then go three-and-out as well. Walt Bell called up a nice QB draw but Tayven Jackson came up short. Hoosiers would punt it. Ohio State ball at the OSU25.
Hoosiers were close to another stop, however a brutal pass interference call by Indiana football CB Kobee Minor would halt that. Real momentum killer as Ohio State would march down he field and almost immediately get in the redzone.
Indiana would force another huge stop on Ohio State, this time in the redzone. Ohio State would then convert on the easy FG attempt.
Ohio State 13, Indiana 3 with 6:42 left in Q3.
Hoosiers would follow up by going 3-and-out. The offense went back to being extremely stale which resulted in the momentum going flat.
Devon McCord would throw a bomb to Cade Stover for a 49 yard gain. After what looked to then be an Ohio State TD, it would be called back for 'legal touching' by the offense.
Ohio State would respond with a 3-yard rushing TD from Miyan Williams.
The Buckeyes led 20-3 with 1:51 in Q3.
Brendan Sorsby would return at QB for Indiana replacing Tayven Jackson. Quarter would come to a close after a first down from the Hoosiers.
End Q3: Ohio State 20, Indiana 3
Fourth Quarter
Ohio State would continue to put it up on Indiana throughout the fourth quarters. Hoosiers did not have any offensive momentum going to them and the defense was extremely gassed up to the point.
The Buckeyes would go onto to hit a 22-yard FG with less than 6 minutes to go which would extend the lead to 23-3.
The Hoosiers again would not be able to get much offense going and would be forced to punt for the final time of the game.
Ohio State would end total 380 yards compared to Indiana's 153. The Hoosiers were only able to covert on 10 total first downs. Indiana also never made into the redzone.
Indiana was led in by Sosrby who went 8-of-16 for 58 yard. Tayve Jackson only went 1-of-5 for 24 yard. Christian Turner led Indiana in rushing with 29 yards while Cam Camper led Indiana with 35 yards in receiving.
Ohio State QB Kyle McCord  totaled on 239 yards converting on 20-of-33 attempts.
Final: Ohio State 23, Indiana 3
Overall, Indiana was just outmatched against the No. 3 team in the country, which as expected. The defense from the Indiana football Hoosiers showed major promise as they kept in the game for the majority of it. The offense, however, still has too many questions and both Brendan Sorsby and Tayven Jackson showed struggles.
Indiana is back in action next Friday when they face the Indiana State Sycamores (0-1).
Make sure to follow Hoosier Illustrated on Twitter @Indiana_FRN and YouTube to stay up to date on all of the news, updates and coverage of Indiana University athletics. 
'I want to see us execute better': Tom Allen looking for critical step in development as Indiana football wraps up non-conf play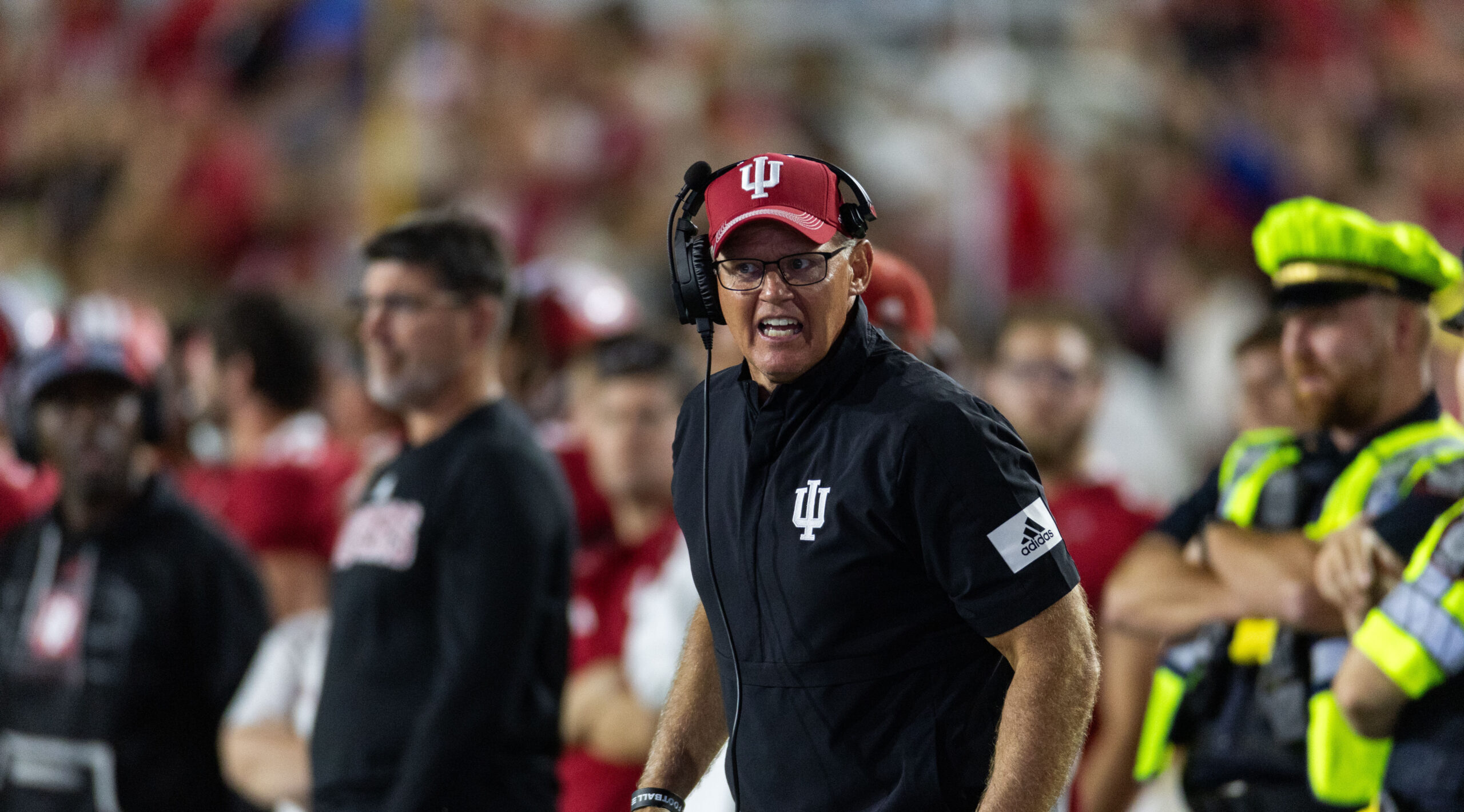 Tom Allen's word for 2023 was 'toughness' — being both mentally and physically tough. It was meant to translate into being prepared for a full game and winning the fourth quarter, two aspects that have failed the Indiana football program over the last two seasons. Three games into the season this year and that same trend is rearing its ugly head.
In Indiana's 21-14 loss to Louisville on Saturday, it may have hit its peak in both aspects. As Indiana went into the half down 21-0, it was a clear example of lack of focus coming into the matchup. Fast forward to a key 4th-and-goal with under five minutes to go, and it was a clear example of lack of toughness and execution that translated into getting stopped for no gain at the 1/2 yard line.
While this is an obvious issue for Tom Allen, it's even more of a concern since it was harped on all offseason and emphasized during fall camp with Ohio State coming to town in week one.
"I would say with our inability to play 60 minutes of really good football on Saturday, disappointed in that," Allen said on Monday. "Felt like that we were on track to get to where we wanted to be from what we stated as our goal from playing a team like that (Ohio State) in Week 1. Didn't feel like we fully maximized that."
There were two weeks between Indiana's week one matchup against Ohio State and when it took on Louisville at Lucas Oil Stadium last weekend. There was ample time for preparation and, according to Allen, good practice time leading up to the week three game.
Trending: 'They didn't flinch': Mentality of young Indiana football secondary showed major growth throughout Louisville matchup
"I thought we had a good week of preparation last week. So I'm not going to sit here and say — I talked it out with our players and say, well, what do we need to do now to be able to make sure that preparation translates and shows up on game day in the first quarter," Allen said. "And that's what I want to be able to do."
While there was a lull in the first half against Louisville, it was the second half against Ohio State and the second quarter against Indiana State.
The lack of execution has been there in every game thus far, just in different areas. In the last two weeks, however, in-game adjustments have been on display in certain ways. But, at the end of the day Indiana can't continue to play from behind or play reactionary football.
"Starts with the coaches: Can they see things in the moment, in the heat of the battle, whether they are sideline adjustments or halftime adjustments. Those are very critical," Allen said. "I don't think you can be a really good football team without having those. So we showed we can be able to do that. The starting fast and starting well is very, very important. So what you don't want is you don't want, I think as teams doing this long enough and you guys have covered football, you see teams develop a personality throughout the season and so you don't want to get in that kind of a, hey, this is — we're a team that starts slow. That's not what you want.
"To me, we've got to nip that right out of the gate here. Obviously happened this past game, doesn't necessarily feel that way the first two games, but again, we had a lull in the second one but didn't start that way."
Related: Early breakdown and initial thoughts on Akron
Indiana wraps up true non-conference play with a matchup against Akron on Saturday night. His message hasn't wavered since day one of the 2023 season.
It's all about execution.
"So to me, it's about executing and executing at a high level of confidence, and being able to play at the speed I want us to play at from the opening quarter on," Allen said. "That's going to be the emphasis, and like I said, we'll know more next weekend where we feel after the first few games.
"It's an important week for that to be the case and obviously every week is a big week to get better, and that's what we're going to emphasize at such a high level this week in how our guys respond. To be able to come back and prepare at the level that they have to prepare at to be their best."
Saturday, and beyond, will show if all of the talk comes to fruition, or if it's just that. If it's just talk.
"I want us to be a team that plays well early and is able to make good adjustments and then finish strong," Allen emphasized. " … I do want to see us, you know, I want to see us execute better. I mean, it's not a complicated part in regards to that. Obviously you play who you play and your schedule is what it is and we have to continue to grow as a football team. To me, the jury is still out to see if that's fully going to manifest itself."
Make sure to follow Hoosier Illustrated on Twitter @Indiana_FRN, Facebook and YouTube to stay up to date on all of the news, updates and coverage of Indiana University athletics. You can also listen to the Talking' Bout the Hoosiers podcast on Spotify.
Big Ten Notebook: 'Blackout' uniforms, Kyle Monangai vs. Michigan's D and Two Primetime Matchups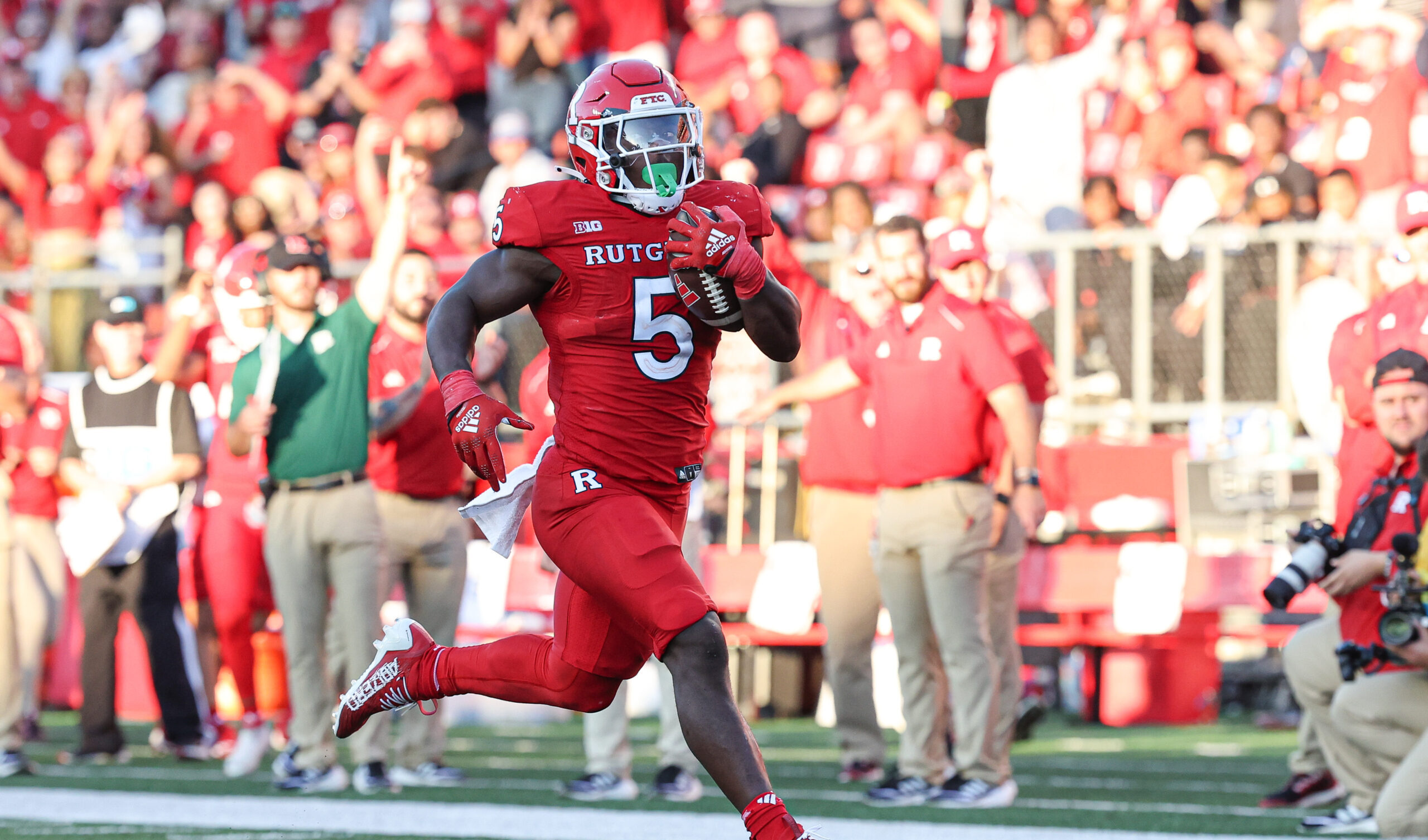 The non-conference portion of the season isn't completely done just yet, but a majority of the schedule in Week 4 involves Big Ten action. Finally, we've hit the meat of the schedule.
We don't waste any time with some of the marquee matchups, either. Action starts Friday night with a Big Ten West showdown between Wisconsin and Purdue. The Boilermakers are trying to end a 16-game losing streak to the Badgers.
On paper, Rutgers-Michigan may not sound appealing, but both teams enter with 3-0 records. Can the Scarlet Knights pull off an unthinkable upset?
At night, we've got two ranked matchups featuring Iowa and Penn State and Ohio State and Notre Dame. It should be an incredibly fun night across the league.
So, let's dive into this week's notebook, shall we?
Enough with the 'Blackout' uniforms
It's 2023, I get it. In today's world of college football, presenting multiple uniform options for student-athletes to wear on gameday can prove to be beneficial for a program. But can we please put up the "Stop" sign when it comes to the "Blackout" uniforms? Particularly for those teams that don't utilize black as part of the school colors.
Indiana revealed new "Blackout" uniforms for this weekend's game against Akron. If you just take a look at them, they're really sleek. It's a nice addition to the wardrobe for the Hoosiers. But … I still can't get over the fact that black isn't part of IU's traditional colors. For that reason, I'm out.
𝐑𝐄𝐒𝐈𝐋𝐈𝐄𝐍𝐂𝐄

Game 4 » Akron pic.twitter.com/pjVE13ZReO

— Indiana Football (@IndianaFootball) September 20, 2023
This isn't just a gripe about Indiana, either. Minnesota also recently revealed "Dark Mode" uniforms, steering away from the usual maroon and gold for a game. Personally, I couldn't have hated it more. But head coach P.J. Fleck provided an explanation behind the decision to move forward with it.
"Our traditional colors are maroon and gold," Fleck said. "Always will be, always will be, always will be. No one is taking that away. …
"Everything we do is about the players that are on that field," Fleck said. "The student-athletes love it. Our student-body loves it. The young people love it. And I get it but that's why we do something a little different every week for everyone."
Can Kyle Monangai give Michigan's defense trouble?
Don't look now, Big Ten fans, but Rutgers actually leads the conference with its rushing attack. The Scarlet Knights boast an impressive 210.7 yards per game average. Kyle Monangai leads the league through three weeks with 357 yards and five touchdowns, racking up over six yards per carry.
But that success came against Northwestern, Temple and Virginia Tech. That's not exactly a "Murderer's Row" of opposition. It does present an interesting matchup against a Michigan defense that's viewed as one of the best in the country.
So, can Monangai carry some of that early-season success into Big Ten play? Obviously, the offensive line is going to have a big role in that. Michigan's defensive line is nasty and won't be as easily moved as some of the other Scarlet Knight foes.
Michigan's defense allowed East Carolina to hit 103 yards on the ground, the only time it's surrendered triple digits in the rushing attack. To use an old coaching cliche, Saturday's game between Michigan and Rutgers will feature "good on good."
We just aren't quite sure how good Rutgers' rushing attack is just yet.
Ohio State-Notre Dame comes down to defense
Sam Hartman and Audric Estime. Kyle McCord and Marvin Harrison Jr. Those are the names that will receive a lot of attention heading into Saturday's top-10 showdown between Ohio State and Notre Dame. A lot of the attention is going to be on the offense in South Bend.
Call me crazy, but this feels like a game where the defenses might be the bigger story by the time the clock hits zero in the fourth quarter. Don't forget, last year's contest was a 21-10 decision in Columbus.
That's not to say this year's meeting will also be a low-scoring affair, but there are some things to keep an eye on between the Buckeyes and Fighting Irish.
Ohio State has recorded just five sacks through three games, with nobody having more than one at this point — one of the lowest totals in the conference. The Buckeyes have collected 17 tackles for loss and forced five turnovers, putting them in the middle of the road in the Big Ten.
While the starts aren't great, the Buckeyes have looked pretty good on that side of the football. The 6.7 points per game allowed speaks to that, too. Notre Dame is a different animal, though, and if Ohio State can't get pressure on Hartman, he could pick apart the Buckeyes secondary.
Why Iowa-Penn State has potential to get out of hand
The last five meetings between Penn State Iowa have been pretty epic. Throw out the 2020 game (a 41-21 win for the Hawkeyes), and the other four have been decided by six points or less. History tells us these coaches know each other pretty well and we'll witness a dog fight on Saturday night.
For college football fans, I certainly hope so. But make no mistake, this game has potential to get out of hand, particularly in the second half. Penn State's success on both sides of the football is a big reason why.
Yes, the Nittany Lions struggled last weekend against Illinois. Drew Allar completed less than 50% of his passes  and Penn State's rushing attack was less-than-ideal against an Illini defense that has struggled. It was also PSU's first conference game in enemy territory. Franklin and the Lions get Iowa in a "Whiteout."
Penn State's defense has played fearlessly this season. The Nittany Lions have racked up 10 sacks, led by Coziah Izzard with two. They've also forced seven turnovers through three games. How is Iowa's offense — one without leading pass-catcher and star tight end Luke Lachey — going to move the football?
Simply put, there's a good chance Iowa's defense is on the field for way too long Saturday. It might be capable of keeping the Hawkeyes in the game through the first half, but don't be surprised if Allar in the Lions start picking apart the defense in the second half and pull away for a big win.
Quick Hits
In addition to losing Luke Lachey for the season, Iowa will also be without running backs Jaziun Patterson and Kaleb Johnson for Saturday's game against Penn State
Nebraska has lost two of its top three running backs to injuries for the season: Gabe Ervin Jr. and Rahmir Johnson.
Weird stat alert: Entering Week 3, Wisconsin's defense had not forced a single turnover. Purdue's offense had not turned the ball over at all. Last Saturday, the Badgers forced six turnovers in a win over Georgia Southern. The Boilermakers lost four turnovers in a 35-20 defeat to Syracuse.
Four teams in the Big Ten West have already lost two games (Illinois, Nebraska, Northwestern and Purdue). The Big Ten East has lost a total of three games thus far.
Maryland has posted comeback wins in consecutive weeks after trailing both Charlotte and Virginia 14-0 early. The Terps are searching for their second 4-0 start in three seasons.
Make sure to follow Hoosier Illustrated on Twitter @Indiana_FRN, Facebook and YouTube to stay up to date on all of the news, updates and coverage of Indiana University athletics. You can also listen to the Talking' Bout the Hoosiers podcast on Spotify.
Indiana Football Week 4 Stock Report: Who's trending up? Who's trending down?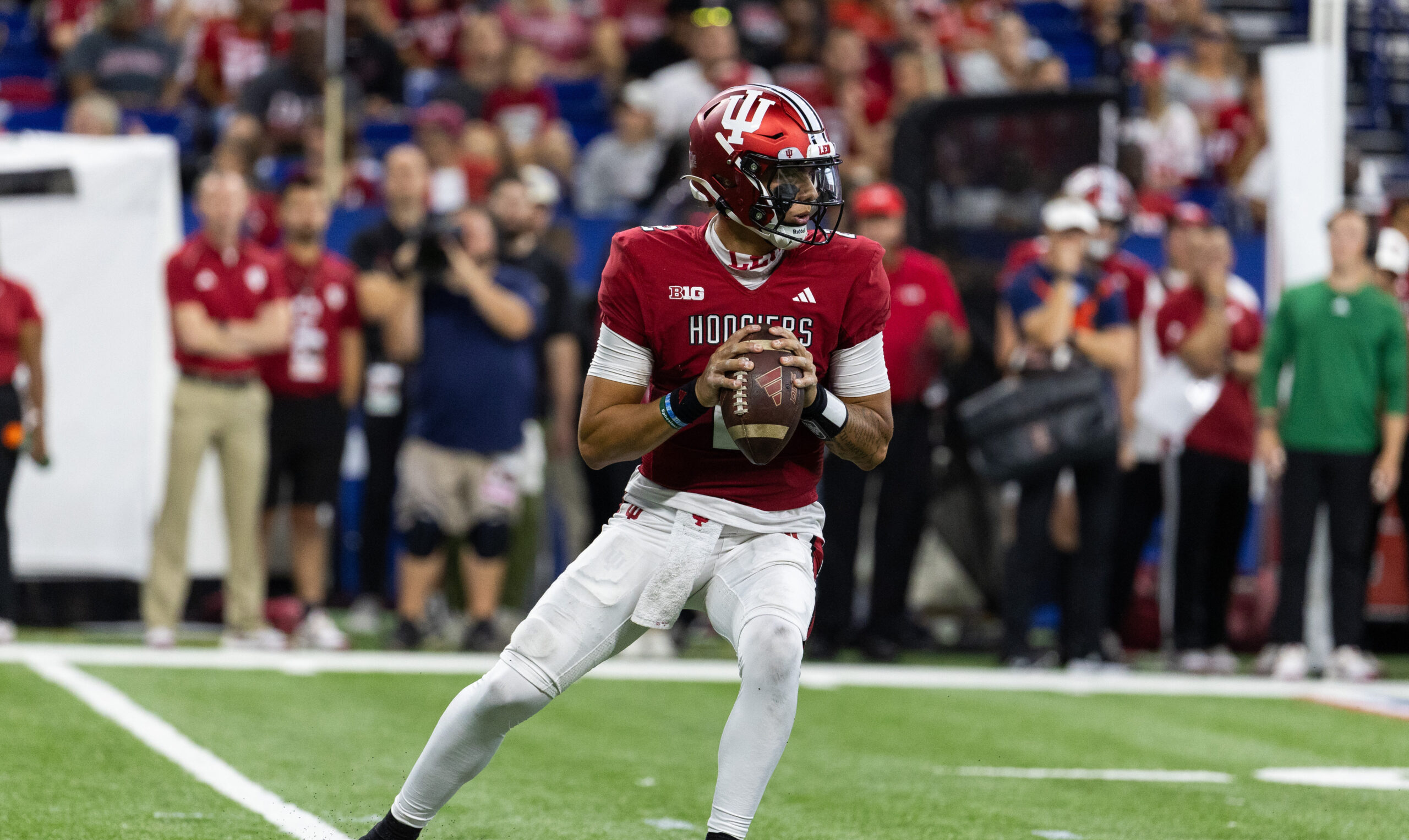 Indiana football moved to 1-2 on the season following its 21-14 loss to Louisville in week three. Now, it looks ahead to a week four matchup against Akron to close out non-conference play.
It was the first start for Tayven Jackson following his official winning of the starting quarterback job, but yet again there were questions about the play-calling.
After week three of the season for Indiana, who is trending up? Who's trending down? We take a look at some players and position groups here. 
TRENDING UP
Tayven Jackson: There's no question that following the game on Saturday, you came away impressed with the way Jackson played. While he had his ups-and-downs, his play only got better as the game went on and you could see his confidence continue to grow with each positive possession.
After a slow first half that saw multiple throws miss high, including his first interception of the season, the second half was nearly perfect. He would lead Indiana on a 13-play, 97-yard drive that resulted in a touchdown and then an eight-play, 89-yard drive.
Jackson finished 24-of-34 for 299 yards passing with one touchdown and one interception.
"I think there's no question, you could see him growing up throughout. There's things that happen that you don't always see, especially in the first half, just mistakes being young, the clock, different formations, checks, seeing guys in motion, things like that. But those will continue to get better and better," IU head coach Tom Allen said. "But I just love the fact that he just makes plays. He's able to create, extend plays, eyes downfield, finding receivers. Those are things you can't teach. That's just instinctual things that he has."
"Tayven's ability to make reads in the throw game was impressive. He's obviously — they are loading the box and trying to stop the run and make the young quarterback make plays, and he was able to do that. He created several out of nothing. I always talk about, that's kind of like a key quality you're looking for in a quarterback is, hey, can he make something out of nothing. When something breaks down can he extend the play long enough to get his eyes down the field, which he's able to do that, and either beat you with his legs or beat you with his arm."
Jackson is now up to 559 passing yards on 71.7 percent passing with one touchdown and one interception. The best part of his skillset is his ability to move in and out of the pocket and get out of trouble without taking a sack. He's been sacked just once this season.
Another standout skillset of Jackson's that Tom Allen emphasized this week was his leadership ability.
"He's a verbal guy," Allen said. "I would say since I've been here, he has the potential to be the best verbal leader we've had at that position in all my years here, and I expect him to be that way."
Jaylin Lucas: Jaylin Lucas was terrific — once again — but this time did it in the receiving game. All offseason the coaches talked about the potential Lucas had as a pass catcher and while they showed it in bits through the first two games, it wasn't until this past week that you could really see the potential.
Lucas led all receivers in the game with 10 receptions — on 12 targets — for 98 yards and one touchdown. He lined up in the backfield, was used in screens, jet sweeps, short routes and his touchdown as a wide receiver lined up in the slot.
"We worked hard on that this off-season, for him in that role. I just continue to see that being a focus for him, getting the ball in space, try to do a good job with that," Allen said. "As with all of our guys, you try to maximize an individual's talent, what he can do. Getting him the ball in space is important, whether it's hand it to him or throwing it to him. Like I said, he works really hard on that and we're going to continue to emphasize that."
Lucas is up to 15 receptions on the season — leading Indiana — for 138 yards. In total, he has 44 touches for 279 yards and three touchdowns.
Secondary: If you were to take just one half of the Louisville game, this group would be nowhere near trending up. But, likely it's a two-half game and this unit did a phenomenal job after halftime.
Louisville quarterback Jake Plummer had six of his eight first-half completions go at least 13 yards. He would have 202 passing yards in the first half, including a 43-yard completion over top of the IU defense, as well as an 85-yard touchdown pass as well.
Related: 'They didn't flinch': Mentality of young Indiana football secondary showed major growth throughout Louisville matchup
In the second half, however, it was entirely different. Plummer had just 36 passing yards after halftime, inducing an interception. Jamari Thrash, who had four receptions for 159 yards in the first half, had just one target and zero receptions in the second half.
"There was mistakes, there was a big explosive play that was in there, but they didn't flinch. So it goes back to mentality, they're young guys so it's my job first to get them ready so the stakes don't happen," Indiana co-defensive coordinator and safeties coach Matt Guerrieri said. "But I am pleased with them from a mentality standpoint of responding, taking the coaching, applying that so that's a positive sign."
TRENDING DOWN
Walt Bell: There has to be serious concern over the development and progression that Walt Bell is making with this offense in year two. There are enough playmakers and now a clear talent in Tayven Jackson at the quarterback position and there are still more and more questions about the play-calling every week.
While no game should come down to one play, the 4th-and-goal play call in the fourth quarter was as head-scratching as they come. With the ball on the half yard line, you decide to give it to your running back lined up six yards in the backfield. No quarterback sneak or bootleg roll out.
"Could have run a quarterback sneak, run your base power play, whatever. We obviously chose to run, not to sneak," Allen said. "Obviously since it didn't work, you want to run the other one. We scored previously on the other one. Yeah, didn't work, so … You obviously wish you would have done something else. I think that's how we all would think the same exact way."
Bell will likely have an 'easier' time calling Saturday's game against Akron, so there won't be any real answers to come from the script, but moving into week five, Bell's ability to get this offense rolling to start the game and make it consistent throughout will be critical.
Offensive line: While the offense line hasn't been bad by any means — and much more effective this year through three weeks than most of what it showed in the past two years — there are some concerns moving forward.
First and foremost are injuries. Matthew Bedford was dinged up last week and didn't start. He came into the game in the second half after Max Longman went to the locker room with a lower body injury.
While it was mostly a clean game, there were two offsides penalties from the offensive line as well as a bad snap that caused a loss of 13 yards when Zach Carpenter's snap went way over Tayven Jackson's head.
The offensive line needs a nice bounce back week against Akron, and likely will see that. But, it needs to stay healthy moving into week four.
MOST TO PROVE
Tom Allen: The talk from Allen coming out of week three has been the increased and heightened emphasis of putting together a full 60-minute game. The loss to Louisville was exactly the opposite; a tale of two halves.
"I want to see us come out and play with the confidence that we played with in the second half from the get-go and so to me, it was a noticeable difference without question … Our inability to play 60 minutes of really good football on Saturday, disappointed in that," Allen said. "Felt like that we were on track to get to where we wanted to be from what we stated as our goal from playing a team like that in Week 1. Didn't feel like we fully maximized that.
"I want to see us execute better. I mean, it's not a complicated part in regards to that."

Whether it's penalties, mental mistakes, clock mismanagement or poor play-calling, Tom Allen needs to get things in order and have a clean game on Saturday in that manner.
Make sure to follow Hoosier Illustrated on Twitter @Indiana_FRN, Facebook and YouTube to stay up to date on all of the news, updates and coverage of Indiana University athletics. You can also listen to the Talking' Bout the Hoosiers podcast on Spotify.