Indiana basketball preparing for busy recruiting month in September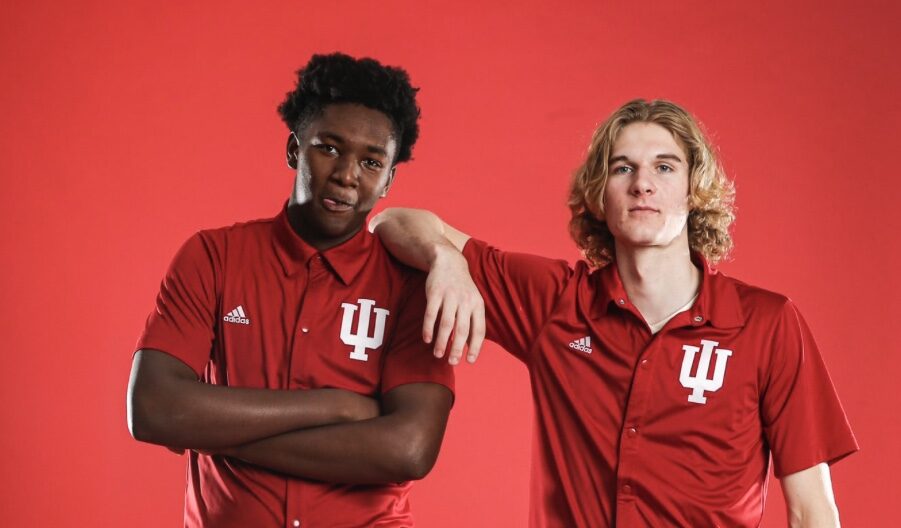 Indiana basketball is gearing up for one of its busiest months on the recruiting calendar in quite some time. It's also a very important month.
Starting this weekend, at least 11 prospects will be on campus throughout the month — that is both unofficial and official visits. That doesn't include the recruiting calendar opening up and allowing coaches to hit the road starting next weekend, when Mike Woodson has at least one trip planned.
Indiana has made a pledge to go after all of the top players around the country and try to get a seat 'at the table' in the recruitments of five-star prospects.
"When I took the job, I made it clear to my coaches that we deserved to sit at the table with the best players," Woodson said this summer. "We kind of squabbled a little bit early on because they didn't think we were in that position to be able to do that. And I thought we were based on Indiana basketball and the history of it.
"So, I didn't accept no for an answer and I told 'em that I wanted to be able to sit at the table with the best players and compete with the Kentucky's, the Kansas', the Duke's, teams like that. And all they can do is tell us no, but we gotta get there and we've been able to, to get there some, so it's kind of nice."
In addition to landing top-30 prospects, including three five-stars, in each of his first three recruiting classes, the 2024 and 2025 classes are gearing up to be loaded with front end talent.
Indiana's official visit schedule includes five-stars Liam McNeeley and Derik Queen headlining the weekend of September 8. They will be accompanied by top-40 prospect Curtis Givens. Then, just a few days later, top-45 prospect Austin Swartz will be on campus. Then, the month ends with top-30 prospect Annor Boateng on campus.
That doesn't include prospects like five-star and top-10 prospect Boogie Fland, top-40 recruit Tyler Betsey and top-45 prospect Jaeden Mustaf already taking Indiana basketball official visits this summer.
It is clear, Indiana is in position to land one of the top classes in the 2024 cycle.
"Nobody has more irons in the fire with top prospects than the Hoosiers, who are seen as serious players for five-stars Liam McNeeley, Boogie Fland, Asa Newell and Derik Queen in addition to four-stars Jaeden Mustaf, Austin Swartz and Tyler Betsey among others," Rivals National Recruiting Director Rob Cassidy wrote. "What Mike Woodson must do in the next few months is turn being "in the hunt" into tangible commitments."
In addition to the the five-star commitments Indiana basketball has received the past year, the program also saw Jalen Hood-Schifino turn into a one-and-done prospect and first-round selection in this summer's NBA Draft. That is notable to recruits — and Woodson knows it.
"It's done a lot, you know," Woodson said on Hood-Schifino's development. " … Not to say he was a one-and-done, but he put himself in that position and was able to do a lot of nice things for our ball club and you know, our program benefited from it."
In recruiting, in order to get a yes, you're going to get a lot of no's. But, that's okay and what's needed in order to reach the next level as a program.
"All they (recruits) can do is tell us no, but we gotta get there and we've been able to get there some, so it's kind of nice."
Here is a full list of the September visits for Indiana basketball:
September 2
2025 five-star Jalen Haralson
2025 five-star Darius Adams
2025 four-star Malachi Moreno
September 8
2024 five-star Liam McNeeley*
2024 five-star Derik Queen*
2024 four-star Curtis Givens*
September 15
2024 four-star Austin Swartz*
September 19
2025 three-star Braylon Mullins
September 23
2025 four-star Trent Sisley
2025 four-star Aleks Alson
September 29
2024 four-star Annor Boateng*
(* = Official visit)
Make sure to follow Hoosier Illustrated on Twitter @Indiana_FRN, Facebook and YouTube to stay up to date on all of the news, updates and coverage of Indiana University athletics. You can also listen to the Talking' Bout the Hoosiers podcast on Spotify.