Indiana Basketball: Pick-and-roll combination of Xavier Johnson, Malik Reneau named 'high-upside potential' combo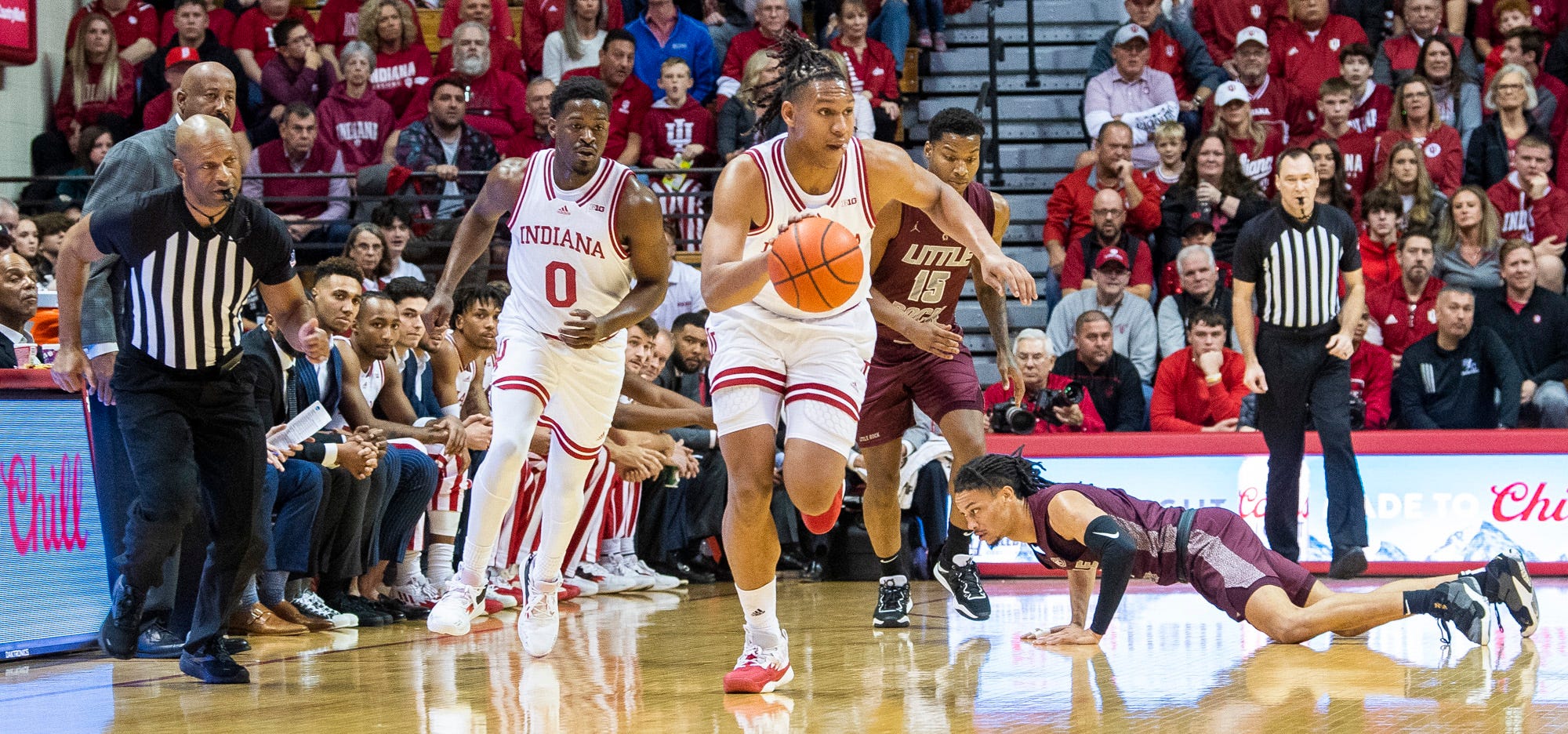 The Indiana basketball program had one of the most formidable duos in the country last year with Trayce Jackson-Davis and Jalen Hood-Schifino. Now, the Hoosiers are looking for their next big-guard combo.
Luckily for IU, senior guard Xavier Johnson returns to Bloomington after a disappointing 2022-23 season in which he played just 11 games. Johnson was inured on Dec. 17 against Kansas and was later diagnosed with a broken foot that would keep him out the remainder of the season.
But, earlier this spring the Indiana guard received news that his medical hardship waiver was granted and therefore, he would be returning to Indiana for his final season.
That news immediately gave the Indiana basketball program its best addition of the offseason.
Looking ahead to 2023-24, Johnson will spearhead the Indiana offensive attack. But, who will be his front court partner? There are a few options, but one intriguing one is Malik Reneau.
According to 247Sports national writer Isaac Trotter, the Johnson-Reneau combo for Indiana is one with 'high-upside potential'.
"The addition of Kel'el Ware has earned the lion's share of the spotlight, but Reneau might end up being Indiana's best big man next season," Trotter wrote. "When he was healthy, Johnson was one of the Big Ten's best pick-and-roll weapons. Reneau's sharp decision-making on short rolls should make the Johnson-Reneau pick-and-roll a massive piece of Indiana's offensive repertoire."
In the 11 games that Johnson played in last year, he averaged 9.9 points and 4.9 assists per game. He was averaging 10.9 points and 5.2 assists before his injury. He played just nine minutes before suffering his injury against the Jayhawks.
In 2021-22, Johnson averaged 12.1 points and 5.1 assists per game.
Johnson returned to Indiana last season after a terrific end to his 2021-22 season. Following a four game losing streak and the end of February, Johnson hit his stride in the last month of the year. In the last nine games, he averaged 16.7 points per game and 6.9 assists to just 2.8 turnovers a game. That helped lift IU to a NCAA berth.
His connection with Trayce Jackson-Davis turned into one of the most explosive duos to end that season. Unfortunately, it just wasn't in the cards last year.
While Reneau was inconsistent as a freshman, he showed promise. He had three starts in 35 appearances last year averaging 6.1 points and 3.7 rebounds in 14.9 minutes per game. Four of his first five career games resulted in double-digit points.
Once Reneau got into Big Ten play, however, his production was limited to inconsistent bursts. He would have just three double-digit outings his remaining 30 games and had eight games with two points or less.
With an increased role this upcoming year, the Hoosiers are expecting a jump in production from Reneau. He's expecting it, too.
"Having individual workouts every day with my trainer and just working on the things that we need to work on like rim-running, posting up hard, catch-and-shoot threes, trail-threes, pull-up stuff like that," Reneau said earlier this summer of his development. "Just trying to mix up all types of games and work on my strong suit, posting up, working on my hooks too. Just working on everything every time I step on the court."
Reneau needs to step up and if he becomes the consistent threat the Hoosiers need him to be, the potential is definitely there with he and Johnson to be a very formidable duo next year.
SEE ALSO: Indiana Basketball Returner Focus: Senior Guard Xavier Johnson
Make sure to follow Hoosier Illustrated on Twitter @Indiana_FRN and YouTube to stay up to date on all of the news, updates and coverage of Indiana University athletics.