HoosierIllustrated Live Blog: Indiana football vs Louisville – FINAL: Louisville 21, Indiana 14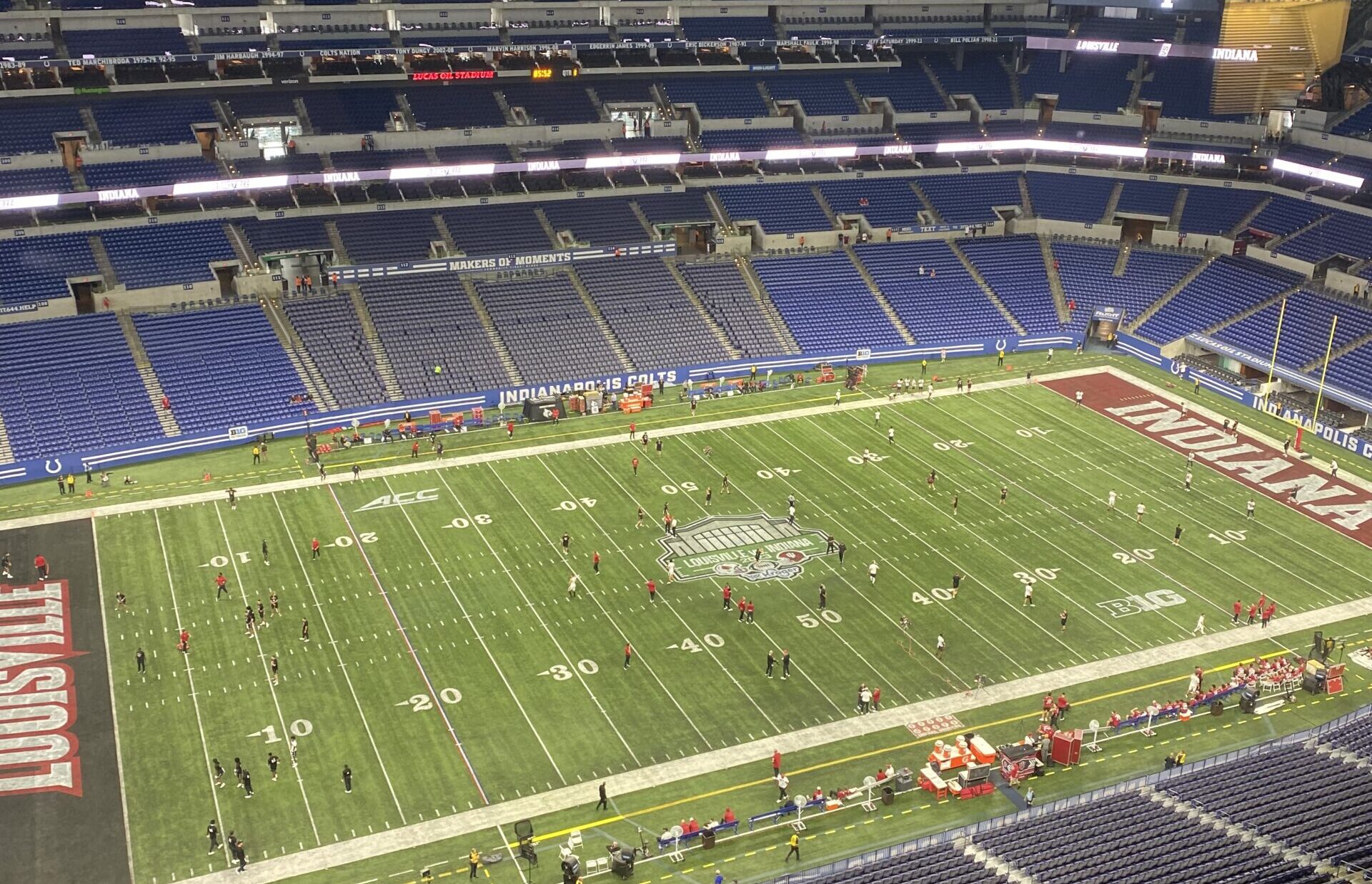 The Indiana football program looks to advance to 2-1 on the season as it heads to Lucas Oil Stadium to take on the Louisville Cardinals.
Indiana got its first win in week two against Indiana State, 41-7. Louisville improved to 2-0 on the season with wins over Georgia Tech and Murray State.
Below are live updates, stats and significant plays each quarter.
Pregame Notes
Indiana's week three availability report is released.
OUT: Dexter Williams, EJ Williams
QUESTIONABLE: Kobee Minor, Nic Toomer, Christian Turner, Trey Walker, Matthew Bedford
As the team begins to take the field, everyone listed as questionable is warming up in pads and appear to be good to go.
While Bedford was warming up, it didn't appear he was taking all of the snaps with the starting line.
First Quarter
Indiana gets the ball first.
After some early success and driving around midfield, Indiana punts and downs it inside the 10.
Jaylin Lucas had all 26 yards on drive one.
Louisville was at third and long and hit Jamari Thrash for a 43-yarder inside the Indiana 20.
Indiana holds the Cardinals on third down. The Cardinals go on to miss a 38-yard FG.
Tayven Jackson a bit too high and it's off of DeQuece Carter's hands and picked off. Louisville takes over on its own 15.
Louisville takes advantage and hits deep for an 85-yard TD.
Louisville up 7-0 after one quarter.
Second Quarter
Louisville marches right down the field with very little resistance and punches it in for another touchdown.
Louisville's 5 drives in the first half
10 Plays 71 yards: Missed 38yd FG
2 Plays 85 yards: TD
13 Plays 78 yards: TD
7 Plays 69 yards: TD
1 Play -1 yard: End of half
Louisville up 21-0 at the half.
Third Quarter
Indiana goes for an onside kick out of half and recover.
A few plays later, Tayven Jackson hits Jaylin Lucas over the top for the 30 yard touchdown.
Indiana picks off Louisville at its own three yard line.
13 plays, 97 yards in 7:27 and a touchdown for Indiana. Number of big third down conversions.
Hoosiers cut it to one score.
Fourth Quarter
Indiana's defense continues to limit Louisville, holding them to just a total of 120 second half yards.
Tayven Jackson leads Indiana to an eight-play, 89-yard drive but comes up just short on third-and-goal. Ball spotted on the 1/2 yard line.
Josh Henderson is stuffed on 4th down and Louisville takes over at its own 1 yard line.
4:38 remaining in the game.
Louisville up 21-14.
FINAL: Louisville 21, Indiana 14.
Tayven Jackson finished 24-of-34 for 299 yards with one touchdown and one interception.
Jaylin Lucas finished with 18 touches for 129 yards and one touchdown.
Box Score + Extended Box Score
Make sure to follow Hoosier Illustrated on Twitter @Indiana_FRN, Facebook and YouTube to stay up to date on all of the news, updates and coverage of Indiana University athletics. You can also listen to the Talking' Bout the Hoosiers podcast on Spotify.